Skip Navigation
Website Accessibility
What's New at CQ 02/8/2018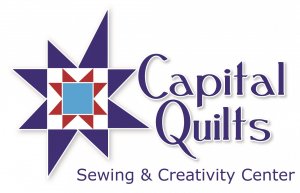 "Only do what your heart tells you." Princess Diana
Dear Friends of Fabric and Thread,
I'm hoping that we're past the worst of bad weather. In the event that we aren't, please keep in mind that we do NOT follow government or school closing decisions. If we decide to close, or to delay opening due to weather or road conditions, notices will be posted both on our website, and on FaceBook. When in doubt, give us a call at 301-527-0598.

Were you able to figure out that the number of past US presidents NOT buried in the United States was five? It was a little bit of a trick question -- all deceased past presidents are, in fact, buried somewhere within the United States, but none of these past presidents are buried (or dead): George H. W. Bush, Barack Obama, George W. Bush, Bill Clinton, and Jimmy Carter!

We still have room in this weekend's Quilt Like a Pro quilting classes with Sarah Thomas (SARIDITTY) on February 9 & 10! There are two each day, from 10-1 and 2-5. Sign up for all four and receive a 10% discount on the total cost. During the event, take 10% off all Handi Quilter branded tools, gadgets, DVDs, and machine accessories.

Friday, 10am: Fast, Fun, and Fabulous Free Motion.
How to develop an inventory of free motion designs
Proper scaling and spacing of design elements
Edge to edge free motion quilting
Adjusting your quilting path to create your own new designs
Using Micro Handles for free-motion control
Friday 2pm: Feather Foundations.
Basic feather spines and stitching paths
Feathered wreaths and swags
Fitting feathers within a geometric space
Feathered borders
Using feathers in an overall design

Saturday 10am: New Kids on the Block.
Customize your quilt with crosshatching and straight-line quilting from every angle.
Develop an inventory of arc designs you'll love.
Perfect pebbles are now in reach.
Reshape the clamshell for an updated modern look.
Learn about how stitch-in-the-ditch quilting can be both fun and easy to do!
Saturday, 2pm: You Can Do That on a Longarm, Too?
"Slap-li-que" and strip-piecing-as-you-quilt
Couching and embellishment
Creating faux chenille
Applying binding with the longarm
Parade of projects


Go 'n' piece,
Kat & the rest of the CQ Staff
VENDOR SPECIALS
Janome: Take advantage of Janome's Red Tag Event January 15-February 28! Save hundreds of dollars on select machines. Looking for a really good entry-level embroidery machine? Consider the S9. You'll save $400 AND receive a free, one-year gold membership in the Design Flex Club, which entitles you to 50 free embroidery designs every month. If you are ready for the top-of-the-line machine, consider purchasing the Quilt Maker 15000, as described above (note that the availability dates are slightly different). Additional bonus: 1 year free membership into the CQ Machine Embroidery Club ($50 value) with the purchase of either the S9 or the 15000. Come to the shop and try out the Janome sewing machines; sewing is believing.
NEW & NOTEWORTHY:
We have a few bolts from Free Spirit Fabrics. From Anna Maria Horner, we have the Sweet Dreams collection. The art for this collection is full of Australian flora & fauna and design elements colored with evocative and raw palettes that nod to the culturally exotic and diverse influences of Australia. $12.50 per yard. Package of Anna Maria Horner Renaissance Ribbons, $24.95 for a package of six 1-yard pieces.

Erin McMorris brings us Echo. Echo is a new, easy-going collection that reflects a perfect blend of modern and retro. The playful patterns inspired by shadows and the simplicity of shapes. Natural blooms created with graphic undertones and balanced with textural geometric prints. The palette is softer and the colors layer beautifully together to create a natural harmony. $12.50 per yard.

Did you know that books are discounted every day at Capital Quilts? In

Joyful Stitching

by Laura Wasilowski, slow stitch playful projects in Laura's colorful, whimsical style. Transform a flat, plain surface into a joyful art piece with instructions for 21 embroidery stitches and 6 projects. MSRP $19.95, CQ price only $16.96.

Sew a wardrobe for your favorite little girl's 18" doll! Whether you're sewing for your own dolls or the little doll lover in your life, these

Doll Days!

offers unlimited possibilities! Sew tiny garments inspired by sweet vintage styles, including a buttoned blouse, party dress, and scallop-hem skirt. Sewing enthusiasts who already know the basics can build a complete wardrobe from 9 basic patterns. Learn techniques for small-scale style, such as hemming sleeves, adding ruffles and trims, and modifying patterns for fresh looks. MSRP $19.95, CQ price only $16.96.

Le Bird is the cutest little needle threader we've ever seen! It has a thread cutter, too. $2.99 each.



CLASSES: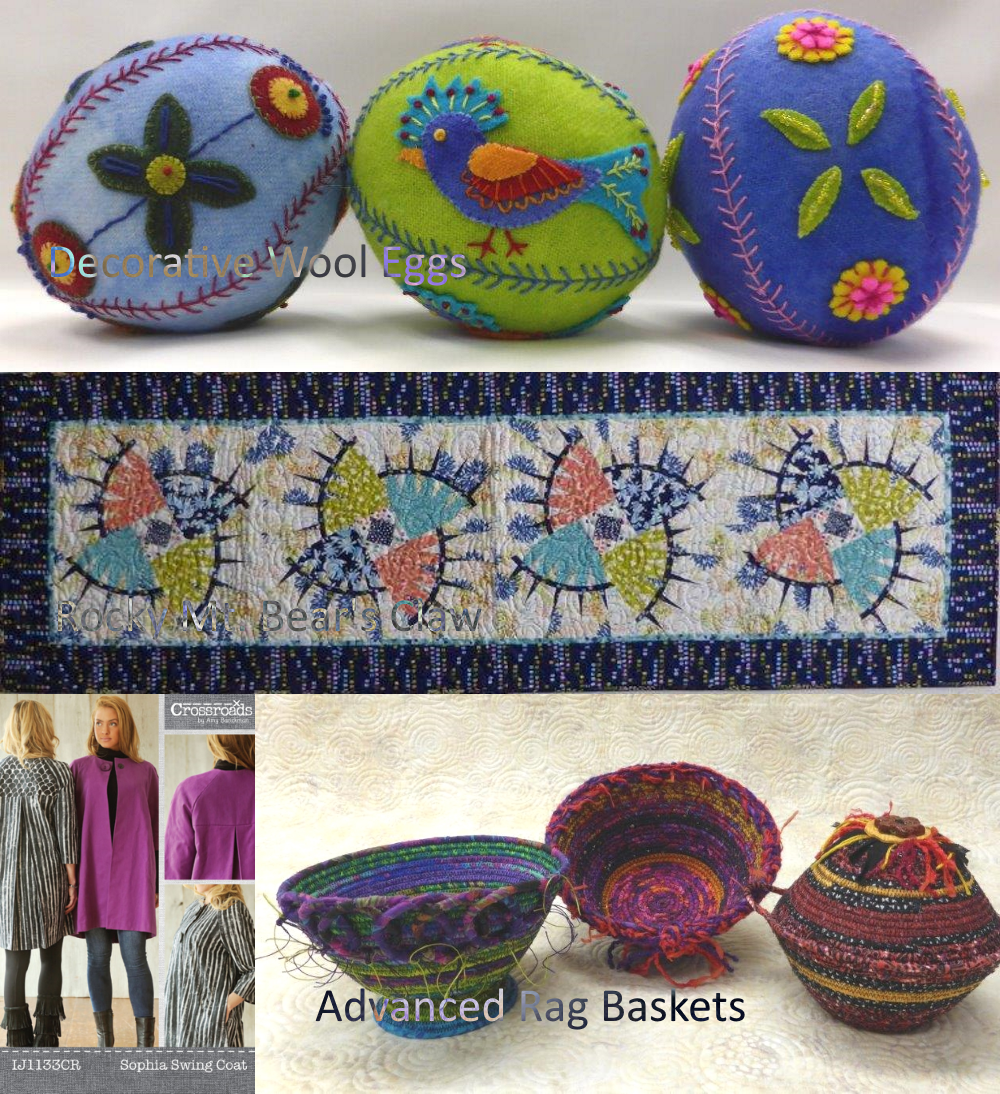 You can sign up for classes online, by phone at 301-527-0598, or in person at the shop.
Our first Quilt Like a Pro class on Friday, 2/9 at 10am is Fast, Fun, Fabulous Free Motion Quilting. Quilters everywhere LOVE the excitement and fun of free motion quilting – and it's easier than you think! Create flowing designs by connecting simple design elements with continuous lines, traveling across the quilt or filling in a specific area. Learn how drawing and muscle memory contribute to beautiful free motion quilting, and how to create stunning designs. Stay for the 2pm class, Feather Foundations.
Feather designs always add a touch of class to any quilt, evoking a positive response from any viewer. Learn to draw and stitch these beautiful elements in many different styles, from traditional to contemporary. Then learn how to fit them in specific geometric spaces, how to turn corners, make feather wreaths, and how to echo and add fills. It's easier than you think!
Don't have enough room in your house to easily sandwich a quilt? Make an appointment for Sandwich Night on Friday, 2/9 and bring your top backing batting and supplies to CQ and we will help you sandwich that quilt in no time!
Saturday, we have two more Quilt Like a Pro classes for your enjoyment. Handi Quilter continually adds new rulers to the line-up and you will welcome them with open arms. Come to New Kids on the Block at 10am, and learn about their features, how to use them and what you can accomplish with this cadre of handy new rulers. Sized to fit your hand and designed to make ruler work easier, you'll be reaching for these rulers again and again! At 2pm, we offer You Can Do That on a Longarm, Too? You will discover that a longarm isn't just for quilting tops! Come see how techniques usually done with a sewing machine can be accomplished with a longarm machine. You'll leave with brilliant shortcuts and ideas for quick and easy projects, and a whole new perspective on what's possible with a longarm!

February is National Embroidery Month! Celebrate with Decorated Wool Eggs is being held Saturday as well, at 2:30pm. These beautiful appliqued and embroidered wool eggs will become a family heirloom. Made with felted wool, the colors are rich and luminous. Learn how to fuse the pieces in place and embellish with embroidery.

Jackie Kelso will be here on Sunday, 2/11 at 11am to teach Rocky Mt. Bear's Claw. This delightful table runner was designed by Judy and Brad Niemeyer. Learn how to paper-piece this block and assemble the runner. There are enough papers left over to make two pillows.

Get a head start on your Spring wardrobe with the Sophia Swing Coat! This unlined swing coat features raglan sleeves and back yoke for a sophisticated style. Class starts Monday, 2/12 at 10:30am.

Tuesday, 2/13 at 11am, learn how to use our longarms! Once you complete Getting Started: The Handi Quilter Longarm, you will be able to rent our machines to finish your quilts.

If you liked the basic Rag Basket class, you'll love Advanced Rag Baskets on Thursday, 2/15 at 10:30am! Lois will show you how to make flat lids, domed lids, and pedestal bases for your previously-made baskets.

We have ONE sewing machine general maintenance appointment available for Sunday, 2/18.

If you missed out on the year-long Tucker University course, don't despair! Our own Beth is offering the classes "a la carte". Join her on Tuesday, 2/20 from 2-5pm for V-Block, Sidekicks, and High/Lows.

If you've taken the basic longarming class, you might be interested in Getting Started: The Basics of ProStitcher Premium. ProStitcher is the computer that allows you to quilt edge-to-edge or block patterns with confidence in a few simple steps. Learn how on Wednesday, 2/21 at 10am.

If you sew clothes, you know how hard it can sometimes be to get your pattern adjustments just right for the perfect fit. Rae Cumbie is here to help in her 2-day Pattern Fitting workshop, Thursday 2/22 and Friday 2/23 at 10am.


It's never too late to join a club. If the club has already begun, we prorate the fee for the balance of the year. Pick a topic that interests you and come enjoy the company and the experience.

SAVE THE DATES

February 8 & 9: Handi Quilter Education Event
March 24: Machine Embroidery Trunk Show
April 12-14: "Quilt Fiesta" Faithful Circle Quilters Show
June 1-3: QU Quilt Show
June 9 & 10: Annapolis Quilt Show


COMMUNITY CORNER

We are still accepting Kennel Quilts for animals affected by natural disasters. Small Kennel Quilt kits are available in the shop; just ask for one!


CAPITAL QUILTS BLUE BAG BONANZA


Congratulations to Cathy S., winner of the January prize!

February's prize is a "Sunday Drive" charm pack from Pat Sloan for Moda, and a Swatch Buddy starter set.

To be entered in each month's drawing, bring your Capital Quilts Blue Bag with you when you shop. Make sure you show it to the staffer at the register! Upon completion of your sales transaction, your name will be put in the jar for the drawing at the end of the month. The more you shop, the more chances you have to win. Don't have a Blue Bag? Purchase one at the shop, by phone, or online for just $4.99. We save all of the entries for the year, and at the end of the year we draw a Grand Prize Winner from all the entries.
Sign up for our 5th Saturday Club! Purchase your Gold Tag for $10 and be able to participate in four special sales on the four 5th Saturdays on 2018.
Our thanks to everybody who shops at Capital Quilts and who participates in the Blue Bag Bonanza.
Save
Save
Save