Skip Navigation
Website Accessibility
What's New at CQ 10/19/17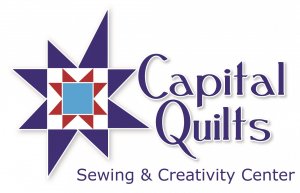 "Being deeply loved by someone gives you strength, while loving someone deeply gives you courage." Lao Tzu

Dear Friends,
You may have heard by now that Coats and Clark is shutting down their fabric businesses, Westminster and Free Spirit. We are sad to see these leave the marketplace, and are confident that the designers will fine new homes with other manufacturers quickly. In the meantime, we have plenty of Kaffe, Brandon, Philip, Tula, Amy, Denyse, and others here in the shop for your purchasing pleasure. Do come in to see what's available.

If you're headed to the Mid-Atlantic Quilt Festival next week in Hampton Roads, keep an eye out for Kat's "Big Hexie Love"! She spent several days cursing at USPS for delaying delivery of her package (or, as she believes, misplacing it!), but heard from Mancuso this morning that it arrived safely. Whew! Who else has quilts entered? It'd be fun to search them all out!

When it comes to quilting, practice makes perfect. That's why Angela Walters has started the The Free-motion Challenge Quilting Along! You have the opportunity to improve your quilting, and to earn the chance to win some pretty cool prizes! Head over to her "Quilting Is My Therapy" blog for complete details.

Go 'n' Piece,
Kat & the rest of the CQ Staff


VENDOR SPECIALS:
Janome: Take advantage of Janome's Red Tag Event January 15-February 28! Save hundreds of dollars on select machines. Looking for a really good entry-level embroidery machine? Consider the S9. You'll save $400 AND receive a free, one-year gold membership in the Design Flex Club, which entitles you to 50 free embroidery designs every month. If you are ready for the top-of-the-line machine, consider purchasing the Quilt Maker 15000. Additional bonus: 1 year free membership into the CQ Machine Embroidery Club ($50 value) with the purchase of either the S9 or the 15000. Come to the shop and try out the Janome sewing machines; sewing is believing.
NEW & NOTEWORTHY: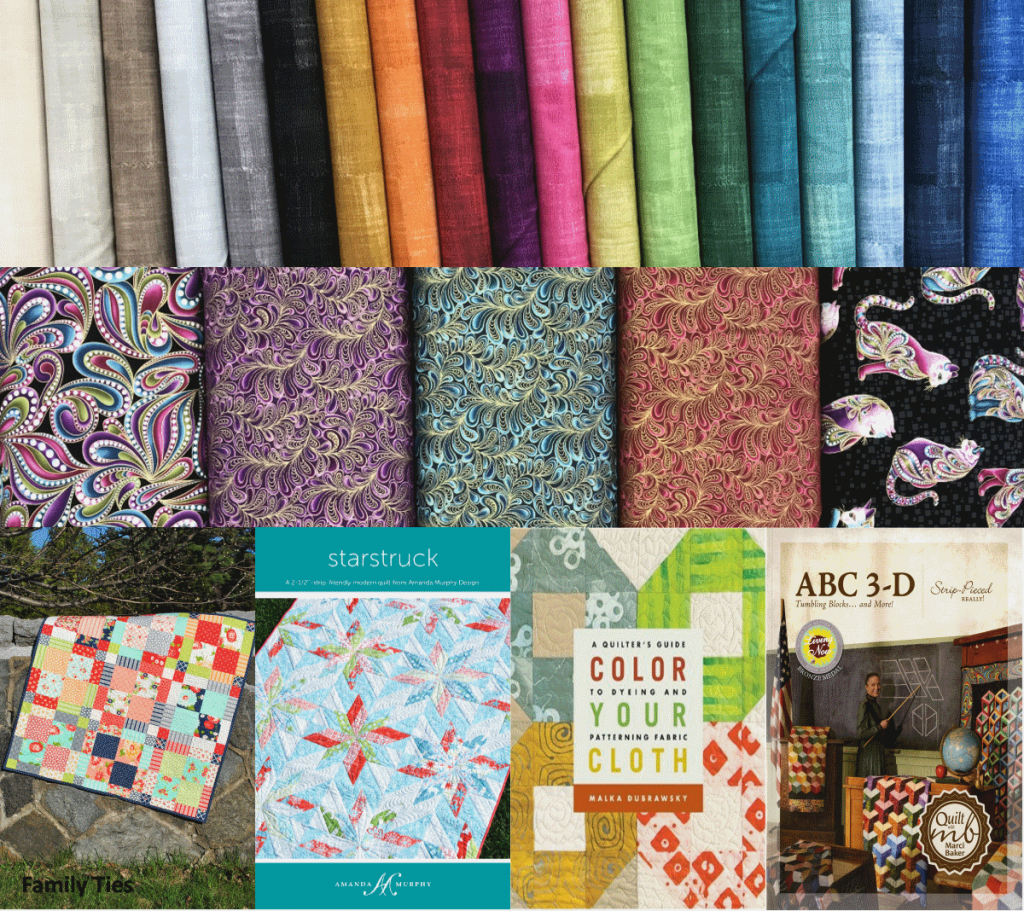 Color Influence from Marcus evokes the casual style and rich texture of hand woven cottons in palette of 19 contemporary colors! $11.50 per yard.
Just imagine your favorite feline, with a elegant coat sprinkled with gold. No wonder she has a "Cat-i-tude"- she's simply beautiful! The details on these prints are extraordinary, just like the cats that inspired them. From Ann Lauer of Grizzly Gulch for Benartex. $12.99 per yard.
No matter what your stash looks like, you can make "Family Ties" from Sweet Jane. The directions for this pattern are written for four sizes! You can use 5in or 10in squares, fat quarters, yardage or fabric from your stash! $9.00 each.
"Starstruck" from Amanda Murphy is a modern take on a traditional star design that makes great use of 2-1/2in strips and just two background fabrics! $10.50 each.
Books are always discounted at Capital Quilts!
In

Color Your Cloth: A Quilter's Guide to Dyeing and Patterning Fabric

, award-winning artist Malka Dubrawksy presents a bold, modern take on dyeing, geared especially to quilters and fiber artists. She's whipped up a variety of easy patterning techniques—including resist, discharge, and overdyeing—for creating one-of-a-kind fabrics, as well as more than a dozen simple projects that use the vibrant cloth. How-to photos accompany the text, which focuses on sources of inspiration, tools and materials, dyeing recipes, and the surface design techniques themselves. MSRP $19.95, CQ price only $15.96.
ABC 3-D Tumbling Blocks and More

... by Marci Baker includes 16 projects, twelve using her strip-pieced method from Not Your Grandmother s Tumbling Blocks and several updated designs from Sara Nephew's most popular book Big Book of Building Block Quilts including Hollow Cube, Honeycomb Waffle, Downtown, and Space Crystal. You will be inspired to explore the world of 3-D with the full color photos and step-by-step illustrations. With no set-in seams these traditionally challenging designs are now easy enough for beginners. MSRP $29.95, CQ price only $25.46.
CLASSES:
You can sign up for classes online, by phone at 301-527-0598, or in person at the shop.
We have ONE sewing machine general maintenance appointment available for Sunday, 2/18.
If you missed out on the year-long Tucker University course, don't despair! Our own Beth is offering the classes "a la carte". Join her on Tuesday, 2/20 from 2-5pm for V-Block, Sidekicks, and High/Lows.
If you've taken the basic longarming class, you might be interested in Getting Started: The Basics of ProStitcher Premium. ProStitcher is the computer that allows you to quilt edge-to-edge or block patterns with confidence in a few simple steps. Learn how on Wednesday, 2/21 at 10am.
If you sew clothes, you know how hard it can sometimes be to get your pattern adjustments just right for the perfect fit. Rae Cumbie is here to help in her 2-day Pattern Fitting workshop, Thursday 2/22 and Friday 2/23 at 10am.
Learn how to create Zentangle patterns. There are no mistakes, no 'right' way! You will find yourself relaxing as you focus on what you are doing. The $6 kit, available at the class, contains drawing supplies that you can use in other Zentangle classes as well. Join Andrea for Zentangle: Beginner's Workshop on Sunday, 2/18 at 12:30pm.
Fussy Cutting for EPP: A wonderful English Paper Piecing project can be made even more fabulous by purposefully cutting themed motifs for some of the block units. This is called "fussy cutting". Spend an hour with Kim learning how to identify where to place motifs and how to cut them out. Monday, 2/26 at 10:30am.
Don't have enough room in your house to easily sandwich a quilt? Bring your top backing batting and supplies to CQ and we will help you sandwich that quilt in no time! Make your appointment now for Sandwich Day on Tuesday, 2/27.
It's never too late to join a club. If the club has already begun, we prorate the fee for the balance of the year. Pick a topic that interests you and come enjoy the company and the experience.
SAVE THE DATES
March 24: Machine Embroidery Trunk Show
April 12-14: "Quilt Fiesta" Faithful Circle Quilters Show
June 1-3: QU Quilt Show
June 9 & 10: Annapolis Quilt Show
COMMUNITY CORNER
We are still accepting Kennel Quilts for animals affected by natural disasters. Small Kennel Quilt kits are available in the shop; just ask for one!
CAPITAL QUILTS BLUE BAG BONANZA
February's prize is a "Sunday Drive" charm pack from Pat Sloan for Moda, and a Swatch Buddy starter set.
To be entered in each month's drawing, bring your Capital Quilts Blue Bag with you when you shop. Make sure you show it to the staffer at the register! Upon completion of your sales transaction, your name will be put in the jar for the drawing at the end of the month. The more you shop, the more chances you have to win. Don't have a Blue Bag? Purchase one at the shop, by phone, or online for just $4.99. We save all of the entries for the year, and at the end of the year we draw a Grand Prize Winner from all the entries.
Sign up for our 5th Saturday Club! Purchase your Gold Tag for $10 and be able to participate in four special sales on the four 5th Saturdays on 2018.
Our thanks to everybody who shops at Capital Quilts and who participates in the Blue Bag Bonanza.
Save
Save
Save