Skip Navigation
Website Accessibility
What's New at CQ 3/1/18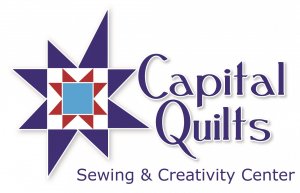 "I believe that imagination is stronger than knowledge. That myth is more potent than history. That dreams are more powerful than facts. That hope always triumphs over experience. That laughter is the only cure for grief. And I believe that love is stronger than death." Robert Fulghum


Dear Fabric Lovers,

The biggest news of the week is the announcement that Jaftex (Studio E, Blank Quilting, Henry Glass & Co.) has announced its intent to purchase Free Spirit Fabrics from Coats. We're very excited by this turn of events, and look forward to seeing new lines from all of our favorite Free Spirit designers.

Did you know that our own Marianne is now a trained Janome machine technician? She will be available by appointment on selected Sundays to tune up your Janome.

When you come to visit or shop, please bring your finished (or nearly finished) quilts to show us! We love seeing what you've been working on, and our "Show and Tell" FaceBook posts are well received by the online community. So come in and show us what you've done!

Do you have your Blue Bag and Gold ticket yet? If not, you'll want to purchase them soon! The first "Fifth Saturday" sale exclusively for ticket holders is coming up on March 31st. These exclusive sales are available only to registered ticket holders, and tickets are NOT sold on the day of the sale.


Go 'n' Piece,
Kat & the rest of the CQ Staff

NEW & NOTEWORTHY:




Remember Front Porch from last week? Nina has made charm packs and 2-1/2" strip sets. $10.99 each and 42.99 each.

Clothworks has sent us Lakeside Fun by Masha D'yans. Masha's playful and elegant watercolors became internationally known after she had launched her own greeting card company. Popular for its energy and explosive color, her style draws inspiration from nature, life, love, Japanese art, animation, calligraphy and Russian fairy tales. $12.50 per yard, Turtle & Egret panel, $8.99 each.

From Robert Kaufman, we have 5 bolts of their popular Effervescence print in a variety of colorways. Choose from Autumn, Ocean, Americana, Bright Rainbow, or Primary. All are $11.99 per yard.

Also from Kaufman, we have a selection of batiks in lovely soft sea glass colors. $12.99 per yard.

Alison Glass fans, rejoice! 12 bolts of Sun Print 2018 have arrived! The three prints are Diatom, Lace, and Compass. Colors range from Seagull to Marmalade to Aster. They mix beautifully with her past designs, too. $12.50 per yard.

HERstory Quilts: A Celebration of Strong Women by Suzanne Miller Jones is a long-overdue tribute to a selection of women who have shaped history through HERstory, this rich collection of 108 mixed-media fiber art pieces celebrates extraordinary women who cracked glass ceilings, made important discoveries, or shook the world by breaking into fields dominated by men. The subjects of these exquisite quilts, by 85 artists from 7 countries, include politicians and scientists, environmentalists and entertainers, activists and artists, athletes and authors—and even a fictional heroine. The quilting medium mirrors the advances these women have made, as the art quilt movement has inspired women to express their creativity in a whole new way. MSRP $34.99, CQ price only $29.74.


CLASSES:

You can sign up for classes online, by phone at 301-527-0598, or in person at the shop.




Developed in the 1700's, Broiderie Perse is the art cutting, arranging, then appliquéing printed motifs from chintz-type fabrics. Historically, this was an economical way to transform a small piece of expensive printed chintz into a quilt top. During Helen Johnston's one day class on Saturday, 3/3 at 10:30am, you will have the opportunity to play with those special pieces of printed fabrics in your collection (or start a collection now!).

The Woven Fabric Basket is a real scrap buster! Use a plastic needle, 1/2" wide strips of fabric, and some clothesline to weave together these handy baskets. No sewing machine needed: great for travel! Andrea Stevens teaches you how on Monday, 3/5 at 1pm.

Do you have someone special graduating from school this year? And do you have stacks of his or her t-shirts with school names, team names, club names, etc.? Use them to make the perfect gift for the graduate! Or maybe your spouse has favorite t-shirts that are more hole than shirt: turn them into a quilt to love. Take our 2-session T-Shirt Quilt class starting Monday, 3/5 at 6:30pm.

Showcase your favorite print in the Simply a Pleasure table runner class on Tuesday, 3/6 at 1pm. We will make the runner in class, but the pattern also has instructions for 4 placemats. This pattern makes a runner that can be elegant or whimsical depending on your choice of fabric - a great gift or a nice addition to your own home!

If the big longarms are a little intimidating, but you find you still want the ease of quilting a longarm affords, try the Simply Sixteen! This small longarm has built-in stitch regulation. Annette teaches you how to load your quilt on the frame, thread the machine, wind and load a bobbin, establish good tension, bring up the bobbin thread, anchor and tie off threads, and do a little stitching. Friday, 3/9 at 10:30am.

As of this writing, we have one Sandwich Night appointment available on Friday, 3/9.

Do you have a Janome sewing machine that needs a little TLC? Marianne is a Janome trained technician, and has two appointments available on Sunday, 3/11.

Stitch up a Little Somethin' Jacket and breeze into spring with style! The pattern includes sizes 8 to 24, and offers a 3/4 or full-length sleeve as well as a longer or shorter length. Barbara will help you get a perfect fit on Monday, 3/12 at 10:30am.

Getting Started: The Handi Quilter Longarm teaches you all you need to know to start renting our Handi Quilter machines to finish your own quilts! Tuesday, 3/13 at 11am.

Rag Baskets are sturdy, versatile and fun to make. This class will provide instructions for making a small bowl and hopefully have you leaving with your bowl and all you need to make more. Lois Sumser teaches on Tuesday, 3/13 at 1pm.


It's never too late to join a club. If the club has already begun, we prorate the fee for the balance of the year. Pick a topic that interests you and come enjoy the company and the experience.


SAVE THE DATES

March 24: Machine Embroidery Trunk Show
April 12-14: "Quilt Fiesta" Faithful Circle Quilters Show
June 1-3: QU Quilt Show
June 9 & 10: Annapolis Quilt Show
June 21 - September 4: Row by Row Experience
October 19-28: Quilter's Quest


COMMUNITY CORNER

We are still accepting Kennel Quilts for animals affected by natural disasters. Small Kennel Quilt kits are available in the shop; just ask for one!


CAPITAL QUILTS BLUE BAG BONANZA

Congratulations to Kathy C., winner of the February prize drawing!

The March prize is "Grand Finale", a DVD Workshop by Ricky Tims. Includes 122 minutes of instruction in fine machine quilting and finishing techniques, such as innovative marking techniques, bobbin quilting, managing the quilt, creating your own designs, trapunto, and binding techniques.

To be entered in each month's drawing, bring your Capital Quilts Blue Bag with you when you shop. Make sure you show it to the staffer at the register! Upon completion of your sales transaction, your name will be put in the jar for the drawing at the end of the month. The more you shop, the more chances you have to win. Don't have a Blue Bag? Purchase one at the shop, by phone, or online for just $4.99. We save all of the entries for the year, and at the end of the year we draw a Grand Prize Winner from all the entries.

Sign up for our 5th Saturday Club! Purchase your Gold Tag for $10 and be able to participate in four special sales on the four 5th Saturdays on 2018.

Our thanks to everybody who shops at Capital Quilts and who participates in the Blue Bag Bonanza.