What's New at CQ 03/15/18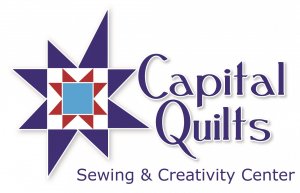 "Look up at the stars and not down at your feet. Try to make sense of what you see, and wonder about what makes the universe exist. Be curious." Stephen Hawking

Dear Springtime Stitchers,

OK, while it isn't yet officially spring, it'll be here before our next weekly newsletter. Personally, I've had enough of the cold and the wind! However, the people whose job it is to forecast the weather keep telling me that I've got a few weeks left before I can trade my nice, relaxing, indoor pursuit of English paper piecing for a garden trowel.

Our first CQ Cares: Pet Bed Workshop is coming up on March 28th, and we need volunteers to take scraps we have on hand, chop them up unto tiny (well, roughly 2" square) pieces. Please see Nina if this is something you are willing to take on. Thanks in advance!

Night Owl Sewing is this Saturday, March 17th, starting at 6pm. Join me in avoiding green beer! We will have: pizza, soft drinks, fun, and dedicated sewing time in the company of other quilters.

Join Dottie Acton and some of the members of the Machine Embroidery Club for a Trunk Show on Saturday, March 24th at 4:30pm. They'll share over 15 of our machine embroidered quilts and wall hangings, some with machine embroidery embellishments and others where machine embroidery is the focus of the quilt. They'll also share some other machine embroidered projects, including Christmas ornaments, bookmarks, placemats, coasters and other gift items. This trunk show is free to attend, but please register so we'll know to expect you. Door prizes!

Go'n'Piece
Kat & the CQ Staff


NEW AND NOTEWORTHY:



Symbolizing the sun and happiness, the unfolding petals of the chrysanthemum are celebrated in Dear Mum, a collection by Robin Pickens for Moda. This eyecatching palette has become Robin's signature look. Luminous shades of red/coral and green play well with black, charcoal, and pebble grey, creating a garden that is alive with fresh inspiration. $11.99 per yard.

FreeSpirit honors the spirit of the work of William Morris with exclusive access to the unrivaled archives of The Original Morris & Co. Their unique relationship allows them to delve into fascinating original works and colorations, some dating back to 1861. Together, FreeSpirit and The Original Morris & Co. bring to life the artistry, vision and authentic style of William Morris ... $12.50 per yard.

If you're a fan of texture in your prints, you'll love these greys from Valori Wells' Musings collection for Robert Kaufman. $11.99 per yard.

in Fabricadabra, celebrated author, teacher, and fabric designer Paula Nadelstern shows you how to design simple but stunning quilts with the help of vivacious fabric prints. Analyze fabrics to uncover their piecing potential for color and symmetry. Make your own cutting templates and learn how to get the seemingly seamless look made famous by Paula's kaleidoscopic quilts. Example piecing diagrams show just how easy it is to quilt a visual spectacle. MSRP $29.95, CQ price only $25.46.

Turn idle time into fun time with 72 word search puzzles just for quilters! With topics all sewists can relate to like "Have iron, will travel" and "Best places to hide fabric", these large-print puzzles make a perfect gift for stitchers. Take this book with you in the airport, or host a contest among your guild friends. MSRP for Happy Quilter Word Search is $9.95, but the CQ price is only $8.46.


CLASSES:

You can sign up for classes online, by phone at 301-527-0598, or in person at the shop.

As mentioned above, there is still room to join the Night Owl Sewing mini-retreat here at the shop on Saturday, 3/17 from 6-midnight.

On Tuesday, 3/20, Beth teaches the Wing Clipper 1, Pickets and Quickets stand-alone Tucker University class at 2pm. Put your flying geese on the right track by pointing them in the correct direction. Learn the simple secrets to creating crisp, clean units effectively and quickly. This method can be applied to any pattern that requires flying geese units. Since you usually have to make hundreds of these units at a time, why not make them perfect every time? You'll also expand the use of your Wing Clipper I by learning how to make Pickets and Quickets.

If you've taken the basic longarm class, and want to do more with your quilting, Getting Started: The Basics of ProStitcher Premium is the class you're looking for! You'll learn the basic buttons and tools of ProStitcher Premium. Customize Edge-to-Edge (E2E) designs on your computer to fit any quilt size and transfer the design to the ProStitcher Premium on the longarm for accurate stitch out. Thursday, 3/22 at 6pm.

Our free Sit 'n' Sew will be held on Friday, March 23rd from 5-9pm. Bring your project and perhaps a snack to share, Capital Quilts provides space, irons, and beverages. Fun for all!

Join Sue Moats on Saturday, 3/24 at 1pm for CQ Cares: Quilt of Valor. The group will work together to make one Quilt of Valor. These quilts are tremendously important to the men and women who serve our country in the military.

Dottie and the members of the Machine Embroidery Club are anxious to meet you Saturday, 3/24 at 4:30pm for their Trunk Show.


SAVE THE DATES

March 24: Machine Embroidery Trunk Show
April 12-14: "Quilt Fiesta" Faithful Circle Quilters Show
June 1-3: QU Quilt Show
June 9 & 10: Annapolis Quilt Show
June 21 - September 4: Row by Row Experience
October 19-28: Quilters' Quest


COMMUNITY CORNER

We are still accepting Kennel Quilts for animals affected by natural disasters, and recently received a request for more to be sent out to shelters taking in animals displaced by winter storms in the northeast. Small Kennel Quilt kits are available in the shop; just ask for one!


CAPITAL QUILTS BLUE BAG BONANZA

The March prize is "Grand Finale", a DVD Workshop by Ricky Tims. Includes 122 minutes of instruction in fine machine quilting and finishing techniques, such as innovative marking techniques, bobbin quilting, managing the quilt, creating your own designs, trapunto, and binding techniques.

To be entered in each month's drawing, bring your Capital Quilts Blue Bag with you when you shop. Make sure you show it to the staffer at the register! Upon completion of your sales transaction, your name will be put in the jar for the drawing at the end of the month. The more you shop, the more chances you have to win. Don't have a Blue Bag? Purchase one at the shop, by phone, or online for just $4.99. We save all of the entries for the year, and at the end of the year we draw a Grand Prize Winner from all the entries.

Sign up for our 5th Saturday Club! Purchase your Gold Tag for $10 and be able to participate in four special sales on the four 5th Saturdays on 2018.

Our thanks to everybody who shops at Capital Quilts and who participates in the Blue Bag Bonanza.
SaveSaveSave