Skip Navigation
Website Accessibility
What's New at CQ 03/22/18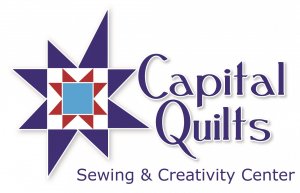 "Learning never exhausts the mind." Leonardo da Vinci


Dear Snowy Sewists,
We hope that you survived the great snowstorm of 2018! If you spent your day sewing yesterday, please stop in and show us the fruits of your labor; we'd love to see what you've been working on.
Join Dottie Acton and some of the members of the Machine Embroidery Club for a Trunk Show on Saturday, March 24th at 4:30pm. They'll share over 15 of our machine embroidered quilts and wall hangings, some with machine embroidery embellishments and others where machine embroidery is the focus of the quilt. They'll also share some other machine embroidered projects, including Christmas ornaments, bookmarks, placemats, coasters and other gift items. This trunk show is free to attend, but please register so we'll know to expect you. Door prizes!
Our first Blue Bag Bonanza event is rapidly approaching! Members will enjoy a 25% discount on all in-stock, regularly priced merchandise that fits into their blue bags. Bonus value: see a bolt of fabric you REALLY like? Purchase the entire bolt, and we'll give you 30% off regular price for all the yardage on that bolt. Not a 5th Saturday Club member? All you need is to purchase both a reusable CQ blue tote and a "Gold Ticket" before Saturday, March 31st, the day of the event.
Go'n'Piece
Kat & the CQ Staff
NEW AND NOTEWORTHY: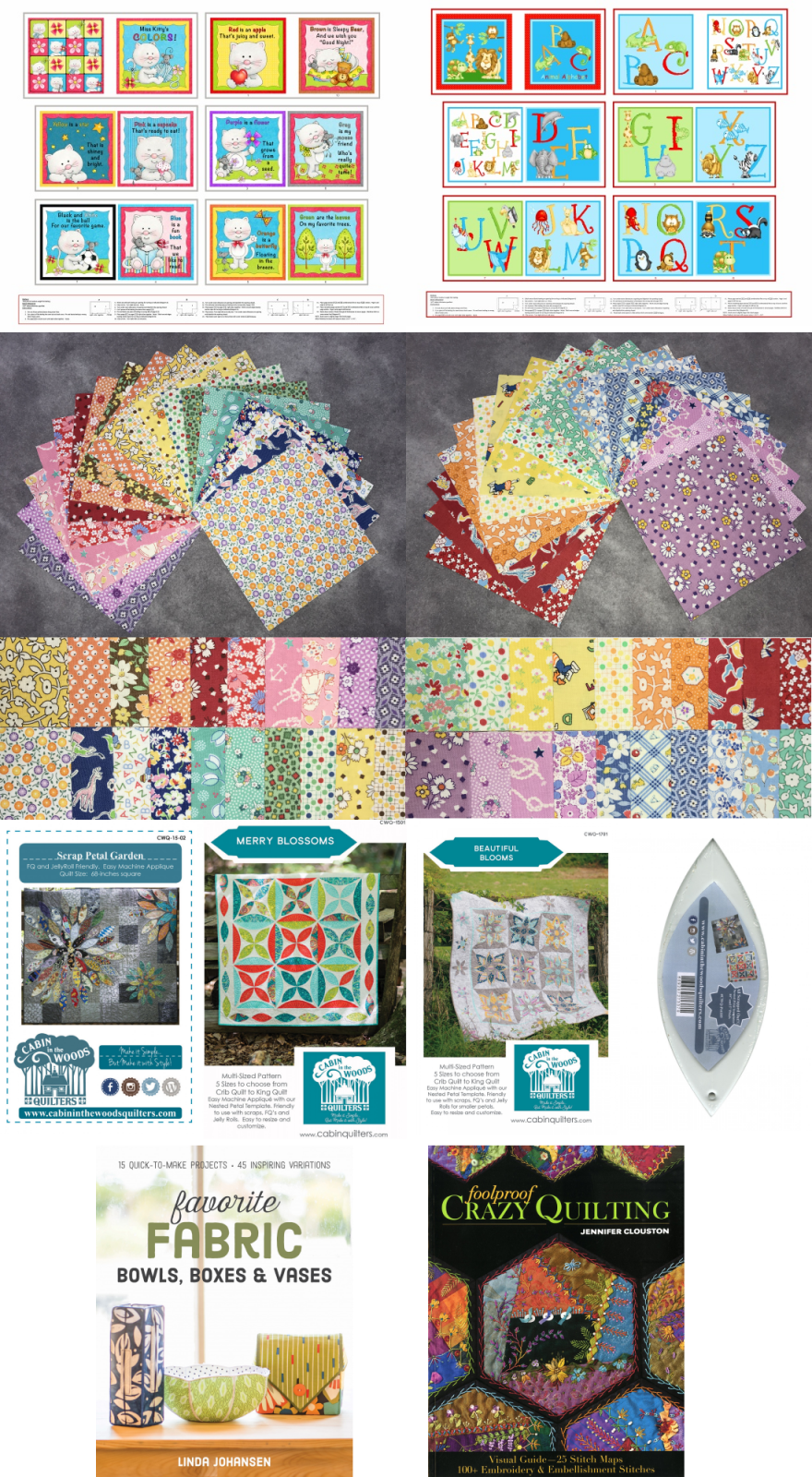 Two incredibly cute book panels have come in from Henry Glass. Choose from Miss Kitty's Colors or ABC Animal Alphabet, $11.99 each. Or, get both -- you can't go wrong with them.
Nina has been hard at work making new strip sets and charm packs for all you 30s reproduction lovers. Choose from two different sets. Strips, $42.99 per pack. Charms, $10.99 per pack.
Looking for a fresh new pattern? Try one of these from Cabin in the Woods: Scrap Petal Garden, $8.00 each; Merry Blossoms, $10.00 each; and Beautiful Blooms, $10.00 each. All three come with traceable petal templates, or you can purchase the nested acrylic templates for $10.00.
Books are discounted every day at Capital Quilts!
Favorite Fabric Bowls, Boxes & Vases

lets you organize every room in your home with decorative fabric bowls, boxes, and vases! With 15 projects you can easily make in a day, best-selling author Linda Johansen teaches you to sew sturdy fabric containers of all shapes and sizes to corral your odds and ends. Each pattern includes stylish variations and embellishments ranging from artistic to playful. Ideal for gift giving and displaying treasured fabrics, these handpicked projects are perfect to make, use, and share. We bet you can't stop at just one! MSRP $24.95, CQ price only $21.21.
In

Foolproof Crazy Quilting

, author Jennifer Clouston shows you how to make your own heirloom crazy quilts. Learn which fabrics, threads, and needles to use; how to piece crazy quilt blocks; how to embroider with thread, ribbons, beads, and other embellishments; how to assemble your blocks into a finished quilt; and more. MSRP $27.95, CQ price only $23.76.

CLASSES:
You can sign up for classes online, by phone at 301-527-0598, or in person at the shop.
Our free Sit 'n' Sew will be held on Friday, March 23rd from 5-9pm. Bring your project and perhaps a snack to share; Capital Quilts provides space, irons, and beverages. Fun for all!
Dottie and the members of the Machine Embroidery Club are anxious to meet you Saturday, 3/24 at 4:30pm for their Trunk Show. Yes, there will be door prizes! You must be pre-registered to qualify for door prizes.
On Monday, 3/26 at 10:30am, Kim is teaching Lucy Boston's Patchwork of the Crosses. While quilts in this pattern may seem complex, they're really only made from two basic English Paper-Pieced shapes. The magic comes from fabric selection, fussy cutting, and placement. Only two seats remain in this popular class.
Don't have enough room in your house to easily sandwich a quilt? Bring your top backing batting and supplies to CQ and we will help you sandwich that quilt in no time! Make your appointment today for Sandwich Day on Tuesday, 3/27.
Marla leads a CQ Cares: Pet Bed Workshop on Wednesday, 3/28 at 10:30am. No sewing experience is necessary! We can use your help with either stuffing or sewing. Please register for this free event so we'll know how many people to expect.
Are you a Blue Bag Bonanza (5th Saturday Club) member? The combination of Blue Bags and Gold Tickets will allow members to enjoy special savings on Saturday, March 31st. See above for details.
We will be closed on April 1, 2018 in observance of Easter.
SAVE THE DATES
March 24: Machine Embroidery Trunk Show
April 12-14: "Quilt Fiesta" Faithful Circle Quilters Show
June 1-3: QU Quilt Show
June 9 & 10: Annapolis Quilt Show
June 21 - September 4: Row by Row Experience
October 19-28: Quilters' Quest
COMMUNITY CORNER
We are still accepting Kennel Quilts for animals affected by natural disasters, and just received a request for more to be sent out to shelters taking in animals displaced by recent winter storms in the northeast. Small Kennel Quilt kits are available in the shop; just ask for one!
CAPITAL QUILTS BLUE BAG BONANZA
The March prize is "Grand Finale", a DVD Workshop by Ricky Tims. Includes 122 minutes of instruction in fine machine quilting and finishing techniques, such as innovative marking techniques, bobbin quilting, managing the quilt, creating your own designs, trapunto, and binding techniques.
To be entered in each month's drawing, bring your Capital Quilts Blue Bag with you when you shop. Make sure you show it to the staffer at the register! Upon completion of your sales transaction, your name will be put in the jar for the drawing at the end of the month. The more you shop, the more chances you have to win. Don't have a Blue Bag? Purchase one at the shop, by phone, or online for just $4.99. We save all of the entries for the year, and at the end of the year we draw a Grand Prize Winner from all the entries.
Sign up for our 5th Saturday Club! Purchase your Gold Tag for $10 and be able to participate in four special sales on the four 5th Saturdays on 2018.
Our thanks to everybody who shops at Capital Quilts and who participates in the Blue Bag Bonanza.
Save
Save
Save