Skip Navigation
Website Accessibility
What's New at CQ 03/29/2018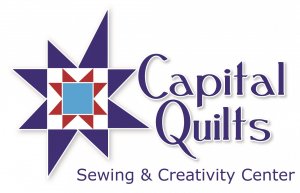 "Why do two colors, put one next to the other, sing? Can one really explain this? No. Just as one can never learn how to paint." Pablo Picasso



Dear Friends of All Things Textile,
There is just one day left to get your Capital Quilts Blue Bag and Golden Ticket before the first 5th Saturday Club Blue Bag Bonanza sale on Saturday. They will not be for sale on Saturday. Holders of the Blue Bag and Golden Ticket will get 25% off all the regularly priced items that you can squeeze in your Blue Bag. If you purchase all the fabric on a bolt, you'll get 30% off the price of that bolt (does not apply to Clearance fabrics or bolted interfacings, stabilizers, battings, etc.). It's a great day to buy quilt backs! The Blue Bags and Golden Tickets will be sold again beginning next Monday, so that you can be ready for the second 5th Saturday Club sale!
Capital Quilts will be closed on Sunday, April 1st. Happy Easter!
Don't forget to get your scissors, knives, and small garden tools bundled up and to us for sharpening. The last day to bring your dull stuff to us is April 17. Don't forget to put your name and phone number on the bundle and include your payment, cash or check. Everything is $7, except hair cutting shears, which are $25.
A new semester of classes begins on April 2! All of the classes are on our website, and the Quarterly Newsletter will be available soon; we are in the process of proofreading it. I hope you will look it over and choose some classes to take. It's fun sewing with others, and you will learn so much with a teacher in the room to guide you! It's never too late to join a club; we pro-rate the sign-up fee for you.
Anchors Aweigh! Plans for Quilters' Quest are in full swing! Be sure to visit the Quest website www.quiltersquest.org to sign up for the newsletter. In addition to information about the Quest shop hop, you'll find Projects-of-the-Month, pictures and news from the shops, and maybe even a coupon or two. This year the Quest will be held October 19-28. We are offering two bus "cruises" from Capital Quilts: on the 19th & 20th and on the 22nd &23rd. Relax and leave the driving to us! We'll feed you lunch both days and provide water and snacks. You'll have about an hour to shop in each of the 10 shops. We will take care of getting your passport stamped and putting your name into the daily drawing basket at each shop. At the end of the "cruise", you'll receive a Quilters' Quest bag and a card that gives you a 15% discount at all of the 10 shops through September 30, 2019. The price for this good time is $150…but if you sign up by May 1, it is just $125.
Janome has announced a new model serger! The AirThread 2000D Professional uses a puff of air to thread the upper and lower loopers, has a built-in needle threader, snap on presser feet, a differential feed ratio 0.5 to 2.0, and more. Shipping starts in August. We'll get one in the shop sometime in July and will accept pre-orders for this wonderful new serger at that time.
Go 'n' Piece,
Alison
NEW & NOTEWORTHY:

From Robert Kaufman, we have what I like to think of as "cat bubbles" from their Whiskers and Tails collection. These sweet kitties are in blues and greys with metallic gold touches. $11.99 per yard

If you hand-stitch, you may already know the benefits of running your thread over beeswax before getting busy. If not, a light beeswax coating on your thread improves strength, and helps prevent tangling. Measuring about 1-1/4" x 1-1/4" x 1", these little beeswax gems are just the right size to tuck in with your traveling project. Each comes in a lovely little organza pouch. $5.00 each.

Strip-piecers will love what Nina's been working on! In 2-1/2" strips, we have "Cherry Blossom" Batiks and a bright solid rainbow. $42.99 per strip set.

Books are discounted every day at Capital Quilts!

Even with zero experience, you can do embroidery! How to Embroider, Susie Johns teaches embroidery as you would learn it sitting at your grandmother's knee. She introduces the basic tools, materials, and stitches you need to know and sprinkles in helpful tips to keep you on the right path. Best of all, instead of tedious repetition, you get to practice each new stitch by doing an easy but stylish project. MSRP $12.95, CQ price only $11.01!

There's More than One Way to Bind a Quilt: Every quilt needs to be bound but not every quilt needs to be bound the same way. Now, in one concise booklet, ten of the most popular binding techniques are shown in large, clear step-by-step photos, illustrations and easy-to-follow text. From Landauer publishing. MSRP $14.95, CQ price $12.71.

Enjoy the confidence of knowing basic stitches, then let your stitching spirit play to its heart's content with pattern and form. Stitching is fun, exhilarating and artistic. For several years, stitch artist Ruth Chandler has looked for just the right stitch reference. Tired of looking, she decided to create the stitch handbook herself and came up with Modern Hand Stitching! MSRP $24.95, CQ price only $21.21.



CLASSES:


You can sign up for classes online, by phone at 301-527-0598, or in person at the shop.

Are you a Blue Bag Bonanza (5th Saturday Club) member? The combination of Blue Bags and Gold Tickets will allow members to enjoy special savings on Saturday, May 31st. See above for details.

Start out April by making a T-Shirt Quilt! In two sessions, Debra Ball will teach you how to design your quilt, stabilize and cut your T-Shirts, and assemble your final product! Starts Wednesday, 4/4 at 10:30am.

Join Sue Moats in making a Quilt of Valor on Saturday, 4/7 at 2pm. This workshop is free, but you must register, as space is limited.

Woven is a fast sew, but you'll love the results! Using just four fat quarters and a background fabric, Anne guides you through making this cutie. Tuesday, 4/10 at 10:30am.

Betsy gave a color presentation to the Second Saturday group, it was so wonderful, we've asked her to give everyone a chance to hear it! She'll be presenting Color Theory on Wednesday, 4/11 at 1pm.

Jan Wisor is leading our next CQ Cares project on Thursday, 4/12 at 10:30am. She'll lead the group in making as many pillowcases as possible for the Children's Inn at the NIH. Pillowcase donations are also being accepted, in case you want to make some but can't come the the workshop. See http://millionpillowcases.allpeoplequilt.com/freepatterns/index.html for patterns. We like the Roll It Up pattern best, because it's so quick to make up!

Annie is back, and geared up to teach! Join her on Friday, 4/13 at 10:30 for the popular Retreat Bag, and/or Sunday 4/15 at 11am for the also popular Round Tuffet!

If you need help or space in which to sandwich your quilt, sign up for one of the appointments we have for Sandwich Night on Friday, 4/13.

Rod's Sharpening is coming on 4/18! Mark your calendars now to ensure you get your scissors, knives, and small garden tools to us by 4/17 if you'd like to take advantage of his sharpening skills.


SAVE THE DATES

April 12-14: "Quilt Fiesta" Faithful Circle Quilters Show
June 1-3: QU Quilt Show
June 9 & 10: Annapolis Quilt Show
June 21 - September 4: Row by Row Experience
October 5 & 6: "Around the Block" Needlechasers Quilt Show
October 19-28: Quilters' Quest


COMMUNITY CORNER

We are still accepting Kennel Quilts for animals affected by natural disasters. Small Kennel Quilt kits are available in the shop; just ask for one!


CAPITAL QUILTS BLUE BAG BONANZA

The March prize is "Grand Finale", a DVD Workshop by Ricky Tims. Includes 122 minutes of instruction in fine machine quilting and finishing techniques, such as innovative marking techniques, bobbin quilting, managing the quilt, creating your own designs, trapunto, and binding techniques.

To be entered in each month's drawing, bring your Capital Quilts Blue Bag with you when you shop. Make sure you show it to the staffer at the register! Upon completion of your sales transaction, your name will be put in the jar for the drawing at the end of the month. The more you shop, the more chances you have to win. Don't have a Blue Bag? Purchase one at the shop, by phone, or online for just $4.99. We save all of the entries for the year, and at the end of the year we draw a Grand Prize Winner from all the entries.

Sign up for our 5th Saturday Club! Purchase your Gold Tag for $10 and be able to participate in four special sales on the four 5th Saturdays on 2018.

Our thanks to everybody who shops at Capital Quilts and who participates in the Blue Bag Bonanza.
SaveSaveSave