Skip Navigation
Website Accessibility
What's New at CQ 04/05/18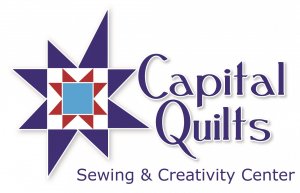 "Sense the blessings of the earth in the perfect arc of a ripe tangerine, the taste of warm, fresh bread, the circling flight of birds, the lavender color of the sky shining in a late afternoon rain puddle, the million times we pass other beings in our cars and shops and out among the trees without crashing, conflict, or harm." Jack Kornfield

Dear Quilting Friends,

Woohoo! April 1 marked the 6th anniversary of my buying the shop from the McLaughlins, and we are celebrating the event with an Anniversary Sale. Brave the weather on Saturday, April 7 and come warm yourself with a 20% discount on all in-stock regularly priced items in the shop. The sale continues through April 13. The Fine Print: discount does not apply to Clearance, sewing machines, quilting machines, or books: we already discount those items every day! Discount may not be combined with any other discount, coupon, or other program.

Make an easy baby-sized quilt with Anne Brill on Tuesday, April 10, 10:30-1:30. "Woven" is suitable for confident beginners and up. It uses only 4 fat quarters and ¾ yard background fabric. It's fun and fast and staff favorite here in the shop. You'll most likely take home a finished top.

Art and Stitch is software that allows you to create and manipulate quilting designs. Our Art and Stitch Club meets on the 4th Sunday of every month from 12:30-2:30. All skill levels are welcome. You will learn the software and explore its capabilities. Enjoy show and tell and the sharing of ideas and tips, and be inspired by fellow software users!

A new semester of classes has begun! All of the classes are on our website, and the Quarterly Newsletter is now available. Look it over and choose some classes to take. It's fun sewing with others, and you always learn something new! Think one of our clubs looks interesting? Go ahead and join! Club registrations are pro-rated to the month you sign up in. There is a typo in the recently released Quarterly Newsletter. The Retreat Bag class with Annie Jeffrey on Friday, April 13, is 5 hours long and costs $50, not 4 hours and $40 as typed. Mea culpa.

Due to some retirements, Capital Quilts is short-staffed! I am looking for two part-time sales associates. The successful candidate will have at least some retail experience, a sense of fun, enjoy working with a team, and be a "people" person. It doesn't hurt to know something about quilting and/or garment sewing. The job requires being on your feet for a four-hour shift. Please send your CV to alison@capitalquilts.com if you are interested in applying. You can also call me at the shop, 301-527-0598, if you'd like to know more.

The Quilters' Quest shopowners got together to film the new promotional video today! It was a lot of fun to do -- look for it soon! If you haven't already done so, sign up for the Quilters' Quest newsletter at www.quiltersquest.org. Capital Quilts will have two bus trips to choose from this year -- choose from 10/19 & 10/20 or 10/22 & 10/23. Relax and leave the driving to the professionals! Sign up before 5/1/18 for just $125, a $25 savings!
Go 'n' Piece,
Alison
NEW & NOTEWORTHY:

New store-made strips and charm squares! We have a rainbow of Pastel Solids and also Ombre Stitches. Strips, $42.99 for a package of 40. Charm Squares, $10.99 for a package of 40.

Books are discounted every day at Capital Quilts!

In An English Paper-Pieced Sampler, authors Darlene Beltman and Teresa Justice bring history and instruction together. The patterned blocks are easily used for a variety of projects and quilts. Templates are included for each of the blocks along with a coloring page to try out various color combinations. Clear and concise instructions make this block accessible for both beginning and advanced quilters. MSRP $24.95, CQ price only $21.21.

Fat Quarter Baby is simply baby-crazy in the best way possible! This pattern-packed book from It's Sew Emma contains are 20 crib-size quilts and one bonus table runner for your bundles of joy. Packed with fresh fabrics and a variety of styles, there is something for every quilter. MSRP $19.95, CQ price only $16.96.

Mickey Depre takes traditional piecing methods and adds her flair to create a new world of hexie madness. The first of her series of hexie books, Pieced Hexies features seven different hexie patterns with a multitude of variations on each one. MSRP $24.95, CQ price only $21.21


CLASSES:


You can sign up for classes online, by phone at 301-527-0598, or in person at the shop.

Woven is a fast sew, but you'll love the results! Using just four fat quarters and a background fabric, Anne guides you through making this cutie. Tuesday, 4/10 at 10:30am.

Finish your own quilts on the shop's Handi Quilter longarms! First, you'll need to take Getting Started: The Handi Quilter Longarm Machine, next offered on Tuesday, 4/10 at 11am.

Betsy gave a color presentation to the Second Saturday group, it was so wonderful, we've asked her to give everyone a chance to hear it! She'll be presenting Color Theory on Wednesday, 4/11 at 1pm.

Jan Wisor is leading our next CQ Cares project on Thursday, 4/12 at 10:30am. She'll lead the group in making as many pillowcases as possible for the Children's Inn at the NIH. Pillowcase donations are also being accepted, in case you want to make some but can't come the the workshop. See http://millionpillowcases.allpeoplequilt.com/freepatterns/index.html for patterns. We like the Roll It Up pattern best, because it's so quick to make up!

Annie is back, and geared up to teach! Join her on Friday, 4/13 at 10:30 for the popular Retreat Bag, and/or Sunday 4/15 at 11am for the also popular Round Tuffet!

If you need help or space in which to sandwich your quilt, you're going to want to grab the remaining (6pm) appointment for Sandwich Night on Friday, 4/13.

Marianne currently has one appointment available for routine maintenance of Janome sewing machines on Sunday, 4/15.

Let Hilary lead you to piecing success in her Disappearing 9-Patch Workshop, Monday 4/16 at 10am. She will talk about the variety of setting possibilities for the block, and you can proceed to plan your quilt. The focus is on using either 3½ or 5 inch squares as the foundation of the quilt, but you can experiment with different sizes.

If you're interested in learning how to use the longarm machines, but missed the class on 4/10, we're offering Getting Started: The Handi Quilter Longarm Machine on Monday, 4/16 at 11am.

Rod's Sharpening is coming on 4/18! Mark your calendars now to ensure you get your scissors, knives, and small garden tools to us by 4/17 if you'd like to take advantage of his sharpening skills.



SAVE THE DATES

April 12-14: "Quilt Fiesta" Faithful Circle Quilters Show
June 1-3: QU Quilt Show
June 9 & 10: Annapolis Quilt Show
June 21 - September 4: Row by Row Experience
October 5 & 6: "Around the Block" Needlechasers Quilt Show
October 19-28: Quilters' Quest


COMMUNITY CORNER

We are still accepting Kennel Quilts for animals affected by natural disasters. Small Kennel Quilt kits are available in the shop; just ask for one!


CAPITAL QUILTS BLUE BAG BONANZA

The April prize is a Dream Fusible Batting by Quilter's Dream, 60" x 46". It is made with 80% high grade long staple USA cotton fiber blended with 20% fine denier poly microfiber for a soft, silky batting that drapes beautifully and breathes well. The long staple cotton fiber reduces shrinkage and adds stability so that the stitches can be up to 8" apart. The poly microfibers add a loft and resistance to creases/wrinkles.

There are no scrims, glues, or other binders to resist the needle, so this fine batting can be hand or machine quilted with ease.

To be entered in each month's drawing, bring your Capital Quilts Blue Bag with you when you shop. Make sure you show it to the staffer at the register! Upon completion of your sales transaction, your name will be put in the jar for the drawing at the end of the month. The more you shop, the more chances you have to win. Don't have a Blue Bag? Purchase one at the shop, by phone, or online for just $4.99. We save all of the entries for the year, and at the end of the year we draw a Grand Prize Winner from all the entries.

Sign up for our 5th Saturday Club! Purchase your Gold Tag for $10 and be able to participate in four special sales on the four 5th Saturdays on 2018.

Our thanks to everybody who shops at Capital Quilts and who participates in the Blue Bag Bonanza.
SaveSaveSave