Skip Navigation
Website Accessibility
What's New at CQ 4/12/18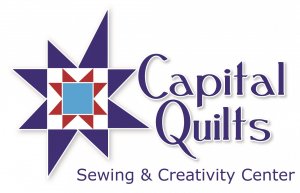 "I found I could say things with color and shapes that I couldn't say any other way - things I had no words for." Georgia O'Keeffe
Dear Warmed-Up Quilters and Sewists,
Finally we can thaw out a bit! I am told there is still snow in the parking lots in northern New Jersey; ick.
Save the Date! Capital Quilts is now a Signature Accuquilt Dealer. We don't have any stock in yet, but if there is something you know you want, I can order it for you. Our first GO! event will be on June 22 and 23. There will be three separate sessions, two on Friday and one on Saturday morning. Stay tuned for details!
Some did-you-knows: Did you know that we are also a dealer for Handi Quilter (longarm quilting machines), Janome (sewing machines and sergers), Horn of America (sewing cabinets and chairs), and Floriani (machine embroidery necessities, including thread, stabilizers, and software)?
Did you know that Capital Quilts can order almost anything for you? If you see something you like in a magazine, online, in another shop, or at a friend's house, just get us the name of the manufacturer and the title of what you want (or bring us a picture; we may recognize it) and we'll try to find it for you! You can also go "shopping" on our distributors' websites; make note of the item number and ask us to place the order for you. Our distributors are Checker (checkerdist.com), United Notions (unitednotions.com), and Brewer (brewersewing.com).
Did you know that you can join a Capital Quilts Club anytime? We will prorate your annual fee for you.
And did you know that it is the beginning of a new quarter and we have lots of new classes for you to choose from? Find our class listings on our website. If there is a technique you want to learn but we aren't offering that class now, get some friends together and give me a call; I'll find a teacher and a time in the classroom for you!
FOR SALE: Our Handi Quilter Fusion with ProStitcher floor model is available for $14,999 with no shipping. MSRP for this machine is $23, 995 plus $465 shipping, so you'll save $9,461 off the retail price! I am selling the Fusion with P/S at this price in order to make room a new Forte machine. The Fusion has a 24" throat and a lifetime stitch count of 7,405,257 as of this writing. Installation within a 50 mile radius of the shop is free.
Go 'n' piece,
Alison
NEW & NOTEWORTHY:
Our "menagerie" of make-able stuffed animals is always a hit with our customers. We've just gotten in a whole slew of "exotic" Funky Friends patterns! Choose from: koala, crocodile, platypus, octopus, snake, shark, iguana, seahorse, and more! $12.99 each.
CLASSES: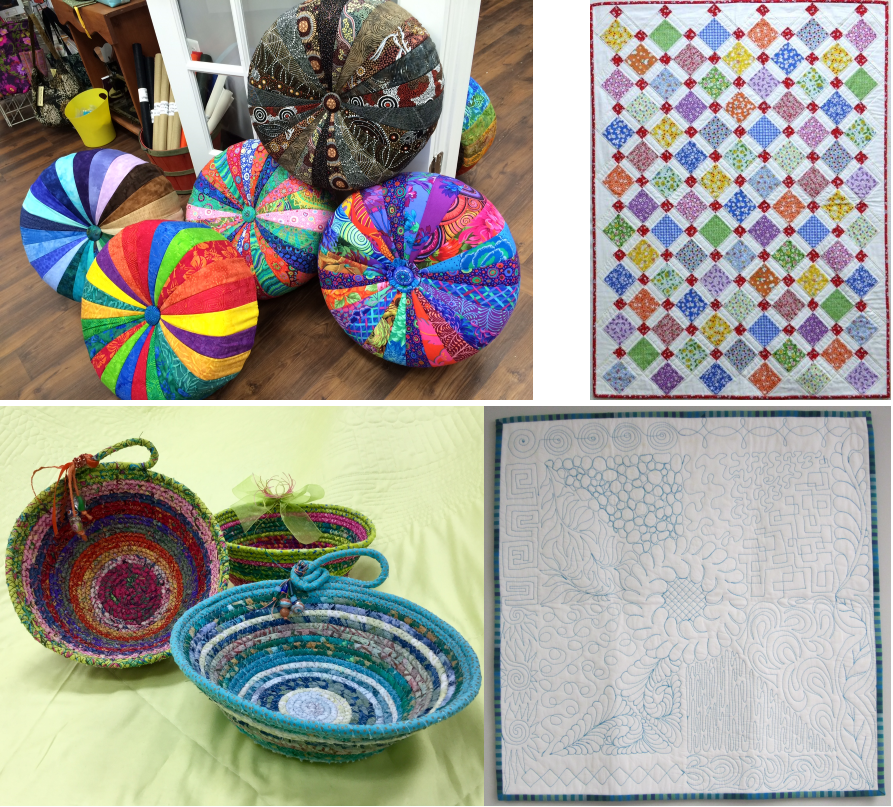 Join Annie on Sunday 4/15 at 11am for the popular Round Tuffet! This nifty round stool comes together quickly using the Creative Grids 15-degree Triangle Ruler. Add legs and prop your feet up.
Let Hilary lead you to piecing success in her Disappearing 9-Patch Workshop, Monday 4/16 at 10am. She will talk about the variety of setting possibilities for the block, and you can proceed to plan your quilt. The focus is on using either 3½ or 5 inch squares as the foundation of the quilt, but you can experiment with different sizes.
Quilt your own quilts on our longarm machines! We're offering Getting Started: The Handi Quilter Longarm Machine on Monday, 4/16 at 11am.
Tucker University is a new and exciting opportunity to help quilters build their skills and accuracy. Each class covers a different Studio 180 Design tool along with ways to expand the use of the tool. Students will make 4" finished units so that they can combine and create new blocks. Beth teaches Square Squared and Little Houses on Tuesday, 4/17 at 2pm.
Lois loves teaching the Rag Basket class. These bowls are sturdy, versatile and fun to make. This class will provide instructions for making a small bowl and hopefully have you leaving with your bowl and all you need to make more. Be careful - it is addictive, but if you are a quilter and/or sewing "nut", you know all about that!!! Tuesday, 4/17 at 6pm.
Rod's Sharpening is coming on 4/18! Mark your calendars now to ensure you get your scissors, knives, and small garden tools to us by 4/17 if you'd like to take advantage of his sharpening skills. Be sure to enclose payment (check payable to Rod's Sharpening or cash) before you securely wrap your items in a kitchen towel.
The Complete Course of Quilting starts Wednesday, 4/18 at either 2pm or 6pm. This is the ultimate quilt course! Over 10 weeks, the incomparable Annette will teach you everything you need to know about quilt making, including fabric selection, cutting, piecing by machine, pressing, set-ins, paper piecing, and so much more. You will make a sampler quilt incorporating all the major quilt techniques, and learn to sandwich, quilt, and bind your masterpiece. It is the perfect opportunity to start at the beginning and learn one step at a time. At the end, you will be able to say proudly, "I am a quilter!"
If you missed the Rag Basket class on the 17th, or maybe just don't like venturing out in the evening, Lois has a morning class scheduled for Thursday, 4/19 at 10:30am.
Have Fun with Free Motion! Tired of stitching in the ditch? This class is built around the premise that ANYONE can become competent at free motion quilting, but that almost EVERYONE needs a good deal of practice to gain the confidence needed to actually start quilting. In this class, we will PRACTICE. Let's try some other patterns and techniques! We'll explore meandering fillers using stencils and more. Some previous experience with free motion quilting is required. Karen Fricke teaches, Friday, 4/20 at 1:30pm.
Attention longarmers! If you've got the basics of ProStitcher Premium down, ProStitcher Premium: The Next Steps will teach you how to design at the frame, including edge to edge, block placement, borders, and effective yet simple custom quilting. Everyone will have the opportunity to try the techniques. Friday, 4/20, 6pm.
If you haven't yet learned ProStitcher Premium, here is your chance! Learn the basic buttons and tools of ProStitcher Premium. Customize Edge-to-Edge (E2E) designs on your computer to fit any quilt size and transfer the design to the ProStitcher Premium on the longarm for accurate stitch out. Please make an appointment to install the ProStitcher Premium Simulator on your laptop computer by calling or emailing Capital Quilts at least one week before class on Saturday, 4/21 at 10:30am.
SAVE THE DATE:
April 12-14: "Quilt Fiesta" Faithful Circle Quilters Show
June 1-3: QU Quilt Show
June 9 & 10: Annapolis Quilt Show
June 21 - September 4: Row by Row Experience
June 22 & 23: AccuQuilt GO! Event
September 14 & 15: Handi Quilter Education Event
October 5 & 6: "Around the Block" Needlechasers Quilt Show
October 19-28: Quilters' Quest
COMMUNITY CORNER:
We are still accepting Kennel Quilts for animals affected by natural disasters. Small Kennel Quilt kits are available in the shop; just ask for one!
We are also accepting completed Pillowcases for the Children's Inn at NIH.
CAPITAL QUILTS BLUE BAG BONANZA:
The April prize is a Dream Fusible Batting by Quilter's Dream, 60" x 46". It is made with 80% high grade long staple USA cotton fiber blended with 20% fine denier poly microfiber for a soft, silky batting that drapes beautifully and breathes well. The long staple cotton fiber reduces shrinkage and adds stability so that the stitches can be up to 8" apart. The poly microfibers add a loft and resistance to creases/wrinkles. There are no scrims, glues, or other binders to resist the needle, so this fine batting can be hand or machine quilted with ease.
To be entered in each month's drawing, bring your Capital Quilts Blue Bag with you when you shop. Make sure you show it to the staffer at the register! Upon completion of your sales transaction, your name will be put in the jar for the drawing at the end of the month. The more you shop, the more chances you have to win. Don't have a Blue Bag? Purchase one at the shop, by phone, or online for just $4.99. We save all of the entries for the year, and at the end of the year we draw a Grand Prize Winner from all the entries.
Sign up for our 5th Saturday Club! Purchase your Gold Tag for $10 and be able to participate in special sales on each of the four 5th Saturdays on 2018.
Our thanks to everybody who shops at Capital Quilts and who participates in the Blue Bag Bonanza.