Skip Navigation
Website Accessibility
What's New at CQ 6/21/18
| | |
| --- | --- |
| "Once we believe in ourselves, we can risk curiosity, wonder, spontaneous delight, or any experience that reveals the human spirit." e. e. cummings | |
Dear You-Who-Spends-Too-Much-Time-Cutting,

Happy first day of Summer!

The time has finally arrived! This is the weekend of our AccuQuilt GO! event! Attend one of three AccuQuilt GO! sessions tomorrow and Saturday to find out how this marvelous cutting system can make your sewing life 'sew' much easier! Learn tips and tricks that will increase your creativity. There is a morning session each day at 10:30, and Friday afternoon there is a session at 2:30. Each session is $10, but you will get a $10 Capital Quilts Gift Card at the door. There is a trunk show and there will be giveaways!

This year's Row by Row Experience begins today! The theme for 2018 is "Sew Musical". Capital Quilts is celebrating music in the Washington, DC area with its row, "The Kennedy Center". The Kennedy Center is our nation's premier venue for the performing arts. Located on the banks of the Potomac River in DC, the Center offers musical, dance, and theatrical performances and classes. We are offering a laser-cut kit for the row.

Since 2011, Row by Row Experience has engaged tens of thousands of quilters all over the world with the fun of collecting free row patterns while visiting local quilt shops, then creating themed quilts projects using the rows they collect. Visit quilt shops between today and September 4. Each shop will give you a free pattern for its row; many will also offer kits for sale, which will include the pattern. If you are so inclined, create a quilt using at least 8 rows from 8 different shops. Quilt it, bind it, and label it, and take it to a participating quilt shop. If you are the first to submit a quilt, you will win a prize of 25 fat quarters! If one of the rows in your quilt is from that shop, the shop may give you a second prize. See complete program details at www.rowbyrowexperience.com.




The classes calendar for July, August, and September is nearing completion. You can see what is being offered on our online calendar; sign up online, by phone (301-527-0598) or in the shop. There are also many models hanging in the shop to inspire and delight you.

AccuQuilt Club members: don't forget that we are meeting on June 30 at 10:30 instead of this weekend. I hope you will all come to the AccuQuilt event! Help us tell not-yet-owners how wonderful the AccuQuilt machines are. Bring some quilts to share.

Next Saturday, June 30, is the 2nd Fifth Saturday of the year. If you don't already have a Capital Quilts Blue Bag and a Fifth Saturday golden ticket, buy yours before the 30th and join in the fun. We'll be having a special sale just for you. The shops along our street are having a Sidewalk Sale that day as well.

It's not too late to join the summer sewing challenge, "Do You See What I See?" Come to the shop to get a rules sheet and pick your inspirational picture. We have three categories with prizes in each: All Quilters, Kids Under 18, and CQ Teachers/Staff. Finished quilts are just 20" x 20", due on July 22nd. You can do this and have a whale of a good time! There is a $5 registration fee. Top prize for All Quilters and Teachers/Staff is a $50 Capital Quilts Gift Card; top prize for Kids Under 18 is a $30 CQ Gift Card.

Capital Quilts will be closed on Wednesday, July 4 in observance of Independence Day.


Go 'n' Piece,
Alison



FOR SALE: Floor Model HQ Amara, without ProStitcher. Price for the Amara: $9,595. 10' or 12' frame, your choice. If you live within 50 miles of the shop, you'll save up to $415 in shipping and handling costs. Free "Getting Started" class, a bobbin winder, leaders, and a box of goodies (bobbins, bobbin case, oil, tools, thread samples, and needles) included. If you are interested, please contact me at alison@capitalquilts.com or 301-527-0598. A ProStitcher can be added. Full warranty.


NEW AND NOTEWORTHY:



Christmas is here! We've received many bolts of Christmas fabric that you have to see in person to appreciate.

We've also received two advent calendar panels. Create an elegant Advent village with the Silent Night panel, or make cheerful stockings with the Jolly Santa panel. $8.99 each.

These twenty bolts of batik from TimelessTreasures are grouped into a patriotic colorway, but each bolt is gorgeous on its own, too. $12.99 per yard.

Create a designer silicone "Hot Stuff Oven Mitt" with your favorite fabrics. Transparent silicone overlay, instructions and templates included. Makes one oven mitt approximately 13in x 7-1/2in. Silicone overlay is 100% food grade silicone and heat resistant up to 450 degrees. Just add 2 fat quarters of fabric and cotton batting. $14.99 each; silicone refills available at $9.00 each.

Books are discounted every day at Capital Quilts!

In Quilts of Iceland, Gudrun takes you on a journey of her home country of Iceland through her quilts that are inspired by nature, Iceland's history of handwork and the heritage of Icelanders. The journey is complete with multiple color photos from the tours she gives quilters and tour groups as well as treasured recipes from family and friends of Icelandic treats. Full color instructions for 18 original quilts of different sizes, using Gudrun's innovative techniques and tools such as the Stripology rulers. MSRP $34.95, CQ price only $29.71.

Take the first steps to becoming an art quilter with popular teacher and best-selling author Katie Pasquini Masopust. Starting with an inspiration photo or painting, choose fabrics to create your own artistic log cabin quilts. Artful Log Cabin Quilts teaches how to navigate visual pathways and composition, applying easy techniques and experimenting with color. Student work is presented, showing that anyone can create an art quilt! MSRP $26.95, CQ price only $22.91.

In Animal Parade, you'll love how Cheri Leffler combines simple piecing with whimsical applique to make adorable quilts for little boys and girls. Each delightful design comes to life with animal applique that portray a sense of innocence and friendliness. Use needle-turn or fusible applique to create owls, giraffes, penguins, frogs, foxes, and more full-sized patterns and large applique shapes make it all so easy Enjoy a varied selection of 10 irresistible quilt patterns for everyone from confident beginners to seasoned quilters Make fun use of color and create endearing gifts that will bring joy now and as a child grows. MSRP $26.99, CQ price only $22.94


CLASSES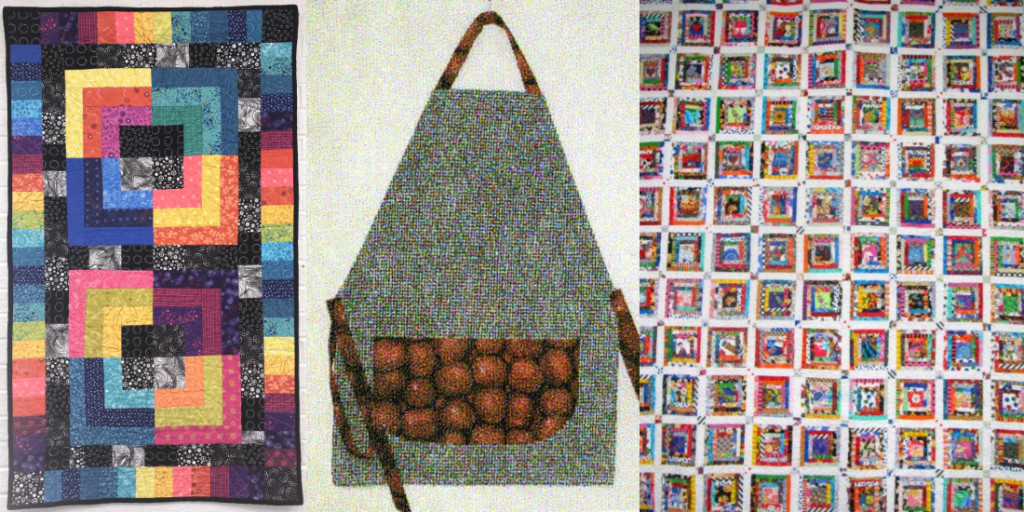 If you are interested in renting a Handi Quilter to finish your own quilts, or if you want to know more about the machines, take Getting Started: the Handi Quilter Longarm Machine on Friday, June 22, 6-9.

If you have a jelly roll of 2-1/2" strips that you'd like to make use of, try Jazzy Jelly Rolls with Julie Taylor on Saturday, June 23, 1:30-4:30.

Capital Quilts Cares: Help Billye Roberts make sew-and-flip string quilt blocks for quilts for the women at the Interfaith Works Women's Shelter on Sunday, June 24, 12-5. It's a fun block to make. It's free, and all fabric is provided. Bring your sewing machine, some thread, and basic sewing supplies.

Carol will help you sandwich your quilt on Tuesday, June 26. Sandwich Day appointments are available at 1, 3, 4, and 5. If you are going to have a longarm quilter do the quilting, you do not have to sandwich your quilt.

Learn how to make an apron out of a tea towel! Betsy Kulamer is teaching the next Sew Days class on Thursday, June 28, 6:30-9. Only $5! Sew Days classes are introductory classes aimed at people with little or no sewing experience, but anybody can take the class and enjoy themselves a bunch.

Looking for a way to use up your stash? Look no further! Robin Rothstein will help you out with the Bright Log Cabin class. This foundation paper-pieced quilt is a fun and cheerful way to use all sorts of scraps and odds and ends. Don't have a stash? We have lots of clearance fabrics, remnants, and scrap bags at the shop. Friday, June 29, 12:30-4:30.

Friday the 29th is also the last Friday of the month, which means it is time for Sit 'n' Sew! Join us anytime between 5 and 9. Bring your own project and some food to share. Capital Quilts provides the beverages. Staffers are happy to help you with any problems you might be having. Free!

On Saturday, 6/30, at 2pm we offer Getting Started: The Handi Quilter Longarm. This class is designed to get you started on your longarm quilting journey! You will learn the ins and outs of the longarm machine and the frame, how to set up for quilting a quilt, what proper tension is, and some basic quilting designs.

Does your machine need a "spa day"? Make an appointment to bring it in on Sunday, 7/1! Bruce will give it a thorough cleaning, and you'll get to take your machine home the same day!


SAVE THE DATE

June 21 - September 4: Row by Row Experience
June 22 & 23: AccuQuilt GO! Event
July 4: CLOSED
September 8: Aboriginal Fabric Dot Art Lecture & Trunk Show with Phyliss Twigg Hatcher
September 8: Northcott Lecture and Trunk Show, featuring the new FIGO line
September 14 & 15: Handi Quilter Education Event
October 5 & 6: "Around the Block" NeedleChasers Quilt Show, Kensington, MD
October 19-28: Quilters' Quest
October 19-20: Capital Quilts' Quilters' Quest Bus I
October 22-23: Capital Quilts' Quilters' Quest Bus II


COMMUNITY CORNER

We've received a request for kennel quilts from a shelter helping pets affected by the fires in Colorado. Small Kennel Quilt kits are available in the shop; just ask for one!


BLUE BAG BONANZA

The June prize is a star pack of four fat quarters of Hoffman blue batiks and a luggage tag from AccuQuilt.

To be entered in each month's drawing, bring your Capital Quilts Blue Bag with you when you shop. Make sure you show it to the staffer at the register! Upon completion of your sales transaction, your name will be put in the jar for the drawing at the end of the month. The more you shop, the more chances you have to win. Don't have a Blue Bag? Purchase one at the shop, by phone, or online for just $4.99. We save all of the entries for the year, and at the end of the year we draw a Grand Prize Winner from all the entries.

Sign up for our 5th Saturday Club! Purchase your Gold Tag for $10 and be able to participate in special sales on each of the four 5th Saturdays on 2018. The next one is at the end of June.

Our thanks to everybody who shops at Capital Quilts and who participates in the Blue Bag Bonanza.