Skip Navigation
Website Accessibility
Quilting Is A Stitch!
There is still room in the Handi Quilter education events this Friday and Saturday! You can register by clicking here.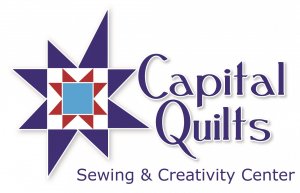 Handi Quilter Education is focused on providing you with the right tools and education to finish more quilts, and Capital Quilts has teamed up with them to bring you four great classes next week during the "Quilting is a Stitch" event! Space is limited; so register for your desired classes today!

---

Friday 10-1
"The New Kids on the Block" is a look at how to use rulers on a longarm machine. We'll focus on Handi Quilter's newest rulers, how to use them safely and creatively.
---

Friday 2-5
"The 3 B's" explores quilting backgrounds, borders, and blocks. Consider your quilt as a whole and plan how to quilt each area. Use what you learned about rulers in the morning!
---

Saturday 10-1
HQ ProStitcher is software that guides your machine as it quilts. People come from near and far to attend Susan's classes about the ProStitcher. Don't miss this opportunity to learn from the best!
---

Saturday 2-5
You can do more than just quilt on a longarm, as you will find in our final class, "You Can Do That On A Longarm, Too?". Piecing, couching, and binding are among the possibilities. Make a small project to take home!
---
About Susan Manry:

At age five, Susan's mother taught her to thread a needle and make a running stitch. Before long, she had taken over the sewing machine. Growing up, Susan's interests included textiles, drawing, design, and a broad range of arts and crafts. While raising three busy children and running an insurance business with her husband, her hobbies expanded to include digital drawing, web authoring, and computer technology.

Yearning for a career using her creative talents, Susan was smitten after discovering the combination of her creative joys in one activity – long arm quilting! Fabric, drawing, design, and sewing all in one complete package was simply too enticing to resist, and soon she was happily partnered with her HQ Fusion® and HQ Pro-Stitcher®. Mastering Pro-Stitcher and Art and Stitch, and seeking innovative ways to use both, Susan now enjoys quilting professionally with the HQ Infinity®.

Susan believes she was meant to quilt, and she relishes any opportunity to share her love and knowledge of the craft with others. She lives in Central Texas with her husband, Mike, and their two pups.