Dear Sew Wonderful Friends,
The classes for the upcoming 4th quarter have been posted on our website, and the newsletter is available online and in the shop. Classes at Capital Quilts are always fun, and it is always good to expand your knowledge of your craft. Try one! I think you'll really enjoy it. If you need help with your machine, we are happy to get it from your car for you and to put it back in the car after the class is over. We also have machines to rent during a class.
Our next big event is our shop hop, the Quilters' Quest, October 19-28. Visit 10 shops in 10 days and earn a discount card good for 15% off at all 10 participating shops through September, 2019. You get a nifty tote bag, too. If you finish your 10-shop tour at Capital Quilts, you'll find a few goodies in that tote bag! Visit www.quiltersquest.org for more information. Don't want to do all that driving? Leave the driving to us! Relax on a luxury coach on October 19 & 20 or October 22 & 23 (we have two buses). We take care of all the details; you just have fun shopping and visiting each of the shops. If you can't do both days on one of the buses, but you can do one day on bus #1 and one day on bus #2, we can accommodate that. Remember that you'll need to do Day 1 on one bus and Day 2 on the other bus.
Our regular schedule of club meetings has been changed this month because of the Quest. Janome Club, 10:30-12:30, and Tucker University, 1-4, are meeting this Saturday, October 6, as well as LongArm Club and ProStitcher Club.
Cooler weather is coming, probably. Be ready for it with a quilted jacket that you made yourself. There are 2 spots left in Rae Cumbie's Quilted Jacket class on October 11 & 12, 10-4. Call 301-527-0598, visit the shop, or go online to register.
Are you a pro at quilting with Westalee rulers on your domestic sewing machine? Do you like to teach? I am looking for someone to teach Westalee classes here at the shop. If you are interested, please give me a call (301-527-0598) or reply to this newsletter.
Did you know that you can go to www.checkerdist.com and take a look at everything Checker Distributors offers? You can't order anything because it is a wholesale site, but I can! Just make a note of the item number and name and give us a call or send us an email and we will take care of it for you. (If it is something that I have to order a lot of, like a fabric, and I don't think I'll be able to sell the rest of it, I reserve the right to not place the order.)
Go 'n' piece,
Alison
SHOP SPECIAL: Janome is discontinuing the MC9400. I have two left, one in its original box plus my floor model. Regularly $4,999, get the boxed machine for $3,749.25 (25% off) and the floor model for $3,499 (30% off). Free lesson and free membership in Janome Club included.
October 8-22 are Handi Quilter Demo Days! Purchase our floor model Simply Sixteen, Amara, or Forte at a significant price reduction.
Simply Sixteen: MSRP $5995, now $5,095
Amara: MSRP $11,995, now $8,999 Amara with ProStitcher: MSRP $21,995 now $17,599
Forte: MSRP $13,995, now $11,199 Forte with ProStitcher: MSRP $23,995 now $19,999
VENDOR SPECIALS
ACCUQUILT: Through October 8, get a $50 rebate on the purchase of the GO! Big Electric Fabric Cutter Starter Set. This package includes the GO! Big cutter; a Flying Geese die and cutting mat, and a Pattern and Idea book. The GO! Big can cut two dies at once and up to 6 layers of fabric at the push of a button. No cranking is involved, perfect for those with arthritis or other hand, arm, or shoulder ailments. Cut the binding for a queen-sized quilt all at one time! Regularly $599.99, $549.99 after rebate.
Pick up your rebate form at the shop.
New dies are coming in the middle of October. Keep a watch on this space!
JANOME: Janome introduced new models on October 1! The HMC9450QCP replaces the MC9400 as the premier domestic sewing and quilting machine. It includes the Ruler Work Mode, auto power-off time, variable zigzag, stitch tapering, the superior needle threader with Number 7 Thread Guide, and an AcuFeed Flex Professional Grade Foot (HP2). The Skyline 6 has upgraded lighting, an Indigo faceplate, 9mm stitch width, 196 built-in stitches, 10 one-step buttonholes, and the Acufeed Flex Layered Fabric Feeding System.
Janome has several promotions going on, all running October 1 – December 31:
1. Purchase the MC15000, regularly $12,999, for $10,999 and get a FREE Apple MacBook Air and FREE Artistic Digitizer Software, a $2198 value. This is the first time Janome has allowed us to put the 15000 on sale; if you have been lusting after this machine, this is a good time to buy it.
2. The new HMC9450QCP retails for $5,499. Buy it for just $4,499 and get a FREE universal Table and Janome's exclusive Westalee 6-piece Ruler Kit with carrying case and instructional DVD FREE, a $768 value. Your total savings is $1,768.
3. The new Skyline 6 has a regular price of $1,999. Buy it at the introductory price of $1,599.
4. Buy a Skyline 7, regularly $2,999, for $2,499.
5. Buy a CoverPro 2000CPX for $849 and get a Travel Roller Bag, MSRP $99, for $75.
6. Buy the new AirThread 2000D serger with One-Push Air Threading System for $1,799. The Janome Serger Thread Kit, normally $59.99, can be purchased with the 2000D for just $39.99.
7. The MC6700, regularly $3,799, is on sale for $3,199 and includes a FREE Universal Table, a $658 value.
8. The MC500E, regularly $2,999, is available for $2,499. Save 15% on the purchase of the Artistic Digitizer Software with this machine purchase.
I have most of these machines in stock or on order. If there is something you want that I don't have, I will cheerfully order it for you.

NEW AND NOTEWORTHY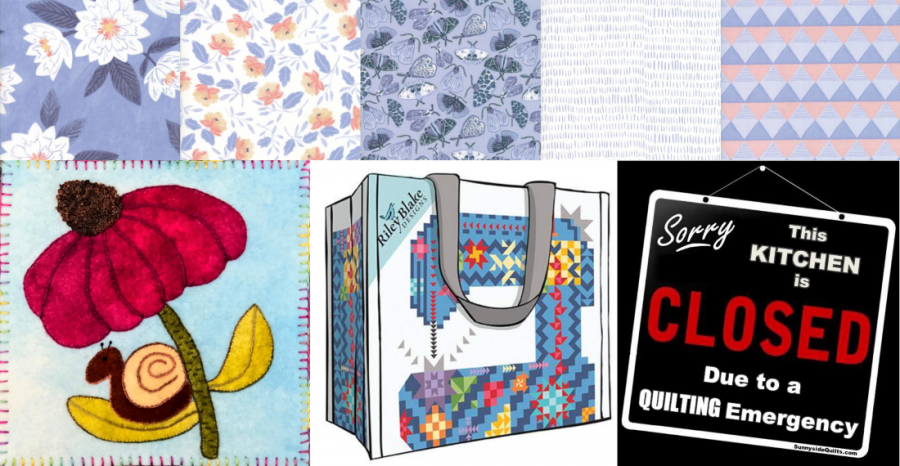 From One Canoe Two for Moda, we have "Twilight", a delightful collection of periwinkle accented by coral. You'll find peonies, moths, fireflies, and some lovely textures. $11.99 per yard.

Capital Quilts is a Wooly Block Adventure shop! This program is similar to Row by Row, but for wool, and you can purchase kits and patterns online. Our block is "In the Shade of the Coneflower", designed by our own Annette. More information on the Wooly Block Adventure can be found by clicking here.

Carry your purchases home in a "Sew Big or Go Home" reusable tote from Riley Blake. $3.95 each.

If you're like us, cooking often takes a back seat when you've a project on the machine! Let your family know you're busy with this tongue in cheek magnet. $7.99 each.


CLASSES




October is back to school at Capital Quilts with the start of a monthly lecture/demo series on the basic techniques of making a quilt. From a simple lap quilt to a family heirloom, everything is easier with good techniques and tools. Join Annette on Friday, October 5 at 10:30am for Back to Basics: Rotary Cutting Tools and Skills. No machines or supplies required.

Bruce has Sewing Machine Maintenance appointments available for Sunday, October 7th.

EQ8 has a brand new and more intuitive look, and some new and improved tools. EQ8 is a computer based application with which you can preview, color, and even design and resize your quilt. It will calculate yardage, add the ¼ inch seam allowance, and create templates, rotary cutting instructions, or foundation piecing patterns. If you use or own EQ7, you will be impressed with the upgraded EQ8. Elyse teaches, Tuesday, October 9th at 10:15am.

In Getting Started: The Handi Quilter Longarm, you'll learn the ins and outs of the longarm machine and the frame, how to set up for quilting a quilt, what proper tension is, and some basic quilting designs. Wednesday, October 10th, 6pm. Completion of this class means you will be allowed to rent time on the Amara or Forte.

Get ready for chilly weather with a new quilted Tabula Rasa Jacket. Choose to make the Vines and Leaves TRJ, the Flower Garden TRJ or a wholecloth quilted TRJ. Rae Cumbie will be your guide on Thursday, October 11 and Friday, October 12 as you design, piece, cut, choose battings, threads and other materials. See more inspirations by clicking here. Prerequisite: a fitted Tabula Rasa Jacket muslin and pattern. Bring your muslin or pattern from your previous Tabula Rasa Jacket class. If you need to be sized, stop by Capital Quilts for a fitting October 7 from 2-2:30 or 4:30-5pm or the Fit for Art Patterns booth at the Fredericksburg Sewing Expo.

The 3-D Pinwheel quilt will give baby lots of tactile fun with this quilt; the pinwheels stand away from the background, giving lots to feel. And, it's AccuQuilt GO! friendly! (Pieces may also be cut traditionally.) Robin Rothstein teaches, Friday, October 12th at 5pm.

On Saturday, October 13th at 2:30pm, join Sue Moats to make a Quilt of Valor. These quilts are tremendously important to the men and women who serve our country in the military. Help us support our vets by making a Quilt of Valor. The group will make one quilt. All fabric is provided. Just bring your sewing machine, supplies, and lots of energy! Please register, as space is limited.

Marianne has Janome Sewing Machine maintenance appointments available for Sunday, October 14th.

Rod's Sharpening Service will be here on October 17th! Gather up your shears, snips, knives, and garden tools, and bring them to Capital Quilts not later than October 16th. They'll be sharp as new and ready for pickup on the 17th.


SAVE THE DATE

• October 5-6: "Around the Block" NeedleChasers Quilt Show, Kensington, MD
• October 11-12: Fit for Art Workshop -- Quilted Tabula Rasa Jacket with Rae Cumbie
• October 17: Rod's Sharpening @Capital Quilts
• October 19-28: Quilters' Quest
• October 19-20: Capital Quilts' Quilters' Quest Bus I (Be among the first to see all the shops!)
• October 22-23: Capital Quilts' Quilters' Quest Bus II
• November 9-10: AccuQuilt GO! Event & Classes


COMMUNITY CORNER

We are still accepting Kennel Quilts for animals affected by natural disasters. Small Kennel Quilt kits are available in the shop; just ask for one!


BLUE BAG BONANZA

The October prize is a set of Stonehenge 2 1/2" strips from Northcott Fabric.

To be entered in each month's drawing, bring your Capital Quilts Blue Bag with you when you shop. Make sure you show it to the staffer at the register! Upon completion of your sales transaction, your name will be put in the jar for the drawing at the end of the month. The more you shop, the more chances you have to win. Don't have a Blue Bag? Purchase one at the shop, by phone, or online for just $4.99. We save all of the entries for the year, and at the end of the year we draw a Grand Prize Winner from all the entries.

Sign up for our 5th Saturday Club! Purchase your Gold Tag for $10 and be able to participate in special sales on each of the four 5th Saturdays on 2018. There is one date left, December 29th.

Our thanks to everybody who shops at Capital Quilts and who participates in the Blue Bag Bonanza.