Skip Navigation
Website Accessibility
What's New at CQ 1/31/19
| | |
| --- | --- |
| "It's fine to have social media that connects us with old friends, but we need tools that help us discover new people as well." Ethan Zuckerman | |
Dear Thread-loving Friends,
Nearly every week someone comes into the shop and says, "I've lived in this area for ___ years (recently someone said 40) and I never knew Capital Quilts was here!" We would love to reach more of our local community. Help us spread the word! Do you know of any businesses or other institutions that would put our rack cards on display? Or any that might host a display of quilts from Capital Quilts? If you post on social media and you are in the shop, please take some pictures and tag us. Thanks for anything and everything you can do.
Thank you to all of you who stopped by last Saturday on Local Quilt Shop Day. It was a busy day and we enjoyed having every one of you. Thank you for shopping at Capital Quilts!
Saturday, Feb. 2, is Quilts of Valor National Sew-in Day. We are sponsoring an event here at Capital Quilts from 11-5. Stop by at 11:30 and meet Michael Walsh, retired Army and Vietnam Veteran, who will receive a QOV quilt from our chapter. Mike was instrumental in the building of the Montgomery County Vietnam Veterans Memorial and has journeyed to Vietnam memorials in all 50 states. If you are able, stay after and help make some quilts!
CLEARANCE EVENT: I have decided that Capital Quilts will no longer be a Floriani dealer. Floriani thread, stabilizers, SewMuch CosPlay products, and notions are on sale 40% off February 1-15. After the 15th, remaining items will go into regular clearance at 30% off. All sales are final. I will replace the thread with Superior Thread's Magnifico as colors are emptied. Magnifico comes in both spools and mini cones. I am stocking the spools. If you find you need the mini-cone, please let me know and I will order it for you. For stabilizers and such we will carry Sulky products. Please bear with us as we make the transition. Note that machine needles are not included in this clearance event.
Great news from the TNT Quilt Board company: they now offer the means to turn your Great Board into a pressing station. The Retro Rack has a special insert that keeps the Great Board clasped to the rack. Two shelves provide extra storage. It comes with adjustable feet and is approximately 37" high. You can add 3" or 4" wheels to gain extra height. The rack is 36" long and 16" wide. The introductory price is $129.99. Casters are $39.99. Get your Great Board off that tippy ironing board and gain some extra storage space! Go to our online shop at www.capitalquilts.com or call us at 301-527-0598 to order yours today. By the way, rumor has it that TNT is getting ready to increase their prices; some have gone up already. If this is a purchase you have been considering, now might be a good time to act on it.
Did you know…that used up rotary cutting mats make great bag bottoms? Measure the bottom of your bag and cut a piece of the cutting mat to that size (carpet/linoleum knives or super strong scissors are useful here). You might want to round the corners a bit so they don't poke holes in your bag. Put it inside the bag to make sure it is the right size. Once you are happy with the size, make an envelope of fabric and slip it over the cutting mat bottom.
Go 'n' piece,
Alison

IN THE GALLERY

Starting next week, the quilts in the Gallery will be the work of Gail Fredericks. Gail is a staff member here at Capital Quilts as well as a pattern designer. It is she who arranges most of our displays and decorates the shop for Quilters' Quest and other events. Her creative joy is evident in her work and is much appreciated here in the shop! Gail will be doing a Gallery Talk on Saturday, February 16, at 1:30.
SHOP SPECIALS
If you want to purchase a Handi Quilter for less than full retail value and can pay with cash or credit card, buy one of my floor model machines:
Simply Sixteen: MSRP $5995, now $5,245
Amara: MSRP $11,995, now $9,499. Your choice of a 10' or 12' frame.
Forte with ProStitcher: MSRP $23,995, now $21,150. Your choice of a 10' or 12' frame.
We will install your machine free of charge and provide a free lesson on its basic use and maintenance. There is a separate free class for the ProStitcher.
EQ7: I have an EQ7 for MAC software package in stock. The retail price is $189.99; I will sell it for $115. The Electric Quilt Company offers an upgrade for it, which I am happy to order for you. If you would like us to offer a class in EQ6 or EQ7, please let me know.
VENDOR SPECIALS IN FEBRUARY
ACCUQUILT GO!: February 1-18, buy one die, cutting mat, or accessory and save 10%; buy two or more and save 15%. The cutters and Qube products are not a part of this special.
HANDI QUILTER: The next Handi Quilter promotion runs February 8-18. It's a "Sweet Deal": buy a Sweet Sixteen and get the TruStitch stitch regulator for free, or buy a Simply Sixteen and get the rear handlebars and laser pointer for free. You can pre-order anytime, and we will submit your order on February 8.
HORN OF AMERICA: Horn is offering a set of pink scissors along with the purchase of one of their cabinets, plus they will donate a portion of the purchase price to breast cancer research. Through February 28.
JANOME: The Janome Red Tag Event is underway! Buy a Horizon Quilt Maker MC15000 for $10,999, a savings of $2,000. It comes with free Artistic Digitizer Software, with an additional savings of $1,199. Available through Feb. 28, 2019.
The new 9450QCP, the top-of-the-line quilter's machine, is also on sale. Regularly $5,499, save $1,000 for a price of $4,499 through 2/28/2019.
Another new machine, the AT2000D serger, is also on sale. This serger has a one-push air threading system, an 8- piece feed dog, and a built-in needle threader. Normally $1,799, it is available until 2/28/19 for just $1,699.
Other savings are available. Stop in the shop for more information. There's lots!
SEW STEADY: Sew Steady has a new table bundle available. Get a large 18" x 24" Sew Steady table, a Large travel bag for transporting the table, and the new Grid Glider for $149. The regular price is $183. Dena Wilkins is coming back to Capital Quilts in March to teach Westalee quilting classes, and you'll need a Sew Steady table for the class.
WHAT'S NEW AT CQ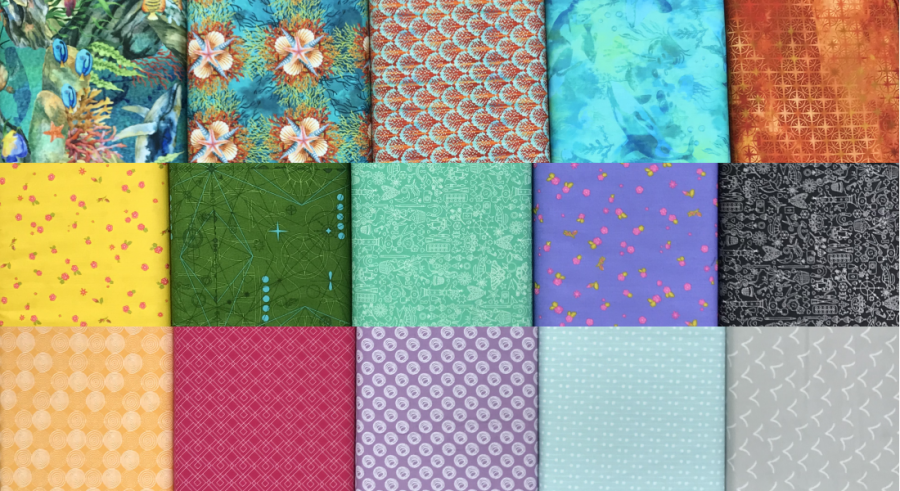 Jason Yenter has designed a delightful tropical reef! These eight color-drenched bolts include a border stripe. $11.99 per yard.
Alison Glass Sun Prints 2019 have arrived from Andover. $12.99 per yard.
You're going to love these blenders from 3 Wishes, all accented with white printing. $10.99 per yard.
CLASSES

Register for classes online, in the shop, or by calling 301-527-0598. Please register early; we need at least 3 people to make a class happen. If the class is cancelled by Capital Quilts, or if you let us know you can't make it at least 7 days in advance of the class, you will get a refund or store credit.
Sew! Let's Get Dressed is a club for those who would like to learn about garment making. Garment sewing is making a comeback. People want to have some unique pieces in their wardrobe. Learn the basics and more in this club. The first meeting is this Sunday, February 3, 2:30-4:30. The club will then meet the 1st Sunday of every other month at the same time. Rae Cumbie is your fearless leader.
Do you love a pretty table runner? This one is Simply a Pleasure. Learn how to make this table runner on Monday, February 4, 1-4 with Cathy Sullivan. Skill level: confident beginner.
Need help sandwiching your quilt? The next Sandwich Night is Friday, February 8, and there are appointments at 7 and 8 o'clock. Bring your quilt top and back, both squared and pressed; your batting; and spray adhesive or pins. If you are having your quilt quilted by a longarm quilter, you do not need to sandwich the quilt.
Lois Sumser is a master at making Rag Bowls. Every time she comes to teach a class, she brings lots of new models. One recent model had a hinged top! If you'd like to learn how to make these fabulous bowls, sign up for Lois' next class on Saturday, February 9, 2:30-5:30. Skill level: intermediate.
Join Kim and Kat to work on your Millie Stars! They will share tips on organization, cutting, and stitching.
Get ready for Spring and Summer with this stylish, casual jacket. The Little Somethin' pattern includes sizes 8 to 24, and offers a 3/4 or full-length sleeve as well as a longer or shorter length. Barbara Kascic will help you get a perfect fit. Take the class on Tuesday, February 12, 10-3.
Machine quilt your own quilts! Take Getting Started: the Handi Quilter Simply Sixteen on Wednesday, February 13, 11-1 to become eligible to rent the Simply Sixteen. Skill level: beginner longarmer.
CAPITAL QUILTS CARES
WALKER BAGS: Walkers and wheelchairs present a challenge to the people using them, as they need storage space! With a Walker Bag, glasses, notebook & pen, tissues, and other essentials can be kept close at hand. Help make bags that can attach to walkers or wheelchairs. Please bring your sewing machine, thread, and basic sewing supplies. All fabric is provided. Join Jan on Friday, February 15, 10:15-1:15 to make the bags. Free. Please register so that we know how many people to expect.

SMALL KENNEL QUILTS: We are always accepting small kennel quilts, and always have free kits available. We recently received three requests for completed kennel quilts.
SAVE THE DATE
• March 29 & 30: Westalee Quilting Event
• April 26-27, 2019: Friendship Star Quilt Guild Quilt Show
• May 31-June 2, 2019: Quilters Unlimited Quilt Show
• June 8-9, 2019: Annapolis Quilt Guild Quilt Show
• October 11-20, 2019: Quilters' Quest
• November 1-3, 2019: Everybody's Quilt Guild Quilt Show
BLUE BAG BONANZA
The February prize is an "Ollie the Owl" fusible applique kit from Lone Star Laser and a batik fat quarter.
To be entered in each month's drawing, bring your Capital Quilts Blue Bag with you when you shop. Make sure you show it to the staffer at the register! Upon completion of your sales transaction, your name will be put in the jar for the drawing at the end of the month. The more you shop, the more chances you have to win. Don't have a Blue Bag? Purchase one at the shop, by phone, or online for just $4.99. We save all of the entries for the year, and at the end of the year we draw a Grand Prize Winner from all the entries.
Our thanks to everybody who shops at Capital Quilts and who participates in the Blue Bag Bonanza.