Skip Navigation
Website Accessibility
What's New at CQ 5/9/19
| | |
| --- | --- |
| "My mother is a big believer in being responsible for your own happiness. She always talked about finding joy in small moments and insisted that we stop and take in the beauty of an ordinary day. When I stop the car to make my kids really see a sunset, I hear my mother's voice and smile." Jennifer Garner | |
Dear Textile Connoisseurs,

A serger is a very versatile and useful machine. Garment sewing can be a breeze. Learn more about them from the Queen of Sergers, Barbara Kascic, on Tuesday, May 14, 9:30-12:30 (note the change in time from the original 10:30 start time).

Sue Moats will be presenting some of the Quilts of Valor made by our QOV Chapter here at Capital Quilts to Vietnam veterans. The ceremony takes place at 5pm at the Montgomery County Memorial Wall in Rockville. All are invited to attend.

Did you know you can purchase batting by the roll? This packaging is especially wonderful for longarm quilters: there are fewer creases to deal with. Buying a roll means you have more quantity at a lower per yard price, so no running out of batting at the last minute, plus there is less plastic packaging, which is good for Mother Earth.

I have two rolls of Quilters Select Soft Machine Batting in stock. One is 5 yards, one is 10 yards, and they are both 96" wide. This is a cotton/poly blend, needle punched, smooth loft batting. It has a temporary water-soluble fusible coating on both sides to eliminate pinning and control stretching and movement; the fusible washes away. Quilt up to 8"-10" apart. There is a 3% shrinkage. The 5-yard roll, originally $107.99 is on sale for $86.39; the 10-yard roll, originally $199.99, is now $159.99.

I can order rolls of batting from Quilters Dream for you, too. They have a "Queen" roll (93" x 30 yards) and a "King" roll (120" x 25 or 30 yards, depending on the batting) in almost all of their product lines: cotton, wool, poly, blends, and specialty battings in all weights. Some styles also come in a "Baby" roll (46" x 30 yards) or a "Throw" roll (60" x 30 yards). Ask at the shop for pricing.

We have a new Capital Quilts Rewards program for you! Beginning on June 1, you will earn points every time you make a purchase at Capital Quilts, 1 point for every dollar spent. Our computer will track your points for you and show you how much you have earned right on your receipt. When you have earned 300 points, you will receive a $15 CQ Reward, a coupon that is good for 1 year. There are no cards to carry or remember to bring with you and your points never expire. You can spend your $15 reward on anything we sell in the shop. You can save up your coupons and use them together toward one purchase (just watch those expiration dates!).

Points are earned on regularly priced items. Classes, machines (including Janome, Handi Quilter, and AccuQuilt), cabinets, services, clearance, and otherwise discounted items are not included in the program.

With the start of CQ Rewards on June 1, we'll be saying goodbye to the Birthday Discount. Because we don't want to disappoint customers whose birthday falls on or between June 1 and December 31, 2019, we've made May our Birthday Bonanza month. If your birthday falls on or between May 1 and December 31, 2019, you can take your birthday discount during the month of May, instead of your usual month. That's right – take your 15% off regularly priced items every time you visit the shop in May if your birthday falls later in the year. Beginning June 1, we will send you a Birthday Coupon good for 10% off a one-time purchase of regularly priced items (that is, off the entire purchase). This coupon will be good for 14 days. No other programs are affected. The Blue Bag Bonanza lives on and your Quilters' Quest discount card is still good.

Build up your thread stash and save money at the same time. Join the Aurifil Club! We invite you to purchase a thread box containing one large spool of white Aurifil 50 wt. thread; usually this box costs $22.99, but we offer it to you for only $15.99. With the box you will receive an Aurifil Club Card. Each month, come into the shop and purchase one large spool of Aurifil thread, in the color of your choice, at a 15% discount.


Go 'n' Piece,
Alison


THIS WEEK'S SHOP SPECIAL: Take 20% off the Piping Hot Binding Tool. The package includes the tool, piping cording, and instructions. May not be combined with other discounts or offers. In-shop only.

SHOP OPEN LATER HOURS:
We are always open until 9 on Fridays; when we have an evening class, we keep the shop open until 9 on that day, too. Upcoming evenings when we will be open until 9pm: Fridays, May 10, 17, 24, and 31, and Tuesday, May 14. On Sundays, we are open from 12-6.

IN THE GALLERY: This month we have a variety of Capital Quilts quilts hanging, some new, some old favorites, all with patterns available. Enjoy!

HANDI QUILTER FLOOR MODEL SALE:
Handi Quilter longarm machines for less!

Simply Sixteen: MSRP $5995, now $5,000

Amara: MSRP $11,995, now $8,499. Your choice of a 10' or 12' frame.

Forte with ProStitcher: MSRP $24,495, now $18,495. Your choice of a 10' or 12' frame.

We will install your machine free of charge and provide a free lesson on its basic use and maintenance. There is a separate free class for the ProStitcher.

EQ7 FOR MAC:
I have an EQ7 for MAC software package in stock. The retail price is $189.99; I will sell it for $115. The Electric Quilt Company offers an upgrade for it, which I am happy to order for you. If you would like us to offer a class in EQ6 or EQ7, please let me know.


VENDOR SPECIALS IN MAY

ACCUQUILT GO!: 5/1-5/13: 15% off dies, mats, and GO! Qube Companion Sets (not the Qubes themselves, just the Companion Sets)

HORN OF AMERICA: Now through May 31, get $100 off the purchase of a model 8030 or 8050. Both cabinets have storage for an embroidery unit and hoops, a hinged drop leaf on the back and left side for greater table space, a cut-out large enough for even the biggest machines, electric lift, and a 6-outlet power strip included. The 8050 also has thread storage and a bifold swing-away door that allows you to close up the table when not in use. The 8030 retails for $2,988 and the 8050 for $3,238.

Capital Quilts deal: buy one of these units within 30 days of the purchase of a new Janome sewing machine or serger and get 20% off the price after the $100 Horn savings is taken.
JANOME: Janome is having their Spring Sale! Through May 31, look for SAVINGS and FREE GIFTS on the MC15000, HMC 9450 QCP, MC6700P, Skyline S7 and S9, MC500E, Sewist 780DC, 4300QDC, CoverPro 2000CPX, and AirThread 2000D Professional serger. Come see the machines in the shop (except the 780DC and 4300QDC, which we don't stock), or click here to see the brochure.

SEW STEADY: Sew Steady has a new table bundle available. Get a large 18" x 24" Sew Steady table, a Large travel bag for transporting the table, and the new Grid Glider for $149. The regular price is $183.


CLASSES:
Register for classes online, in the shop, or by calling 301-527-0598. Please register early; we need at least 3 people to make a class happen. If the class is cancelled by Capital Quilts, or if you let us know you can't make it at least 7 days in advance of the class, you will get a refund or store credit.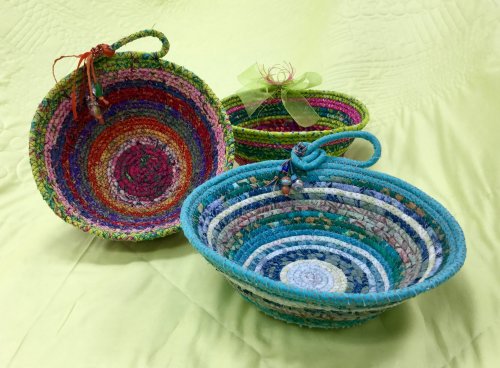 Take your machine quilting to the next level with Custom Quilting with ProStitcher. Use ProStitcher to fit various quilting designs to blocks, triangles, sashing, and borders. Learn how to size, align, and skew, as well as fitting border corners and "chunking" borders. Learn how to crop out areas of the quilting design for appliques and embroideries. Pre-requisite: experience using ProStitcher for Edge-to-Edge quilting. The class is limited to 4 people. Elyse Turkeltaub teaches on Friday, May 10, 11-2.

Need help sandwiching a quilt? Make an appointment with Carol at 7 o'clock on Friday, May 10. If you are planning on having your quilt quilted on a longarm machine, you do not need to have it sandwiched.

EQ8 is a computer-based application with which you can preview, color, and even design and resize your quilt. It will calculate yardage, add the ¼ inch seam allowance, and create templates, rotary cutting instructions, or foundation piecing patterns. Learn the ins and outs of this wonderful software with Elyse on Saturday, May 11, 11-2.

Learn how to make the popular Rag Baskets with Lois Sumser on Saturday, May 11, 2:30-3:30. Cotton clothesline, strips from your stash (or ours), and thread are your building blocks. One of our most popular classes! The basket would be a nice gift for your mom on Mother's Day, Sunday the 12th.

Tired of free-motion quilting on your longarm (or ours)? Getting bored with pantographs? Learn how to quilt by computer! Take Getting Started: Handi Quilter ProStitcher Premium to learn the basics of this great software. Class meets on Tuesday, May 14, 11-2. There is a whole other world out there in the quilting universe.

Learn how to use and maintain a Handi Quilter longarm machine in Getting Started: The Handi Quilter Longarm Machine on Wednesday, May 15, 11-2. Barbara Bean teaches. You will be qualified to rent our machines upon completion of this course.

Let's party! There are just 2 spots left in Kat's Night Owl Sewing event, from 6-midnight on Saturday, May 18. Included are pizza, beverages, a $10 Gift Card, a rollicking good time. It's like a mini-retreat! No phones, no kids, no spouses (unless you bring yours along), no pets…just sewing…


CAPITAL QUILTS CARES:
All events are free and fabric is provided. You need bring only your sewing machine, neutral thread, and sewing supplies. Please register for each workshop so that we know how many to expect. Coming up:

May 16 - Charity Bear is the cuddliest bear you will ever sew. This stuffed little bear has beady little eyes and a big nose. There are several variations that you can make to personalize your bear. The pattern is easy, beginners welcome! 10:15-12:15

May 25 – Join the QOV (Quilts of Valor) group and help us make quilts for veterans. We have enough sewists signed up already, but you can help with pressing, putting blocks on the design walls, or just generally helping the sewists. 3:30-6

Small Kennel Quilts: We are always accepting small kennel quilts, and we always have free kits available for you to take home to make and return to us. They are a perfect little project for practicing your quilting skills! We receive requests from shelters for completed kennel quilts on a frequent basis, and there are a lot coming in now from the flooded parts of the Midwest. We are running low on finished quilts and need your help making more.


NEW AND NOTEWORTHY



Alison Glass lovers, rejoice: her Sunprint Light collection is now in the shop. These low-volume fabrics are a treat. $12.99/yd

Also from Alison Glass is the Color Theory panel, eight circles of glorious color on a charcoal background. $12.99/yd

Great blenders from designer Guicy Guice have rich coloration and interesting textures. These are from his Redux and Quantum lines. $12.99/yd


SAVE THE DATE:

• May 31-June 2: Quilters Unlimited Quilt Show, Chantilly, VA
• June 8-9: Annapolis Quilt Guild Quilt Show, Annapolis, MD
• July 11-28: Sacred Threads, Reston, VA
• August 2-3: Four County Quilters Guild Quilt Show, Frederick, MD
• September 21-22: Friendship Quilters of Linthicum and Eternal Quilters Guild Quilt Show, Linthicum, MD
• October 11-20: Quilters' Quest
• November 1-3: Everybody's Quilt Guild Quilt Show, Westminster, MD


GUILD NOTES

Morgan Arts Council presents the Delectable Mountains Quilt Guild Show, "Music to my Eyes", April 12-May 26, 2019, at the Ice House Gallery in Berkeley Springs, WV. Visit www.macicehouse.org for more information.

Everybody's Quilt Guild is having their annual Quilt Bingo event on Saturday, May 11, at the Pleasant Valley Fire Co., 2030 Pleasant Valley Rd., Westminster, MD. Doors open at 5 and the event begins at 7. Please call Luray Rill at 410-596-5369 for more information and advance tickets ($18, $20 at the door).


BLUE BAG BONANZA

May's prize is a clear zippered pouch full of goodies, including 3 Ghee's zippers, a measuring tape, needle guidebook, luggage tags, a pen, Aurifil thread, an owl button, a mini petal template, 2 purse-size lint rollers, and a scissors lanyard. WOW!

To be entered in each month's drawing, bring your Capital Quilts Blue Bag with you when you shop. Make sure you show it to the staffer at the register! Upon completion of your sales transaction, your name will be put in the jar for the drawing at the end of the month. The more you shop, the more chances you have to win. Don't have a Blue Bag? Purchase one at the shop, by phone, or online for just $4.99. We save all of the entries for the year, and at the end of the year we draw a Grand Prize Winner from all the entries.

Our thanks to everybody who shops at Capital Quilts and who participates in the Blue Bag Bonanza.