Skip Navigation
Website Accessibility
What's New at CQ 8/1/19
| | |
| --- | --- |
| "We will have a total chaos without books, literature, and library." Anne Waldman | |
Dear Fabricologists,

Have you been reading some good books this summer? Maybe revisited some favorites? Tackled the classics with the kids? We have a CHALLENGE for you! On August 11 at 2:15pm, we are kicking off the Book Cover Challenge. Be inspired by a favorite book and design an 18" x 24" quilt that represents the cover of the book. We will hang the quilts in the Gallery during Quilters' Quest. I think that is appropriate for the Quilters' Quest Book Tour theme, don't you? A small entry fee of $5 will allow us to offer prizes at the end of the challenge. Come to the shop on August 11 to learn more and register for the challenge. Registration will also be offered online.

And speaking of Quilters' Quest, it is just 10 weeks away! The shop hop is always one of the highlights of our year. This year we have a new shop in the hop, Artistic Artifacts in Alexandria, VA. I visited Artistic Artifacts on Tuesday, my first time there. I felt like the proverbial kid in a candy shop. It is filled with goodies for the fiber artist in you: exotic fabrics, ribbon, lace, buttons, beads, paint, stamps, thread, and tools of all sorts. If you've not attempted mixed-media fiber art yet, you may well want to once you've been to Artistic Artifacts!

The driving to 10 shops in the greater metropolitan area can be daunting. Let us do the driving for you! Make a reservation on our bus, which will do the 2-day tour on October 14 (Columbus Day) and 15. We will visit 5 shops each day and spend about an hour in each shop. Lunch, snacks, and water are provided each day. Your "bus mom" will take care of all paperwork (getting your passport stamped, submitting your daily drawing tickets), so all you have to do is enjoy your time in each shop. We come back to Capital Quilts at the end of the day so that you can enjoy the evening with your family and spend the night in your own bed. At the end of the tour, you receive a tote bag with goodies in it plus Quilters' Quest Card that entitles you to 15% off your purchases in all of the 10 participating shops through September 30, 2020 (some exclusions apply, depending on the shop). Your name is automatically entered in the drawings for grand prizes at the end of Quest. Our aim is make your two days as much fun and as carefree as possible!


Thank you for shopping at Capital Quilts!


Go 'n' piece,
Alison



SHOP OPEN LATER HOURS:
We are always open until 9 on Fridays; when we have an evening class, we keep the shop open until 9 on that day, too. Upcoming evenings when we will be open until 9pm: August 2, 9, 13, 16, 20, 22, 23, 27, 29, and 30.

IN THE GALLERY: Honey, Bunny, and Doll Quilt Designs have 5 quilts on display, all designed and made by sisters Alison and Amanda. Stop in and see what these new young designers are up to. Patterns are available for all of the quilts.

HANDI QUILTER FLOOR MODEL SALE: Handi Quilter longarm machines for less!

Amara: MSRP $11,995, now $8,499. Your choice of a 10' or 12' frame.

Forte with ProStitcher: MSRP $24,495, now $18,495. Your choice of a 10' or 12' frame.

We will install your machine free of charge and provide a free lesson on its basic use and maintenance. There is a separate free class for the ProStitcher.


VENDOR SPECIALS IN AUGUST

ACCUQUILT:


Machine Special: August 1-31, receive $100 off the purchase of a GO! Big Fabric Cutter Starter Set at the register! Present a completed coupon (we have them available in the shop) at the time of purchase.


Buy More, Save More: August 1-12, buy one die, mat, or accessory and save 10%. Buy two or more dies, mats, and/or accessories and save 15%


JANOME: Summer Scratch Off Giveaway


Come in for a demo and instantly win a prize with the Summer Scratch Off Savings Giveaway! While supplies last. We don't always remember to offer the Scratch Off Coupon, so please remind us.



Just announced! The Employee Savings Event has been extended through August 18th! Come in and test drive your new machine today, and take it home for the same price out employees would. There are some fabulous deals!

SEW STEADY:
Sew Steady has a Versa-Table & Travel Bag Bundle on sale through 8/31/19. Use the 16" x 13.5" base only for small spaces and small projects. Easily extend to 16" x 27" for bigger projects and spaces. Includes: 8 Legs, 2x Acrylic Leg Locks, Grid Glider, 15″ x 20″ Teal Bag + BONUS Polish Kit. $199, made to order.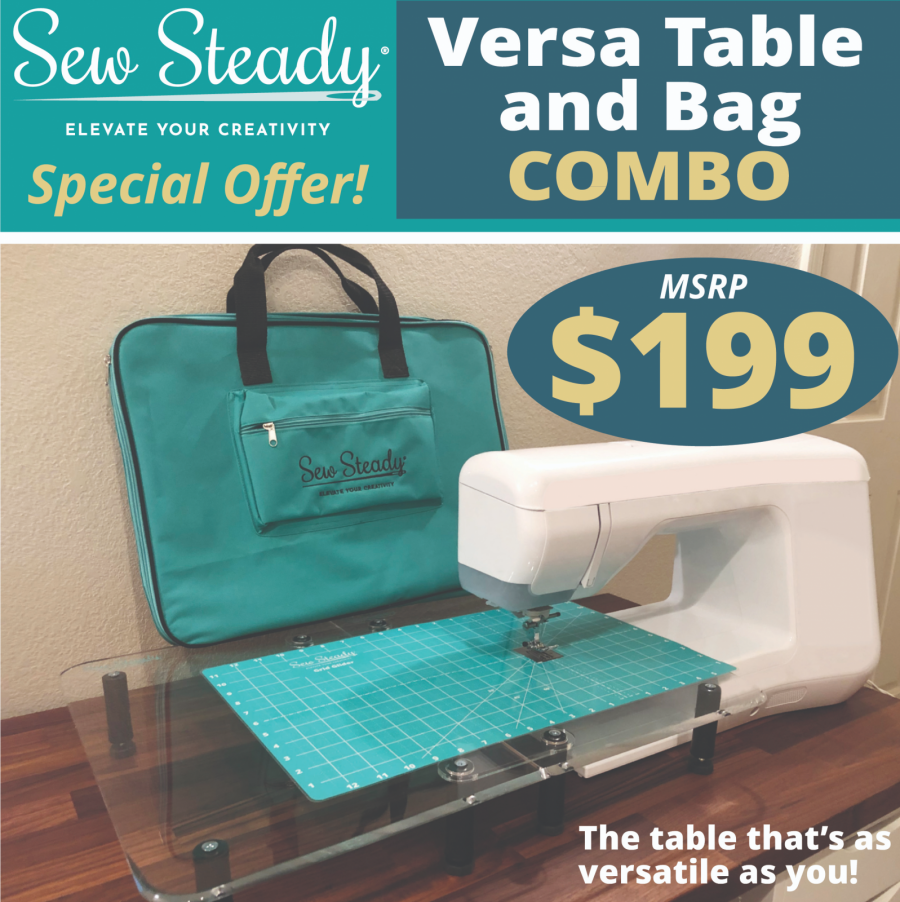 CLASSES:
Register for classes online, in the shop, or by calling 301-527-0598. Please register early; we need at least 3 people to make a class happen. If the class is cancelled by Capital Quilts, you will get a refund. If you let us know you can't make it at least 8 days in advance of the class, you will get a store credit. Cancellations 7 or fewer days before the class are not refundable, but you can try to find someone to take your place. If there is waiting list, we'll try to help with that. The Supply List for each class may be found on our Website at the lower left-hand corner of the class page. You may have to scroll down to find it.




Kim Jalette is here on Tuesday, August 6 to teach Mod Dog/Cat from 2-4. The "Mod" quilts are a combination of piecing and applique. Use a jelly roll and strip piecing techniques to make the dogs or cats and applique them to the center panel of the quilt. Add the scrappy sides, and you've got a super delightful quilt.

If you've got the basics of Free Motion quilting under your belt and you'd like to learn more, I highly recommend Karen Fricke's More Fun With Free Motion class. Karen will talk about borders, sashing, fillers, feathers, and more. Wednesday, August 7, 2-4.

Need help sandwiching a quilt? Let Carol do the honors during Sandwich Night on Friday, August 9 at 6, 7, or 8pm. Appointments are required.

Marianne is leading a Featherweight Clinic on Saturday, August 10, 2:30-5. Learn how to clean and maintain your Singer Featherweight sewing machine.

If you have some basic familiarity with longarm rulers and would like to learn more, take Longarm Rulers: Waves on Sunday, August 11, 12-2 with Barbara Bean. Review safe handling, then learn how to manage the curves. Use different wave rulers to explore different design elements to enhance your quilts.

Vintage Holiday, our 5-month Block of the Month, begins on Tuesday, August 13, 10:30-11:30. Anne Brill will explain how the program works and teach you how to assemble the first two blocks. We have kits available for this program, while supplies last. It's from Moda and there is lots of fabric in it!

Barbara Kascic is delivering her popular Needles and Threads lecture on Wednesday, August 14, 10:30-11:30. You will learn how needles and threads work together to give you the best outcome, how to handle unusual threads such as metallics, and more.

Learn how to use the design software called Art & Stitch on Wednesday, August 14, 11-2. Elyse will give you an understanding of how the program works, what the basic functions are, and how to do an easy quilting pattern.

Kat teaches Scrap Petal Garden on Friday, August 16, 10:30-3:30. This lovely quilt is a combination of piecing and applique. The templates can be used over and over. Have fun appliqueing petals to bags, clothing, other backgrounds, pillows…

Learn how to use the Handi Quilter and finish your own quilts! Barbara Bean teaches Getting Started: the Handi Quilter Longarm on Friday, August 16, 6-9. Completion of the course certifies you to rent our Amara and Forte longarm machines. It is also a great way to become familiar with the machines if you are contemplating purchasing one for your home or studio.


CAPITAL QUILTS CARES:

All events are free and fabric is provided. You need bring only your sewing machine, neutral thread, and sewing supplies. Please register for each workshop so that we know how many to expect. Coming up:

Baby Quilts for Mary's Center: Mary's Center in Silver Spring, MD, strives to build better futures through the delivery of health care, education, and social services. Help us make baby quilts to give to Mary's Center to support that mission. Skill Level: Easy
Thursday, August 15, 10:15-1:15

Small Kennel Quilts: We are always accepting small kennel quilts, and we always have free basic kits available for you to take home to make and return to us. (They're great stashbusters, too!) They are a perfect little project for practicing your quilting skills! We receive requests from shelters for completed kennel quilts on a frequent basis, and hurricane season is here!


NEW AND NOTEWORTHY

We've gotten in patriotic fabrics both Robert Kaufman and Timeless Treasures. $12.50 per yard.

Marcus Brothers has sent us seventeen sweet bolts of 30s Reproduction fabrics. We show just five here; come in or shop online to see them all! $12.50 per yard.


SAVE THE DATE:

• September 21-22: Friendship Quilters of Linthicum and Eternal Quilters Guild Quilt Show, Linthicum, MD
• October 11-20: Quilters' Quest
• October 14 & 15: Capital Quilts' Quest Bus (reserve your seat today!)
• November 1-3: Everybody's Quilt Guild Quilt Show, Westminster, MD
• November 16: LickinFlames Trunk Show, 3-5


COMMUNITY CORNER

Join the Embroiderers' Guild of America, Baltimore Constellation Chapter for a very special event! Heather Hook's "Closet of History: a Timeline of Embroidery & Fashion in the 19th Century" on Saturday, October 12th at the Chartwell Country Cub (no stairs!) in Severna Park. Heather will be sharing a large portion of her 4000+ antique clothing collection with participants. Learn about the rise and fall of women's fashions in the 19th century, with special emphasis on embroidered pieces. Lunch will be served. $40 per person. Please contact Leslie Carson (lcarson55@aol.com) for additional information or to purchase tickets.

Are you part of a group that needs a meeting space? Capital Quilts is happy to rent you its classroom for just $25 an hour. It's a great space for sewing bees, small sewing, knitting or other craft groups, and kids' sewing parties. Our staff is on hand to assist you. You can bring food and drink (just please keep it in the classroom!).


BLUE BAG BONANZA

Congratulations to Elaine R., winner of July's prize of a charm pack of the "Mix" collection from Timeless Treasures and a pattern called "Zip to Shape" from Ghee's. August's prize is a "Dash Flow" charm pack from Dear Stella, and a Quilts and More Magazine.

To be entered in each month's drawing, bring your Capital Quilts Blue Bag with you when you shop. Make sure you show it to the staffer at the register! Upon completion of your sales transaction, your name will be put in the jar for the drawing at the end of the month. The more you shop, the more chances you have to win. Don't have a Blue Bag? Purchase one at the shop, by phone, or online for just $4.99. We save all of the entries for the year, and at the end of the year we draw a Grand Prize Winner from all the entries.


Our thanks to everybody who shops at Capital Quilts and who participates in the Blue Bag Bonanza.