Skip Navigation
Website Accessibility
What's New at CQ 8/8/19
| | |
| --- | --- |
| "A book is a dream you hold in your hand." Neil Gaiman | |
Dear Bestest Friends of Fabric,

Have you been reading some good books this summer? Maybe revisited some favorites? Tackled the classics with the kids? We have a CHALLENGE for you! Be inspired by a favorite book and design an 18" x 24" quilt that represents the title of the book. Bring us your completed quilt not later than September 30. We will hang the quilts in the Gallery during Quilters' Quest. I think that is appropriate for the Quilters' Quest Book Tour theme, don't you? Prizes will be offered. Come to the shop this Sunday, August 11 at 2:30 to learn more and register for the challenge. You may also register on our website. There is a small $5 registration fee.


We have a winner! Dee Barnett is the first to turn in her 2019 Row by Row quilt here at Capital Quilts. Dee's quilt features blocks from Alaska and Maryland. She took a cruise in Alaska this summer and met another quilter on the ship, and together the two of them visited quilt shops in their ports of call, collecting Row by Row kits and patterns. The quilt is hanging in the shop next to the front door; stop by and see it!

Janome has extended the Employee Pricing Event through August 18, 2019. It's not too late to get the machine of your dreams at a really good discount! Come into the shop for a demonstration soon.

Vintage Holiday, our 5-month Block of the Month, begins on Tuesday, August 13. Anne Brill will demonstrate how to make two blocks each month, at 10:30. There is a kit available, from Moda, that is full of lighthearted fabrics that make a delightful quilt, as you can see in the picture above. By December you'll have a holiday quilt to enjoy or to give away as a gift! Sign up today; we are in danger of having to cancel the class due to a lack of students.

Save the dates! Designer and teacher Heather Kojan will be here on November 2 to give a lecture/trunk show called "Quilt Remix" and again on November 4 to lead a workshop called "Five Easy Geeses", a technique class that includes 5 different and easy ways to make Flying Geese blocks. As you might surmise from this title, Heather is a wonderful and funny speaker. The workshop is limited to 12 students. Sign up online, in the shop, or by phone.

Thank you for shopping at Capital Quilts!


Go 'n' piece,
Alison



SHOP OPEN LATER HOURS:
We are always open until 9 on Fridays; when we have an evening class, we keep the shop open until 9 on that day, too. Upcoming evenings when we will be open until 9pm: August 9, 13, 16, 20, 22, 23, 27, 29, and 30.

IN THE GALLERY: We will be putting up a new show this weekend. Come see Nancy Sharp's delightful and improvisational quilts. They will be on display through the end of the month.

HANDI QUILTER FLOOR MODEL SALE: Handi Quilter longarm machines for less!

Simply Sixteen: MSRP $5995, now $5,000

Amara: MSRP $11,995, now $8,499. Your choice of a 10' or 12' frame.

Forte with ProStitcher: MSRP $24,495, now $18,495. Your choice of a 10' or 12' frame.

We will install your machine free of charge and provide a free lesson on its basic use and maintenance. There is a separate free class for the ProStitcher.


VENDOR SPECIALS IN AUGUST

ACCUQUILT:
Machine Special: August 1-31, receive $100 off the purchase of a GO! Big Fabric Cutter Started Set at the register! Present a completed coupon (we have them available in the shop) at the time of purchase.



Buy More, Save More: August 1-12, buy one die, mat, or accessory and save 10%. Buy two or more dies, mats, and/or accessories and save 15%



JANOME: Summer Scratch Off Giveaway
Come in for a demo and instantly win a prize with the Summer Scratch Off Savings Giveaway! This promotion will continue while supplies last. We don't always remember to offer the Scratch Off Coupon, so please remind us.

The Employee Pricing Event continues! Janome has extended the event through August 18. Don't miss this chance to get the lowest price of the year on a new sewing machine or serger!




SEW STEADY:
Sew Steady has a Versa-Table & Travel Bag Bundle on sale through 8/31/19. Use the 16" x 13.5" base only for small spaces and small projects. Easily extend to 16" x 27" for bigger projects and spaces. Includes: 8 Legs, 2x Acrylic Leg Locks, Grid Glider, 15″ x 20″ Teal Bag + BONUS Polish Kit. $199, made to order.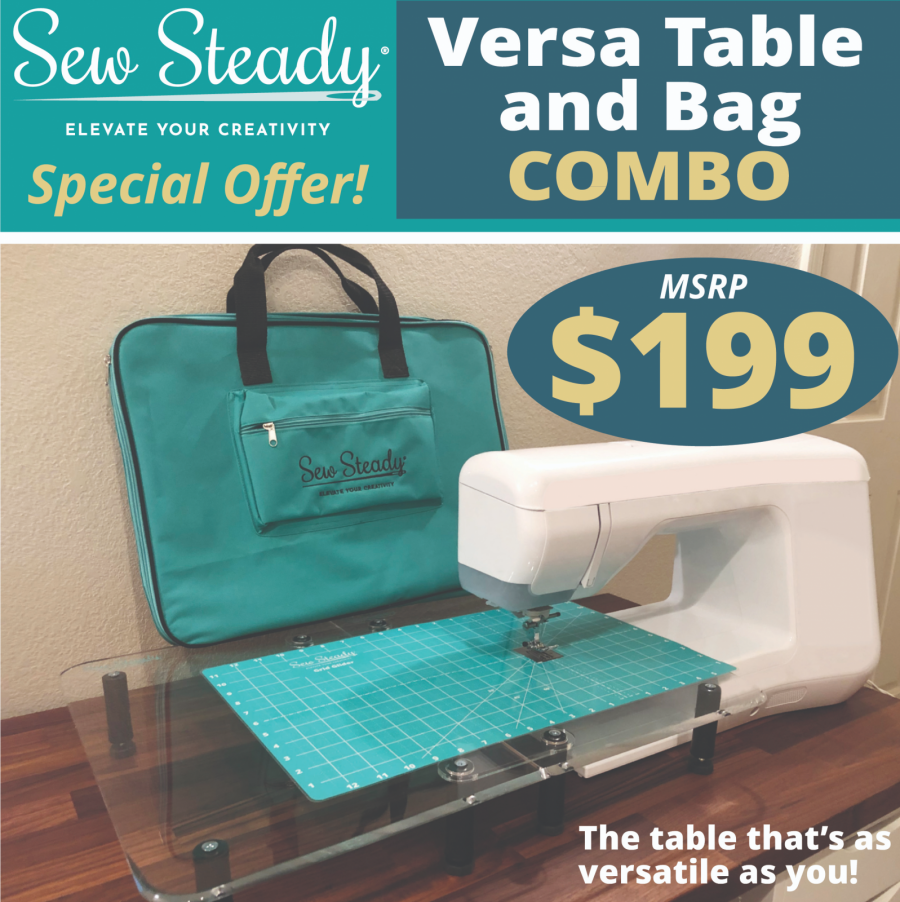 CLASSES:
Register for classes online, in the shop, or by calling 301-527-0598. Please register early; we need at least 3 people to make a class happen. If the class is cancelled by Capital Quilts, you will get a refund. If you let us know you can't make it at least 8 days in advance of the class, you will get a store credit. Cancellations 7 or fewer days before the class are not refundable, but you can try to find someone to take your place. If there is waiting list, we'll try to help with that. The Supply List for each class may be found on our Website at the lower left-hand corner of the class page. You may have to scroll down to find it.




Need help sandwiching a quilt? Let Carol do the honors during Sandwich Night on Friday, August 9 at 6, 7, or 8pm.

Marianne is leading a Featherweight Clinic on Saturday, August 10, 2:30-5. Learn how to clean and maintain your Singer Featherweight sewing machine.

Vintage Holiday, our 5-month Block of the Month, begins on Tuesday, August 13, 10:30-11:30. Anne Brill will explain how the program works and teach you how to assemble the first two blocks. We have kits available for this program, while supplies last. It's from Moda and there is lots of fabric in it!

Barbara Kascic is delivering her popular Needles and Threads lecture on Wednesday, August 14, 10:30-11:30. You will learn how needles and threads work together to give you the best outcome, how to handle unusual threads such as metallics, and more.

Learn how to use the design software called Art & Stitch on Wednesday, August 14, 11-2. Elyse will give you an understanding of how the program works, what the basic functions are, and how to do an easy quilting pattern.

Kat teaches Scrap Petal Garden on Friday, August 16, 10:30-3:30. This lovely quilt is a combination of piecing and applique. The templates can be used over and over. Have fun appliqueing petals to bags, clothing, other backgrounds, pillows…

Learn how to use the Handi Quilter and finish your own quilts! Barbara Bean teaches Getting Started: the Handi Quilter Longarm on Friday, August 16, 6-9. Completion of the course certifies you to rent our Amara and Forte longarm machines. It is also a great way to become familiar with the machines if you are contemplating purchasing one for your home or studio.

Make a pretty basket with some clothesline and strips of fabric in Lois Sumser's Rag Basket class on Saturday, August 17, 2:30-5:30.

If you are interested in learning how to use the Handi Quilter ProStitcher program, sign up for Getting Started: The Basics of ProStitcher Premium. Completion of this course will allow you to use the shop's ProStitcher when you rent the Forte. It is also an excellent way to get a basic understanding of ProStitcher if you are interested in purchasing one for yourself. Elyse teaches the class on Saturday, August 17, 11-2.

Elyse is having a busy weekend here at Capital Quilts. She is also teaching EQ8, another software class, on Sunday, August 18, 1-4. EQ8 is powerful design software that allows you to design, resize, preview, and color your quilt. It calculates yardages, adds a ¼" seam allowance, creates templates, and gives rotary cutting instructions and foundation piecing patterns. Check it out!

If you can't make it to Sandwich Night on the 9th, how about Sandwich Day on Tuesday, August 20? Appointments are available at 1, 3, 4, and 5.

Barbara Bean will unravel the mysteries of the Handi Quilter Simply Sixteen machine on Tuesday, August 20, 11-1 in Getting Started: the HQ Simply Sixteen. Completion of this course certifies you to be able to rent this machine in the shop.

For those of you who like an evening class, Kat is teaching Mini Mosaics on Tuesday, August, 2, 7-9. Cut your scraps up with the mosaic cutting tool, use the pattern to fuse them in place, do some easy quilting with your walking foot, and you have a fun little quilt to hang on your wall!

If you have the basics of ProStitcher under your belt and would like to learn more, take Custom Quilting with ProStitcher with Elyse on Wednesday, August 21, 1-4. She will show you how to fit various quilting designs to blocks, triangles, sashing, and borders. Learning how to size, align, and skew as well as fitting border corners and "chunking" are also in the curriculum. She will also review cropping.

Kat has another evening class next week: Glam Clam, on Thursday, August 22, 7-9. Learn how to smoothly sew all those curves! You can cut out the clams using your AccuQuilt machine or Latifah Saafir's Clammy Ruler. Either way, you'll have a beautiful quilt and lots of fun making it.


CAPITAL QUILTS CARES:

All events are free and fabric is provided. You need bring only your sewing machine, neutral thread, and sewing supplies. Please register for each workshop so that we know how many to expect. Coming up:

Baby Quilts for Mary's Center: Mary's Center in Silver Spring, MD, strives to build better futures through the delivery of health care, education, and social services. Help us make baby quilts to give to Mary's Center to support that mission. Skill Level: Easy
Thursday, August 15, 10:15-1:15

Small Kennel Quilts: We are always accepting small kennel quilts, and we always have free basic kits available for you to take home to make and return to us. (They're great stashbusters, too!) They are a perfect little project for practicing your quilting skills! We receive requests from shelters for completed kennel quilts on a frequent basis, and hurricane season is here!


NEW AND NOTEWORTHY



Winter Lights is a beautiful collection that incorporates unconventional abstract artwork. Adorable penguins, polar bears and snowmen will melt your heart. This collection includes nine accompanying patterns in varying colorways. Full of cool winter colors and fun scenes, Winter Lights is perfect for children of all ages, and children at heart. Choose from 11 bolts and two different panels! $12.99 per yard. Panels, $12.99 each.

Windham has sent us another 16 colors of their Palette blender. $10.99 per yard.


SAVE THE DATE:

• September 21-22: Friendship Quilters of Linthicum and Eternal Quilters Guild Quilt Show, Linthicum, MD
• September 30: Book Cover Challenge Quilts due
• October 11-20: Quilters' Quest
• October 14 & 15: Capital Quilts' Quest Bus (reserve your seat today!)
• Nvember 1-3: Everybody's Quilt Guild Quilt Show, Westminster, MD
• November 2: Heather Kojan Lecture/Trunk Show, 12-1
• November 4: Heather Kojan Workshop "Five Easy Geeses", 11-3
• November 16: LickinFlames Trunk Show, 3-5


COMMUNITY CORNER

Join the Embroiderers' Guild of America, Baltimore Constellation Chapter for a very special event! Heather Hook's "Closet of History: a Timeline of Embroidery & Fashion in the 19th Century" on Saturday, October 12th at the Chartwell Country Cub (no stairs!) in Severna Park. Heather will be sharing a large portion of her 4000+ antique clothing collection with participants. Learn about the rise and fall of women's fashions in the 19th century, with special emphasis on embroidered pieces. Lunch will be served. $40 per person. Please contact Leslie Carson (lcarson55@aol.com) for additional information or to purchase tickets.

Are you part of a group that needs a meeting space? Capital Quilts is happy to rent you its classroom for just $25 an hour. It's a great space for sewing bees, small sewing, knitting or other craft groups, and kids' sewing parties. Our staff is on hand to assist you. You can bring food and drink (just please keep it in the classroom!).


BLUE BAG BONANZA

August's prize is a "Dash Flow" charm pack from Dear Stella, and a Quilts and More Magazine.

To be entered in each month's drawing, bring your Capital Quilts Blue Bag with you when you shop. Make sure you show it to the staffer at the register! Upon completion of your sales transaction, your name will be put in the jar for the drawing at the end of the month. The more you shop, the more chances you have to win. Don't have a Blue Bag? Purchase one at the shop, by phone, or online for just $4.99. We save all of the entries for the year, and at the end of the year we draw a Grand Prize Winner from all the entries.

Our thanks to everybody who shops at Capital Quilts and who participates in the Blue Bag Bonanza.