Skip Navigation
Website Accessibility
What's New at CQ 11/7/19
| | |
| --- | --- |
| "When you're curious, you find lots of interesting things to do." Walt Disney | |
Dear Desirers of Fabric,

We've had a wonderful response to our sale and the contest. If you haven't come in yet, please do! Everything is on sale for at least 20% off, even if we haven't had a chance to mark it with a pink ticket yet. We are restocking fabric, notions, books, and patterns all the time. And there are ten fabulous prizes to be won, including a TV, an Insta Pot, and a sound bar.

There are lots of ways to earn prize dollars toward winning those prizes. You don't have to buy a sewing machine to win (although that helps). The more you come in, the more prize dollars you earn. Play the daily games, take selfies at the Scott Sent Me station under the Kaffe sign and send them to us for posting (20,000 prize dollars!), get 5,000 prize dollars just for stopping by the Prize Desk and saying hi, and more!

Look for the bolts that have a red dot on the end and a bright green price sticker. These bolts are 30% off! You'll find them in the clearance area as well as all through the shop.

You have to come into the shop to earn the points, but our sale prices are also available on our website, www.capitalquilts.com/shop.htm Shop on your lunch hour, or in your jammies, or riding the Metro and still get great prices.

A new class has been added to our December schedule. On Wednesday, December 4, 10:30-12:30, make a Holiday Tree Wreath Ornament. The pattern wants you to sew it, but Deb Ball has figured out how to make them using glue and an iron! Come learn some new tricks and make a new ornament.

Here is another way to earn points: Take a class any time during our sale! Beginning today, earn 25,000 points each day you come to a paid class.

Thank you for supporting Capital Quilts. There are lots of places and ways to shop these days, and I appreciate your choosing to shop at Capital Quilts to keep our wonderful community here for all to enjoy.


Go 'n' piece,
Alison



IN THE GALLERY
We have quilts that are on sale hanging in the Gallery now. These are quilts that have been class models in the past and are now ready to be adopted by you! 20% off adoption fees.


BLOCK OF THE MONTH
Beginning in January, Kim Jalette will lead Second Saturday in 2020, and will teach the Tara BOM from Linda McGibbon of Lakeview Quilting.

This BOM focuses on precision piecing and is intended for the intermediate to advanced quilter. The original quilt was entirely paper pieced. This new BOM pattern is designed and written with traditional piecing methods in mind. Because Linda has a love for paper piecing, she is also including a copy of the paper patterns as a free added bonus.

Kits featuring Windham's Tara fabric line by Nancy Gere will be available.

This BOM is inspired from an actual quilt that has been handed down from one generation to the next in The McGibbon family household. Every block holds a special meaning near and dear to Linda and she is ready to share it with the world.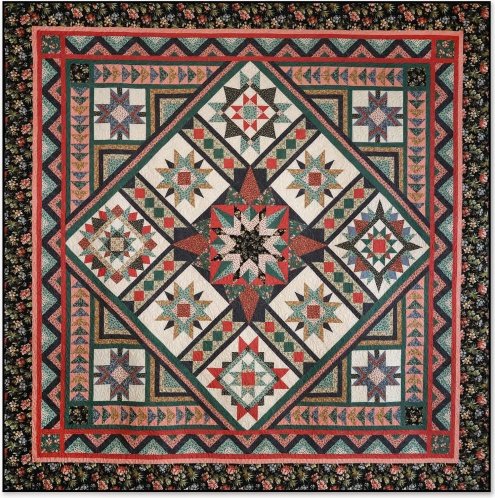 NEW AND NOTEWORTHY


Jerry's Jelly Roll Rig can cut as much as one-third off your sewing time in the making of a jellyroll rug. By forming your workpiece as you go, you'll not only get a more precise product, you'll save your hands from cramping and be able to turn out more jellyroll strips faster. SALE 14.39 each.

Boost your color confidence with Sew Colorful from Michael Miller. The Sew Colorful Kit includes: Sew Colorful Booklet, Laser Cut Applique Shapes, Sew Colorful Panel -- 24" x 44", and a BONUS Sew Colorful Wheel Lap Size Quilt Pattern. The booklet provides the basics of how colors work together and offers ten color theories to contemplate when choosing colors for your quilts. Kit, SALE 52.79 each. Panels, SALE 7.99 each.

We have new patterns from Villa Rosa Designs! We've pictured just a few, but we have over 30 new titles. SALE 2.80-3.20 each.

We've gotten in several lovely poppy-themed fabrics from Michael Miller! What else can make you smile, except a beautiful field of poppies in sunny colors? Bold reds, contrasting with creams, golden yellows and black. Make quilts and projects that POP! SALE 10.39/yard.

Also from Michael Miller is Boho Boutique. Dragonflies, an Ikat print, modern waves, and some great macrame texture blenders await you in hues of blue, green, aqua, and lavender. SALE 10.00/yard.


HANDI QUILTER
Handi Quilter is shipping their newest machine, the Capri, beginning in December. I am hoping to see ours in the shop by mid-month. This is the new sit-down machine. I tried it at Quilt Market and was very impressed. The regulated stitch was reliable and the movement of the fabric on the table top smooth. There is a laser sensor near the needle that tracks the movement of the fabric to regulate the stitch. The other great innovation is that the table is adjustable up and down: you can sit down or stand up to stitch with this machine.

Our new Simply Sixteen is now set up in the shop. Take it for a test drive during the sale and I'll give you 15,000 points!


CLASSES
Register for classes online, in the shop, or by calling 301-527-0598. Please register early; we need at least 3 people to make a class happen. If the class is cancelled by Capital quilts, you will get a refund of the class fee. If you let us know you can't make it at least 8 days before the class, you will get a store credit of the class fee. Cancellations 7 or fewer days before the class are not refundable, but you can try to find someone to take your place. If there is a waiting list, we'll try to help with that. The Supply List for each class may be found on our website at the lower left-hand corner of the class page. You may have to scroll down to find it.


Need help sandwiching a quilt? There is one appointment available at 8pm on Friday, November 8. Bring your quilt, batting, backing, and pins or basting spray with you to your Sandwich Night appointment.

The popular Rag Basket class meets on Saturday, November 9, 2:30-5:30. Lois shows you how to wrap strips of fabric around clothesline, then sew the wrapped clothesline while shaping it into a bowl. Learn how to finish off with a fancy handle and add embellishments. Limit: 8 people.

Does your serger confuse and confound you? Let Barbara make all things serger understandable for you! Review the parts of the machine and how to thread and maintain it. Learn some basic stitches and talk about the many uses of a serger. Sergers Made Easy meets Tuesday, November 12, 10:30-1:30.

Enjoy an in-store mini retreat on Saturday, November 16, 6-12. Kat Martinez is your hostess for Night Owl Sewing. Enjoy pizza, beverages, and blissful, undistracted sewing time. Receive a $10 Capital Quilts Gift Card, too. Kat will stay with you as late as midnight. Let's party! Whoooo me? Yes, you!

Quilting by hand is good for you! Slow stitching is soothing and satisfying. Your quilt will have a special beauty that only hand-quilting can impart. Learn the art from one of the best, Chris Giannascoli on Tuesday, November 19, 10:30-12:30. Hand-Quilting: The Ultimate Finish.

Sandwich Day is Tuesday, November 19. There are appointments available at 3, 4, or 5pm. Bring your quilt top, backing, and batting and your pins or basting spray and we'll help you get your quilt sandwiched in no time.

Got scraps? Especially batik scraps? Mini Mosaics are a wonderful way to make use of them. Use the cutting tool to cut them into mosaic pieces, then arrange the pieces according to the pattern. Fuse them in place, do a little easy quilting with your walking foot, and you're done! Kat will show you how on Tuesday, November 19 & 26, 6:30-8:30. Kits are available for some designs.


CAPITAL QUILTS CARES
All CQ Cares events are free, and we provide fabric and patterns. Please bring your sewing machine, thread, and supplies. Please register for each event online, by phone at 301-527-0598, or in the shop so that we know how many to expect. Thank you!

Operation Smile Bags: Operation Smile provides cosmetic surgery to correct a cleft palette or cleft lip for children in underdeveloped countries. Help make goodie bags to give to the children after their surgery. Bring a child-sized toothbrush and/or a travel-sized toothpaste to include in the bag. Friday, November 8, 11-1. Skill level: easy.

Quilts of Valor: Our next QOV workshop is on Sunday, November 17, 12:30-3. This workshop is full, but if you'd like to come help iron, wield a seam ripper, or just see what is going on, please stop by!

Small Kennel Quilts: We are always accepting small kennel quilts, and we always have free basic kits available for you to take home to make and return to us. (The quilts are great stash-busters, too!) They are a perfect little project for practicing your quilting skills. We receive requests from shelters for completed kennel quilts on a frequent basis.


Congratulations! You read the newsletter! Stop by the Prize Desk at any time before Thursday, 11/14 and tell him Hot Pink Hockey Pucks and get another 10,000 points!


BLUE BAG BONANZA
November's prize is a "Vive La France" Charm Pack by French General for Moda and a "Pinwheel Magic" pattern by Perkins Dry Goods

To be entered in each month's drawing, bring your Capital Quilts Blue Bag with you when you shop. Make sure you show it to the staffer at the register! Upon completion of your sales transaction, your name will be put in the jar for the drawing at the end of the month. The more you shop, the more chances you have to win. Don't have a Blue Bag? Purchase one at the shop, by phone, or online for just $4.99. We save all of the entries for the year, and at the end of the year we draw a Grand Prize Winner from all the entries.


Our thanks to everybody who shops at Capital Quilts and who participates in the Blue Bag Bonanza.