Dear Friends,

Let me begin by putting certain rumors to rest: we are NOT going out of business! We are reducing inventory so we can downsize 20% of our floor space more easily, as well as make room for new fabrics, books, patterns, and notions. I very much want Capital Quilts to remain open and a part of this community, but to do that we have to reposition ourselves financially and reduce our costs.

You can help by shopping, taking classes, and attending events here, and by telling neighbors and friends about Capital Quilts. Post nice things about us on Facebook, Google, Yelp, and whatever other social media you frequent. Use cash if you can, especially for small transactions; those credit card swipe fees are expensive for small businesses like ours.

The Big Sale continues! Don't put off coming in for great discounts, though; the last day of the sale is Saturday, December 7, at noon. If you are in line at noon that day, we will process your transaction. As soon as all transactions have been recorded and the top 10 point holders identified, we will award the prizes.

This week, look for the bolts that have a red or orange dot on the spine and a bright green price sticker. These bolts are 30% off! You'll find them in the clearance area as well as all through the shop.

You have to come into the shop to earn points, but our sale prices are also available on our website, www.capitalquilts.com Shop on your lunch hour, or in your jammies, or riding the Metro and still get great prices.

Have you made a quilt using Northcott's Stonehenge Solstice Panel? If it is not larger than 60" x 60" and uses only the panel plus other fabrics from the Anniversary collection (the fabrics we have on display with the panel and block), the Stonehenge Gradations Oxidized Copper palette, and Robin's Egg Green #39300-79, bring it to Capital Quilts this weekend and we will hang it in the Gallery until November 30. People will be invited to vote for their favorite quilt. The winning quilt receives a Stonehenge Precut prize pack, and we will send a picture of the quilt to Northcott to display in their online gallery. You will be able to see winning quilts from across the nation online after December 9. I will send you the link at that time.

Thank you for supporting Capital Quilts. There are lots of places and ways to shop these days, and I appreciate your choosing to shop at Capital Quilts to keep our wonderful community here for all to enjoy.

Go 'n' Piece,
Alison


IN THE GALLERY
We have quilts that are on sale hanging in the Gallery now. These are quilts that have been class models in the past and are now ready to be adopted by you! 20% off adoption fees.


SHOP OPEN LATE
Capital Quilts is always open until 9 on Friday evenings. This week, we will also be open until 9 on Tuesday, Nov. 19.


NEW AND NOTEWORTHY



Rosewood by Clothworks is a lovely modern floral collection with plenty of geometric blenders for a visual "break". Yardage, 10.00 per yard on sale, Charm Packs, 8.79 on sale, 2 1/2" strips, 35.19 on sale, or choose a FQ bundle containing all 20 prints for only 56.00 on sale.

We just created a bunch of lovely bundles of Free Spirit Fabrics. Each bundle contains five 1-yard cuts of fabric. We have only ten of these bundles available at 52.99 on sale, so hurry in for the best selection!

Coming soon: Aurifil Color Builders, a capsule of twelve curated mini-collections inspired by (and named after) Italy's most vibrant and colorful destinations. Each collection contains three large spools of 50wt thread — a warm, a medium, and a dark — within the location's primary color palette. From the lemon groves of Sicily to the pink sand beaches of Sardinia to the clear teal waters of Capri to the stark city grey of Milan… each collection is crafted to evoke images of our beloved Italian landscape. The colors were selected not only for their aesthetic appeal, but for their practicality in every day use. Please let us know if you are interested in these collections. We're currently planning on getting just 15 boxes each month, and need to know if we should up the quantity.



HANDI QUILTER
Handi Quilter is shipping their newest machine, the Capri, beginning in December. I am hoping to see ours in the shop by mid-month. This is the new sit-down machine. I tried it at Quilt Market and was very impressed. The regulated stitch was reliable and the movement of the fabric on the table top smooth. There is a laser sensor near the needle that tracks the movement of the fabric to regulate the stitch. The other great innovation is that the table is adjustable up and down: you can sit down or stand up to stitch with this machine.

Our new Simply Sixteen is now set up in the shop. Take it for a test drive during the sale and I'll give you 15,000 points!


BLOCK OF THE MONTH
Beginning in January, Kim Jalette will be leading a new Block of the Month. The quilt is called "Tara", and the class will meet on the 2nd Saturday of each month. Fabric kits will be available.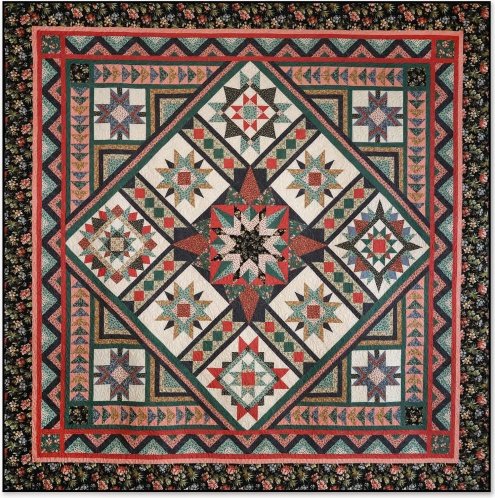 The First Saturday Club will be working on Alaska by Edyta Sitar of Laundry Basket Quilts. This beautiful quilt looks wonderful in any color combination! The First Saturday Club for 2020 will run just 9 months, April through December.



CLASSES
Register for classes online, in the shop, or by calling 301-527-0598. Please register early; we need at least 3 people to make a class happen. If the class is cancelled by Capital quilts, you will get a refund of the class fee. If you let us know you can't make it at least 8 days before the class, you will get a store credit of the class fee. Cancellations 7 or fewer days before the class are not refundable, but you can try to find someone to take your place. If there is a waiting list, we'll try to help with that. The Supply List for each class may be found on our website at the lower left-hand corner of the class page. You may have to scroll down to find it.




Enjoy an in-store mini retreat on Saturday, November 16, 6-12. Kat Martinez is your hostess for Night Owl Sewing. Enjoy pizza, beverages, and blissful, undistracted sewing time. Receive a $10 Capital Quilts Gift Card, too. Kat will stay with you as late as midnight. Let's party! Whoooo me? Yes, you!

Quilting by hand is good for you! Slow stitching is soothing and satisfying. Your quilt will have a special beauty that only hand-quilting can impart. Learn the art from one of the best, Chris Giannascoli on Tuesday, November 19, 10:30-12:30. Hand-Quilting: The Ultimate Finish.

Sandwich Day is Tuesday, November 19. There is one appointment available, at 5pm. Bring your quilt top, backing, and batting and your pins or basting spray and we'll help you get your quilt sandwiched in no time.

Got scraps? Especially batik scraps? Mini Mosaics are a wonderful way to make use of them. Use the cutting tool to cut them into mosaic pieces, then arrange the pieces according to the pattern. Fuse them in place, do a little easy quilting with your walking foot, and you're done! Kat will show you how on Tuesday, November 19 & 26, 6:30-8:30. Kits are available for some designs.

Our next Sit-N-Sew is on Friday, November 29, 5-9. Bring your project, supplies, and food to share with the group. Capital Quilts provides the beverages. Enjoy an evening of sewing with friends after the hustle and bustle of Thanksgiving!


CAPITAL QUILTS CARES: All CQ Cares events are free, and we provide fabric and patterns. Please bring your sewing machine, thread, and supplies. Please register for each event online, by phone at 301-527-0598, or in the shop so that we know how many to expect. Thank you!

Quilts of Valor: Our next QOV workshop is on Sunday, November 17, 12:30-3. This workshop is full, but if you'd like to come help iron, wield a seam ripper, or just see what is going on, please stop by!

Small Kennel Quilts: We are always accepting small kennel quilts, and we always have free basic kits available for you to take home to make and return to us. (The quilts are great stash-busters, too!) They are a perfect little project for practicing your quilting skills. We receive requests from shelters for completed kennel quilts on a frequent basis.


Congratulations! You read the newsletter! Stop by the Prize Desk and tell him 'Sewing Mends the Soul' and get another 10,000 points!

BLUE BAG BONANZA

September's prize is a "Vive La France" Charm Pack by French General for Moda, and a "Pinwheel Magic" pattern by Perkins Dry Goods.

To be entered in each month's drawing, bring your Capital Quilts Blue Bag with you when you shop. Make sure you show it to the staffer at the register! Upon completion of your sales transaction, your name will be put in the jar for the drawing at the end of the month. The more you shop, the more chances you have to win. Don't have a Blue Bag? Purchase one at the shop, by phone, or online for just $4.99. We save all of the entries for the year, and at the end of the year we draw a Grand Prize Winner from all the entries.


Our thanks to everybody who shops at Capital Quilts and who participates in the Blue Bag Bonanza.