Skip Navigation
Website Accessibility
What's New at CQ 11/21/2019
| | |
| --- | --- |
| "The future belongs to those who believe in the beauty of their dreams." Eleanor Roosevelt | |
Dear Members of the I-Love-Fabric Club,

That would be all of us, right? I'm thinking you wouldn't be reading this if you didn't go crazy for fabric.

We still have lots of it available here at Capital Quilts, but the Big, Huge Sale lasts only until Saturday, December 7, at noon. That is 16 days from today, and we are open only until 2pm on November 27, and closed on Thanksgiving, so really you have only 14½ days to take advantage of these discounts. Come soon, come often!

We have big pink lists posted in the shop with everybody's Prize Point totals listed, and one for the top 20 contestants. It's not too late to get your name on the Top Twenty! Aim for the Top Ten to win one of those great prizes.

A great way to get points fast is to buy a new Janome sewing machine. Our 20% off is better than Janome's Black Friday Sale prices. You can get 15,000 Bonus Points just by sitting down with Barbara or Carol to take a "test drive" on one of the machines.

Look for the bolts that have a red or orange dot on the spine and a bright green price sticker. Bolts with a red dot are now 40% off!! The orange-dotted bolts are 30% off! You'll find them in the clearance area as well as all through the shop.

Look for the Bonus Prize Points Award Certificates that are scattered through out the shop. Some of them are good for 500,000 points! One per person per day, please.

You have to come into the shop to earn the points, but our sale prices are also available on our website, www.capitalquilts.com/shop.htm Shop on your lunch hour, or in your jammies, or riding the Metro and still get great prices.

If you have been thinking about purchasing a Handi Quilter longarm machine, now is the time! Handi Quilter has just announced a price increase, effective January 1, 2020. Prices are increasing $500 to $1000 on the Sweet, Simply, Amara, Forte, and Infinity machines. Give yourself a holiday treat and get yours before the end of the year! Financing is available.

Have you made a quilt using Northcott's Stonehenge Solstice Panel? If it is not larger than 60" x 60" and uses only the panel plus other fabrics from the Anniversary collection (the fabrics we have on display with the panel and block), the Stonehenge Gradations Oxidized Copper palette, and Robin's Egg Green #39300-79, bring it to Capital Quilts this weekend and we will hang it in the Gallery until November 30. People will be invited to vote for their favorite quilt. The winning quilt receives a Stonehenge Precut prize pack, and we will send a picture of the quilt to Northcott to display in their online gallery. You will be able to see winning quilts from across the nation online after December 9. I will send you the link at that time.

Thank you for supporting Capital Quilts with your dollars, your online voice, and your energy. There are lots of places and ways to shop these days, and I appreciate your choosing to shop at Capital Quilts to keep our wonderful community here for all to enjoy.

Go 'n' Piece,
Alison



SIP-N-STITCH
Take a break from the holiday whirlwind and join us from 6-8:30 on Thursday, December 5, 6-8:30 for some companionable sewing, a glass of wine, and yummy hors d'oeurves from Botanero. Your registration fee includes a kit to sew along with food and wine. Non-alcoholic beverages are available as well.


BOOK COVER CHALLENGE
We are pleased to announce that Karla Walker placed first in our Book Cover Challenge with her version of a cover for Charlotte's Web by E.B. White. Thanks to all who participated. Look for all challenge entries to be displayed at the Germantown branch of the Montgomery County Public Library in the near future!


IN THE GALLERY
We have quilts that are on sale hanging in the Gallery now. These are quilts that have been class models in the past and are now ready to be adopted by you! 20% off adoption fees.


SHOP OPEN LATE
Capital Quilts is always open until 9 on Friday evenings. This week, we will also be open until 9 on Tuesday, Nov. 26.


NEW AND NOTEWORTHY


The Quilter's Precut Companion contains easy-to-use charts, tables, and illustrations in a handy, spiral-bound guide that's easy to take with you. Master precuts with this complete and indispensable guide to working with Charm Packs, Layer Cakes, Jelly Rolls, Turnovers, and more! Sew 25 traditional blocks from squares, half-square triangles, and precut strips with timesaving tips and tricks from the one and only Missouri Star Quilt Company. You'll cover all the basics, including precut options, standard quilt sizes and needle types. Plus, finish your quilt like a pro with yardage and cutting info for borders, backings, and bindings! MSRP $9.99, CQ SALE $7.96

Pass a casserole around the table in this stylish basket. Fold basket flat for easy storage. Baskets are for 9in x 13in or 9in x 9in pans. Pass the Hot Dish is an easy sew, is fat quarter friendly, and great for gifts. Perfect for organizing papers and other household items too! MSRP $10.00, CQ SALE $8.00

Seasonal Placemats from Honey, Bunny, and Doll gives you traceable patterns to make six different themed placemats to use throughout the seasons. MSRP $10.00, CQ SALE $8.00

The Magic Paper Kit - Insects from DMC contains embroidery floss and "magic paper" with stitching designs preprinted. Simply adhere the magic paper to whatever item you wish to embellish, stitch out the design, and then dissolve the paper away with water. Great for adding a little stitching detail to your clothing! MSRP $6.99, CQ SALE $5.59.

Coming soon: Aurifil Color Builders, a capsule of twelve curated mini-collections inspired by (and named after) Italy's most vibrant and colorful destinations. Each collection contains three large spools of 50wt thread — a warm, a medium, and a dark — within the location's primary color palette. From the lemon groves of Sicily to the pink sand beaches of Sardinia to the clear teal waters of Capri to the stark city grey of Milan… each collection is crafted to evoke images of our beloved Italian landscape. The colors were selected not only for their aesthetic appeal, but for their practicality in every day use. Please let us know if you are interested in these collections. We're currently planning on getting just 15 boxes each month, and need to know if we should up the quantity.



HANDI QUILTER
Handi Quilter is shipping their newest machine, the Capri, beginning in December. I am hoping to see ours in the shop by mid-month. This is the new sit-down machine. I tried it at Quilt Market and was very impressed. The regulated stitch was reliable and the movement of the fabric on the table top smooth. There is a laser sensor near the needle that tracks the movement of the fabric to regulate the stitch. The other great innovation is that the table is adjustable up and down: you can sit down or stand up to stitch with this machine.

Our new Simply Sixteen is now set up in the shop. Take it for a test drive during the sale and I'll give you 15,000 points!


JANOME



Capital Quilts is proud to offer Janome Sewing Machines. Janome America has just announced that they been recognized with the Women's Choice Award® for 2020 as 9 out of 10 Customer Recommended Sewing Machines.

In a national survey conducted by the Women's Choice Award, Janome's female customers expressed an extremely high recommendation rating, with over 85% of women saying that they recommend Janome to their friends and family!

Recommendation ratings are the pinnacle for determining true brand loyalty and love – and these high ratings allow brands to qualify for the prestigious Women's Choice Award. Janome America sewing machines earning the Women's Choice Award is a powerful indicator of superior quality and performance. Only exclusive brands may tout this designation, honoring their achievement as having 9 out of 10 women customers recommend them. Moreover, brands that showcase the Women's Choice Award seal illustrate their commitment to empowering women to make the best consumer choices for themselves and their families.


BLOCKS OF THE MONTH
Beginning in January, Kim Jalette will be leading a new Block of the Month. The quilt is called "Tara", and the class will meet on the 2nd Saturday of each month. Fabric kits will be available.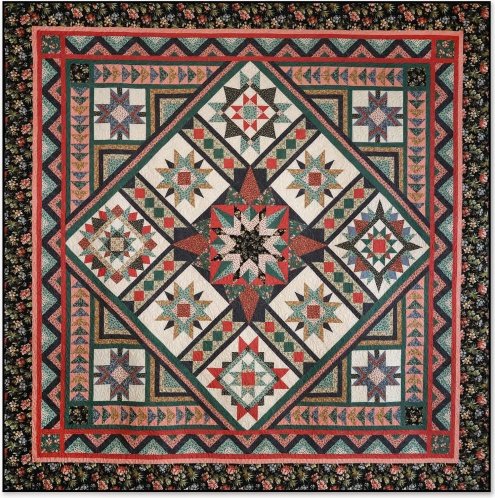 The First Saturday Club will be working on Alaska by Edyta Sitar of Laundry Basket Quilts. This beautiful quilt looks wonderful in any color combination! The First Saturday Club for 2020 will run just 9 months, April through December.



CLASSES
Register for classes online, in the shop, or by calling 301-527-0598. Please register early; we need at least 3 people to make a class happen. If the class is cancelled by Capital quilts, you will get a refund of the class fee. If you let us know you can't make it at least 8 days before the class, you will get a store credit of the class fee. Cancellations 7 or fewer days before the class are not refundable, but you can try to find someone to take your place. If there is a waiting list, we'll try to help with that. The Supply List for each class may be found on our website at the lower left-hand corner of the class page. You may have to scroll down to find it.


Our next Sit-N-Sew is on Friday, November 29, 5-9. Bring your project, supplies, and food to share with the group. Capital Quilts provides the beverages. Enjoy an evening of sewing with friends after the hustle and bustle of Thanksgiving!

On December 3, Kat is offering her Intro to Improv class from 11-1. Allow your inner child to play with color, shape, and value. Choose to use a simply pieced background or a single fabric, then use fusible applique to create your masterpiece. Those of us of a certain age will remember playing with Colorforms; this class is like Colorforms with fabric!

Make a new ornament for your Christmas tree in the Holiday Tree Wreath Ornament class. Debra Ball will show you how. The pattern calls for sewing, but Debra has figured out how to do it using glue. No need to bring your sewing machine! A grommet, the base for your ornament, is included in the price of the class. 10:30-12:30 on Wednesday, December 4.

Need a gift to give your bestie? Make a Seaside Table Runner on Thursday, December 5, 10:30 – 1:30. This lovely table runner from Jaybird Quilts is jelly roll friendly and easy to put together. Pam Blodgett shows you how.

A Rag Basket makes an unusual and useful gift. Learn how to make one on Sunday, December 8, 2:15-5. Bet you can't make just one!

Learn how to use the Handi Quilter Simply Sixteen quilting machine on Wednesday, December 11, 11-1. Completion of the course allows you to rent our machine to quilt your own quilts. The class is called Getting Started: the HQ Simply Sixteen.


CAPITAL QUILTS CARES All CQ Cares events are free, and we provide fabric and patterns. Please bring your sewing machine, neutral thread, and supplies. Please register for each event online, by phone at 301-527-0598, or in the shop so that we know how many to expect. Thank you!

Fidget Quilts: A Fidget Quilt provides sensory and tactile stimulation for the restless hands of someone with Alzheimer's and/or other forms of dementia, ADD, or an autism spectrum disorder. The quilt is machine pieced using charm squares and embellished with buttons, hook and loop tape, prairie points, zippers and other fun add-ons. Some hand sewing is required. Help us make these quilts on Thursday, December 5, 2-5.

Quilts of Valor: Our next QOV workshop is on Friday, December 13, 1-3:30. This workshop is full, but if you'd like to come help iron, wield a seam ripper, or just see what is going on, please stop by! The next workshop is on January 10 at 12:30.

Small Kennel Quilts: We are always accepting small kennel quilts, and we always have free basic kits available for you to take home to make and return to us. (The quilts are great stash-busters, too!) They are a perfect little project for practicing your quilting skills. We receive requests from shelters for completed kennel quilts on a frequent basis.


Congratulations! You read the newsletter! Stop by the Prize Desk and tell him "Silly Scarlet Sewing Sisters" and get another 10,000 points!

BLUE BAG BONANZA
November's prize is a "Vive La France" Charm Pack by French General for Moda, and a "Pinwheel Magic" pattern by Perkins Dry Goods.

To be entered in each month's drawing, bring your Capital Quilts Blue Bag with you when you shop. Make sure you show it to the staffer at the register! Upon completion of your sales transaction, your name will be put in the jar for the drawing at the end of the month. The more you shop, the more chances you have to win. Don't have a Blue Bag? Purchase one at the shop, by phone, or online for just $4.99. We save all of the entries for the year, and at the end of the year we draw a Grand Prize Winner from all the entries.


Our thanks to everybody who shops at Capital Quilts and who participates in the Blue Bag Bonanza.