Skip Navigation
Website Accessibility
What's New at CQ 11/28/2019
| | |
| --- | --- |
| "I think most people have that crazy uncle they sit at Thanksgiving dinner with: someone they disagree with politically but love them anyway." Alan Colmes | |
Dear Fabulous Friends,

Happy Thanksgiving! May every one of those 4,500 calories be awesomely delicious, shared with family and friends, and not regretted for one moment. I am, as always, grateful to you for your support and your friendship, and I look forward to seeing you in the shop in the coming year and beyond.

If you got the Huge Sale snail mail letter this week, you already know that we are offering extra discounts on selected Janome machines through December 7. Like Handi Quilter, Janome has announced that effective January 1, 2020, it will be raising its prices. They have not released any details yet. NOW is a great time to get yourself a new sewing machine, serger, or longarm machine!

The Big, Huge Sale lasts only until Saturday, December 7, at noon. That is just 8½ days from today. You still have time to take advantage of these great prices and to win a prize. Shop soon, shop often, and play the games!

We have big pink lists posted in the shop with everybody's Prize Point totals listed, and one for the top 20 contestants. It's not too late to get your name on the Top Twenty! Aim for the Top Ten to win one of those great prizes.

A great way to get points fast is to buy a new Janome sewing machine. Our discounts are better than Janome's Black Friday Sale prices. Plus, you can get 50,000 Bonus Points just by sitting down with Barbara or Carol to take a "test drive" on one of the machines.

Look for the bolts that have a red or orange dot on the spine and a bright green price sticker. Bolts with a red dot are now 40% off!! The orange-dotted bolts are 30% off! You'll find them in the clearance area as well as all through the shop. Every type and color of fabric has a clearance section. Batik lovers, nearly half of our batik collection is in this clearance range.

Look for the Bonus Prize Points Award Certificates that are scattered through out the shop. Some of them are good for 500,000 points! One per person per day, please.

You have to come into the shop to earn the points, but our sale prices are also available on our website, www.capitalquilts.com/shop.htm Shop on your lunch hour, or in your jammies, or riding the Metro and still get great prices.

Thank you for supporting Capital Quilts with your dollars, your online voice, and your energy. There are lots of places and ways to shop these days, and I appreciate your choosing to shop at Capital Quilts to keep our wonderful community here for all to enjoy. You give me much to be thankful for.

Go 'n' Piece,
Alison


IN THE GALLERY
We have quilts that are on sale hanging in the Gallery now. These are quilts that have been class models in the past and are now ready to be adopted by you! 20% off adoption fees.


SHOP OPEN LATE
Capital Quilts is always open until 9 on Friday evenings. This week, we will also be open until 9 on Thursday, December 5, if the Sip-N-Stitch event is a "go". Join us for some sewing with friends and make it happen!

NEW AND NOTEWORTHY



We have 14 bolts of Jennifer Sampou's Sky ombre prints. With a single fabric containing subtle shifts from pale to dark, color feels exciting and new again. SALE $10.00/yard.

We've just received a new shipment of batiks from Robert Kaufman's Coral Reef collection. They're super yummy; photos do NOT do them justice! SALE $11.19/yard.

In this tribute to today's vibrant quilting community, prize-winning quilter and teacher Thomas Knauer showcases a stunning collection of quilts from a wide range of contemporary makers, accompanied by their testimonials about what inspires and imbues their craft with meaning. From temperance quilts to the AIDS quilt, there's a rich history of individuals and communities using fabric and thread to connect with others and express themselves, both personally and politically. Why We Quilt blends bits of this history with the stories and work of today's leading quilters, highlighting themes of tradition, community, consumerism, change, and creativity. SALE $23.96

The newest issues of Quiltmania and Simply Moderne have arrived. Come in and pick them up before they sell out.

Coming soon: Aurifil Color Builders, a capsule of twelve curated mini-collections inspired by (and named after) Italy's most vibrant and colorful destinations. Each collection contains three large spools of 50wt thread — a warm, a medium, and a dark — within the location's primary color palette. From the lemon groves of Sicily to the pink sand beaches of Sardinia to the clear teal waters of Capri to the stark city grey of Milan… each collection is crafted to evoke images of our beloved Italian landscape. The colors were selected not only for their aesthetic appeal, but for their practicality in every day use. Please let us know if you are interested in these collections. We're currently planning on getting just 15 boxes each month, and need to know if we should up the quantity.



HANDI QUILTER
Handi Quilter is shipping their newest machine, the Capri, beginning in December. I am hoping to see ours in the shop by mid-month. This is the new sit-down machine. I tried it at Quilt Market and was very impressed. The regulated stitch was reliable and the movement of the fabric on the table top smooth. There is a laser sensor near the needle that tracks the movement of the fabric to regulate the stitch. The other great innovation is that the table is adjustable up and down: you can sit down or stand up to stitch with this machine.

Our new Simply Sixteen is now set up in the shop. Take it for a test drive during the sale and I'll give you 35,000 points!


BLOCK OF THE MONTH
Beginning in January, Kim Jalette will be leading a new Block of the Month. The quilt is called "Tara", and the class will meet on the 2nd Saturday of each month. Fabric kits will be available.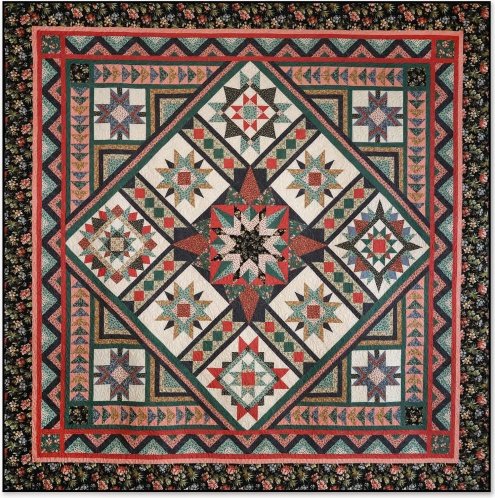 The First Saturday Club will be working on Alaska by Edyta Sitar of Laundry Basket Quilts. This beautiful quilt looks wonderful in any color combination! The First Saturday Club for 2020 will run just 9 months, April through December.



CLASSES
Register for classes online, in the shop, or by calling 301-527-0598. Please register early; we need at least 3 people to make a class happen. If the class is cancelled by Capital quilts, you will get a refund of the class fee. If you let us know you can't make it at least 8 days before the class, you will get a store credit of the class fee. Cancellations 7 or fewer days before the class are not refundable, but you can try to find someone to take your place. If there is a waiting list, we'll try to help with that. The Supply List for each class may be found on our website at the lower left-hand corner of the class page. You may have to scroll down to find it.


Our next Sit-N-Sew is on Friday, November 29, 5-9. Bring your project, supplies, and food to share with the group. Capital Quilts provides the beverages. Enjoy an evening of sewing with friends after the hustle and bustle of Thanksgiving!

On December 3, Kat is offering Intro to Improv class from 11-1. Allow your inner child to play with color, shape, and value. Choose to use a simply pieced background or a single fabric, then use fusible applique to create your masterpiece. Those of us of a certain age will remember playing with Colorforms; this class is like Colorforms with fabric!

Make a new ornament for your Christmas tree in the Holiday Tree Wreath Ornament class. Debra Ball will show you how. The pattern calls for sewing, but Debra has figured out how to do it using glue. No need to bring your sewing machine! A grommet, the base for your ornament, is included in the price of the class. 10:30-12:30 on Wednesday, December 4.

Need a gift to give your bestie? Make a Seaside Table Runner on Thursday, December 5, 10:30 – 1:30. This lovely table runner from Jaybird Quilts is jelly roll friendly and easy to put together. Pam Blodgett shows you how.

A Rag Basket makes an unusual and useful gift. Learn how to make one on Sunday, December 8, 2:15-5. Bet you can't make just one! Maria Rogers will be teaching the class this time.

Learn how to use the Handi Quilter Simply Sixteen quilting machine on Wednesday, December 11, 11-1. Completion of the course allows you to rent our machine to quilt your own quilts. The class is called Getting Started: the HQ Simply Sixteen.

Get help sandwiching those Christmas gift quilts at Sandwich Night, Friday, December 13. Appointments are available at 6, 7, and 8. Bring your quilt top, back and batting and either basting spray or pins.

There is one spot left in the Featherweight Clinic on Saturday, December 14, 2:30-5. Marianne shows you how to disassemble, clean, lubricate, and reassemble your Singer Featherweight.

Learn the ins and outs of using rulers when you longarm quilt in Rulers for the Longarm on Sunday, December 15, 12-3. Barbara Bean teaches the class.

Your last chance for getting help sandwiching those holiday quilts is Sandwich Day on Tuesday, December 17. Appointments are available at 1, 3, and 5. Bring your quilt top, back, batting, and spray baste or pins and Carol will help you get your quilt sandwiched in no time. You don't need to sandwich your quilt if it is going to be longarm-quilted.


CAPITAL QUILTS CARES All CQ Cares events are free, and we provide fabric and patterns. Please bring your sewing machine, neutral thread, and supplies. Please register for each event online, by phone at 301-527-0598, or in the shop so that we know how many to expect. Thank you!

Fidget Quilts: A Fidget Quilt provides sensory and tactile stimulation for the restless hands of someone with Alzheimer's and/or other forms of dementia, ADD, or an autism spectrum disorder. The quilt is machine pieced using charm squares and embellished with buttons, hook and loop tape, prairie points, zippers and other fun add-ons. Some hand sewing is required. Help us make these quilts on Thursday, December 5, 2-5.

Quilts of Valor: Our next QOV workshop is on Friday, December 13, 1-3:30. This workshop is full, but if you'd like to come help iron, wield a seam ripper, or just see what is going on, please stop by! The next workshop is on January 10 at 12:30.
Interfaith Works Women's Center: Help us make string quilts for this women's center in Rockville. The quilts are given to the women for their beds, bringing a cheerful atmosphere to an otherwise rather drab room. This workshop is led by Billye Roberts on Sunday, December 15, 12-5.

Small Kennel Quilts: We are always accepting small kennel quilts, and we always have free basic kits available for you to take home to make and return to us. (The quilts are great stash-busters, too!) They are a perfect little project for practicing your quilting skills. We receive requests from shelters for completed kennel quilts on a frequent basis.


Congratulations! You read the newsletter! Stop by the Prize Desk and say 'Gobble, gobble, gobble!' and get another 10,000 points!

BLUE BAG BONANZA

September's prize is a "Vive La France" Charm Pack by French General for Moda, and a "Pinwheel Magic" pattern by Perkins Dry Goods.

To be entered in each month's drawing, bring your Capital Quilts Blue Bag with you when you shop. Make sure you show it to the staffer at the register! Upon completion of your sales transaction, your name will be put in the jar for the drawing at the end of the month. The more you shop, the more chances you have to win. Don't have a Blue Bag? Purchase one at the shop, by phone, or online for just $4.99. We save all of the entries for the year, and at the end of the year we draw a Grand Prize Winner from all the entries.


Our thanks to everybody who shops at Capital Quilts and who participates in the Blue Bag Bonanza.