Skip Navigation
Website Accessibility
What's New at CQ 11/14/2019
| | |
| --- | --- |
| "Happiness is when what you think, what you say, and what you do are in harmony." Mahatma Gandhi | |
Dear Sources of Happiness,

The Big, Huge, Fun, and Fabulous Sale is almost over! It ends this Saturday at noon, just 2 days from now! There are still ways to get those last minute points and become a winner of a prize.

We continue to offer extra discounts on selected Janome machines through December 7. Like Handi Quilter, Janome has announced that effective January 1, 2020, it will be raising its prices. They have not released any details yet. NOW is a great time to get yourself a new sewing machine, serger, or longarm machine!

Christmas, Hanukkah, and Halloween fabrics are now 40% off, along with the red dot fabrics.

Look for the Bonus Prize Points Award Certificates that are scattered throughout the shop, taped to various items. Purchase the item to get the points. Some of them are good for 500,000 points!

You have to come into the shop to earn the points, but our sale prices are also available on our website, www.capitalquilts.com/shop.htm Shop on your lunch hour, or in your jammies, or riding the Metro and still get great prices.

Thank you for supporting Capital Quilts with your dollars, your online voice, and your energy. There are lots of places and ways to shop these days, and I appreciate your choosing to shop at Capital Quilts to keep our wonderful community here for all to enjoy. For those of you who have participated in the Big Sale these last few weeks, I hope it was fun. Thank you for being a part of it.

If you are interested in joining one or more of the clubs next year, I invite you to attend the December meeting of that club or clubs. You will get an idea of what the club is like and what it will be doing next year. Please refer to the list of club meetings and dates included below.

Go 'n' Piece,
Alison


CLUBS MEETINGS IN DECEMBER

1st Saturday: Saturday, 12/7, 9-10:30. Please note that the 2020 club begins in April and is a 9-month club.
Longarmers: Saturday, 12/7, 10-12
ProStitcher: Saturday, 12/7, 12:30-2:30
English Paper Piecing (EPP): Sunday, 12/8, 12-2
Hand Piecers: Monday, 12/9, 1-3
Improv: Tuesday, 12/10, 6:30-8:30 (note: this club will meet on Thursdays in 2020)
2nd Saturday: Saturday, 12/14, 9-10:30
Hand Embroidery (AKA Wool Club): Saturday, 12/14, 12-2
Janome: Saturday, 12/21, 10:30-12:30
AccuQuilt GO!: Sunday, 12/22, 1-3
AccuQuilt Studio: Saturday, 12/28, 10:30-12:30


IN THE GALLERY
We have quilts that are on sale hanging in the Gallery now. These are quilts that have been class models in the past and are now ready to be adopted by you! 20% off adoption fees.


SHOP OPEN LATE
Capital Quilts is always open until 9 on Friday evenings. This week, we will also be open until 9 on Tuesday, December 10.


NEW AND NOTEWORTHY




Just in! We have replenished our supply of Studio E's Peppered Cottons! Designed by quilt designer and author Pepper Cory, these are a timeless classic and a favorite for quilters. They are yarn-dyed shot cottons, meaning the weft and warp are two different colors, giving each color a unique look. These shot cottons are a heavier weight that others on the market and thus have earned their standing as a 'favorite'. $10.50 per yard, SALE $8.40 per yard.

Sandra Magsamen has touched millions of people, one heart at a time. Her message driven products have been warmly embraced for over 25 years. As an artist, art therapist, mom and award-winning author, Sandra uses her creativity and spirit to design gifts, books and collections that help people express themselves and connect with one another. Sandra reminds us and teaches us to explore and experience each day with more heart, meaning, purpose and joy. We've just gotten in three more panels for her delightful series of children's books:

Coming soon: Aurifil Color Builders, a capsule of twelve curated mini-collections inspired by (and named after) Italy's most vibrant and colorful destinations. Each collection contains three large spools of 50wt thread — a warm, a medium, and a dark — within the location's primary color palette. From the lemon groves of Sicily to the pink sand beaches of Sardinia to the clear teal waters of Capri to the stark city grey of Milan… each collection is crafted to evoke images of our beloved Italian landscape. The colors were selected not only for their aesthetic appeal, but for their practicality in every day use. Please let us know if you are interested in these collections. We're currently planning on getting just 15 boxes each month, and need to know if we should up the quantity.



HANDI QUILTER
I received word from Handi Quilter that they are shipping the Capri beginning this week, so it should be here soon. This is the new sit-down machine. I tried it at Quilt Market and was very impressed. The regulated stitch was reliable and the movement of the fabric on the table top smooth. There is a laser sensor near the needle that tracks the movement of the fabric to regulate the stitch. The other great innovation is that the table is adjustable up and down: you can sit down or stand up to stitch with this machine.

From December 6-16, Handi Quilter is offering "Season's Savings" in the form of $0 down, 0% interest, and FREE shipping for all of their machines. This is with approved credit and 36- or 48-month terms. Ask me about the fine print!

BLOCK OF THE MONTH
Beginning in January, Kim Jalette will be leading a new Block of the Month. The quilt is called "Tara", and the class will meet on the 2nd Saturday of each month. Fabric kits will be available.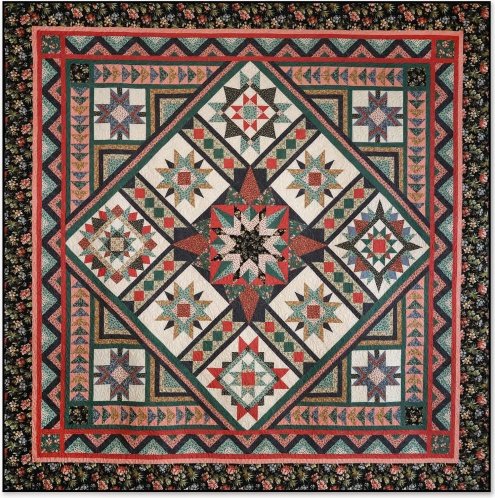 The First Saturday Club will be working on Alaska by Edyta Sitar of Laundry Basket Quilts. This beautiful quilt looks wonderful in any color combination! The First Saturday Club for 2020 will run just 9 months, April through December.



CLASSES
Register for classes online, in the shop, or by calling 301-527-0598. Please register early; we need at least 3 people to make a class happen. If the class is cancelled by Capital quilts, you will get a refund of the class fee. If you let us know you can't make it at least 8 days before the class, you will get a store credit of the class fee. Cancellations 7 or fewer days before the class are not refundable, but you can try to find someone to take your place. If there is a waiting list, we'll try to help with that. The Supply List for each class may be found on our website at the lower left-hand corner of the class page. You may have to scroll down to find it.

A Rag Basket makes an unusual and useful gift. Learn how to make one on Sunday, December 8, 2:15-5. Bet you can't make just one! Maria Rogers will be teaching the class this time. One seat remains open.

Learn how to use the Handi Quilter Simply Sixteen quilting machine on Wednesday, December 11, 11-1. Completion of the course allows you to rent our machine to quilt your own quilts. The class is called Getting Started: the HQ Simply Sixteen.

Get help sandwiching those Christmas gift quilts at Sandwich Night, Friday, December 13. Appointments are available at 6, 7, and 8. Bring your quilt top, back and batting and either basting spray or pins.

The Featherweight Clinic on Saturday, December 14, is full. Look for the next one after the first of the year! Marianne shows you how to disassemble, clean, lubricate, and reassemble your Singer Featherweight.

Learn the ins and outs of using rulers when you longarm quilt in Rulers for the Longarm on Sunday, December 15, 12-3. Barbara Bean teaches the class.

Your last chance for getting help sandwiching those holiday quilts is Sandwich Day on Tuesday, December 17. Appointments are available at 3 and 5. Bring your quilt top, back, batting, and spray baste or pins and Carol will help you get your quilt sandwiched in no time. You don't need to sandwich your quilt if it is going to be longarm-quilted.


CAPITAL QUILTS CARES: All CQ Cares events are free, and we provide fabric and patterns. Please bring your sewing machine, thread, and supplies. Please register for each event online, by phone at 301-527-0598, or in the shop so that we know how many to expect. Thank you!

Quilts of Valor: Our next QOV workshop is on Friday, December 13, 1-3:30. This workshop is full, but if you'd like to come help iron, wield a seam ripper, or just see what is going on, please stop by! The next workshop is on January 10 at 12:30.

Interfaith Works Women's Center: Help us make string quilts for this women's center in Rockville. The quilts are given to the women for their beds, bringing a cheerful atmosphere to an otherwise rather drab room. This workshop is led by Billye Roberts on Sunday, December 15, 12-5.

Small Kennel Quilts: We are always accepting small kennel quilts, and we always have free basic kits available for you to take home to make and return to us. (The quilts are great stash-busters, too!) They are a perfect little project for practicing your quilting skills. We receive requests from shelters for completed kennel quilts on a frequent basis.



BLUE BAG BONANZA

Congratulations to Kathy R., who won the Blue Bag prize for November. December's prize is a 2oz. bottle of Best Press, a "Joy" Charm Pack from Contempo Fabrics, and a notebook from QT Fabrics.

To be entered in each month's drawing, bring your Capital Quilts Blue Bag with you when you shop. Make sure you show it to the staffer at the register! Upon completion of your sales transaction, your name will be put in the jar for the drawing at the end of the month. The more you shop, the more chances you have to win. Don't have a Blue Bag? Purchase one at the shop, by phone, or online for just $4.99. We save all of the entries for the year, and at the end of the year we draw a Grand Prize Winner from all the entries.


Our thanks to everybody who shops at Capital Quilts and who participates in the Blue Bag Bonanza.