Skip Navigation
Website Accessibility
What's New at CQ 12/12/2019
| | |
| --- | --- |
| "How did it get so late so soon? Its night before its afternoon. December is here before its June. My goodness how the time has flewn. How did it get so late so soon?" Dr. Seuss | |
Dear Makers,

The Big Huge Fun Fabulous Sale is over, but we continue to offer extra discounts on selected Janome machines through December 31. Like Handi Quilter, Janome has announced that effective January 1, 2020, it will be raising its prices. They have not released any details yet. NOW is a great time to get yourself a new sewing machine, serger, or longarm machine! If you need a testimonial about Janome, I can tell you that I have made pj pants for my children for Christmas for years. When I switched from using a Bernina to using a Janome, all three of them commented on how much better my sewing looked and said it looked really professional! I love my Janome!

Christmas, Hanukkah, and Halloween fabrics continue to be 40% off, along with the "red dot" fabrics. "Orange dot" fabrics are 30% off. Holiday kits, patterns, panels, and books are all 20% off. We have moved the clearance fabrics to the middle of the shop, where the Kaffe and Tula and friends and all the novelties were located, as well as in the batik area. Current fabrics are now elsewhere in the shop.

Thank you for supporting Capital Quilts with your dollars, your online voice, and your energy. There are lots of places and ways to shop these days, and I appreciate your choosing to shop at Capital Quilts to keep our wonderful community here for all to enjoy. For those of you who participated in the Big Sale these last few weeks, I hope it was fun. Thank you for participating in it and helping us raise some cash and reduce our inventory.

If you are interested in joining one or more of the clubs next year, I invite you to attend the December meeting of that club or clubs. You will get an idea of what the club is like and what it will be doing next year. Please refer to the list of club meetings and dates included below. Many clubs and classes for 2020 are already on the calendar and can be registered for. Look for our complete class listing for the first quarter of 2020 in the next couple weeks.

We are also going to introduce a new club in 2020: the Crazy Quilt Club. This club will run for six months, from January through June. If its members want to continue on, we will extend the club. Julie Taylor will lead the club. She will show you how to make a Crazy Quilt block, suggest fabrics to use, and teach embroidery, ribbon work, and other methods of embellishment. There will, of course, be show and tell and camaraderie.

Second Saturday 2019 members: due to a family situation, Betsy is unable to conduct the Second Saturday meeting in December. We have rescheduled the final 2019 Second Saturday meeting to Saturday, January 11, 2020 from 10:30 to noon. We apologize for any inconvenience.


Go 'n' Piece,
Alison



CLUBS MEETINGS IN DECEMBER
Hand Embroidery (AKA Wool Club): Saturday, 12/14, 12-2
Janome: Saturday, 12/21, 10:30-12:30
AccuQuilt GO!: Sunday, 12/22, 1-3
AccuQuilt Studio: Saturday, 12/28, 10:30-12:30



IN THE GALLERY
We have quilts that are on sale hanging in the Gallery now. These are quilts that have been class models in the past and are now ready to be adopted by you!


SHOP OPEN LATE
Capital Quilts is always open until 9 on Friday evenings.



NEW AND NOTEWORTHY

We just got in some gorgeous hand-crafted earrings by local designer Audrey Jones. She calls them Microsaics. The ear wires are brass plated with sterling silver, 14 carat gold, or copper. There is no nickel in them. The selling price is $45/pair.

We have received 24 softly colored, subtle tone on tone bolts from Andover Fabrics called Cloud Whites. These are perfect for backgrounds, whether you use all of them for a scrappy texture, or limit your use to just one for a cleaner, more streamlined look. $11.99/yard.
Black felted wool on the bolt is now in stock! It runs 53"-54" wide, and sells for $41.99/yard.
Tula Pink is in the house! Choose from 15 luscious bolts of Monkey Wrench at only $10.99/yard.
This cute panel featuring giraffes, lions, and elephants riding bicycles is called Bike Ride. Panels, $9.50/each. Coordinating bolts, $12.50/yard.
Sunday Afternoon has a soft, lazy feel to it. The palette of blues, greens, and purples is like a soft summer breeze. $12.50/yard.
Coming soon: Aurifil Color Builders, a capsule of twelve curated mini-collections inspired by (and named after) Italy's most vibrant and colorful destinations. Each collection contains three large spools of 50wt thread — a warm, a medium, and a dark — within the location's primary color palette. From the lemon groves of Sicily to the pink sand beaches of Sardinia to the clear teal waters of Capri to the stark city grey of Milan… each collection is crafted to evoke images of our beloved Italian landscape. The colors were selected not only for their aesthetic appeal, but for their practicality in every day use. Please let us know if you are interested in these collections. We're currently planning on getting just 15 boxes each month, and need to know if we should up the quantity.



BLOCK OF THE MONTH
Beginning in January, Kim Jalette will be leading a new Block of the Month. The quilt is called "Tara", and the class will meet on the 2nd Saturday of each month. Fabric kits will be available.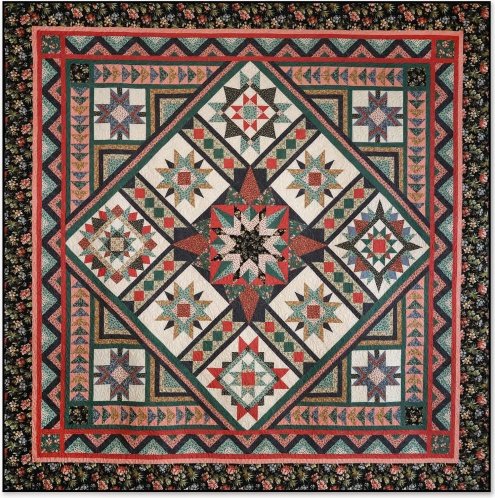 The First Saturday Club will be working on Alaska by Edyta Sitar of Laundry Basket Quilts. This beautiful quilt looks wonderful in any color combination! The First Saturday Club for 2020 will run just 9 months, April through December.



HANDI QUILTER
The new Handi Quilter Capri should arrive any day now! This is the new sit-down machine. I tried it at Quilt Market and was very impressed. The regulated stitch was reliable and the movement of the fabric on the table top smooth. There is a laser sensor near the needle that tracks the movement of the fabric to regulate the stitch. The other great innovation is that the table is adjustable up and down: you can sit down or stand up to stitch with this machine.

From December 6-16, Handi Quilter is offering "Season's Savings" in the form of $0 down, 0% interest, and FREE shipping for all of their machines. This is with approved credit and 36- or 48-month terms. Ask me about the fine print!


CLASSES
Register for classes online, in the shop, or by calling 301-527-0598. Please register early; we need at least 3 people to make a class happen. If the class is cancelled by Capital quilts, you will get a refund of the class fee. If you let us know you can't make it at least 8 days before the class, you will get a store credit of the class fee. Cancellations 7 or fewer days before the class are not refundable, but you can try to find someone to take your place. If there is a waiting list, we'll try to help with that. The Supply List for each class may be found on our website at the lower left-hand corner of the class page. You may have to scroll down to find it.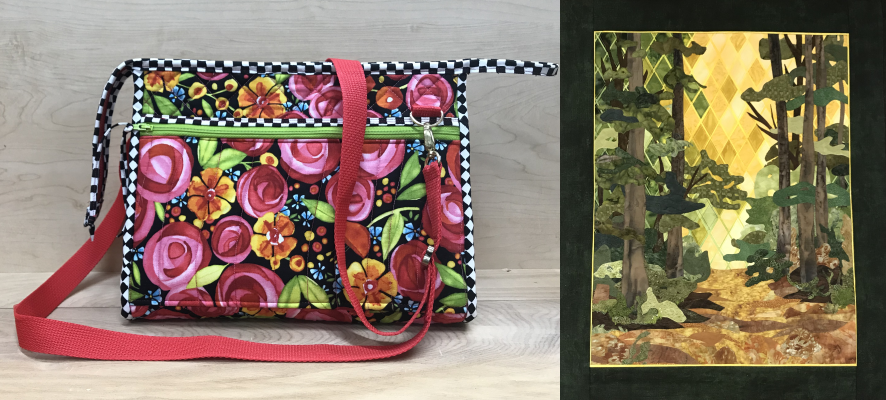 Get help sandwiching those Christmas gift quilts at Sandwich Night, Friday, December 13. Appointments are available at 7 and 8. Bring your quilt top, back and batting and either basting spray or pins.

The Featherweight Clinic on Saturday, December 14, is full. Look for the next one after the first of the year! Marianne shows you how to disassemble, clean, lubricate, and reassemble your Singer Featherweight.

Your last chance for getting help sandwiching those holiday quilts is Sandwich Day on Tuesday, December 17. One appointment is available at 5. Bring your quilt top, back, batting, and spray baste or pins and Carol will help you get your quilt sandwiched in no time. You don't need to sandwich your quilt if it is going to be longarm-quilted.

The last Sit N Sew meeting of 2019 is on Friday, December 27, 5-9. Bring some food and holiday cheer to share with your friends, along with a project to work on. Beverages are provided by Capital Quilts.
The first class of 2020 is Take a Stand, a tote bag class taught by Kathy Barden. This is a perfect tote for retreats, classes, and traveling. The easy-to-install zippered top opens wide for easy access to contents. There is an adjustable, detachable strap, two outer zippered pockets, and two inner mesh pockets. ByAnnie's "Running With Scissors" tool case (class coming up in February) is the perfect companion pattern for this tote. Class meets Saturday, January 4, 10:30-3:30. Bring your lunch.
Create a beautiful landscape quilt, layer by layer, in Julie Taylor's Tranquility class. The background is made using a mosaic technique, and the picture is built using applique techniques. The finished quilt is about 18" x 23". Class meets on Saturdays, January 11, 18 & 25, 2:30-5.
CAPITAL QUILTS CARES
All CQ Cares events are free, and we provide fabric and patterns. Please bring your sewing machine, neutral thread, and supplies. Please register for each event online, by phone at 301-527-0598, or in the shop so that we know how many to expect. Thank you!

Quilts of Valor: Our next QOV workshop is on Friday, December 13, 1-3:30. This workshop is full, but if you'd like to come help iron, wield a seam ripper, or just see what is going on, please stop by! The next workshop is on January 10 at 12:30.

Interfaith Works Women's Center: Help us make string quilts for this women's center in Rockville. The quilts are given to the women for their beds, bringing a cheerful atmosphere to an otherwise rather drab room. This workshop is led by Billye Roberts on Sunday, December 15, 12-5.


Small Kennel Quilts: We are always accepting small kennel quilts, and we always have free basic kits available for you to take home to make and return to us. (The quilts are great stash-busters, too!) They are a perfect little project for practicing your quilting skills. We receive requests from shelters for completed kennel quilts on a frequent basis.


BLUE BAG BONANZA
Congratulations to Kathy R., who won the Blue Bag prize for November. December's prize is a 2oz. bottle of Unscented Best Press, a "Joy" Charm Pack from Contempo Fabrics, and a notebook from QT Fabrics.

To be entered in each month's drawing, bring your Capital Quilts Blue Bag with you when you shop. Make sure you show it to the staffer at the register! Upon completion of your sales transaction, your name will be put in the jar for the drawing at the end of the month. The more you shop, the more chances you have to win. Don't have a Blue Bag? Purchase one at the shop, by phone, or online for just $4.99. We save all of the entries for the year, and at the end of the year we draw a Grand Prize Winner from all the entries.

Our thanks to everybody who shops at Capital Quilts and who participates in the Blue Bag Bonanza.