Dear
Sewalicious Friends,

Is your New Year's Resolution for 2020 to develop a healthier life style? Are your clothes fitting more tightly than you like? I can help with that! Morna McEver Golletz, a business consultant and friend of many years, has added another career to her CV as a FASTer Way to Fat Loss Certified Coach. As my own clothes are a bit tight, I invited Morna to bring her program to Capital Quilts. It's a 6-week long program, with most meetings online. We will have 3 meetings here at Capital Quilts, on January 27, February 11, and February 25, from 5-6pm. I figure I can do anything for 6 weeks if it will make my clothes stop pinching me at the waist! If you'd like to learn more, go to www.fasterwaywithmorna.com; you can register at that site as well. If you have any questions for Morna, you can contact her at morna@creativeartsprofessional.com. Please note that The FASTer Way to Fat Loss© program is not affiliated with Capital Quilts.

Handi Quilter has launched a new full-featured design software for creating paper or digitized quilting motifs. It supports longarm quilters and home sewing/embroidery machine users alike. You can import designs or create your own. Customize, edit, trace, and merge existing designs. Create edge-to-edge layouts, or repeated motifs. Print pantographs and tear-away stencils. This wonderful new software is called Pro-Stitcher Designer and retails for $595.95.

Handi Quilter ProStitcher owners: Handi Quilter is replacing the Art & Stitch software with their own Pro-Stitcher Designer software. If you are already a Pro-Stitcher owner, you can take advantage of a limited-time offer and save almost $400. Until June 30, 2020, purchase your digital copy of Pro-Stitcher Designer for just $199.95. Visit the new www.ProStitcher.com to learn more. While Art & Stitch is still in existence, Handi Quilter will no longer support it.

Our Amara is working again, finally. If you've been waiting to rent this machine, give us a call.

We've added a new class to the schedule: Crazy Valentine! Julie Taylor will show you how to make a heart using crazy quilting techniques and then applique it to a wool background or a folded card to make a valentine for your sweetie. Class meets on Sunday, January 26, 2-4.

Also newly added is Stars of Savannah, March 10 & 24, 2-4. Kim Jalette will teach you how to do English Paper Piecing and make a beautiful quilt at the same time.

AccuQuilt has lots and lots of dies on sale, about 40 of them. Find a listing of the dies in the shop. I can order any die or machine you'd like (and you don't have to pay shipping!).

As always, thank you for supporting Capital Quilts with your dollars, your online voice, and your energy. There are lots of places and ways to shop these days, and I appreciate your choosing to shop at Capital Quilts to keep our wonderful community here for all to enjoy.


Go 'n' Piece,
Alison

IN THE GALLERY
We have quilts that are on sale hanging in the Gallery now. These are quilts that have been class models in the past and are now ready to be adopted by you!


SHOP OPEN LATE
Capital Quilts is always open until 9 on Friday evenings. In the upcoming week, we will also be open until 9 tonight, January 9, and on Wednesday, January 15.


NEW AND NOTEWORTHY

Look for these products coming into the shop in the next week!
New Shimmer from Northcott Fabrics is 42 bolts of divineness, beautiful designs with gold or silver highlights.. We are making strip sets, charm packs, and a fat quarter bundle, of course! $12.50/yard

One of our favorite blenders, P&B's "Berry Nice" collection, has sent us the newest colors. Look for them in their color ways. $10.99/yard
A few bolts of Urban Zoologie, Ready Set Go 2, and Remix from Robert Kaufman. Perfect for children's quilts. $11.99/yard
Aurifil Color Builders, a capsule of twelve curated mini-collections inspired by (and named after) Italy's most vibrant and colorful destinations. Each collection contains three large spools of 50wt thread — a warm, a medium, and a dark — within the location's primary color palette. From the lemon groves of Sicily to the pink sand beaches of Sardinia to the clear teal waters of Capri to the stark city grey of Milan… each collection is crafted to evoke images of the beloved Italian landscape. The colors were selected not only for their aesthetic appeal, but for their practicality in every day use. Please call the shop to subscribe to this monthly thread club!. We're currently planning on getting just 15 boxes each month, first come, first served.

HANDI QUILTER

The
Capri
has arrived and is set up in the Handi Quilter room. It is a BIG machine for SMALL spaces, with a small footprint but a large 18" throat.


Without the available 18" x 32" side extensions, the table fits into a space 36" wide and 5.5' front to back, including chair space. Built-in stitch regulation means your stitches will be perfect every time. The lighting is superior, including in the bobbin area. The table height is adjustable, from a comfortable for sitting 25.5" to a standing height of 39.5" and heights in between. There is a low-bobbin alarm, it stitches up to 2200 stitches per minute and 4-22 precision stitches per inch, and it has needle-stop position control. If your needs change, you can upgrade it to a moveable-carriage frame. It comes with the same warranty that all Handi Quilter machines have, 10 years on the casting and 5 years each on the electrical and mechanical systems. It is designed, engineered, and assembled in the USA. Price: $7,995. I'll include the VersaRuler and a 12" straight ruler for FREE!

Purchase any new machine package and receive a FREE HQ HighLight, the brightest LED lighting for your sewing room. Offer valid January 10-20, 2020.


JANOME
Janome is celebrating its 99th anniversary in 2020. To celebrate, they are offering great pricing and bundles on most of their machines. Check out the brochure in the shop or at www.janome.com. If I don't have a particular model in stock, I am happy to order one for you.

• Save $500 on the new Continental M7 or the top-of-the-line quilting machine, the 9450, and receive a gift with a value of $1,001 that includes a roller bag, the Kimberly Einmo Block of the Month, 3 Kimberly Einmo rulers, and a Kimberly Einmo jelly roll.
• Save $300 on your purchase of the embroidery-only Memory Craft 550E and receive the Acufil Quilting Kit, AcuStitch Software, AND the new Artistic Digitizer 1.5 for FREE, a $1,734 value.
• Save $300 on the MC6700P, a workhorse of a machine that sews 1200 stitches per minute.


There are lots more machines on sale. Take a peek!



BLOCK OF THE MONTH

Beginning this Saturday, Kim Jalette will be leading a new Block of the Month. The quilt is called "Tara", and the club will meet on the 2nd Saturday of each month. Fabric kit subscriptions are now available!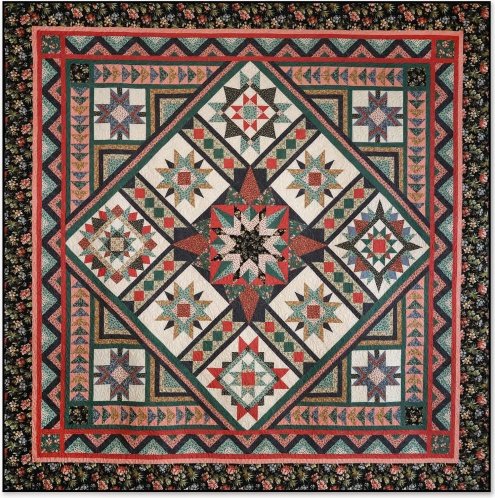 The First Saturday Club will be working on Alaska by Edyta Sitar of Laundry Basket Quilts. This beautiful quilt looks wonderful in any color combination! The First Saturday Club for 2020 will run just 9 months, April through December.

CLASSES
Register for classes online, in the shop, or by calling 301-527-0598. Please register early; we need at least 3 people to make a class happen. If the class is cancelled by Capital quilts, you will get a refund of the class fee. If you let us know you can't make it at least 8 days before the class, you will get a store credit of the class fee. Cancellations 7 or fewer days before the class are not refundable, but you can try to find someone to take your place. If there is a waiting list, we'll try to help with that. The Supply List for each class may be found on our website at the lower left-hand corner of the class page. You may have to scroll down to find it.

Sandwich Night is on Friday, January 10, with appointments at 6, 7, and 8. Bring your quilt top, batting, backing, and basting spray or pins and we'll help you sandwich that quilt in no time! Your top and backing should be squared and pressed. If you are going to ask a longarmer to quilt the quilt, you do not need to sandwich it.

Create a beautiful landscape quilt, layer by layer, in Julie Taylor's Tranquility class. The background is made using a mosaic technique, and the picture is built using applique techniques. The finished quilt is about 18" x 23". Class meets on Saturdays, January 11, 18 & 25, 2:30-5.

Learn how to piece by hand on Monday, January 13, 10-12. Cecilia Marzulli will teach you the methods and techniques. Our Hand Piecers Club meets on the same day, from 1-3, if you would like to join them and learn even more. All skill levels are welcome (even if you don't take the morning class) and the members would love to share what they know with you!

Make a T-Shirt Quilt on Wednesday, January 15 (with a second class on January 29) with Debra Ball, 11:30-1:30. She'll show you how to stabilize the t-shirts, cut out the pieces you need, do sashing, and more.

The next session of the Capital Quilts Complete Course of Quilting by Machine starts on Wednesday, January 15. Jan Wisor teaches the afternoon class from 2-4 and Betsy Kulamer teaches the evening class from 6:30-8:30. Sign up for one or the other. This is a 10-week long course, with homework. You must have your own sewing machine. You start by learning about your sewing machine, and 10 weeks later you have a small quilt made! Each block in the quilt represents a new skill. It is a wonderful way to begin your life as a quilter. It is also a wonderful refresher course for those who are returning to quilting but are feeling a little rusty.

Need a respite after the holiday hoopla? Join Kat Martinez for an in-shop retreat on Saturday, January 18, 6-midnight. Night Owl is a time to be with friends and chat and eat pizza and sew on your own projects. If you get stuck on something, you'll have lots of people to help you figure out the problem! Stay as late as you like (but not later than midnight).

Sandwich Day is on Tuesday, January 21, with appointments at 1, 2, 4, or 5. Bring your quilt top, batting, backing, and basting spray or pins and we'll help you sandwich that quilt in no time! Your top and backing should be squared and pressed. If you are going to ask a longarmer to quilt the quilt, you do not need to sandwich it.

Karen Fricke will expand your quilting horizons in Fun With Free Motion on Thursday, January 23, 2-5. Explore other techniques like meandering and some filler designs and learn how to use stencils. Students should have some free motion experience.


CAPITAL QUILTS CARES
All CQ Cares events are free, and we provide fabric and patterns. Please bring your sewing machine, neutral thread, and supplies. Please register for each event online, by phone at 301-527-0598, or in the shop so that we know how many to expect. Thank you!

Quilts of Valor: The next workshop is on January 10 at 12:30. Please join us to make blocks and quilts for the men and women who have served our country. These quilts mean a great deal to our veterans, and we are honored to be a Quilts of Valor Chapter here at Capital Quilts and have the opportunity to give these quilts to those who have served.

Scarf It Up!: Teens: Here is a fun way to get service hours! Bring your form with you. Drop in on Monday, January 20 (Martin Luther King holiday), between 12:30-3. No sewing required. Make scarves and blankets from fleece by fringing the ends with a pair of scissors. Children are welcome to accompany an adult. The scarves and blankets will be given to Interfaith Works Women's Center.

Interfaith Works Women's Center: Help us make string quilts for this women's center in Rockville. The quilts are given to the women for their beds, bringing a cheerful atmosphere to an otherwise rather drab room. The next workshop is led by Billye Roberts on Sunday, March 1, 12-5.

Small Kennel Quilts: We are always accepting small kennel quilts, and we always have free basic kits available for you to take home to make and return to us. (The quilts are great stash-busters, too!) They are a perfect little project for practicing your quilting skills. We receive requests from shelters for completed kennel quilts on a frequent basis.


BLUE BAG BONANZA
January's prize is Traditional Cutwork, by Darlene Guillory, a piece of "Simply Cotton" batting, and a pack of 24 charm squares of the "Choose to Shine" line by Cherry Guidry from Contempo.

To be entered in each month's drawing, bring your Capital Quilts Blue Bag with you when you shop. Make sure you show it to the staffer at the register! Upon completion of your sales transaction, your name will be put in the jar for the drawing at the end of the month. The more you shop, the more chances you have to win. Don't have a Blue Bag? Purchase one at the shop, by phone, or online for just $4.99. We save all of the entries for the year, and at the end of the year we draw a Grand Prize Winner from all the entries.

Our thanks to everybody who shops at Capital Quilts and who participates in the Blue Bag Bonanza.