Skip Navigation
Website Accessibility
What's New at CQ 1/23/20
| | |
| --- | --- |
| "This is what I learned: that everyone is talented, original, and has something important to say." Brenda Ueland | |
Dear
Warm-Hearted Friends,

New class added to the schedule: Intro to Wool Embroidery, Thursday, January 30, 11-1, Liz Brodsky teaching. This class is designed for people who are curious about embroidery but aren't sure how to get started. Liz provides a kit with everything you need except scissors and a pencil. You'll learn about the needles and threads to use, how to start and stop a row of stitching, and some basic embroidery stitches. Take home the small wool project pictured above. To register, go online, give us a call at 301-527-0598, or visit the shop.

AccuQuilt has more than 50 dies on sale, including Qubes! Find a listing of the dies in the shop. I can order any die or machine you'd like (and you don't have to pay shipping!).


We are having a Janome Floor Model Sale on 5 selected machines here at Capital Quilts. The 15000, 6600, Skyline S9, and 500E (embroidery only) machines are on deep discount, nearly half off in most cases. These machines are lightly used and well cared for. A free lesson in the use of the machine is included.

It's never too late to join a club! You'll pay a prorated rate if it's already started. Try AccuQuilt GO! Club on the 3rd Wednesday morning of each month to learn lots of different ways to use the GO! machines and dies. You don't even have to own a machine! But we are pretty sure you'll want to once you try it.

We are also introducing a new club in 2020: the Crazy Quilt Club. This club will run for six months, from January through June. If its members want to continue on, we will extend the club. Julie Taylor will lead the club. She will show you how to make a Crazy Quilt block, suggest fabrics to use, and teach embroidery, ribbon work, and other methods of embellishment. There will, of course, be show and tell and camaraderie.

I was reading a blog post on Scott Fortunoff's website this morning. The writer, a new quilter, decided to take on Scott's challenge to visit as many quilt shops as she could. She and her husband already had a drive to Florida planned, so she asked him if they could make some quilt shop stops along the way. Instead of the "No Way!" she expected, he was enthusiastic about her quest, and they even detoured all the way to Missouri! She, or maybe I should say they, ended up winning the challenge, visiting 213 shops. Kudos to her husband for his generous and enthusiastic support of her new passion! May we all have such supportive spouses, and may we in turn be supportive of them.


Go 'n' Piece,
Alison

IN THE GALLERY
In the Gallery now through February 1 we have Quilts of Valor hanging for you to see. These quilts are part of a challenge our chapter did to create a QOV from a panel. Eventually each of these quilts will be given to a vet in appreciation for his or her service to our nation.


SHOP OPEN LATE
Capital Quilts is always open until 9 on Friday evenings. In the upcoming week, we will also be open until 9 on Wednesday, January 29.


NEW AND NOTEWORTHY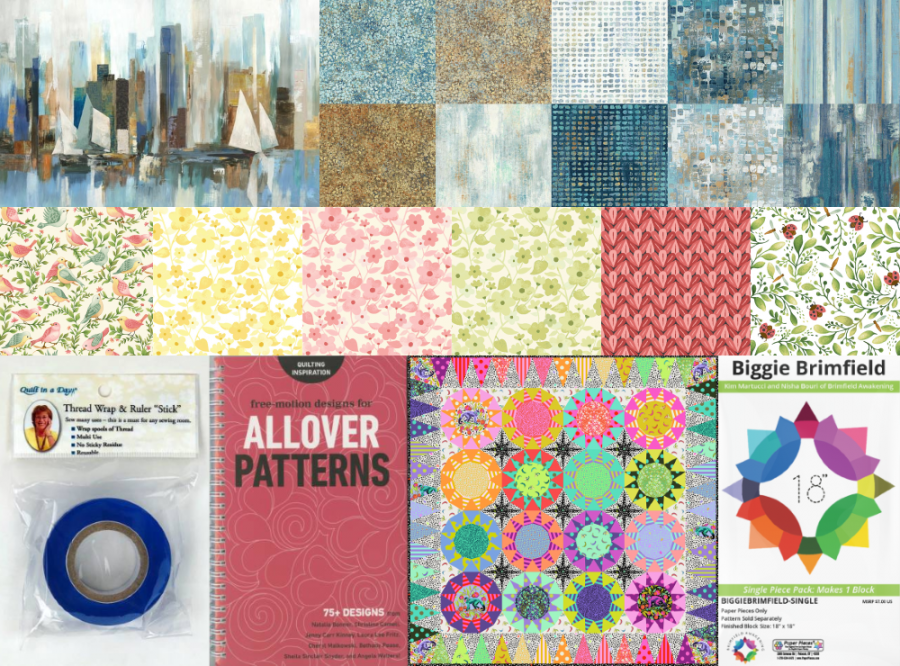 From Northcott Fabrics, we have Harbor Reflections by Norm Olson. This collection features a panel in blues and browns, with coordinating bolts of fabric. $12.50 per yard, panel $10.50 each.

Looking for a sweet springtime collection? Home Tweet Home from Oasis Fabrics is the answer to your search! We have six bolts featuring birds, ladybugs, and flowers. $11.50 per yard.

From Quilt in a Day by Eleanor Burns, we have Thread Wrap & Ruler "Stick". Wrap it around thread spools to avoid unraveling. There is no sticky residue, and it is reuseable! You can also place strips of it on the bottom of rulers to reduce slippage. 1" x 60'. $10.99 per package.

Allover Patterns is a collection of more than 75 free-motions designs for quilting by eight different well-known quilters, including Cheryl Malkowski and Angela Walters. Regularly $11.95, get it for $11.35 at Capital Quilts.

Make a Tula Sunrise Quilt! We have the complete pattern and paper piece pack that you need to make this cheerful quilt. $39.00 for the combined package.

The Brimfield Block is now bigger and better than ever! Pick up a single piece pack the the 18" Biggie Brimfield, $7.00 each.

The March 2020 issue of Quiltmaker Magazine is now in stock.

I reordered some of the New Shimmer bolts from Northcott, including the popular Lagoon colors. Look for them with the other New Shimmer bolts.


HANDI QUILTER

The Capri has arrived and is set up in the Handi Quilter room. It is a BIG machine for SMALL spaces, with a small footprint but a large 18" throat. Without the available 18" x 32" side extensions, the table fits into a space 36" wide and 5.5' front to back, including chair space. Built-in stitch regulation means your stitches will be perfect every time. The lighting is superior, including in the bobbin area. The table height is adjustable, from a comfortable for sitting 25.5" to a standing height of 39.5" and heights in between. There is a low-bobbin alarm, it stitches up to 2200 stitches per minute and 4-22 precision stitches per inch, and it has needle-stop position control. If your needs change, you can upgrade it to a moveable-carriage frame. It comes with the same warranty that all Handi Quilter machines have, 10 years on the casting and 5 years each on the electrical and mechanical systems. It is designed, engineered, and assembled in the USA. Price: $7,995. I'll include the VersaRuler and a 12" straight ruler for FREE!


Handi Quilter ProStitcher owners: Handi Quilter is replacing the Art & Stitch software with their own Pro-Stitcher Designer software. If you are already a Pro-Stitcher owner, you can take advantage of a limited-time offer and save almost $400. Until June 30, 2020, purchase your digital copy of Pro-Stitcher Designer for just $199.95. Visit the new www.ProStitcher.com to learn more. While Art & Stitch is still in existence, Handi Quilter will no longer support it.


JANOME
Janome is celebrating its 99th anniversary in 2020. To celebrate, they are offering great pricing and bundles on most of their machines. Check out the brochure in the shop or at www.janome.com. If I don't have a particular model in stock, I am happy to order one for you.

• Save $500 on the new Continental M7 or the top-of-the-line quilting machine, the 9450, and receive a gift with a value of $1,001 that includes a roller bag, the Kimberly Einmo Block of the Month, 3 Kimberly Einmo rulers, and a Kimberly Einmo jelly roll.
• Save $300 on your purchase of the embroidery-only Memory Craft 550E and receive the Acufil Quilting Kit, AcuStitch Software, AND the new Artistic Digitizer 1.5 for FREE, a $1,734 value.
• Save $300 on the MC6700P, a workhorse of a machine that sews 1200 stitches per minute.

These are just three of the many machines Janome has placed on sale and in most cases bundled with freebies. It's a great time to buy a Janome!


CLASSES
Register for classes online, in the shop, or by calling 301-527-0598. Please register early; we need at least 3 people to make a class happen. If the class is cancelled by Capital quilts, you will get a refund of the class fee. If you let us know you can't make it at least 8 days before the class, you will get a store credit of the class fee. Cancellations 7 or fewer days before the class are not refundable, but you can try to find someone to take your place. If there is a waiting list, we'll try to help with that. The Supply List for each class may be found on our website at the lower left-hand corner of the class page. You may have to scroll down to find it. Click HERE to register for any of the classes listed below.


Have you mastered meandering and loop-d-loop and other basic designs in your longarm quilting? Take the next step and learn how to use rulers. Barbara Bean will teach you how to use rulers safely and effectively. You will get a chance to try several of them. Rulers for the Longarm meets on Friday, January 24, 11-2 and on Sunday, February 2, 12-3.

Knowing how to balance which needle to use with what thread can make a world of difference to your sewing. Your work will be more accurate and look more professional. Barbara Kascic will show your how in Needles & Thread on Saturday, January 25, 1-2.

In Crazy Valentine, Julie Taylor will show you how to make a heart using crazy quilting techniques and then applique it to a wool background or a folded card to make a valentine for your sweetie. Class meets on Sunday, January 26, 2-4.

New Class added: Introduction to Wool Embroidery, Thursday, January 30, 11-1. Liz Brodsky shows you the basic tools needed and introduces you to several embroidery stitches. Kit included.

Learn how to make a lovely basket out of scraps and clothesline in Rag Basket, Thursday, January 30, 2:30-5:30. Lois Sumser teaches.

The first Sit-N-Sew of 2020 is on Friday, January 31, 5-9. This is a free time to sit with friends in the classroom and sew and chat together. Bring some food to share with the group. Capital Quilts provides beverages.

Are you curious about what sergers are and what they can do? Or would you like to learn how to use the one you bought and still have in the box? Barbara Kascic will reveal all in Sergers Made Easy on Tuesday, February 4, 10:30-1:30.

Learn the basics of longarm quilting in Barbara Bean's class, Getting Started: the Longarm Quilting Machine on Friday, February 7, 11-2. Completion of this class certifies you to rent our Handi Quilter Amara or Forte machine.

Paper piecing is a method of piecing non-traditionally shaped fabric pieces into a block. Learn how to do this on Friday, February 7, 12-3 in Introduction to Paper Piecing with Alison Vermilya.

Do you know someone who would like to learn how to sew? Learn to Sew meets on Saturday, February 8, 2:30-5:30. Lora Houck will teach the students how to use a sewing machine, basic information about fabric, how to press fabric, how to sew a straight and a curved line, and how to "unsew" a seam. Make a pillowcase to take home!


CAPITAL QUILTS CARES All CQ Cares events are free, and we provide fabric and patterns. Please bring your sewing machine, neutral thread, and supplies. Please register for each event online, by phone at 301-527-0598, or in the shop so that we know how many to expect. Thank you!

Interfaith Works Women's Center: Help us make string quilts for this women's center in Rockville. The quilts are given to the women for their beds, bringing a cheerful atmosphere to an otherwise rather drab room. The next workshop is led by Billye Roberts on Sunday, March 1, 12-5.

Small Kennel Quilts: We are always accepting small kennel quilts, and we always have free basic kits available for you to take home to make and return to us. (The quilts are great stash-busters, too!) They are a perfect little project for practicing your quilting skills. We receive requests from shelters for completed kennel quilts on a frequent basis. Shipping these kennel quilts is expensive for us; we appreciate any cash donations, no matter the size, to alleviate this. Thank you!


COMMUNITY NEWS
If you've been talking about the Australian animals with your family, you might enjoy visiting Roos2U in Germantown, MD. Visit www.roos2u.com for more information.


BLUE BAG BONANZA
January's prize is Traditional Cutwork, by Darlene Guillory, a piece of "Simply Cotton" batting, and a pack of 24 charm squares of the "Choose to Shine" line by Cherry Guidry from Contempo.

To be entered in each month's drawing, bring your Capital Quilts Blue Bag with you when you shop. Make sure you show it to the staffer at the register! Upon completion of your sales transaction, your name will be put in the jar for the drawing at the end of the month. The more you shop, the more chances you have to win. Don't have a Blue Bag? Purchase one at the shop, by phone, or online for just $4.99. We save all of the entries for the year, and at the end of the year we draw a Grand Prize Winner from all the entries.

Our thanks to everybody who shops at Capital Quilts and who participates in the Blue Bag Bonanza.