Skip Navigation
Website Accessibility
What's New at CQ 2/27/20
| | |
| --- | --- |
| "I like to learn. That's an art and a science." Katherine Johnson | |
Dear
Stellar Sewists,


Last year you voted Capital Quilts one of the top quilt shops on the ByAnnie website and we won a trunk show of ByAnnie bags! Help us do it again this year! Voting ends on Saturday. Go to https://www.byannie.com/LQS-Contest and vote. Invite your friends and family to vote, too!

QuiltCon 2020 was last week, and our own Jan Wisor attended the show! She's come back feeling very inspired by and excited about all she saw and the people she met. Here is what she has to say:

Four years ago, I heard about this thing called QuiltCon. Not quite sure what it was, I made my way to Savannah, Georgia to check it out. QuiltCon is the largest modern quilting show of its kind and presented annually by the Modern Quilt Guild (MQG). According to the MQG, there are over 600 modern quilts on display including 400 that are juried in from members all over the world. I have gone to QuiltCon every year since and come away inspired and overwhelmed all at the same time. QuiltCon 2020 was this last Thursday-Sunday in Austin, TX. There were some amazing classes by leading designers and quilters, awesome vendors and exhibitors, and a really fabulous quilt show. I got to connect with lots of different quilty friends and quilt superstars that I have met in the last few years at QuiltCon or I whom I knew about from quilt blogs. Best of all was seeing several of our Capital Quilt's customers who stopped by to say hi as I was volunteering. As a way of getting up close and personal to the quilts, I volunteer to do White Glove Duty. Can I just say that this is a truly humbling experience, seeing the quilts from all sides and many times getting to meet the quilt-maker. For workshops and lectures this year, my focus was to delve into the world of hand stitching and play with curves. I took several classes that met my challenge but need more time to digest what I learned and how to apply my new knowledge. I'd love to share my experiences with you, so stop and ask me the next time you are at Capital Quilts.
Thanks, Jan. QuiltCon is in Atlanta next year. I think I might head on down!

The Corona Virus pandemic is beginning to affect our industry. Fabric mills in China shut down and are just beginning to reopen; it will take them time to get back to full production, and they can't ship until the shipping companies are back at work. It looks like South Korea, which also has many mills, may also succumb. China provides us with many of the notions we use. Checker, the distributor we use the most, is beginning to feel the effects of the disruption. Checker carries 125,000 items from nearly 1,000 brands, and reorders have been delayed by factory closures. Even when the item is back in production, if the factories that make labels or packaging are still closed, the product can't ship until all those companies resume business as usual.

Did you know Capital Quilts offers financing on Handi Quilter machines and on Janome machines over $3,000? Ask us about it when you are shopping for a new machine!

1st Saturday Club members: If you need to learn more about using the Studio 180 Wedge Ruler before we start to make the Alaska quilt, sign up for Pat's workshop, Alaska Specialty Ruler Class. The class meets on Sunday, April 5, 2-5. The maximum number of students in this workshop is 12. If a second session is needed to accommodate all those who want to take this class, we will schedule another workshop.

Capital Quilts IS NOW CLOSED ON MONDAYS. We are doing this as a cost savings measure. Our online shop is still open 24-7!

As always, thank you for supporting Capital Quilts with your dollars, your online voice, and your energy. There are lots of places and ways to shop these days, and I appreciate your choosing to shop at Capital Quilts to keep our wonderful community here for all to enjoy.

Go 'n' Piece,
Alison


IN THE GALLERY
Drop by to see quilts that have been made as models for past classes. Most of them are available for sale.

If your guild is having a challenge and you'd like to hang the challenge quilts in our Gallery for a week or two, let me know!


SHOP OPEN LATE
Capital Quilts is always open until 9 on Friday evenings. In the upcoming week, we will also be open until 9 on Wednesday, March 4.


NEW AND NOTEWORTHY


Pencil lovers unite! From the earthy, woody smell of a newly sharpened pencil to the fact that some of us have "favorite" erasers, Pencil Club by Heather Givans is an homage to the eight-year-old collector in all of us.
Found in this brightly colored collection are piles of pencil shavings just too cute to throw away and rows of pencils and erasers organized by color. Our artist hearts beat a little faster when imagining a club dedicated to friends who love pencils. 17 bolts, $12.50 per yard. FQ collection, $59.50.

If you love neutrals like we love neutrals, you'll want to know that we have five bolts of Studio E's "Cream & Sugar" in stock! All are great for use as backgrounds on quilts to show off applique or give some quiet to your quilt areas. $10.99 per yard.

We have new patriotic fabrics! These five bolts from the "Truckin In The USA" line are perfect for the red, white, and blue quilt that you've been wanting to make. $11.99 per yard. These bolts will also be featured in CQ exclusive strips and charm packs, coming soon.

Pencil Club President quilt is the perfect pattern for those who love the woody smell of newly sharpened pencils and whose excitement can't be contained when opening a new pack of Number 2 HBx. Choosing colors for this quilt can be done to honor that one favorite pencil whose lead is the perfect shade of gray, show off school colors and your hometown pride, or go crazy and make it full-out rainbow. You decide! Teachers, students, librarians, artists, writers, and accountants (among others) will love making this lap-size quilt. $12.00 each.

Foster a young one's love for reading with the Huggable & Loveable soft book, "Hey Diddle, Diddle!" The designer, Sandra Magsamen, has touched millions of people, one heart at a time. Her message driven products have been warmly embraced for over 25 years. Sandra reminds us and teaches us to explore and experience each day with more heart, meaning, purpose and joy. $12.50 per panel.

ACCUQUILT
2/22/20-2/28/20: $5 off GO! dies up to $49.99 and $10 off GO! dies 59.99 and up. Excludes Qube products and some new dies.


HANDI QUILTER
The Capri has arrived and is set up right by our front door! It is a BIG machine for SMALL spaces. Price: $7,995. I'll include the VersaRuler and a 12" straight ruler for FREE through March 3!

March 4-10, Handi Quilter is offering $0 down and 0% interest on the purchase of any Handi Quilter longarm machine. This offer is with approved credit, and 36- or 48-month terms and conditions apply. If this appeals to you but you cannot come into the shop that week, come before the 4th; we'll do the paperwork, and I'll send it in on the 4th.

With the purchase of any new Handi Quilter machine, including ProStitcher, you get one year's free membership in our Longarm and/or ProStitcher clubs, a free class in using and maintaining your new machine, and free installation in your home or business.

Handi Quilter ProStitcher owners: Handi Quilter is replacing the Art & Stitch software with their own Pro-Stitcher Designer software. If you are already a Pro-Stitcher owner, you can take advantage of a limited-time offer and save almost $400. Until June 30, 2020, purchase your digital copy of Pro-Stitcher Designer for just $199.95. Visit the new www.ProStitcher.com to learn more. While Art & Stitch is still in existence, Handi Quilter will no longer support it.


JANOME
Janome is also offering a special credit promotion, March 5-12. Pay NO interest for 60 months with equal monthly payments for 60 months on a purchase of a machine with an MSRP (Manufacturer's Suggested Retail Price) over $2000.

We are having a Janome Floor Model Sale on 3 selected machines here at Capital Quilts. The 15000, Skyline S9, and 500E (embroidery only) machines are on deep discount, nearly half off in most cases. These machines are floor models, lightly used and well cared for. A free lesson in the use of the machine is included. This offer expires on March 1.

Janome is celebrating its 99th anniversary in 2020. To celebrate, they are offering great pricing and bundles on most of their machines. Check out the brochure in the shop or at www.janome.com. If I don't have a particular model in stock, I am happy to order one for you.

• Save $500 on the new Continental M7 or the top-of-the-line quilting machine, the 9450, and receive a gift with a value of $1,001 that includes a roller bag, the Kimberly Einmo Block of the Month, 3 Kimberly Einmo rulers, and a Kimberly Einmo jelly roll.
• Save $300 on your purchase of the embroidery-only Memory Craft 550E and receive the Acufil Quilting Kit, AcuStitch Software, AND the new Artistic Digitizer 1.5 for FREE, a $1,734 value.
• Save $300 on the MC6700P, a workhorse of a machine that sews 1200 stitches per minute.

These are just three of the many machines Janome has placed on sale and in most cases bundled with freebies. It's a great time to buy a Janome, but it ends on Saturday, February 29! Hurry in to take advantage of this sale.


CLASSES
Register for classes online, in the shop, or by calling 301-527-0598. Please register early; we need at least 3 people to make a class happen. If the class is cancelled by Capital quilts, you will get a refund of the class fee. If you let us know you can't make it at least 8 days before the class, you will get a store credit of the class fee. Cancellations 7 or fewer days before the class are not refundable, but you can try to find someone to take your place. If there is a waiting list, we'll try to help with that. The

Supply List

for each class may be found on our website at the lower left-hand corner of the class page. You may have to scroll down to find it.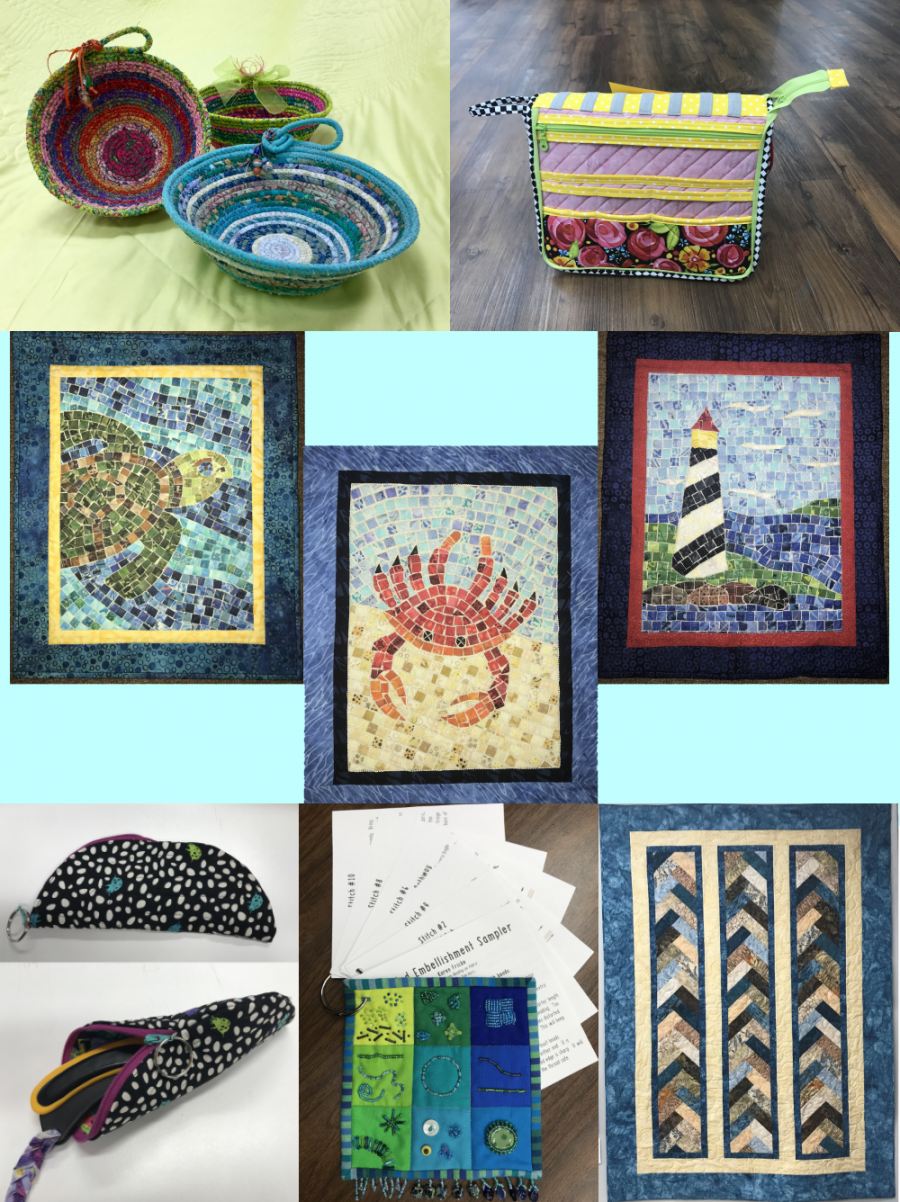 Lois Sumser shows you how to make a unique bowl out of clothesline and fabric strips in Rag Basket, Friday, February 28, 1:30-4:30. This is one of our most popular classes! Skill level: easy.

The February Sit-n-Sew is on Friday the 28th, 5-9. Bring your project, your supplies, and some food to share with your fellow sewists. Capital Quilts provides beverages. Free!

Kathy Barden is teaching Running With Scissors on Saturday, February 29, 1-4:30. This By Annie tool case is a companion to the Take a Stand Tote. Unzip it and drape it inside out over the Take a Stand tote to give you easy access to your tools. Please note the new date, as this class was originally scheduled for the 15th. Skill level: intermediate.

Got scraps? Especially batik scraps? Use them to make a Mini Mosaic with Kat Martinez on Tuesday, March 10 and 24, 10:30-12:30. Don't have scraps? No worries! Kat offers small batik squares at a very reasonable price. These small quilts look lovely hanging on a wall in your home and make very nice gifts. Skill level: easy but fiddly.

Guess what shape the Banana Bag is? It doesn't look like a rutabaga, I'm here to say. Phyliss Jaffe will teach you how to make this small zippered pouch that is perfect for transporting a rotary cutter safely, pens and pencils, make-up, or any other smallish item. Join us on Wednesday, March 11, 10:30-12:30. Skill level: confident beginner.

Learn how to embellish with beads! Karen Fricke shows you how to add interest and excitement to quilts, bags, clothing, buttons, and more in Beaded Sampler, Saturdays, March 14 & 21, 2:30-5:30. Kit included. Skill level: intermediate.

Learn how to safely work with rulers on the longarm machine in this class, Rulers for the Longarm, on Sunday, March 15, 12-3. Barbara Bean will get you quilting with straight rulers, curvy rulers, and wavy rulers. Hands on! Skill level: intermediate.

Need help sandwiching a quilt? Make an appointment with Carol on Sandwich Day, Tuesday, March 17, at 1, 2, 3, 4, or 5 o'clock. Bring your pressed top and back and some batting, along with spray baste or pins, and your quilt will be sandwiched in no time. If you are planning on having your quilt quilted on a longarm, you do not need to sandwich it.

Use a pre-cut set of 2½" strips or cut your own (the AccuQuilt GO! machine is great for this task) and make a braided quilt or table runner in Braid in a Day. Debbie Ball teaches this class on Wednesday, March 18 & 25, 11:30-1:30.


CAPITAL QUILTS CARES All CQ Cares events are free, and we provide fabric and patterns. Please bring your sewing machine, neutral thread, and supplies. Please register for each event online, by phone at 301-527-0598, or in the shop so that we know how many to expect. Thank you!

Interfaith Works Women's Center: Help us make string quilts for this women's center in Rockville. The quilts are given to the women for their beds, bringing a cheerful atmosphere to an otherwise rather drab room. The next workshop is led by Billye Roberts on Sunday, March 1, 12-5.

Quilts of Valor: The next QOV workshop will be on Friday, March 13, 12:30-3. Help us make quilts that will comfort our veteran service men and women.

Walker Bags: These bags attach to walkers and wheelchairs and are useful for carrying keys, wallets, tissues, and more. They will be donated to local senior centers. Jan Wisor leads this workshop on Saturday, March 28, 1-4.

Small Kennel Quilts: We are always accepting small kennel quilts, and we always have free basic kits available for you to take home to make and return to us. (The quilts are great stash-busters, too!) They are a perfect little project for practicing your quilting skills. We receive requests from shelters for completed kennel quilts on a frequent basis. Shipping these kennel quilts is expensive for us; we appreciate any cash donations, no matter the size, to alleviate this. Thank you!

SAVE THE DATE:
 March 21 & 22: Southern Comforters "Best Little Quilt Show in Maryland", Bowie, MD
 April 16 - 18: Faithful Circle "Facets of Quilting" Show, Columbia, MD
 April 24 & 25: "Quilt Like a Pro" Handi Quilter Education Event, Gaithersburg, MD
 May 29 - 31: Quilters Unlimited "QU Goes to the Zoo" Show, Chantilly, VA
 June 13 & 14: Annapolis Quilt Guild "Quilts by the Bay" Show, Annapolis, VA
 October 8 - 12: Quilter's Quest


BLUE BAG BONANZA
February's prize is 2 Creative Curves rulers by Virginia Walton and her pattern, "Windmills in my Garden", plus a sample of fabric by Figo.

To be entered in each month's drawing, bring your Capital Quilts Blue Bag with you when you shop. Make sure you show it to the staffer at the register! Upon completion of your sales transaction, your name will be put in the jar for the drawing at the end of the month. The more you shop, the more chances you have to win. Don't have a Blue Bag? Purchase one at the shop, by phone, or online for just $4.99. We save all of the entries for the year, and at the end of the year we draw a Grand Prize Winner from all the entries.

Our thanks to everybody who shops at Capital Quilts and who participates in the Blue Bag Bonanza.