Skip Navigation
Website Accessibility
What's New at CQ 3/26/20
| | |
| --- | --- |
| "I am going to try to pay attention to the spring. I am going to look around at all the flowers, and look up at the hectic trees. I am going to close my eyes and listen." Anne Lamott | |
Dear
Fabric Fiends,

From talking with friends and customers, a lot of you are taking advantage of enforced at-home time to clean and organize your sewing areas and, in the process, finding lots of UFOs you had forgotten you had! Share your pictures of your finished projects on our social media sites! We'll have an online quilt show! When you need a back, go to our online store; we have several new 108" widebacks in, as well as lots of clearance and regularly priced fabric to choose from.

Speaking of online quilt shows, Handi Quilter launched a Cyber Quilt Show on their website yesterday. Here is the link: https://handiquilter.com/cyber-quilt-show/ It's worth a visit. In addition to tutorials, videos, and very inspiring quilts, you can buy a Handi Quilter machine at show pricing with free shipping and Capital Quilts will get a piece of the $$! Don't try to click on the circles at the top of the page (ask me how I know); scroll down to find the good stuff.

One of our oh-sew-creative customers has given a new meaning to "window shopping". She brought her quilt top to the window of the shop, held it up, and asked Kat to find her a backing for the quilt! Kat was happy to oblige. We've also conducted concierge shopping via video chat! We promise to do everything we can to get you what you need during this crazy and surreal time. Isn't it lucky we are quilters and sewists? Can you imagine being stuck at home and not having any hobbies to occupy and soothe your mind?

Bruce and Marianne are still servicing machines on Sundays. If your machine needs a little love, make an appointment online or by phone and bring it to the shop before the appropriate Sunday or that time on Sunday. We will meet you curbside to get your machine into the shop. You can wait for it to be done (but not in the shop) or come back later.

Need something from Capital Quilts? We're getting in new fabric, batting, and so on all the time, albeit at a slower pace. Shop online, give us a call, or send your order to sewit@capitalquilts.com (remember to include your phone number). We can ship you what you want, or you can specify Curbside Pickup (a new service!). We'll call/email you when the order is ready for you to pick up and bring it to your car! It's all about social distancing, right? Call when you get to the shop and we'll be right there. Online shoppers: I can't afford to give you free shipping, I'm afraid, but please enjoy $5 off your orders over $50! Type in the code 6T26C in the "apply coupon" box at check out.

We are doing our best to protect you, our community, our families, and ourselves while we continue to serve our customers. We are disinfecting frequently, washing our hands all the time, keeping our distance from you by asking you to shop online, by email, or by phone. We are asking those of you who elect to do curbside pickup to call us from your car when you are in the parking lot, then pop your trunk and we will place your order in the trunk. Alternately, we can place your order on the sidewalk for you. Don't worry; we won't put it out until you are here!

I also beg your patience. It never seems to fail that when I am here alone and the phone rings, the other line rings about 15 seconds later! If you get the answering machine, wait a few minutes and call back, or leave a message and we'll get back to you as soon as we can.

An extra special thank you for supporting Capital Quilts with your dollars, your online voice, and your energy during these tough times. The staff and I appreciate your choosing to shop at Capital Quilts to keep our wonderful community here for all to enjoy now and in the future.

Go 'n' Piece,
Alison



CORONA CHALLENGE
Quilting will get us through this Coronavirus Crisis! Sign up for our Corona Challenge! You get a yard of fabric, free shipping, and the chance to express in fabric how you are feeling about this virus. We'll hang the quilts in the Gallery and/or post them online, depending on how long this crisis lasts. Make them at least 20" x 20" but not larger than 60" x 60". Use the fabric we send you along with fabric in your stash or that you buy (hopefully from Capital Quilts!). Return them to us by May 17. Go online or call the shop 301-527-0598 to take on the Challenge!


MAKING MASKS
Many of you are calling about making masks to donate. Please refer to our email of March 23. In a nutshell, we recommend contacting your guild or joining a well-organized group: Relief Crafters of America (on FaceBook) appear very organized, and have already received requests from 127 facilities. They have orders for over 10,000 masks. Days for Girls is known for their commitment to bettering lives, and their new "Masks4Millions" campaign appears well organized as well. There are tons of patterns out there, and tons of fabric recommendations; please ensure you are using construction methods and materials requested/approved by the mask recipients. Working through a group streamlines the donation process to healthcare facilities and/or workers, and eliminates dozens of phone calls to already stressed medical employees.

I'm afraid that Capital Quilts is sold out of ¼" elastic. We suggest making ties instead, if you can't find the elastic. (Fabric ties are preferred by some people anyway, as elastic can break down under rigorous sanitizing.)



CAPITAL QUILTS CARES

We have free pillowcase kits available that you can sew at home. They are a wonderful beginner project to do with children. The kiddos will learn some sewing skills and stay busy, too! We can add pillowcase kits to any order without incurring additional shipping, or you can pick them up curbside. Return the finished pillowcases to the shop (when you can; there is no rush), and we will donate them to Ryan's Case for Smiles.


CLASSES
All classes, clubs, and events are postponed until further notice.

When we begin to reschedule classes, those of you who had registered before will be given the first opportunity to sign up for the new class.


NEW AND NOTEWORTHY


From P&B, we have bolts of Apple Cider, perfect for backgrounds if you are looking for off-white, cream, or beige. $9.99 per yard.

P&B also sent us these four 108" wide backings. Looks like someone got a lot of that burgundy when I wasn't looking! All four are $17.50 per yard.

Sulky variegated threads (and some others) have been replenished. YLI Hand-quilting thread, $4.95 each; Sulky Blendables, $6.50 each.

If you want us to order something, or have an existing order, we ask that you be patient. All companies in our supply chain have been affected by the current health crisis, including our shipping companies! Some distributors are on a temporary shutdown, or are operating with reduced manpower and hours.


FLATTEN-THE-CURVE KITS AVAILABLE FOR PURCHASE


Stay at home and stitch up a sweet project! Bike Ride and Hello Baby kits contain all fabrics needed for quilt top and binding. Giant Hyacinth finishes at 6" x 12" and includes all fabrics needed for top, binding, and backing, too! Directions and/or patterns are included in all kits.

Bike Ride, $39.99 each; Hello Baby Flannel, $28.99 each; Giant Hyacinth, $19.99 each


ACCUQUILT

3/1-3/31 Take $100 off your new Ready. Set. GO! Ultimate Fabric Cutting system. We have 2 in stock!

3/1-3/31 Take $150 off your new GO! Big Fabric Cutter.


HANDI QUILTER
Don't forget to visit the CYBER QUILT SHOW from home! Videos and show pricing await you!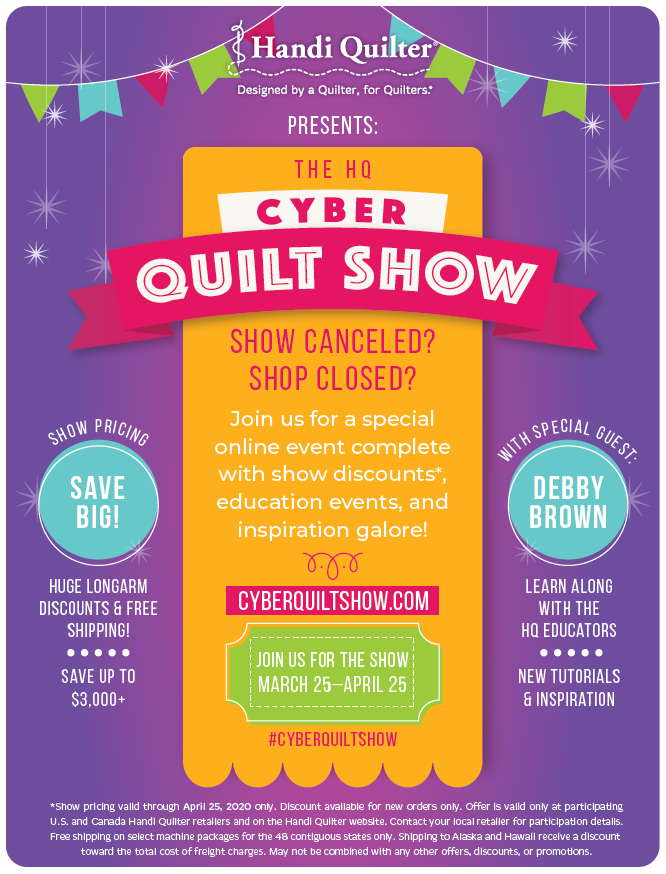 Handi Quilter ProStitcher owners: Handi Quilter is replacing the Art & Stitch software with their own Pro-Stitcher Designer software. If you are already a Pro-Stitcher owner, you can take advantage of a limited-time offer and save almost $400. Until June 30, 2020, purchase your digital copy of Pro-Stitcher Designer for just $199.95. Visit the new www.ProStitcher.com to learn more. While Art & Stitch is still in existence, Handi Quilter will no longer support it.


JANOME
Janome has announced the new 3160 QDC-T. This is an updated and upgraded version of the popular 3160 machines. It has needle up/needle down, a speed slide control, one-hand needle threader, the Superior Plus 7-point Feed Dog system, a locking stitch, thread cutter, drop in bobbin, and more. It is lightweight for easy carrying to classes, retreats, and friends' houses, and it comes with a hard cover and extension table. Call the shop to learn more!



SAVE THE DATE: To the best of our knowledge, these events have not been cancelled.

 PENDING RESCHEDULE: "Quilt Like a Pro" Handi Quilter Education Event, Gaithersburg, MD

 May 29 - 31: Quilters Unlimited "QU Goes to the Zoo" Show, Chantilly, VA

 June 13 & 14: Annapolis Quilt Guild "Quilts by the Bay" Show, Annapolis, VA

 October 8 - 12: Quilter's Quest

 TBA/Reschedule from April: Faithful Circle "Facets of Quilting" Show, Columbia, MD

BLUE BAG BONANZA
Our Blue Bag program is suspended until such time as we are able to open to the public again.