Skip Navigation
Website Accessibility
What's New at CQ 4/9/20
| | |
| --- | --- |
| "A quilter's quilting friends are some of the dearest, most generous, and most supportive people she knows." Jennifer Chiaverini | |
Dear
Mask Makers and Other Friends,

It seems like everyone is sewing masks! I think that is wonderful. We can always count on quilters and sewists to step up and use their skills to make a difference in the world. The Capital Quilts staff has been making them, too, and share what they have learned below.

Capital Quilts is once again open for curbside pick-up. We are not allowing customers in the shop, both for our safety and for yours. Please do not ask us to make exceptions. Place your order at our website shop, if you are able. That way the computer keeps track of what orders we have filled and helps us keep organized around here as we fill everybody's orders, prepare envelopes and boxes for pick-up or shipping, write newsletters, answer email, answer the phones, check in new fabric, order more fabric and other stuff, make kits and strip sets and apply for loans and grants to keep the shop open and maybe even get a moment to eat lunch! You can specify pick-up or shipping.

We are also once again able to accept your sewing machines for cleaning and tune-ups, and will now accept drop-off machines as well as Sunday appointments. Actual repairs that need parts we don't stock will be impossible for now, as the Janome warehouse in New Jersey, from whence parts come, has closed down completely. Go to our website (click here) to sign up for drop-off machine repair. For drop-off service, bring your machine to the shop. Our tech will pick it up here and take it home to work on it, then bring it back to the shop. We will let you know when it is ready for pick-up. Sunday appointments will work as always (book through the Class Calendar on our website) with about an hour wait time. All machines will be wiped down with a disinfectant safe for sewing machines upon intake, and once again before returning to you.

I can still get you a new Janome sewing machine, as those come from a different warehouse. Janome will ship the new machine directly to your home so you don't even have to come out to pick it up.

I can't thank you enough for supporting Capital Quilts during this crisis. The staff and I appreciate your choosing to shop at Capital Quilts to keep our wonderful community here for all to enjoy now and in the future. We can't wait to see you in the shop once again!

Go 'n' Piece,
Alison


HOURS TO CALL THE SHOP
Please call the shop between 11-4 Monday through Saturday and 1-4 on Sunday if you need to talk with us. That will give us time to fill the orders that come in overnight and do the other things that need doing.

We prefer that you place your orders through our online shop on our website. We have found this is much easier for us. I understand that not everyone is willing to enter their credit card number into a computer, even on a secure site; don't hesitate to call or email with your order if this is the case.


MAKING MASKS
We have all made a mask or two (or 50, or 200, or…), and would like to share our favorite patterns, and some tips and tricks we've discovered along the way.

Fabric discussion: We all know that quilting cottons are the way to go! This has been reinforced by a recent study, specifying "high quality quilting cotton". We love batik for masks, because it is thin, has a dense weave, and holds a crease beautifully (so important if you're making pleated masks!). However, nearly any of the fabrics we have in the shop are suitable for making masks. If you have any questions as to whether or not a particular fabric we carry is appropriate, just ask! We are more than happy to help you with your needs. A note about flannel and interfacing: Several staff members have reported that using flannel and/or adding interfacing to the masks makes them hot, and more difficult to breathe through, especially if the wearer is senior. Our recommendation is that if you want to add a third layer of protection you use one of the patterns that allows for a removable filter insert. Removable inserts can be made from cotton, flannel, interfacing, coffee filters, paper towels... You may have seen that some people are cutting up furnace filters or vacuum cleaner bags for inserts. If you want to try this route, research carefully and use caution; many of these items can shed fibers that could be inhaled, creating a whole other medical problem.

Ties or elastic: For some, this isn't an issue as elastic is hard to find these days. Masks with elastic are easier and faster to sew, but if the wearer must have one on all day, can cause irritation and pain behind the ears. We do have elastic on order. If you really want to use elastic and cannot find any, try long hair elastics or hairbands. Ties, however, allow for a better fitting mask. You can make ties from a WOF (width of fabric – selvedge to selvedge) strip, and either run it through a bias tape maker, or fold and press the old fashioned way. Hate all that folding and pressing, and don't have a bias tape maker? Try jerry-rigging one on your ironing board with a long straight pin. Click here for a video that shows you how. We do have bias tape makers on order, but as of this writing, they have not yet arrived. If making ties isn't your thing (it isn't ours), here are some alternatives you can use: twill tape (on order), shoelaces (they are available super long, too!), grosgrain ribbon, or 1" strips of knit cotton jersey, gently pulled until they roll (nice because they're both stretchy and latex-free!). One of our recommended patterns calls for soft, thin, cotton clothesline. Be creative! Just ensure that what you do is both comfortable and durable.

Nose wires: We all love a nose wire in the top of our mask! It allows you to form the mask around your nose, so that there is no gap between the mask and your cheeks. Many patterns call for a nose wire and have instructions on making them. Our favorite nose wire is the lowly twist tie! Other options: floral wire, paper clips, and cut up soda cans (file the edges thoroughly to avoid injury to the wearer.) Gaffer's tape or duck tape can be used to cover the wire or metal to increase both durability and safety. Rather than sewing a channel or pocket for the wire, you can – very carefully – zigzag/couch it into your seam allowance.

Tips and tricks:
Marianne made a jig to hold her pleats down while sewing, following instructions in this video: https://www.youtube.com/watch?v=BA9vYsUHtHw

If you're having trouble stitching through multiple layers, change your needle and lengthen your stitch! We recommend denim needles or topstitch needles for this, and a larger size than you might normally use.

If you have a walking foot, use it! We have found it very useful in helping to feed the multiple layers of pleats.

Be sure to brush lint from the bobbincase and feed dogs often. Your machine will thank you later.

Our favorite patterns: There are a TON of patterns out there! These are just a few of what we have found, and like.

Nurse-designed, no pleats, one tie, nose wire, pocket for removable filter
https://youtu.be/zm_NmpdgWW

Johns Hopkins designed, pleated, ties, pocket for nose wire
https://www.hopkinsmedicine.org/coronavirus/_documents/INF2003076_VW_Hand-Sewn%20Mask%20instructions-1.pdf

Thangles designed (but no triangles, we promise), pleated, one tie, optional nose wire
https://thangles.com/free-cotton-face-mask-pattern/?utm_source=newletter&utm_medium=email&utm_campaign=FM&utm_term=face%20mask&utm_content=4april20-1

Craft Passion fitted mask, nose wire, elastic or ties, optional filter pocket, Cricut and Silhouette cut files available
https://www.craftpassion.com/face-mask-sewing-pattern/

AccuQuilt has several dies (3 different styles!) available, and patterns to go with them. Unfortunately, due to overwhelming demand, they are not making these dies available to retailers. If you are interested, order directly from AccuQuilt.

Of course, if you are masking masks to donate, please follow the pattern and instructions that they specify. It is also recommended that if you are making masks to donate to a medical facility that you NOT use solid blue or solid white fabrics. This makes it easy to distinguish the fabric masks from the manufactured masks at a glance. You should also use a different fabric for the lining than you do for the outside, so that it is easy to remember which side faces out.

Mask Kits for personal use:
We are also working on putting together kits for you, with all the materials (precut fabric, twist ties for nose wires, twill tape for fabric ties, and pattern with tips and tricks) required to make 10 at a time. Please email us (sewit@capitalquilts.com) if you are interested in reserving one or more of these kits. They will retail for $25. Buy two kits, get a kit to make 5 masks free (while supplies last). These kits are not intended to be used to make masks for donating to medical facilities.


CORONA CHALLENGE
Quilting will get us past this Coronavirus Crisis! Sign up for our Corona Challenge! You get a yard of fabric, free shipping, and the chance to express in fabric how you are feeling about this virus. We'll hang the quilts in the Gallery and/or post them online, depending on how long this crisis lasts. Make them at least 20" x 20" but not larger than 60" x 60". Use the fabric we send you along with fabric in your stash or that you buy (hopefully from Capital Quilts!). Return them to us by May 17. Go online or call the shop 301-527-0598 to take on the Challenge!


FLATTEN-THE-CURVE KITS AVAILABLE FOR PURCHASE
Sew in place with our "flatten the curve" kits! Kits contain pattern and all fabric needed to make the quilt top and binding. Click here to see them all!


NEW AND NOTEWORTHY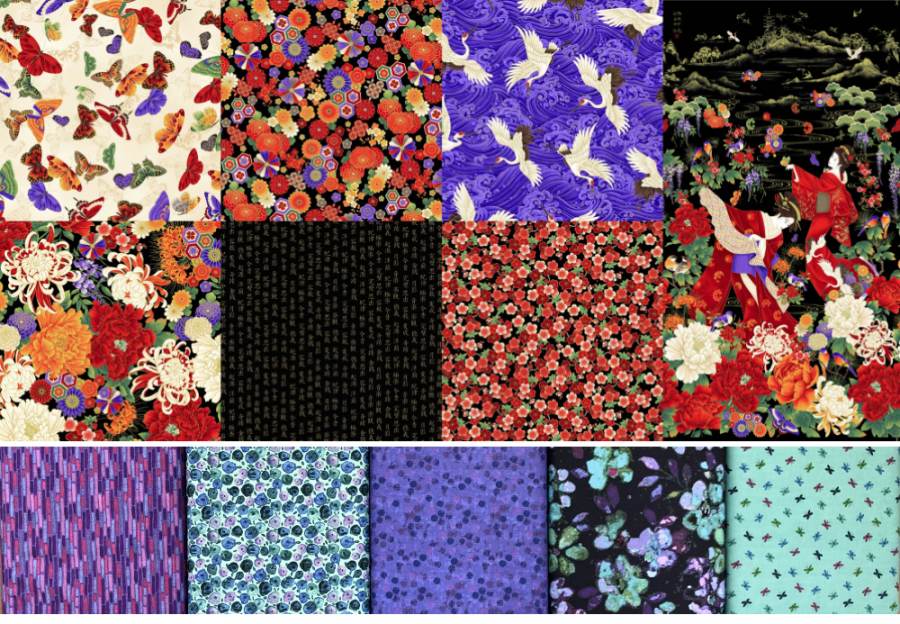 Chong-a Hwang at Timeless Treasures has long been a favorite designer. We just received the Koko collection, featuring geisha, butterflies, cranes, florals, and Japanese characters. Panel, $9.50 each. Fabric, 12.99/yard.

Night Riviera by Nancy Rink for Marcus Fabrics evokes the feeling of a sultry summer night breeze. This collection of seventeen bolts features lush hues of teal, violet, and green in watercolor-inspired florals and geometrics. $12.50 per yard. Pre-cuts are coming soon!


ACCUQUILT
4/3-4/10 Take $10 off GO! dies $59.99 and up. Excludes new dies and Qube products.

Face Mask dies are available on the AccuQuilt website. Retailers are not being given any supply.



HANDI QUILTER
Handi Quilter ProStitcher owners: Handi Quilter is replacing the Art & Stitch software with their own Pro-Stitcher Designer software. If you are already a Pro-Stitcher owner, you can take advantage of a limited-time offer and save almost $400. Until June 30, 2020, purchase your digital copy of Pro-Stitcher Designer for just $199.95. Visit the new www.ProStitcher.com to learn more. While Art & Stitch is still in existence, Handi Quilter will no longer support it.


JANOME
Janome has just closed both the warehouse and the offices in New Jersey. I am unable to get you parts and accessories until the NJ warehouse reopens. I can still obtain new machines, as these ship out of a different warehouse.

Highlighting the Janome DC1050: This easy-to-use machine is wonderful for beginners as well as experienced sewists. At just 11 lbs., it is a popular choice for those looking for a machine to take to classes, retreats, sewing groups, and the like. Regularly $499, get it at Capital Quilts for just $349. In stock, and available for immediate curbside pickup!


Computerized free arm with 50 stitches, including 3 buttonholes. Speed control slider, memorized needle up/down, one-hand needle threader, locking stitch button. Backlit LCD screen with Fast Navigation, drop feed dog, convenient needle plate markings, Instruction Book in English. (Dust cover included).


CAPITAL QUILTS CARES
All Capital Quilts Cares events in the shop are cancelled until further notice.

That said, we have free pillowcase kits available that you can sew at home. They are a wonderful beginner project to do with children. The kiddos will learn some sewing skills and stay busy, too! We can mail them to you or you can pick them up curbside. Return the finished pillowcases to the shop (when you can; there is no rush), and we will donate them to Ryan's Case for Smiles.


CLASSES
All classes, clubs, and events are postponed until further notice.

When we begin to reschedule classes, those of you who had registered before will be given the first opportunity to sign up for the new class.


SAVE THE DATE:
To the best of our knowledge, these events have not been cancelled.





June 13 & 14: Annapolis Quilt Guild "Quilts by the Bay" Show, Annapolis, VA (CQ vending)





October 2-3: NeedleChasers of Chevy Chase "2020 Vision" Quilt Show, Kensington, MD





October 8 - 12: Quilter's Quest



Click to visit the
Capital Quilts website


Follow us on social media!