Skip Navigation
Website Accessibility
What's New at CQ 05/21/20
| | |
| --- | --- |
| "It's surprising how much memory is built around things unnoticed at the time." Barbara Kingsolver | |
Dear Fantastic Friends,

Keep your eye on our online store on the website this week: as I write this, there is a mountain of unopened boxes full of fabric in the back room. As we check them in, they will appear on the website. We are working on restocking thread, machine needles, and interfacings (which are proving hard to find), rotary blades, and other necessities. There are so many of you needing these things, it is hard to keep up! In addition, suppliers are running short of many items and are waiting for manufacturers to provide what is needed.
I have ordered low-to-medium range Janome sewing machines; my rep tells me they should start arriving in this country in mid-July. If you would like to place your order now so that you are sure to get a machine, please give me a call at 301-527-0598. Higher end machines are available now for the most part. I am working on improving our Janome pages on our website and will concentrate on the low to midrange machines in the coming days. Thanks for your patience! Meanwhile, please go to www.janome.com for more information about the machines.
We have delivered 66 ICU gowns to Holy Cross Hospital so far. My sincere thanks to Jan Wisor and her sewing crew for making the gowns and getting them to the hospital. The hospital staff was beyond happy to receive them. This is a wonderful addition to our Capital Quilts Cares program during a time of specific need!
Tired of making masks? Take a break and make something else, a quilt or a skirt or a table runner! To those of you who have returned to sewing after some number of years, and to those of you who are new to sewing, I hope you will keep on even after the mask-making is done. When we have opened again, there will be lots of classes for you to take and clubs to join and a wonderful community in which to become a part. Use your skills to help others through our Capital Quilts Cares program; we meet several times a year to make items for those in need, from premature babies to Meals on Wheels, Days for Girls, and many more.
We truly appreciate your patronage and your patience through this pandemic. It is hard work and, without you here in the shop, not nearly as much fun, but we will keep on keeping on!
Go 'n' Piece,
Alison


NAVIGATING THE ONLINE STORE
For those of you who are computer-challenged, click here for a quick tutorial on getting to and through our online shop using a laptop or desktop computer. (Smart phones and tablet screens may vary.)

We have had a few people call to say that they are having trouble getting PayPal to work or to make a selection or are having other issues when they use the Capital Quilts online store. If this happens to you, try refreshing your browser. That often solves the problem. If you continue to have a problem, please contact the shop at 301-527-0598.


CORONA CHALLENGE DEADLINE EXTENDED
Quilting will get us past this Coronavirus Crisis! Sign up for our Corona Challenge! You get a yard of fabric, free shipping, and the chance to express in fabric how you are feeling about this virus. We'll hang the quilts in the Gallery and/or post them online, depending on how long this crisis lasts. Make them at least 20" x 20" but not larger than 60" x 60". Use the fabric we send you along with fabric in your stash or that you buy (hopefully from Capital Quilts!). Return them to us by JUNE 30, 2020. Go online or call the shop 301-527-0598 to take on the Challenge!


MAKING MASKS
We have all made a mask or two (or 50, or 200, or…), and would like to share our favorite patterns, and some tips and tricks we've discovered along the way. Click here for all the details! (By the way, some of our customers are now offering completed masks for sale on our website, if you aren't interested in sewing one yourself.)

Mask Kits for personal use:
Kits are currently available! They contain all the materials (pre-cut fabric, twist ties for nose wires, cotton twill tape for fabric ties, and pattern with tips and tricks) required to make either 5 or 10 at a time. These kits are not intended to be used to make masks for donating to medical facilities, but are perfect for the "shoppers' masks" now required to be worn in public in our area. Click here to order.


NEW AND NOTEWORTHY


We are continuously restocking our solid lines (Michael Miller Cotton Couture and Northcott Colorworks) on a weekly basis. Check back often to see what's come in! $9.99 per yard.

Muslin is back in stock! Choose from white or natural. $5.99 per yard.
From Andover, we have five pieces of Kim Schafer's Spooky Good Time Halloween Line. $12.99 per yard.
Create a spring garden with Marble Yard from STOF. $12.50 per yard.
Swept Away from Northcott is the oceanside vacation you've been longing for! Prints include seagulls, rocks, coral branches, and plenty of texture, including two ombre stripes and a wide back. $13.99 per yard.

Brett Lewis is also known as the "Natural Born Quilter". His long-awaited Stag and Thistle collection has arrived! These vibrant bold prints were inspired by the beautiful flora and fauna of the designer's childhood home in Summerland, B.C. It also features his newly found passion of quilting, having some sewing notions throughout. $13.99 per yard.
Elements from FIGO is a delightful new line of blenders. Elements uses several different prints for greater textural variety. $12.50 per yard.


FLATTEN-THE-CURVE KITS AVAILABLE FOR PURCHASE


ACCUQUILT
Save $100 via mail-in rebate when you purchase either the GO! Big or the Ready. Set. GO! fabric cutters!
Through May 28, take 15% off GO! dies. Please call the shop to place this order. You won't be able to take the discount online.

Face Mask dies are available on the AccuQuilt website. Retailers are not being given any supply to sell in shops.


HANDI QUILTER
Handi Quilter ProStitcher owners: Handi Quilter is replacing the Art & Stitch software with their own Pro-Stitcher Designer software. If you are already a Pro-Stitcher owner, you can take advantage of a limited-time offer and save almost $400. Until June 30, 2020, purchase your digital copy of Pro-Stitcher Designer for just $199.95. Visit the new www.ProStitcher.com to learn more. While Art & Stitch is still in existence, Handi Quilter will no longer support it.


JANOME
Welcome Spring! Janome is offering a free Home Depot Gift Card with the purchase of selected models. Click here to see the flyer.

We are able to accept your sewing machines for cleaning and tune-ups. Go to our website and sign up for machine repair. Bring your machine to the shop. We will take it in and wipe it down with a disinfectant (safe for sewing machines). Our tech will pick it up here and take it home to work on it, then bring it back to the shop. We will let you know it is ready for pick-up and wipe it down again before we give it to you. Our technicians are working as quickly as they can, but both have essential day jobs. Machine servicing wait time is currently estimated at about 10 business days.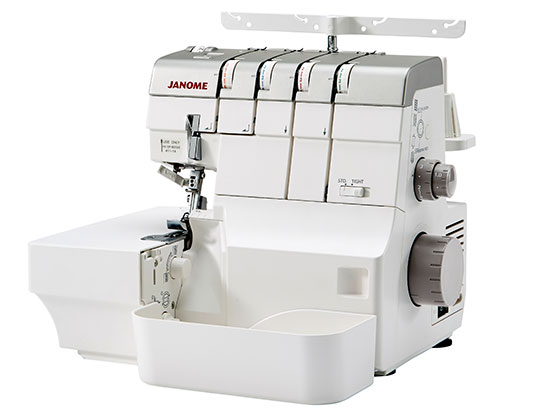 Meet the Janome AirThread 2000D Professional Serger: This is a heavy duty, 2-needle 2/3/4 thread convertible serger with the One-Push Blast Air Threading System that takes away the angst of threading a serger (or most of it, anyway). The blast of air threads both the upper and lower looper threads. The presser feet snap into place and foot pressure is adjustable. Stitch lengths are adjustable from 1mm to 5mm with 3mm being standard. The lower looper guides are easily accessible and the upper knife retracts easily. The differential feed ratio is 0.5 to 2.0. Cutting width is adjustable from 3.3mm to 7.5mm. Maximum speed is 1,300 stitches per minute. A dust cover is included.

We have 3 in stock. Please call the shop to get pricing for this wonderful serger.

If you would like to buy a different model that we do not have in stock, Janome will ship the new machine directly to your home so you don't have to come out to pick it up. The shipping fee varies according to which machine you buy.


CAPITAL QUILTS CARES
All Capital Quilts Cares events in the shop are cancelled until further notice.

That said, we have free pillowcase kits available that you can sew at home. They are a wonderful beginner project to do with children. The kiddos will learn some sewing skills and stay busy, too! We can mail them to you or you can pick them up curbside. Return the finished pillowcases to the shop (when you can; there is no rush), and we will donate them to Ryan's Case for Smiles.

We are also accepting donations of home-made scrub caps for nurses and respiratory therapists. Please use 100% cotton, and make them fun and cheerful!

Small Kennel Quilts are also still being shipped out, most recently to southern states affected by tornadoes. If you're making them, we are happy to accept them here at the shop to send to shelters and rescues in need.


CLASSES
All classes, clubs, and events are cancelled until further notice.

When we begin to reschedule classes, those of you who had registered before will be given the first opportunity to sign up for the new class.


SAVE THE DATE:

October 8 - 12: Quilter's Quest


BLUE BAG BONANZA
The Blue Bag Bonanza program is suspended until further notice.

Click to visit the
Capital Quilts website