Skip Navigation
Website Accessibility
What's New at CQ 6/4/20
"Do not be dismayed by the brokenness of the world. All things break. And all things can be mended. Not with time, as they say, but with intention. So go. Love intentionally, extravagantly, unconditionally. The broken world waits in darkness for the light that is you."
- L.R. Knost


Dear Dedicated Quilters and Sewists,

It's an age-old question, one I am sure has kept you up at night: who invented the pin? Let us give thanks for Google and Wikipedia. The Sumerians used slivers of bone to hold their clothes together some 4,000 years ago, as did the Romans. In the Bronze Age, pins were fashioned from brass, but these tended to rust. Later, steel was used, which also rusted, but with the invention of electroplating techniques, nickel was used to plate the steel and the rust problem was avoided, at least until the nickel started to flake off. We still use nickel-plated pins today; since we only use them for short periods of time, rust is not usually a problem. A pin-making machine was invented during the Industrial Revolution, in 1832, making pins affordable for the middle class.

As quilters and sewers, we know that there is a multitude of kinds of pins for sewing. Which do you use when? Here is a short list:

"Quilters' Pins": These are the yellow-headed pins and the ones that look like hat pins. They are best used in the quilting process to attach the quilt to the longarm machine or to hold the layers of fabric and batting together. They are not suitable for piecing. I prefer to use the curved safety pins for basting layers together, as I am less liable to puncture myself and get blood on the quilt. Did you know you can save wear and tear on your fingers by using a chopstick to raise the sharp end of the pin while you clip it shut?

Piecing: Use thin pins with glass or heat-resistant heads. If you use plastic-headed pins, you run the risk of melting the plastic with your iron. You will see these called patchwork pins, glass-headed pins, patchwork "fine" pins, and silk pins. The fine pins tend to bend easily, but they also create the smallest hole; if you tend to sew over pins, these will cause the least damage if hit by the machine needle.

Hand Applique: Applique pins are short and have the smallest head possible. The smaller pin helps keep the handwork thread from getting caught on the pin.

Other: Fork pins are good for holding fabrics while sewing seams; the fabrics will shift less. T-pins are easy to grab. A company called Taylor Seville has come out with Magic Pins that have a heat-resistant elongated head that is easy to grasp. They come in several sizes to accommodate different kinds of sewing needs. SewTite makes magnetic "pins"; they aren't really pins but rather magnetic strips that hold the fabrics together without putting holes in the fabric. Wonder Clips are small clips that can replace a pin in some situations. I like to use one to hold binding in place while I am hand-stitching it; I put a clip about 6" out, stitch up to it, move it another 6" and stitch up to it, etc. This saves me from a lot of pinning, not to mention getting poked by all those pins when the quilt is in my lap.

Pins, like needles, become dull over time. If you are having a hard time pushing one through the fabric, replace it. Put old pins and needles in a medicine vial or other small container so they don't hurt anybody! I wouldn't want to be the garbage person who grabs a bag and gets punctured.

Fun Fact: In the Middle Ages, pins were used by the upper class to secure their clothes. A woman was allotted "pin money" for pins and other extravagances.

We truly appreciate your patronage and your patience through this pandemic. We hope we are nearing the time when we can reopen the shop, at least on a limited basis. Pray that the protests don't cause a surge in virus cases.

Go 'n' Piece,
Alison


CAPITAL QUILTS CARES
If you are interested in helping to sew PPE gowns for the staff at Holy Cross Hospital, please let me know. They like ours better than the commercially available ones!

We are also accepting scrub caps for nurses and respiratory therapists at a local hospital, at the request of one of our customers who is a doctor there.

We have free pillowcase kits available that you can sew at home. They are a wonderful beginner project to do with children. The kiddos will learn some sewing skills and stay busy, too! We can mail them to you or you can pick them up curbside. Return the finished pillowcases to the shop (when you can; there is no rush), and we will donate them to Ryan's Case for Smiles.

Small Kennel Quilts are also still being shipped out, most recently to southern states affected by tornadoes. If you're making them, we are happy to accept them here at the shop to send to shelters and rescues in need.



NAVIGATING THE ONLINE STORE
For those of you who are computer-challenged, click here for a quick tutorial on getting to and through our online shop using a laptop or desktop computer. (Smartphones and tablet screens may vary.)

We have had a few people call to say that they are having trouble getting PayPal to work or to make a selection or are having other issues when they use the Capital Quilts online store. If this happens to you, try refreshing your browser. That often solves the problem. If you continue to have a problem, please contact the shop at 301-527-0598.


CORONA CHALLENGE DEADLINE EXTENDED
Quilting will get us past this Coronavirus Crisis! Sign up for our Corona Challenge! You get a yard of fabric, free shipping, and the chance to express in fabric how you are feeling about this virus. We'll hang the quilts in the Gallery and/or post them online, depending on how long this crisis lasts. Make them at least 20" x 20" but not larger than 60" x 60". Use the fabric we send you along with fabric in your stash or that you buy (hopefully from Capital Quilts!). Return them to us by JUNE 30, 2020. Go online or call the shop 301-527-0598 to take on the Challenge!



MAKING MASKS
We have all made a mask or two (or 50, or 200, or…), and would like to share our favorite patterns, and some tips and tricks we've discovered along the way. Click here for all the details! (By the way, some of our customers are now offering completed masks for sale on our website, if you aren't interested in sewing one yourself.)

Mask Kits for personal use:
Kits are currently available! They contain all the materials (pre-cut fabric, twist ties for nose wires, cotton twill tape for fabric ties, and pattern with tips and tricks) required to make either 5 or 10 at a time. These kits are not intended to be used to make masks for donating to medical facilities, but are perfect for the "shoppers' masks" now required to be worn in public in our area. Click here to order.


NEW AND NOTEWORTHY


Wilmington has sent us their Essentials Circle Burst line of blenders. We think they'll soon become a favorite! We have 20 beautiful bolts at $10.99 per yard. Strip Sets and Charm packs are in the works.

Madison is a cheerful collection of blue and yellow flowers, perfect for this time of year! $11.99 per yard.

Whether the pink you need is light, medium, or dark, Wilmington Essentials in the Pink has you covered! $10.99 per yard.

Do you love a scrappy, warm-toned neutral background? Have a look at our exclusive "Cream of the Crop" Strips and Charms! Strips, $43.99, charms, $10.99.



Magnifico is a high-sheen, extra-strong 40wt. polyester thread created for quilting and embroidery. Many of our customers are using it for mask-making, too. $4.99 per 500-yard spool.




FLATTEN-THE-CURVE KITS AVAILABLE FOR PURCHASE



ACCUQUILT
June 1-30 Save $100 via mail-in rebate when you purchase either the GO! Big or the Ready. Set. GO! fabric cutters!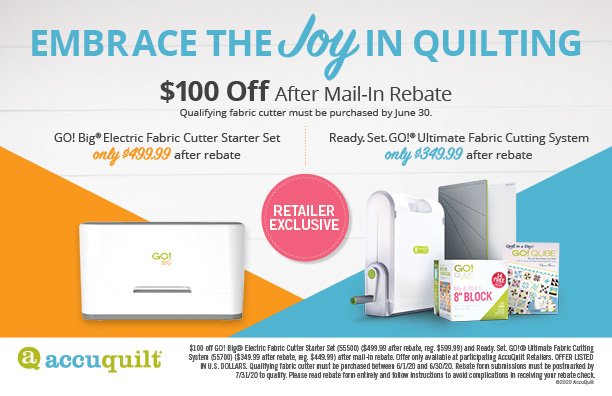 June 6-16 Take 15% off GO! dies $59.99 and up. Please call the shop to place this order. You won't be able to take the discount online.


HANDI QUILTER
June 1-25 Take 20% off leaders.

Have you been following the "And I Quilt" series on the Handi Quilter website? These are life stories by women who have careers such as pilot, hockey player, school principal and more and they are also quilters. Check them out at www.handiquilter.com/andiquilt

Handi Quilter ProStitcher owners: Handi Quilter is replacing the Art & Stitch software with their own Pro-Stitcher Designer software. If you are already a Pro-Stitcher owner, you can take advantage of a limited-time offer and save almost $400. Until June 30, 2020, purchase your digital copy of Pro-Stitcher Designer for just $199.95. Visit the new www.ProStitcher.com to learn more. While Art & Stitch is still in existence, Handi Quilter will no longer support it.


JANOME
Welcome Spring! Janome is offering a free Home Depot Gift Card with the purchase of selected models. Click here to see the flyer.

We are able to accept your sewing machines for cleaning and tune-ups. Go to our website and sign up for machine repair. Bring your machine to the shop. We will take it in and wipe it down with a disinfectant. We will let you know it is ready for pick-up and wipe it down again before we give it to you. Our technicians are working as quickly as they can, but both have essential day jobs. Machine servicing wait time is currently estimated 2-3 weeks.


Meet the Janome MC9450 QCP! This is your sewing and quilting Dream Machine! I love sewing on mine. The easily-navigated large LED screen puts 350 stitches (for quilting and sewing as well as decorative stitching), 4 alphabets, 11 buttonholes, and a myriad of functions at your fingertips. 11" of space to the right of the needle gives you lots of space for quilting and sewing larger pieces. My favorite feature is the automatic presser foot lift: when I take my foot off the pedal, the machine stops and lifts the presser foot so that I can pivot the fabric. The lighting is fantastic; it includes a high light that pulls out over the needle area and is really bright. It has a powerful motor; I've had no problem at all sewing over the folds in masks. Click here to find a listing of the key features.

If you would like to buy a different model that we do not have in stock, Janome will ship the new machine directly to your home so you don't have to come out to pick it up. The shipping fee varies according to which machine you buy.



Click to visit the
Capital Quilts website