Dear Best Customers Ever,

Everyone who has come into the store to shop has been unfailingly cheerful and respectful of the rules designed to keep us all safe from the virus. For this we thank you! Running two stores (brick-and-mortar and online) with 1/3 the pre-Covid staff can make things very hectic around here, and we appreciate your patience.

Are your scissors and knives and small gardening tools in need of sharpening? Rod's Sharpening Service is coming to Capital Quilts! Bring your items here to the shop no later than July 28. They must be securely wrapped in a dish or bath towel, pillowcase, padded envelope, or box (no plastic bags, please). Place your payment (check or exact change) and a piece of paper with your name, address, and phone number on it inside the package.

Fabric, pinking or household scissors………$7
Beauty salon scissors……………………………..$25
Any type of knife………………………………………$7
Small garden tools (less than 12")………….$7

Pick your sharpened items up on or after July 30. Curbside pickup rules apply: call us when you are parked in front of the shop and give us your last name and tell us you are here to pick up your sharpened things.

News from Quilters Dream Batting: the cotton processing plants are running behind, so deliveries of natural cotton are running 2 weeks behind and white is at least a month. Poly is available. They didn't say why, but my theory is that these factories are located in the south, and with the resurgence of Covid19, they are having trouble with staffing.

My manufacturer's rep for Timeless Treasures, Dear Stella, and Clothworks was in the shop yesterday. He also said the mills are slow and deliveries will probably run at least a month late. He indicated that this is an industry-wide problem. We are in the queue for lots more novelties and some gorgeous collections, though!

Bill Nye the Science Guy has posted a video in which he demonstrates how to test the efficacy of your mask. Put your mask on and light a candle. Try to blow the candle out. If the flame wavers or goes out, your mask is not working. Dispose of it or add a filter and test again.

We have gotten in lots more of the colored elastic and adjustable elastic bands. Kat also found widgets that allow you to adjust the elastic on existing masks. See "What's New and Noteworthy" below.

If you are taking a break from mask-making and are quilting or making clothing, we would love to see pictures of your projects! If we are allowed to share your pictures on Facebook, please let us know.

To those of you who are new to sewing or coming back after a long hiatus, please know that we are here to help you in any way we can. We love to answer questions, give tips and helpful hints, and smooth the way for you.

We really and truly appreciate your patronage and your patience through this pandemic. You are truly the best customers ever!

Go 'n' Piece,
Alison


IN-STORE SHOPPING AT CAPITAL QUILTS
In-person shopping in the store proper is by appointment only. Make your appointment on the home page of our website, www.capitalquilts.com. Each appointment is 20 minutes long; if you need longer, add a second consecutive appointment to the cart. You may bring 1 or 2 fellow shoppers with you. Don't forget to check out, even though there is no charge for the appointment. Checking out confirms your appointment and enters your name in the calendar.

If you are unable to come to your appointment, please let us know so that we can fill that time slot.

Please be aware of the time while you are shopping. We will give you a heads up when you are nearing the end of your appointment. We need a few minutes to clean for the next shopper.

Don't forget to wear a mask THAT FITS, which is to say you don't have to keep tugging it up over your nose. Every time you touch your mask, you risk getting virus on your hands and spreading it that way. Have you seen the video that shows how different kinds of masks contain virus molecules that you exhale when you cough? Bandana-type masks were the worst, surgical masks were better, and homemade masks were the best! They hardly let any particles out at all. Unfortunately, the newscaster didn't say what kind of fabric the mask was made of or whether there was a filter inside of it. The best fabrics are tightly woven; we recommend that at least one layer of your mask be made of batik.

Please remember that you have a responsibility to the greater community to not come into the shop if you are feeling sick in any way at all. There is no way to distinguish COVID symptoms from even the beginning of a cold or an upset tummy, so it is better to just stay home until you are well again.

Please note that we are not accepting walk-in customers yet! You must have an appointment to enter the shop. We are doing this to control the number of people in the shop at one time. It also gives people who are vulnerable to the virus a chance to come into the shop when no one else is here. I encourage you to continue shopping in our website store, open 24-7. Both curbside pickup and shipping are still options.

Thank you for helping us help you!


CAPITAL QUILTS CARES

We are collecting scrub caps for nurses and respiratory therapists at a local hospital. Wearing PPE all day can be depressing, and medical workers love to perk up their day with happy or silly scrub caps. The requesting doctor received one from her mother that she loves! She made a few more for herself, and knowing what a lift it gives her, is hoping to share the love. There is no restriction on the pattern to use, but she likes Milly's Tie Scrub Hat Pattern from Brimming with Love. It's a woman's hat with enough room to tuck long hair up into. Twelve Bees has a great video and pattern for making a men's scrub hat. (Not necessarily men, but for people with short hair.) 2 hats from just a hair over a 1/3 of a yard. (12.5 inches)

We also have free pillowcase kits available that you can sew at home. They are a wonderful beginner project to do with children. The kiddos will learn some sewing skills and stay busy, too! We can mail them to you or you can pick them up curbside. Return the finished pillowcases to the shop (when you can; there is no rush), and we will donate them to Ryan's Case for Smiles when the appropriate time comes.

Small Kennel Quilts are always accepted for donation. These small quilts are sent to shelters and rescues all over the country, and are a great beginner project, or a way to practice your free motion quilting skills.


NAVIGATING THE ONLINE STORE
For those of you who are computer-challenged, click here for a quick tutorial on getting to and through our online shop using a laptop or desktop computer. (Smart phones and tablet screens may vary.)

We have had a few people call to say that they are having trouble getting PayPal to work or to make a selection or are having other issues when they use the Capital Quilts online store. If this happens to you, try refreshing your browser. That often solves the problem. Don't forget to click on "I am not a robot", too. If you continue to have a problem, please contact the shop at 301-527-0598.


MAKING MASKS
We have all made a mask or two (or 50, or 200, or…), and would like to share our favorite patterns, and some tips and tricks we've discovered along the way. Click here for all the details! (By the way, some of our customers are now offering completed masks for sale on our website, if you aren't interested in sewing one yourself.)

Mask Kits for personal use:
Kits are currently available! They contain all the materials (pre-cut fabric, twist ties for nose wires, cotton twill tape for fabric ties, and pattern with tips and tricks) required to make either 5 or 10 at a time. These kits are not intended to be used to make masks for donating to medical facilities, but are perfect for the "shoppers' masks" now required to be worn in public in our area. Click here to order.


NEW AND NOTEWORTHY


Cuddly koalas, sweet floral bouquets, delicate line-drawn plaids and tiny sprinkled leaves round out our newest modern kid collection, Kenzie. The on-trend color palette of charcoal, navy, peachy pink, marigold and white will elevate a nursery or playroom to Pinterest perfection! $12.50 per yard.

Travel Across the USA making stops along the way on iconic Route 66. Find your state in the all-over States print, fussy cut your favorite tourist destinations and mix and match with country plaids, mod triangles. Panel, $9.50 each, yardage, $12.50/yard.

Pot Holders for All Seasons contains directions for a wide variety of quilted pot holders. You can easily find the
perfect design for any time of the year or occasion to dress up your kitchen. They are so cute you
may prefer to hang them instead of hiding them in a drawer. MSRP $14.99, CQ price only $13.49.

We have a variety of cord stops for your existing mask elastic. $3.99 for a package of 20, they come in either black or white. The disc type are best on 1/4" elastic, the tubular ones are designed for 1/8" elastic.

We've also received 1/4" SOFT elastic in white. $0.59 per yard.


FLATTEN-THE-CURVE KITS AVAILABLE FOR PURCHASE





ACCUQUILT
Through July 31, save $100 via mail-in rebate when you purchase either the GO! Big or the Ready. Set. GO! fabric cutters!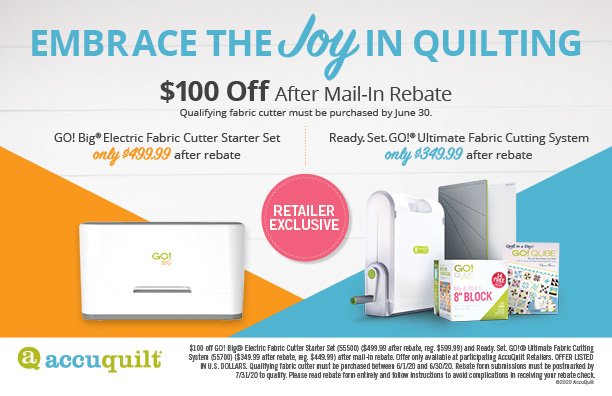 HANDI QUILTER
Handi Quilter is hosting Facebook Live broadcasts called Handi Quilter Shop@Home. The broadcasts air at noon on Tuesdays. They will feature different products each week.

Have you been following the "And I Quilt" series on the Handi Quilter website? These are life stories by women who have careers such as pilot, hockey player, school principal and more and they are also quilters. They are very interesting and easy and fun to watch. Check them out at www.handiquilter.com/andiquilt. From July 3-27, get the Little Buddy Kit on sale for $425 during Kelsey Cooley's campaign.


JANOME
We are able to accept your sewing machines for cleaning and tune-ups. To take advantage of this service, go to our website and sign up for machine repair. Bring your machine to the shop. We will take it in and wipe it down with a disinfectant (safe for sewing machines). We will let you know it is ready for pick-up and wipe it down again before we give it to you. Our technicians are working as quickly as they can, but both have essential day jobs. Machine servicing wait time is currently estimated at 2-3 weeks after drop-off.

Meet the Janome MC9450 QCP! This is your sewing and quilting Dream Machine! I love sewing on mine. The easily-navigated large LED screen puts 350 stitches (for quilting and sewing as well as decorative stitching), 4 alphabets, 11 buttonholes, and a myriad of functions at your fingertips. 11" of space to the right of the needle gives you lots of space for quilting and sewing larger pieces. My favorite feature is the automatic presser foot lift: when I take my foot off the pedal, the machine stops and lifts the presser foot so that I can pivot the fabric. The lighting is fantastic; it includes a high light that pulls out over the needle area and is really bright. It has a powerful motor; I've had no problem at all sewing over the folds in masks. Click on the Janome button in our online shop to find a listing of the key features.


If you would like to buy a different model that we do not have in stock, Janome will ship the new machine directly to your home so you don't have to come out to pick it up. The shipping fee varies according to which machine you buy.