Skip Navigation
Website Accessibility
What's New at CQ 07/23/20
| | |
| --- | --- |
| "We need some creative tension; people crying out for the things they want." John Lewis | |
Dear Threaders of Needles,

If you are a Sweet Sixteen owner, be sure to read the "Handi Quilter" section below. Handi Quilter is offering an InSight Table for your machine, which would give you stitch regulation without using the clunky magnetic system. Buy it at a discount now through this Sunday.

Are you looking for more ways to entertain your children? How about teaching them some sewing skills? Make sewing cards for toddlers by gluing a fun picture to a piece of cardboard, say 6" x 8" or so, and punch holes 2" or 3" apart around the picture. Use a long shoe lace as the "thread" and show him or her how to go up and down through the holes.

4-, 5-, and 6-year-olds can play "hide-the-button" or "hide-the-spool", where you hide the button/spool and then tell the child he/she is "warm/hot" or "cool/cold" depending on how close he/she to finding it. Then it is his or her turn to hide it! Children 6 and up may be able to "sew" on plastic mesh with yarn and a blunt plastic needle. Give them pieces of mesh that you can make a box out of after they have decorated the pieces.

Older children can learn how to sew on a button, make a drawstring pouch or a pillowcase, a simple mask (such as the "Nurse's Mask" pattern), or a small quilt. They may enjoy embroidery; we carry floss, embroidery needles, and hoops, if you need those. Gluing crystal bling to a T-shirt or a mask could be fun (just be careful of the hot iron). They could also help you cut out a quilt using an AccuQuilt cutting machine.

If any of you are teachers and would like to teach a quilting or sewing class over Zoom (or some similar platform) on behalf of Capital Quilts, please call me at 301-527-0598.

Are your scissors and knives and small gardening tools in need of sharpening? Rod's Sharpening Service is coming to Capital Quilts! Bring your items here to the shop no later than July 28. They must be securely wrapped in a dish or bath towel, pillowcase, padded envelope, or box (no plastic bags, please). Place your payment (check or exact change) and a piece of paper with your name, address, and phone number on it inside the package.
Fabric, pinking or household scissors………$7
Beauty salon scissors……………………………..$25
Any type of knife………………………………………$7
Small garden tools (less than 12")………….$7
Pick your sharpened items up on or after July 30. Curbside pickup rules apply: call us when you are parked in front of the shop and give us your last name and tell us you are here to pick up your sharpened things.

We have gotten in lots more of the colored elastic and adjustable elastic bands. The adjustable ones are now available in blue and pink, in addition to black and white. Kat also found widgets that allow you to adjust the elastic on existing masks. See "What's New and Noteworthy" below.

To those of you who are new to sewing or coming back after a long hiatus, please know that we are here to help you in any way we can. We love to answer questions, give tips and helpful hints, and smooth the way for you.
We really and truly appreciate your patronage and your patience through this pandemic. Your support has been awesome. You are truly the best customers ever!

Go 'n' Piece,
Alison


IN-STORE SHOPPING AT CAPITAL QUILTS
We continue to offer shopping by appointment here in the shop, and remain closed to casual walk-in traffic. Please click here to make an appointment. Need more than 25 minutes? Book 2 consecutive time slots! Please be sure to carefully read all the rules we have around in-store shopping, and know that the staff is wiping down surfaces frequently with disinfectant.

If you are unable to come to your appointment, please let us know as soon as possible so that we can fill that time slot.


CAPITAL QUILTS CARES

We are collecting scrub caps for nurses and respiratory therapists at a local hospital. Wearing PPE all day can be depressing, and medical workers love to perk up their day with happy or silly scrub caps. The requesting doctor received one from her mother that she loves! She made a few more for herself, and knowing what a lift it gives her, is hoping to share the love. There is no restriction on the pattern to use, but she likes Milly's Tie Scrub Hat Pattern from Brimming with Love. It's a woman's hat with enough room to tuck long hair up into. Twelve Bees has a great video and pattern for making a men's scrub hat. (Not necessarily men, but for people with short hair.) 2 hats from just a hair over a 1/3 of a yard. (12.5 inches)

We also have free pillowcase kits available that you can sew at home. They are a wonderful beginner project to do with children. The kiddos will learn some sewing skills and stay busy, too! We can mail them to you or you can pick them up curbside. Return the finished pillowcases to the shop (when you can; there is no rush), and we will donate them to Ryan's Case for Smiles when the appropriate time comes.

Small Kennel Quilts are always accepted for donation. These small quilts are sent to shelters and rescues all over the country, and are a great beginner project, or a way to practice your free motion quilting skills.


NAVIGATING THE ONLINE STORE
For those of you who are computer-challenged, click here for a quick tutorial on getting to and through our online shop using a laptop or desktop computer. (Smart phones and tablet screens may vary.)

We have had a few people call to say that they are having trouble getting PayPal to work or to make a selection or are having other issues when they use the Capital Quilts online store. If this happens to you, try refreshing your browser. That often solves the problem. Don't forget to click on "I am not a robot", too. If you continue to have a problem, please contact the shop at 301-527-0598.


MAKING MASKS
We have all made a mask or two (or 50, or 200, or…), and would like to share our favorite patterns, and some tips and tricks we've discovered along the way. Click here for all the details! (By the way, some of our customers are now offering completed masks for sale on our website, if you aren't interested in sewing one yourself.)

Bill Nye the Science Guy has posted a video in which he demonstrates how to test the efficacy of your mask. Put your mask on and light a candle. Try to blow the candle out. If the flame wavers or goes out, your mask is not working. Dispose of it or add a filter and test again.

We recently started listing all mask-making supplies in a single category to make them easier to find online. Click here to see all the currently available items. (Updated each and every time we get in a new product!)

Mask Kits for personal use:
Kits are currently available! They contain all the materials (pre-cut fabric, twist ties for nose wires, cotton twill tape for fabric ties, and pattern with tips and tricks) required to make either 5 or 10 at a time. These kits are not intended to be used to make masks for donating to medical facilities, but are perfect for the "shoppers' masks" now required to be worn in public in our area. Click here to order.


SEWING MACHINE MAINTENANCE
We are able to accept all brands of sewing machines for cleaning and tune-ups. To take advantage of this service, go to our website and sign up for machine repair. Bring your machine to the shop. We will take it in and wipe it down with a disinfectant (safe for sewing machines). We will let you know it is ready for pick-up and wipe it down again before we give it to you. Our technicians are working as quickly as they can, but both have essential day jobs. Machine servicing wait time is currently estimated at 2-3 weeks after drop-off.

If your machine is broken, be sure to write that in the notes section. We are not always able to get parts for machines other than Janome, but we will contact you before proceeding. If you want the technician to call you with an estimate before making the repair, please put that in the notes section as well.


NEW AND NOTEWORTHY

We have a really hard time resisting blue and white prints, as they are so pretty and classic. Celeste from Marcus is one such collection! Designed by Nancy Rink, stylized spaced florals are accompanied by smaller blooms, distinctive textures and slender stripes. Choose from 14 different prints, $12.50 per yard.

We have just finished putting together strip sets and charm packs based on the recent Blue Bayou collection, too! Charm packs, $10.99 each; 2-1/2" strip sets, $43.99 each.

Laura Berringer's Faded and Stitched collection is comprised of textured neutrals, and the result is a creative mix of textured backgrounds with motifs that mimic layering, hand stitching and stamping. $12.50 per yard. We also ordered in a 10/" wide back, $17.50 per yard.

As part of our rearranging, we discovered a few half-yard cuts of sports team fabric. If you're a fan of the Ravens, 49ers, Colts, Red Sox, or Saints, you're going to want to check these out! $8.99 each.

Moda Fabrics sent us these SUPER CUTE pleated face mask panels! Each panel makes 8 adult masks, and 10 child-size masks. Add your own fabric to line the masks with. $10.99 per panel.

We've also received 1/4" SOFT elastic in black. $0.59 per yard.


FLATTEN-THE-CURVE KITS AVAILABLE FOR PURCHASE





ACCUQUILT
Through July 31, save $100 via mail-in rebate when you purchase either the GO! Big or the Ready. Set. GO! fabric cutters!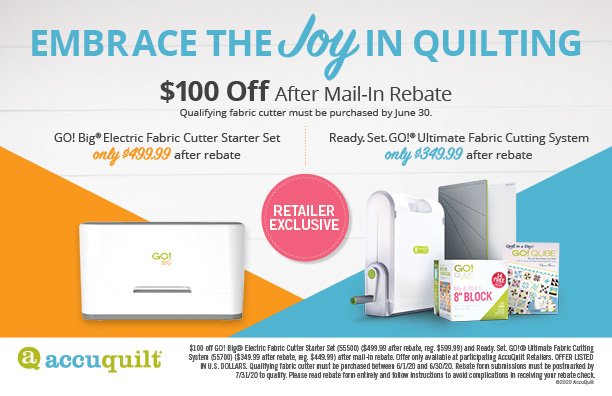 HANDI QUILTER
Sweet Sixteen Owners: Upgrade your Sweet Sixteen with an Insight Table with built-in stitch regulation. Normally $1,495, get it through Sunday, July 26 at $1,195. Or, get the Upgrade Bundle: the Insight Table, one InSight Drawer, one InSight Table Extension, and one set of 4 Mini Casters for $1,550 (MSRP is $1,900).

Already have an InSight Table? Add a drawer to it for $127.95 (MSRP is $149.95). You can add one or two drawers to your table for additional storage.

Simply Sixteen Owners: get the Little Buddy Kit (rail system for the Simply Sixteen) now through July 27 for $425 (normally $499.99).

Tune in to the Handi Quilter Facebook page every Tuesday at 2pm EDT for their Shop@Home Event, which features tips, tricks, and tutorials on Handi Quilter products with limited-time special pricing and a give-away to a random live attendee. Next week, July 28, the show is about the Simply Sixteen and the Capri on a Little Foot Frame.


JANOME

Meet the Janome Skyline S5! TThe Skyline S5 includes the features to take your sewing to a new level. A spacious bed provides room for larger quilting and home dec projects while its easy convenience features like Automatic Thread Cutter and Memorized Needle Up/Down will save you time and make your sewing easier. This computerized machine has top of the line features at a mid-level price. Take your sewing to new heights with the Skyline S5.

If you would like to buy a different model that we do not have in stock, Janome will ship the new machine directly to your home so you don't have to come out to pick it up. The shipping fee varies according to which machine you buy.


Click to visit the
Capital Quilts website