Skip Navigation
Website Accessibility
What's New at CQ 08/14/20
| | |
| --- | --- |
| "True wisdom comes to each of us when we realize how little we understand about life, ourselves, and the world around us." Socrates | |
Dear Fabulous Friends,

Let's begin with some exciting news: we are ready to start offering online Zoom classes! If you are newish to quilting, you may be wondering how to finish the raw edges of your quilt top. The answer is to bind them. Betsy Kulamer is teaching "Binding Basics" on Thursday, August 27. If you are totally new to quilting or want a refresher, Betsy is also teaching our fabled "Complete Course of Quilting" beginning Wednesday, September 9. Julie Taylor is teaching a quilt class called "Hidden Wells" on Sunday, August 30. See "Classes" below for more information.

A lot of you must be doing jigsaw puzzles. I got on the Checker Distributors website to order more for the shop, and there were exactly two in stock out of lots and lots of titles! These are available for curbside pickup only, as they are hard for us to ship.

One of the silver linings of this COVID19 mess is that we have many new customers. Simi is one such customer; she came in the shop yesterday and is just as nice and sweet as a person can be, and the cherry on top is that she teaches clothing classes. We chatted a little about her teaching for Capital Quilts. She teaches beginning through advanced (wedding dress, as she put it) classes. More to follow, I hope!

American Patchwork & Quilting's 1 Million Pillowcase Challenge is accepting registrations for their Fall Pillowcase Dash September 1-30, 2020. Because of COVID, only individuals may sign up; there will be no teams or groups this year. Everyone who participates get a fun pair of socks (as long as you complete at least one week's challenge during the month). Other prizes include 10 bolts of fabric and cash awards. Click HERE to register.

A few of you passed along suggestions for books and movies. Beth suggests "When Breath Becomes Air", an autobiography by Paul Kalanithi, MD. Chava re-found the old Mike Myers film, "So I Married an Axe Murderer" on Pluto; she says it is silly and non-violent and had her giggling, not a bad thing these days. Ellen recommends the movie "Knives Out". I keep hearing this movie is very watchable and entertaining; I really need to see it. If you have a movie or a book you'd like to recommend, just reply to this email.
We really and truly appreciate your patronage and your patience through this pandemic. Your support has been the stuff of angels. You are truly the best customers ever!


Go 'n' Piece,
Alison


CLASSES
To minimize the chance of spreading the coronavirus, we are electing to not hold classes in the shop but to have virtual learning instead. We will make this as easy as we can for you, sending you a link to the Zoom class. You do not need to create an account to participate.

Class size will be limited, at least at first, while our teachers become familiar with using Zoom. You can sign up online, by phone, or in the shop if you are here on a shopping appointment. Class descriptions are found below and on our website. Each class will have a supply list; look for this on our website: click on "Class Calendar" in the blue bar at the top of the home page. Find the class on the calendar and click on that, then scroll down to the bottom left of the page to find "Supply List" and click on that.

Binding Basics: Learn the essentials for a beautiful binding, perfectly finishing any quilt. The class explains binding design options, calculating fabric requirements, cutting straight-grain or bias binding, and preparing mitered binding strips. You'll learn how to turn perfect corners and flawlessly join the binding ends. You'll also get instructions for an easy machine-sewn binding method with a faux flange. Please download the supply list to be sure you can meet the technological requirements and have materials on hand for the class.

Meets via Zoom on Thursday, August 27, 6:30-8:30pm. Betsy Kulamer, instructor. $25. Limited to 6 participants. Skill level: confident beginner (you can sew a ¼" seam well).


Hidden Wells: Use 2½" strips to make four blocks out of one block, then move them around in different combinations to get the look you love. This is a technique class to learn how to make a new block and manipulate it to make something else. Use a strip set or cut your own strips; you need 4 for the class to learn how to make the block. You will not make a finished quilt as part of this class, but you will learn how to make a block that you can then use to make a quilt. Please download the supply list to be sure you can meet the technological requirements and have materials on hand for the class.

Meets via Zoom on Sunday, August 30, 2-3:30. Julie Taylor, instructor. $25. Limited to 8 participants. Skill level: intermediate.

The Capital Quilts Complete Course of Quilting: This course is designed to teach you everything you need to know to make a quilt, from how to use your sewing machine to fabric selection to sewing on the label. Learn a new technique each week, including cutting, pressing, set-ins, paper-piecing, and more. You will make a sampler quilt incorporating all the major quilting techniques, and then learn how to sandwich, quilt, and bind your masterpiece. It is the perfect opportunity to start at the beginning and learn one step at a time. This class will have 10 meetings on Zoom and 1 meeting with the instructor in the shop, one-on-one, to go over using your machine and selecting fabrics for your project. Please plan to wear a mask in the shop. You must have your own sewing machine. There will be homework! Please download the supply list well before the 1st class to be sure you can meet the technological requirements and have materials on hand for the class.

Meets via Zoom on 10 Wednesdays beginning on September 9, 6:30-8:30. The last class is on November 11. Betsy Kulamer, instructor. $275. Limited to 8 participants. Skill level: beginner.



IN-STORE SHOPPING AT CAPITAL QUILTS
We continue to offer shopping by appointment here in the shop, and remain closed to casual walk-in traffic. Please click here to make an appointment. Need more than 25 minutes? Book 2 consecutive time slots! Please be sure to carefully read all the rules we have around in-store shopping, and know that the staff is wiping down surfaces frequently with disinfectant.

Pro shopping tip: if you know you need needles, elastic, thread, or other items that do not require an in-person appointment, go ahead and order them online!. Specify curbside pickup, and you can pick those things up when you come for your appointment, and then you can spend all your time enjoying the fabric!

If you are unable to come to your appointment, please let us know as soon as possible so that we can fill that time slot.


CAPITAL QUILTS CARES
We are collecting scrub caps for nurses and respiratory therapists at a local hospital. Wearing PPE all day can be depressing, and medical workers love to perk up their day with happy or silly scrub caps. The requesting doctor received one from her mother that she loves! She made a few more for herself, and knowing what a lift it gives her, is hoping to share the love. There is no restriction on the pattern to use, but she likes Milly's Tie Scrub Hat Pattern from Brimming with Love. It's a woman's hat with enough room to tuck long hair up into. Twelve Bees has a great video and pattern for making a men's scrub hat. (Not necessarily men, but for people with short hair.) 2 hats from just a hair over a 1/3 of a yard. (12.5 inches)

We also have free pillowcase kits available that you can sew at home. They are a wonderful beginner project to do with children. The kiddos will learn some sewing skills and stay busy, too! We can mail them to you or you can pick them up curbside. Return the finished pillowcases to the shop (when you can; there is no rush), and we will donate them to Ryan's Case for Smiles when the appropriate time comes.

Small Kennel Quilts are always accepted for donation. These small quilts are sent to shelters and rescues all over the country, and are a great beginner project, or a way to practice your free motion quilting skills. We just received requests from North and South Carolina, from shelters taking in animals displaced by Isaias.


NAVIGATING THE ONLINE STORE
For those of you who are computer-challenged, click here for a quick tutorial on getting to and through our online shop using a laptop or desktop computer. (Smart phones and tablet screens may vary.)

We have had a few people call to say that they are having trouble getting PayPal to work or to make a selection or are having other issues when they use the Capital Quilts online store. If this happens to you, try refreshing your browser. That often solves the problem. Don't forget to click on "I am not a robot", and select the method of delivery (shipping/curbside), too. If you continue to have a problem, please contact the shop at 301-527-0598.


MAKING MASKS
We have all made a mask or two (or 50, or 200, or…), and would like to share our favorite patterns, and some tips and tricks we've discovered along the way. Click here for all the details! (By the way, some of our customers are now offering completed masks for sale on our website, if you aren't interested in sewing one yourself.)

Bill Nye the Science Guy has posted a video in which he demonstrates how to test the efficacy of your mask. Put your mask on and light a candle. Try to blow the candle out. If the flame wavers or goes out, your mask is not working. Dispose of it or add a filter and test again.

We recently started listing all mask-making supplies in a single category to make them easier to find online. Click here to see all the currently available items. (Updated each and every time we get in a new product!)

Mask Kits for personal use:
Kits are currently available! They contain all the materials (pre-cut fabric, twist ties for nose wires, cotton twill tape for fabric ties, and pattern with tips and tricks) required to make either 5 or 10 at a time. These kits are not intended to be used to make masks for donating to medical facilities, but are perfect for the "shoppers' masks" now required to be worn in public in our area. Click here to order.

Not interested in making your own masks? No worries! We have several local quilters and crafters selling their masks through our website. Multiple styles and prints are available, including NEW communicator masks for those who need others to see their lips (or their smile).


SEWING MACHINE MAINTENANCE
We are able to accept all brands of sewing machines for cleaning and tune-ups. To take advantage of this service, go to our website and sign up for machine repair. Bring your machine to the shop. We will take it in and wipe it down with a disinfectant (safe for sewing machines). We will let you know it is ready for pick-up and wipe it down again before we give it to you. Our technicians are working as quickly as they can, but both have essential day jobs. Machine servicing wait time is currently estimated at 2-3 weeks after drop-off.

If your machine is broken, be sure to write that in the notes section. We are not always able to get parts for machines other than Janome, but we will contact you before proceeding. If you want the technician to call you with an estimate before making the repair, please put that in the notes section as well.


NEW AND NOTEWORTHY


We have both "Quilt Shop Cat" and "Quilt Shop Playmate" puzzles in stock. $19.99 each.

Lori Holt of Bee in my Bonnet Company is excited to celebrate her favorite season with a new book from It's Sew Emma - Vintage Christmas! Step into Lori's scrappy happy vintage world this Christmas season with all-new quilt blocks and over ten quilty projects. Her 42 blocks are available in both 6" and 12" sizes, so they work perfectly with her previous books and mix traditional blocks and adorable one-of-a-kind picture blocks. MSRP $32.95, CQ price only $29.66.

Keep your mind sharp and have fun with over 65 word puzzles for quilters and sewists! Happy Quilter Variety Puzzles, Volume 2 is here! MSRP $9.95, CQ Price only $8.96.

Many mask-making supplies (ear loops in fun colors, mask brackets, nose pieces, etc.) have been restocked.

We just got in a HUGE shipment (40+ bolts!) of Michael Miller Cotton Couture to replenish our shelves! Shop early, before all the good ones are gone! $10.99 per yard.


FLATTEN-THE-CURVE KITS AVAILABLE FOR PURCHASE





ACCUQUILT
AccuQuilt is continuing to offer $100 off the Go! Big and Ready.Set.Go! cutting machines during the month of August. This is a mail-in rebate available only through retailers (not on the AccuQuilt website); get your rebate form with your purchase at Capital Quilts.

On August 18, AccuQuilt is launching 3 new dies. Check our website on that day to find out what they are!


HANDI QUILTER
Batting Bonanza: August 7-17, 2020, purchase a new Handi Quilter and receive FREE batting, up to a $700 value! Click here for details.

Tune in to the Handi Quilter Facebook page every Tuesday at 2pm EDT for their Shop@Home Event, which features tips, tricks, and tutorials on Handi Quilter products with limited-time special pricing and a give-away to a random live attendee. They announce a special on a different machine or accessory each week. If you can't watch the Tuesday event, go to the HQ website and enjoy the "And I Quilt" series of videos. You can still get the special pricing on the week's product through Sunday.

This week, the My Secret Drawer, Tool Tray, and HQ Bobbin Tree are being offered at special prices. The Facebook Live event on Tuesday was all about Storage Solutions. Get your special pricing through Sunday evening. Save $50 off the My Secret Drawer. The Tool Tray and Bobbin Tree are 15% off retail.



JANOME

Meet the MyStyle 100. This is a basic mechanical sewing machine with 15 stitches, 1 buttonhole, an auto-declutch bobbin winder, top-loading bobbin, and a maximum stitch width of 5mm. The feet snap on and off. The free arm allows easy access to sleeves and other tight places. You can drop the feed dogs for free-motion quilting. This is the perfect machine for a new sewer.

Janome is now offering the Eddycrest Exclusive Sewing Cabinet. It features:
Baltic birch wood
Hydraulic machine lift
Automatic, programmable height adjustment
4 spacious drawers & 1 storage cabinet
Pegboard side panel for storage
Under-table power bar brace
2 foldable extension tables (side extension standard, rear extension optional)
Dimensions: 60" (opens to 72") W x 28" D x 30" H.
Rear extension adds 12" in depth, making a 40" deep table top when in the up position.

MSRP: $4,999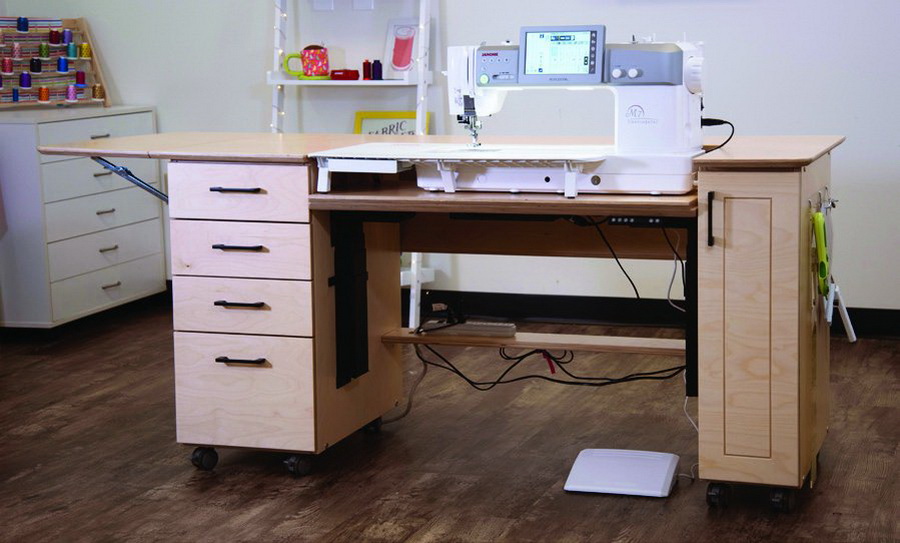 Click to visit the
Capital Quilts website