Dear Sewciable Sewists,

As a next step toward opening the shop fully, which we really want to be able to do, we have made a change in our appointment scheduling. The 1:00 and 1:30 appointments are still just for 1 person plus up to 2 guests. These slots are meant for people who may be immune compromised or have other reasons why they want to stay away from other people as much as possible. The slots from 2 through 4:30 are now open for 2 shoppers plus up to 2 guests each. This is a small adjustment, I realize, but I will always err on the side of caution when it comes to keeping us all safe from COVID19. Don't forget to wear a mask that covers both your nose and your mouth and doesn't need to be readjusted constantly.

We have added a new category to our online shop! Look in the Clearance section. It's called $5 Per Yard Fabric, and it contains older but still lovely fabric that we want to move along to make room for all the new fabric we are getting. We have also added a large number of fabrics to our regular Clearance category. Visit us online or come into the shop to see and buy these new additions to Clearance.

Tips for Newbies and Not-So-Newbies: When cutting fabric strips or two of any shape, make sure to straighten the grain of the fabric before cutting. To do this, fold the fabric in half, matching the selvedge (woven) edges.

Pinching the fabric at each end of your piece at the selvedge and keeping the selvedges together, hold the fabric up. If it wrinkles and puffs along the fold, your fabric is not straight. Slide the two selvedges back and forth, keeping them together, until the fabric hangs smoothly and straight. Without letting go, lay the fabric back down on your cutting table with the fold close to you and keeping those selvedges together. Straighten the raw edge of your fabric by matching a line on your ruler with the fold of the fabric and cutting off the excess. Now you are ready to cut strips!

A really easy way to cut strips and other shapes is with an AccuQuilt GO! machine. The GO! uses dies to cut the fabric, so every cut is always the same. You can cut up to 6 layers of fabric at a time; using the strip die, you can cut enough strips to bind a queen size quilt with just one pass through the machine in a fraction of the time it would take you to cut the strips by hand, and they are all the same width. This leads to greater accuracy, which leads to a better product, which makes a happier quilter, as I talked about in last week's newsletter.

If you ever are unsure about cutting or other techniques, please don't hesitate to call or visit us. The Capital Quilts staff wants to help you be a happy and proficient quilter!

We really and truly appreciate your patronage and your patience through this pandemic. Your support has been awesome. You are truly the best customers ever!
HANDI QUILTER EVENT
I have tentatively scheduled a Handi Quilter Event here in the shop on September 25 and 26. The four classes will be led by Handi Quilter National Educator Diane Henry. Diane lives locally and feels comfortable teaching a small group. We would, of course, wear masks and sit socially distanced. Each class will be limited to 6 people.

There will be four 3-hour-long classes, one each morning and one each afternoon. The first class, on Friday morning, is for those of you who have been making quilt tops like crazy since March and are now ready to quilt them! It is called "Taking the Mystery Out of Longarm Quilting" and is an introduction to the Handi Quilter longarm machine, with information about thread, needles, loading fabric on the frame, and basic quilting techniques. This class is perfect for those of you who would like to know more about longarm quilting.

Friday afternoon's class is called "Design Your Quilting for the Whole Quilt", which will get into planning and marking your design, developing a design library of background fills, and making borders fit without measuring. Move beyond edge-to-edge quilting and learn how one motif can be broken down to complement each area of your quilt. Explore fillers both modern and classic.

Saturday morning we'll have a class called "Using Rulers and Templates". Diane will talk about using rulers safely, then discuss the different designs you can produce with different rulers and how to mark for them. You'll get a chance to try various rulers at the machine.

Our last class, on Saturday afternoon, seeks to stir your imagination. It is called "Jumping into Improvisation Quilting". Looking at your fabric motifs, the shapes of your blocks, and even using surprising thread colors can all be used to quilt in unexpected ways. Topics include drawing and transferring simple designs to your quilt, using straight lines to create drama, adding unexpected designs, using marked grids as a foundation, and drawing inspiration from fabric prints.

In every class Diane will give you lots of tips and tricks. The outlines of the classes above are just the beginning of the information she will impart. You'll have a great time and learn lots.

Each class is $75. Register online or by calling the shop at 301-527-0598.

Note: I will be keeping an eye on the progress of the pandemic between now and the end of September. If metrics become unfavorable, I will cancel the event and refund your money.

I am also counting on you to be responsible about not coming to the event if you have been exposed to the virus within 2 weeks of the event or if you are feeling in any way unwell or someone in your household is unwell. Let's protect each other! Thank you in advance.

This will be our first attempt at an instore class since March. If it goes well, I will consider having other classes here at the shop. Fingers crossed!


IN-STORE SHOPPING AT CAPITAL QUILTS
We continue to offer shopping by appointment here in the shop, and remain closed to casual walk-in traffic. Please click here to make an appointment. Need more than 25 minutes? Book 2 consecutive time slots! Please be sure to carefully read all the rules we have around in-store shopping, and know that the staff is wiping down surfaces frequently with disinfectant.

Pro shopping tip: if you know you need needles, elastic, thread, or other items that do not require an in-person appointment, go ahead and order them online!. Specify curbside pickup, and you can pick those things up when you come for your appointment, and then you can spend all your time enjoying the fabric!

If you are unable to come to your appointment, please let us know as soon as possible so that we can fill that time slot.


CAPITAL QUILTS CARES

We are collecting scrub caps for nurses and respiratory therapists at a local hospital. Wearing PPE all day can be depressing, and medical workers love to perk up their day with happy or silly scrub caps. The requesting doctor received one from her mother that she loves! She made a few more for herself, and knowing what a lift it gives her, is hoping to share the love. There is no restriction on the pattern to use, but she likes Milly's Tie Scrub Hat Pattern from Brimming with Love. It's a woman's hat with enough room to tuck long hair up into. Twelve Bees has a great video and pattern for making a men's scrub hat. (Not necessarily men, but for people with short hair.) 2 hats from just a hair over a 1/3 of a yard. (12.5 inches)

We also have free pillowcase kits available that you can sew at home. They are a wonderful beginner project to do with children. The kiddos will learn some sewing skills and stay busy, too! We can mail them to you or you can pick them up curbside. Return the finished pillowcases to the shop (when you can; there is no rush), and we will donate them to Ryan's Case for Smiles when the appropriate time comes.

Small Kennel Quilts are always accepted for donation. These small quilts are sent to shelters and rescues all over the country, and are a great beginner project, or a way to practice your free motion quilting skills. Hurricanes and wildfires have created a large demand, and we'll be shipping out all of our reserves this week.


NAVIGATING THE ONLINE STORE
For those of you who are computer-challenged, click here for a quick tutorial on getting to and through our online shop using a laptop or desktop computer. (Smart phones and tablet screens may vary.)

We have had a few people call to say that they are having trouble getting PayPal to work or to make a selection or are having other issues when they use the Capital Quilts online store. If this happens to you, try refreshing your browser. That often solves the problem. Don't forget to click on "I am not a robot", and select the method of delivery (shipping/curbside), too. If you continue to have a problem, please contact the shop at 301-527-0598.


MAKING MASKS
We have all made a mask or two (or 50, or 200, or…), and would like to share our favorite patterns, and some tips and tricks we've discovered along the way. Click here for all the details! (By the way, some of our customers are now offering completed masks for sale on our website, if you aren't interested in sewing one yourself.)

We recently started listing all mask-making supplies in a single category to make them easier to find online. Click here to see all the currently available items. Our website is updated each and every time we get in a new product!


SEWING MACHINE MAINTENANCE
We are able to accept all brands of sewing machines for cleaning and tune-ups. To take advantage of this service, go to our website and sign up for machine repair. Bring your machine to the shop. We will take it in and wipe it down with a disinfectant (safe for sewing machines). We will let you know it is ready for pick-up and wipe it down again before we give it to you. Our technicians are working as quickly as they can, but both have essential day jobs. Machine servicing wait time is currently estimated at 2-3 weeks after drop-off.
If your machine is broken, be sure to write that in the notes section. We are not always able to get parts for machines other than Janome, but we will contact you before proceeding. If you want the technician to call you with an estimate before making the repair, please put that in the notes section as well.


NEW AND NOTEWORTHY

Chameleon from Blank Quilting is a new basic that features a unique texture that goes from fern foliage to reptile skin. Completely versatile and drenched with color, it comes in 20 colors. $11.99 per yard.

Geo-square 108 is a fun, fresh wide back. We have it available ion bold black or neutral tan. $18.99 per yard.

Aren't these batiks from Hoffman dreamy? $13.99 per yard.

Retayne and Synthropol are back in stock!! Soak fabrics in Retayne before washing them for the first time. Use one teaspoon per yard of fabric in a HOT (at least 140º F) soak for 20-30 minutes, with enough water to cover the fabric, then wash in hot water and Synthrapol to get out any remaining, unfixed dye. If you don't do this last step with the Synthrapol, then only wash in cool water rinse and cool water for the life of the fabric. You do risk some fading when using the Synthrapol and hot water, as it will remove any remaining dye. Both products are available in either 16oz or 4oz bottles.


CLASSES

Like so many schools, we are electing to not hold classes in the shop but to have virtual learning instead. We will make this as easy as we can for you, sending you a link to the Zoom class. All you have to do is add the Zoom app to your computer, IPad, or other device so that you can open the link and participate in the class.

Class size will be limited, at least at first, while our teachers become familiar with using Zoom. As before COVID, you can sign up online, by phone, or in the shop if you are here on a shopping appointment. Class descriptions are found below and on our website. Each class will have a supply list; look for this on our website: click on "Class Calendar in the blue bar at the top of the home page. Find the class on the calendar and click on that, then scroll down to the bottom left of the page to find "Supply List" and click on that.

SIDE BRAID: Use 20 Fat Quarters (or ¼-yard cuts) to make this twist on a traditional friendship braid design. There are no seams or corners that require matching up. This beginner-friendly class will include instruction on cutting, piecing, sandwiching, machine quilting with a walking foot, and binding.

This class will be held on the Zoom platform. Please download the supply list to be sure you can meet the technological requirements and have materials on hand for the class.

Meets on Tuesdays and Thursdays, 7-8pm, on October 13, 15 20, and 22. Janine Boyce, instructor. $60. Limited to 10 participants.

Skill level: beginner


ACCUQUILT
AccuQuilt is offering $90 off the Go! Big, Ready. Set. GO! Ultimate Fabric Cutting System, and Ready.Set.Go! cutting machines during the month of September. This is a mail-in rebate available only through retailers (not on the AccuQuilt website); get your rebate form with your purchase at Capital Quilts.

AccuQuilt introduced 3 new dies recently. They are "Starry Path", a 9" finished die; "Snail's Trail", 8" finished; and "Maple Leaf", 8" finished. If you would like to order any of these dies, please let me know and I'll get them in the shop.

Coming September 22: AccuQuilt is introducing the English Paper Piecing Qube. The Qube includes 8 dies, 4 for fabric and 4 for papers. The shapes are the hexie, half hexie, diamond, and equilateral triangle, with 1" finished sides. Get a free book, "English Paper Piecing Made Easy" by Katja Marek when you purchase the Qube. Pre-order yours today!

Price: $279.99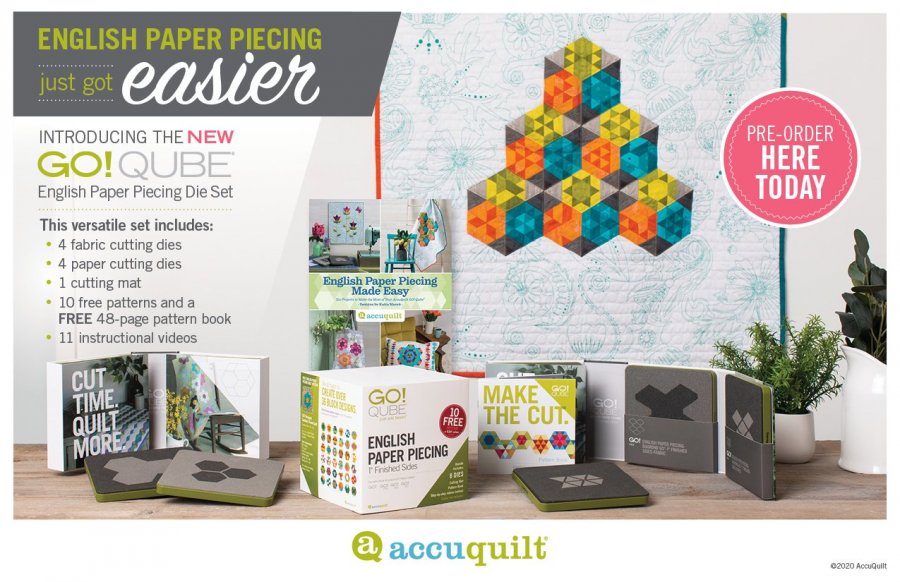 JANOME
Meet the Janome 2222. This entry-level mechanical sewing machine is a perfect machine for a new sewer. It has 22 stitches, a one-step buttonhole, an auto-declutch bobbin winder, front-loading vertical bobbin, and a maximum stitch width of 5mm. The feet snap on and off. The free arm allows easy access to sleeves and other tight places. You can drop the 5-piece feed dogs for free-motion quilting. There is a built-in needle threader. It comes with a dust cover and at just 13 lbs. is also a perfect machine for travel.

Price: $219

Capital Quilts has 1 of these machines in stock.

Also in stock: the MC 9450 QCP. This machine is particularly delightful for quilters, with an 11" throat space, built-in quilting stitches, and automatic foot lift. Check out all the features on the Janome website, www.janome.com. It is a fabulous machine! Ask me how I know.


HANDI QUILTER
Buy a longarm quilting machine package and/or a Pro-Stitcher today through September 21 and receive up to 10 hours of one-on-one instruction from an HQ National Educator!

You get 5 hours with the purchase of the machine and 5 hours with the purchase of a Pro-Stitcher. Capital Quilts will train you on the basics of machine operation. Then, tap into the knowledge and experience of an expert educator via one-on-one video chat. Your new quilting mentor will answer questions, share instruction and offer ideas and inspiration. That is a value of $500 for each 5 hours, and I am pretty sure you will have a new friend at the end of your mentoring. You will also get forever access to the HQ Academy virtual Sneak Peek event: 4 video classes with Handi Quilter's best instructors (a $200 value).

Handi Quilter has renamed their Facebook Live series from Shop@Home Event to Watch and Learn Quilting Show. Tune in to the Handi Quilter Facebook page every Tuesday at 2pm EDT for the show, which features tips, tricks, and tutorials on Handi Quilter products with limited-time special pricing and a give-away to a random live attendee. They announce a special on a different machine or accessory each week. If you can't watch the Tuesday show, go to the HQ website and enjoy the "And I Quilt" series of videos. You can still get the special pricing on the week's product through Sunday.

This week, take 15% off the Gold and Silver Circle template sets and the Echo feet.

Through September 25, take $50 off a Secret Drawer.