Skip Navigation
Website Accessibility
What's New at CQ 09/24/2020
| | |
| --- | --- |
| "I'm a very strong believer in listening and learning from others." Ruth Bader Ginsburg | |
Dear Friends of Fabric,

Calling all teachers who are teaching virtually: we have chalkboard fabric, both in black and in green, on clearance! Check it out here.

CAPITAL QUILTS CARES: We have been getting a lot of requests from animal shelters out west and down south for kennel quilts. We have sent out over 230 of them in the last few weeks and our supply is woefully low. If you are willing to help, please make more for us! Find the directions here. Please be careful of the dimensions of the little quilts; too big or too small and we can't send them. Drop them off "curbside" at the shop; no need to make an appointment (unless you want to shop, of course!).

Please give us a call at 301-527-0598 if you'd like to make an appointment to come shop in the store. At the moment, you can usually get in the same day. We are no longer making appointments online, only by phone. The online approach wasn't working as well as I had hoped for.

Join Betsy Kulamer for a virtual sewing group on Friday, October 2. See details below under "Classes" in the "Sew Together" section. What a wonderful way to meet with other quilters in these times when we can't be together in the same room. No lugging the heavy machine to the shop, no wearing a mask, and you can eat and drink whatever you want whenever you want!

Tips for Newbies and Not-So-Newbies: Last week we focused on the accurate ¼" seam. What happens if your seam is not so good and you need to rip it out and sew it again? How does one do that?

You need a tool, of course. You can use the blunt end of a needle to pick out those stitches one by one, but that is time consuming and the thread is guaranteed to tangle as you pull it through the fabric, making even more of a mess. The frustration level can be high. You don't need that!

In most cases you will want to use a seam ripper. There are all sorts of seam rippers on the market; I just went to Checker Distributors' website and counted 51 separate rippers, and that doesn't include the ones that are part of sewing sets. They come in a wide range of sizes, prices, qualities, and configurations. With so many to choose from, how does one know what to get?

If you are the sort of person who loses seam rippers and other small items all the time, you might want to get Dritz's package of 12. They are small and resemble the seam ripper that comes with a sewing machine and cost about $1.50 per ripper. I can't vouch for their quality as I have never used them, but you could have one or two at your machine, on your cutting table, by your iron, in your sewing kit, in your purse, at your beach house, and wherever else you might find yourself sewing. Dritz also has a larger one available, in packs of 12, that works out to about $2.25 per blade. We don't carry these but are happy to special order them.

Many companies make a good quality, easy-to-hold, easy-to-use seam ripper. Our favorite here at Capital Quilts is Clover's Seam Ripper. The large round handle makes it easy to control, so you cut the thread in question and not the fabric or yourself. It retails for $4.50, a nice middle-of-the-road price.

Another style of ripper is the seam-fix ripper. These have a bulbous end that is used to pull the cut threads from your fabric. We carry the Dritz version and they are good quality and the bulb does a good job of getting most of the thread bits out of the fabric. These are available for $6.99.

Another style of ripper is the surgical seam ripper. These are VERY SHARP and you must be careful how you use it. It is designed to zip through a row of stitches one after another. It has a rounded point to help prevent the fabric from being punctured. While the quality is top-notch, I find it hard to hold, as it is a skinny piece of metal. That said, there are people on my staff who swear by this ripper. Your cost is $4.50.

Eleanor Burns' Quilt-in-a-Day company has a battery-operated electric seam ripper. I haven't tried it myself, but it claims to be quick, easy, and a "safe alternative to traditional seam rippers". It comes with a blade guard, oil, and a cleaning brush. About $20.

There are seam rippers that are as lovely as they are useful. The Bar Pendant is a necklace with a pendant that has a unique hinge that allows you to open the bottom of the pendant so that you can use the seam ripper inside. It comes in silver, gold, or rose gold and costs about $45. You wouldn't have to worry about losing it at a retreat or class! Other rippers have handmade wood handles that make them pieces of practical art. They are usually of top quality and make lovely gifts.

Some rippers come with a built-in stiletto, others with a built-in light and/or magnifying glass. Some have ergonomic handles.

The bottom line is that you need to try a few different ones to see what feels good in your hand and you find easy to use. You may find that you want to have more than one type of ripper on hand to accommodate different seam-removal problems. Look for a ripper that has a cap to protect the blade when you are not using it.

Tip: don't sew with stitches that are any smaller than you have to! Those itty-bitty stitches are really hard to remove. Those micron-wide tie-off stitches that are available on current sewing machines are great…until you have to remove them.

How does one use a seam ripper? There are different approaches. First, turn your seam ripper sideways and individually slice any doubled stitches at the end (where you reversed to secure the end of the seam), working from one side of the fabric. Once that is done, for a straight seam, I like to turn my project to the bobbin thread side and cut about every 10th stitch; turn the project over to the top thread side, grab one end, and pull gently but firmly. You may find that one end pulls more easily than the other. The threads should just pop out. Another approach is to pull the seam apart and snip the threads between the fabrics; this is where the surgical seam ripper can be useful. If your ripper has a red ball on the end, fold the seam back on itself (wrong sides together), position the seam ripper so the red ball is underneath the stitches, and push, keeping the fabric as taut as you can. You should be able to slice right through the stitches. Be careful not to slice through the fabric! Another way is to remove the doubled stitches at the ends, then gently pull the two pieces of fabric apart from one end; a few stitches will pull out. When it gets stuck, carefully slice the stitch between the fabrics and pull again until it gets stuck again; repeat to the end.

Google "How to Use a Seam Ripper" to see video on using this basic tool. You can also look at www.checkerdist.com and search "seam ripper" to see all the different rippers. If you want to try one that we do not normally carry, I can order it for you.

We really and truly appreciate your patronage and your patience through this pandemic. Your support has been awesome. You are truly the best customers ever! Keep wearing those masks!
HANDI QUILTER EVENT
Our Handi Quilter Event is almost here, and there is still room in some classes! The four classes will be led by Handi Quilter National Educator Diane Henry. Diane lives locally and feels comfortable teaching a small group. We would, of course, wear masks and sit socially distanced. Each class will be limited to 6 people.

There will be four 3-hour-long classes, one each morning and one each afternoon. The first class, on Friday morning, is for those of you who have been making quilt tops like crazy since March and are now ready to quilt them! It is called "Taking the Mystery Out of Longarm Quilting" and is an introduction to the Handi Quilter longarm machine, with information about thread, needles, loading fabric on the frame, and basic quilting techniques. This class is perfect for those of you who would like to know more about longarm quilting.

Friday afternoon's class is called "Design Your Quilting for the Whole Quilt", which will get into planning and marking your design, developing a design library of background fills, and making borders fit without measuring. Move beyond edge-to-edge quilting and learn how one motif can be broken down to complement each area of your quilt. Explore fillers both modern and classic.

Saturday morning we'll have a class called "Using Rulers and Templates". Diane will talk about using rulers safely, then discuss the different designs you can produce with different rulers and how to mark for them. You'll get a chance to try various rulers at the machine.

Our last class, on Saturday afternoon, seeks to stir your imagination. It is called "Jumping into Improvisation Quilting". Looking at your fabric motifs, the shapes of your blocks, and even using surprising thread colors can all be used to quilt in unexpected ways. Topics include drawing and transferring simple designs to your quilt, using straight lines to create drama, adding unexpected designs, using marked grids as a foundation, and drawing inspiration from fabric prints.

In every class Diane will give you lots of tips and tricks. The outlines of the classes above are just the beginning of the information she will impart. You'll have a great time and learn lots.

Each class is $75. Register online or by calling the shop at 301-527-0598.

I am counting on you to be responsible about not coming to the event if you have been exposed to the virus within 2 weeks of the event or if you are feeling in any way unwell or someone in your household is unwell. Let's protect each other! Thank you in advance.

This will be our first attempt at an instore class since March. If it goes well, I will consider having other classes here at the shop. Fingers crossed!


IN-STORE SHOPPING AT CAPITAL QUILTS
We continue to offer shopping by appointment here in the shop, and remain closed to casual walk-in traffic. Please call the shop to make an appointment. Need more than 25 minutes? Book 2 consecutive time slots! Please be sure to carefully read all the rules we have around in-store shopping, and know that the staff is wiping down surfaces frequently with disinfectant.

Pro shopping tip: if you know you need needles, elastic, thread, or other items that do not require an in-person appointment, go ahead and order them online!. Specify curbside pickup, and you can pick those things up when you come for your appointment, and then you can spend all your time enjoying the fabric!

If you are unable to come to your appointment, please let us know as soon as possible so that we can fill that time slot.


CAPITAL QUILTS CARES

We are collecting scrub caps for nurses and respiratory therapists at a local hospital. Wearing PPE all day can be depressing, and medical workers love to perk up their day with happy or silly scrub caps. The requesting doctor received one from her mother that she loves! She made a few more for herself, and knowing what a lift it gives her, is hoping to share the love. There is no restriction on the pattern to use, but she likes Milly's Tie Scrub Hat Pattern from Brimming with Love. It's a woman's hat with enough room to tuck long hair up into. Twelve Bees has a great video and pattern for making a men's scrub hat. (Not necessarily men, but for people with short hair.) 2 hats from just a hair over a 1/3 of a yard. (12.5 inches)

We also have free pillowcase kits available that you can sew at home. They are a wonderful beginner project to do with children. The kiddos will learn some sewing skills and stay busy, too! We can mail them to you or you can pick them up curbside. Return the finished pillowcases to the shop (when you can; there is no rush), and we will donate them to Ryan's Case for Smiles when the appropriate time comes.

Small Kennel Quilts are always accepted for donation. These small quilts are sent to shelters and rescues all over the country, and are a great beginner project, or a way to practice your free motion quilting skills. Hurricanes and wildfires have created a large demand, and we'll be shipping out all of our reserves this week.


NAVIGATING THE ONLINE STORE
For those of you who are computer-challenged, click here for a quick tutorial on getting to and through our online shop using a laptop or desktop computer. (Smart phones and tablet screens may vary.)

We have had a few people call to say that they are having trouble getting PayPal to work or to make a selection or are having other issues when they use the Capital Quilts online store. If this happens to you, try refreshing your browser. That often solves the problem. Don't forget to click on "I am not a robot", and select the method of delivery (shipping/curbside), too. If you continue to have a problem, please contact the shop at 301-527-0598.


MAKING MASKS
We have all made a mask or two (or 50, or 200, or…), and would like to share our favorite patterns, and some tips and tricks we've discovered along the way. Click here for all the details! (By the way, some of our customers are now offering completed masks for sale on our website, if you aren't interested in sewing one yourself.)

We recently started listing all mask-making supplies in a single category to make them easier to find online. Click here to see all the currently available items. Our website is updated each and every time we get in a new product!


SEWING MACHINE MAINTENANCE
We are able to accept all brands of sewing machines for cleaning and tune-ups. To take advantage of this service, go to our website and sign up for machine repair. Bring your machine to the shop. We will take it in and wipe it down with a disinfectant (safe for sewing machines). We will let you know it is ready for pick-up and wipe it down again before we give it to you. Our technicians are working as quickly as they can, but both have essential day jobs. Machine servicing wait time is currently estimated at 2-3 weeks after drop-off.


If your machine is broken, be sure to write that in the notes section. We are not always able to get parts for machines other than Janome, but we will contact you before proceeding. If you want the technician to call you with an estimate before making the repair, please put that in the notes section as well.


NEW AND NOTEWORTHY


Come join the party with this new basic from Michael Miller Fabrics, CoCo! This stunning 50 piece assortment consists of 5 gradients in 10 color stories. Inspired by the brilliant textures of Coco Channel, it is perfect as the star of the show or to add in as coordinates with your favorite collections. $11.99 per yard.

Madison from 3 Wishes is fun and fresh with a hint of whimsy. $10.50 per yard.

Need white-on-whites? Boy, have we got them for you! In addition to P&B's popular Ramblings line, we just got in Flour II from Henry Glass. $9.99 per yard.

White cotton batting has been a little hard to come by lately, but we just got a shipment in! Prices vary.


CLASSES
Like so many schools, we are electing to not hold classes in the shop but to have virtual learning instead. We will make this as easy as we can for you, sending you a link to the Zoom class. All you have to do is add the Zoom app to your computer, IPad, or other device so that you can open the link and participate in the class.

Class size will be limited, at least at first, while our teachers become familiar with using Zoom. As before COVID, you can sign up online, by phone, or in the shop if you are here on a shopping appointment. Class descriptions are found below and on our website. Each class will have a supply list; look for this on our website: click on "Class Calendar in the blue bar at the top of the home page. Find the class on the calendar and click on that, then scroll down to the bottom left of the page to find "Supply List" and click on that.

DEMYSTIFYING EQ8 – A Zoom Class for Windows and Mac: EQ8 is a computer-based application used to design quilt blocks and quilts. You will learn to use EQ8 libraries of thousands of blocks and fabrics, personalize and create your own quilt blocks, preview quilts, select colors, resize quilts, calculate yardage, print out piecing templates, rotary cutting instructions, and foundation piecing patterns. This class covers the tools most often used in EQ8. You will need a computer with EQ8 installed, an electrical cord, and a mouse for this class. Training documents will be emailed to you before the class begins.

EQ8 is available at Capital Quilts. Please call 301-527-0598 to purchase a copy.

Skill Level: Beginner (for software)
Instructor: Elyse Turkletaub
Class Limit: 6
Cost: $65
Date and Time: Saturday, September 26, 10-1

PRO-STITCHER PREMIUM – GETTING STARTED (A ZOOM CLASS): Learn to navigate through the screens, tabs, buttons, and tools of Pro-Stitcher Premium. You will customize an Edge-to-Edge (E2E) design on your computer using the Pro-Stitcher Simulator and transfer the design to the Pro-Stitcher on the longarm, if you have one, for accurate stitch out.

An email will be sent to you with a detailed training document and instructions for downloading and installing the Pro-Stitcher Simulator. You will also be contacted by the instructor to ensure that you have the digital designs used in the class.

Supply List: laptop or tablet with Pro-Stitcher Premium Simulator installed, mouse, power cord, flash drive (USB stock/thumb drive/flash memory), access to a longarm with Pro-Stitcher (optional)

Skill Level: beginner (for ProStitcher)
Instructor: Elyse Turkletaub
Class Limit: 6
Cost: $75
Date and Time: Tuesday, September 29, 10-1

SEW TOGETHER: Tired of sewing alone? Join fellow quilters for a virtual quilting bee. Settle into your favorite sewing space with your favorite Zoom-compatible technology for up to three hours of stitching and chatting. Everyone will have a chance to talk about what they've been working on and pose questions to the other quilters. No masks required!


Skill Level: All
Moderator: Betsy Kulamer
Class size: max. 15
Cost: $8
Date and Time: Friday, October 2, 2020, 6- 9pm

SIDE BRAID: Use 20 Fat Quarters (or ¼-yard cuts) to make this twist on a traditional friendship braid design. There are no seams or corners that require matching up. This beginner-friendly class will include instruction on cutting, piecing, sandwiching, machine quilting with a walking foot, and binding.

Skill level: beginner
Instructor: Janine Boyce
Class size: max. 10
Cost: $60
Date and Time: Tuesdays and Thursdays, 7-8pm, on October 13, 15 20, and 22.


ACCUQUILT
AccuQuilt is offering $90 off the Go! Big, Ready. Set. GO! Ultimate Fabric Cutting System, and Ready.Set.Go! cutting machines during the month of September. This is a mail-in rebate available only through retailers (not on the AccuQuilt website); get your rebate form with your purchase at Capital Quilts.

AccuQuilt introduced 3 new dies this month. They are "Starry Path", a 9" finished die; "Snail's Trail", 8" finished;
and "Maple Leaf", 8" finished. If you would like to order any of these dies, please let me know and I'll get them in the shop.

The English Paper Piecing Qube is now available from AccuQuilt. The Qube includes 8 dies, 4 for fabric and 4 for papers. The shapes are the hexie, half hexie, diamond, and equilateral triangle, with 1" finished sides. Get a free book, "English Paper Piecing Made Easy" by Katja Marek when you purchase the Qube. Order yours today!

Price: $279.99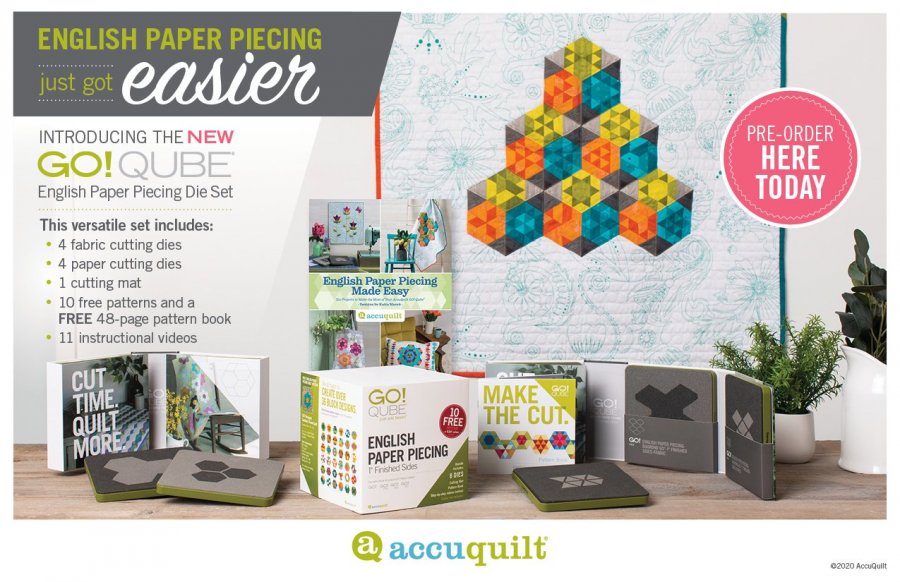 JANOME
Meet the Janome HD3000. The HD3000 is a heavy-duty machine perfect for all skill ranges. A handy instructional guide is located in the top tray door of the machine, which indicates the feet and stitch settings for a variety of sewing tasks. It has a heavy-duty aluminum body and 18 stitches, including a one-step buttonhole. Stitch length and width adjustment are conveniently located on the front of the machine. It has a free arm, the bobbin winder is auto-declutch, and you can drop the feed dogs. Maximum stitch width is 6.5mm. A hard cover comes standard. This machine is capable of sewing leather; there is a Leather Sewing Guide available at Janome.com in the description area of the HD3000 machine. Janome.com/machines/sewing/hd3000/

Price: $429

Also in stock: the MC 9450 QCP. This machine is particularly delightful for quilters, with an 11" throat space, built-in quilting stitches, and automatic foot lift. Check out all the features on the Janome website, www.janome.com. It is a fabulous machine! Ask me how I know.


HANDI QUILTER
Tune in to the Handi Quilter Facebook page every Tuesday at 2pm EDT for Handi Quilter's Watch and Learn Quilting Show, which features tips, tricks, and tutorials on Handi Quilter products with limited-time special pricing and a give-away to a random live attendee. They announce a special on a different machine or accessory each week. If you can't watch the Tuesday show, go to the HQ website and enjoy the "And I Quilt" series of videos. You can still get the special pricing on the week's product through Sunday.

This week, take 15% off the Felting Foot. Ends Sept. 27.

Through September 25 (tomorrow!!), take $50 off a Secret Drawer.


Click to visit the
Capital Quilts website