Skip Navigation
Website Accessibility
What's New at CQ 10/01/20
| | |
| --- | --- |
| "Now all we need is to continue to speak the truth fearlessly, and we shall add to our number those who will turn the scale to the side of equal and full justice in all things." Lucy Stone | |
Dear Dear Stitchers of Life and Fabric,

CAPITAL QUILTS CARES: Thanks to those who have donated kennel quilts in the last couple of weeks! Keep them coming. We have been getting a lot of requests from animal shelters out west and down south for kennel quilts. We have sent out over 350 of them in the last few weeks and our supply is woefully low. If you are willing to help, please make more for us! Find the directions here. Please be careful of the dimensions of the little quilts; too big or too small and we can't send them. Drop them off "curbside" at the shop; no need to make an appointment (unless you want to shop, of course!).

Please give us a call at 301-527-0598 if you'd like to make an appointment to come shop in the store. At the moment, you can usually get in the same day. We are no longer making appointments online, only by phone.

Join Betsy Kulamer for a virtual sewing group on Friday, October 2. That is tomorrow! Find details below under "Classes" in the "Sew Together" section, although it is more sewing bee than class. What a wonderful way to meet with other quilters in these times when we can't be together in the same room. No lugging the heavy machine to the shop, no wearing a mask, and you can eat and drink whatever you want whenever you want!
We've added another class to our roster: a T-Shirt Quilt class, to be held in the shop. See the details below under Classes.


Is using your scissors a chore? Do your kitchen knives barely make it through soft butter? Did you knick your garden shears? Rod's Sharpening will be here on October 13th to take care of all of that! Their precision sharpening system ensures the correct angle for your knife, thus extending the life of the blade--it will cut just like new. They can also repair some defects such as chipped blades or bent tips (additional fees may apply).
Fabric shears, pinking shears, household scissors: $7.00
Beauty salon shears: $25.00
Any type of knife: $7.00
Small garden tools (less than 12 inches): $7.00
For everyone's safety, all items must be packaged/wrapped securely with rubber bands or packing tape securing the item in a towel, pillowcase, padded envelope, or box. Attach your name, address, phone number, and cash or check payable to Rod's Sharpening Service. Items should be dropped off at the shop not later than 5pm on Monday, October 12th, and will be available for pickup on Thursday.

After a long medical leave for a knee replacement, our machine expert, Barbara, is once again able to be with us in the shop. For now, she will be working two days a week, Tuesday and Wednesday. If you would like to make an appointment with her for a lesson on the machine you purchased here at Capital Quilts since the pandemic began, or if you would like to speak with her about purchasing a new machine, please call the shop at 301-527-0598.

We really and truly appreciate your patronage and your patience through this pandemic. Your support has been, and continues to be, awesome. You are truly the best customers ever! Keep wearing those masks! Do your part to help stop the spread of COVID-19.
TIPS FOR NEWBIES AND NOT SO NEWBIES
One thing that we get a lot of questions about here in the shop is sewing machine needles. People want to know, among other things, how often to change them, what the numbers mean, and how to know which needle to use.

Your sewing machine needle does need to be changed. Needles get dull over time, which makes the motor of your machine work harder to push the needle through the fabric. In addition to potential motor damage (an expensive fix, by the way), a dull needle may damage your fabric, cause stitches to skip, threads to snag or break, and tension to be off. If you happen to hit a pin, the needle may get bent, if not totally broken. In addition to everything else, this can cause timing problems.

How often should you change your needle? We recommend that you change the needle for every new project, unless the project is small. Another guide is to change after every 3 full bobbins used or every 2 pre-wound bobbins used. Some fabrics, such as leather or heavy fleece, may cause the needle to wear faster and you will need to change it more often. If you can keep track of the time you've used a needle, after 8-10 hours of stitching time is a good time to change the needle.

How do you know when a needle is dull? Most likely you will hear a popping sound. You might start having skipped stitches or snags in the fabric. Puckering may occur. Needles can also get burrs on them, which would cause snagging. The needle may cause holes to form in the fabric. Check your needle often for wear. Examine it under a magnifying glass, rub your fingernail across it, or rub it on a piece of nylon stocking.

Follow the directions in your machine manual for changing the needle. Make sure you insert the shank of the needle (the fat part at the top of the needle) all the way into the needle holder. Domestic machine needles have a flat side on the shank that make them easier to position. Once in, tighten the screw with your fingers, then use the screw driver to tighten thoroughly. You don't want the motion and vibration of the machine to shake the needle loose and cause untold havoc.

What do the numbers mean? They indicate the size of the needle. There are different sizes and types of needles for different types of fabric and thread. You will see two numbers on the needle package, usually separated by a slash. The European metric sizing system is numbered from 60 to 120. The American sizing system is numbered from 8 to 20. For both sizing systems, the lower the number, the finer the needle. Light fabrics and delicate threads use small (lower number) needles. Heavy fabrics use larger (higher number) needles. Schmetz offers a free "ABC Pocket Guide" to home sewing machine needles that explains the uses of each type of needle. Find it at Capital Quilts hanging next to the machine needle display on our Notions wall.

What about all those different kinds of tips? A Universal tip has a slightly rounded point and is a great general purpose needle. It is sharp enough to go through a lot of different kinds of fabrics, but it does have a slight ball point which does not make it ideal for going through many layers or high thread count fabrics such as batik. A Jersey needle has a medium ball point that won't damage or break knit fibers. Stretch needles have a medium ball point and a special eye and scarf (the cut-out portion of the needle shaft) that are designed to prevent skipped stitches when used with elastic and highly elastic knitwear. There are also many different specialty needles that are designed for a particular task or fabric type. Jeans needles are your best choice for denim and similar fabrics. Quilters often like to use the Schmetz Microtex Sharp needles for piecing, as the very thin acute point creates straight stitches very precisely. Because they are so sharp, these needles will wear out faster and may need to be replaced more often. Go to www.schmetzneedles.com/learning to find out more about specialty needles.

You will also find needles that are coated with titanium. These give the needles more strength and allow them to last longer. Chrome plating reduces heat and wear and helps the needle slip through the fabric, so the needle will last longer. Some needles have a non-stick coating that is great for using where fusibles are part of the project, such as applique and embroidery.

You have much to choose from, which can be daunting but also ensures you have the right tool for the job, which will make you a happy sewist and quilter. Keep a journal of what needles did and did not work with different kinds of fabric and thread to help you make future choices. Test the needle and thread on the fabric you will be using with them. The goal is to have the needle slide easily through the fabric without damaging the fibers or creating too large a hole and to carry the thread smoothly without damaging it while sewing.


CLASSES
I am going to begin having some classes in the shop and some on Zoom. We will make the virtual classes as easy as we can for you, sending you a link to the Zoom class. All you have to do is add the Zoom app to your computer, iPad, or other device so that you can open the link and participate in the class.

Class size will be limited. As before COVID, you can sign up online, by phone, or in the shop if you are here on a shopping appointment. Class descriptions are found below and on our website. Each class will have a supply list; look for this on our website: click on "Class Calendar" in the blue bar at the top of the home page. Find the class on the calendar and click on that, then scroll down to the bottom left of the page to find "Supply List" and click on that.

For classes in the shop, we require that you wear a mask during the class and social distance as much as possible. Each person will have their own table. We will also take your temperature when you enter the shop and ask that you use hand sanitizer or wash your hands with soap and water.

Sew Together: Tired of sewing alone? Join fellow quilters for a virtual quilting bee. Settle into your favorite sewing space with your favorite Zoom-compatible technology for up to three hours of stitching and chatting. Everyone will have a chance to talk about what they've been working on and pose questions to the other quilters. No masks required!

Note: you must download the Zoom app/client, and you will need a camera/webcam, microphone, and speakers, as well as an Internet connection. On the day of Sew Together, you'll receive an email with a link to the Zoom meeting. Please confirm that Capital Quilts has your current email address and phone number.
Skill Level: All
Moderator: Betsy Kulamer
Class size: max. 15
Cost: $8
Date and Time: Friday, October 2, 2020, 6- 9pm


Side Braid: Use 20 Fat Quarters (or ¼-yard cuts) to make this twist on a traditional friendship braid design. There are no seams or corners that require matching up. This beginner-friendly class will include instruction on cutting, piecing, sandwiching, machine quilting with a walking foot, and binding.

This class will be held on the Zoom platform. Please download the supply list to be sure you can meet the technological requirements and have materials on hand for the class.
Skill level: beginner
Instructor: Janine Boyce
Class size: max. 10
Cost: $60
Date and Time: Tuesdays and Thursdays, 7-8pm, on October 13, 15 20, and 22.


T-Shirt Quilt: Does your spouse have favorite t-shirts that are more hole than shirt? Do your children have stacks of beloved t-shirts they no longer wear but that have happy memories? Use them to make the perfect gift for the upcoming holidays. Turn them into a quilt to love. Learn how to cut and stabilize the knit fabric, create blocks, and sew them into a unified quilt top.

This class will be held in the shop. Masks are required.
Skill Level: intermediate
Instructor: Debra Ball
Class Size: max. 5
Cost: $45
Date and Time: Wednesdays, October 21 & 28, 10:30-12:30.
There will be work to do at home between the two sessions.


ACCUQUILT
The English Paper Piecing Qube is now available. The Qube includes 8 dies, 4 for fabric and 4 for papers. The shapes are the hexie, half hexie, diamond, and equilateral triangle, with 1" finished sides. Get a free book, "English Paper Piecing Made Easy" by Katja Marek when you purchase the Qube. Order yours today!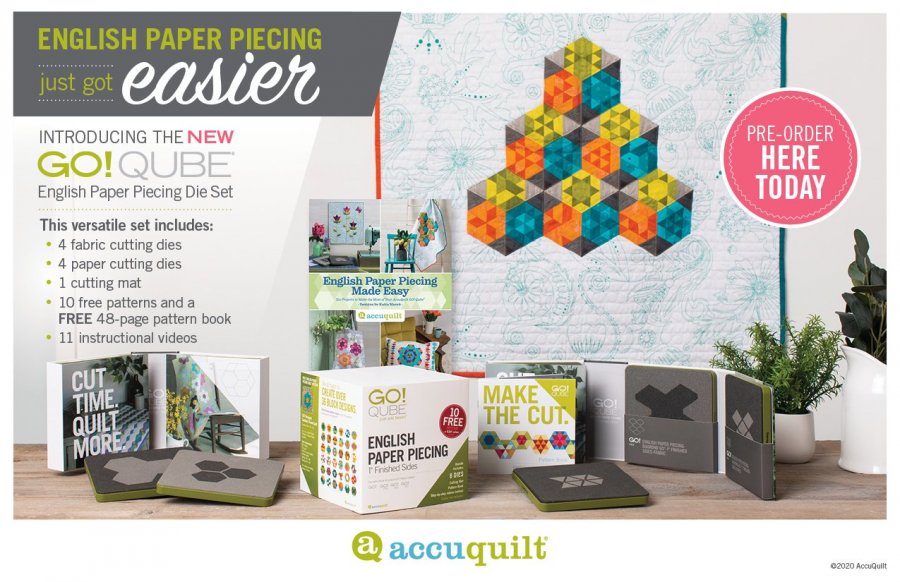 JANOME
Meet the Janome 5300QDC. This mid-priced computerized free arm machine offers many of the functions and features you would expect in machines at triple the cost. It has 300 stitches, 100 alphabet characters, and 7 one-step buttonholes. Its features include the Superior Plus Feed System, a top-loading bobbin, Superior Needle Threader with Thread Guide 7, wide-angle LED lighting, an LCD screen with fast navigation, and a detachable stitch chart. The function buttons include needle up/down, locking stitch, reverse, speed control, and start/stop. Also included is the Quilting Attachment Kit (1/4" seam foot, open toe F2 foot, walking foot with quilt guide, B2 foot, and seam guide), an optic magnifier set of 3 (20x, 40x, and 60x), a knee lifter, and a hard cover. At only 13 lbs., it is easy to take to classes and retreats and guild meetings! Call the shop at 301-527-0598 for pricing.

Also in stock: the MC 9450 QCP. This machine is particularly delightful for quilters, with an 11" throat space, built-in quilting stitches, and automatic foot lift. Check out all the features on the Janome website, www.janome.com. It is a fabulous machine! Ask me how I know.


HANDI QUILTER
Tune in to the Handi Quilter Facebook page every Tuesday at 2pm EDT for Handi Quilter's Watch and Learn Quilting Show, which features tips, tricks, and tutorials on Handi Quilter products with limited-time special pricing and a give-away to a random live attendee. They announce a special on a different machine or accessory each week. If you can't watch the Tuesday show, go to the HQ website and enjoy the "And I Quilt" series of videos. You can still get the special pricing on the week's product through Sunday.
This week, save $2000 on the purchase of a Pro-Stitcher with Pro-Stitcher Designer. Offer ends Oct. 4.

NEW AND NOTEWORTHY


From P&B, we have Aztec. Available in 22 beautiful colorways that range from neutral to subtle pastel. Perfect for quilts, home décor and apparel, Aztec can be used on its own or seamlessly in a larger scale project. Pair with your favorite basics or a more novelty collection for a truly unique design! $11.50 per yard.


Your next sewing adventure awaits! La Parisienne from Michael Miller is a rich and romantic collection for travel lovers and dreamers. $12.50 per yard.


Owl Prowl is so much fun! Bright colors take center stage in this happy collection from Blank Textiles. Bolted fabrics, $12.99 per yard. Large panel with tree, $10.50 each.
Click to visit the
Capital Quilts website