Skip Navigation
Website Accessibility
What's New at CQ 10/15/20
| | |
| --- | --- |
| "Life is not a problem to be solved, but a reality to be experienced." Soren Kierkegaard | |
Dear Sewsinistas,

Shopping at Capital Quilts: Please give us a call at 301-527-0598 if you'd like to make an appointment to come shop in the store. You can usually get in the same day. We are no longer making appointments online, only by phone. I'd like to be able to open the shop entirely, but I still feel the need to control the number of people in it in order to protect both you and us. The virus numbers are beginning to rise again, and we want to reduce the odds anybody in our quilting and sewing community gets Covid 19.

If you are exposed to the virus and/or get a positive Covid19 test result, please do not come to the shop, and if you have been to the shop while you may have been infectious, please call the shop so that we may let others know. There is nothing political about this, and there is no judgment from us. We just want to do our best to help stop the virus from spreading and protect our friends and families and community.

Handi Quilter Demo Days are back! Order a longarm machine from Capital Quilts at a really good price by October 19. It will be a brand new machine with brand new warranty. It will be delivered to the shop instead of directly to your home, so this is an offer for a relatively local area (north to Harrisburg, PA and DE, west to eastern WV, south as far as Richmond, VA). We will deliver it to you, set it up, and give you a lesson on its use and maintenance for $500. That may sound like a lot, but you are saving a whole lot on the price of the machine.

On Monday, October 26, Lauren Kingsland will be teaching a free online hands-on piecing workshop called "Why I Vote". You will be making the historic one-snip-stars that Betsy Ross is said to have used. A digital group quilt of blocks from the workshop is planned. https://www.montgomerycollege.edu/special-programs/paul-peck-humanities-institute/humanities-days-at-mc.html#cust-01-mondayoctober26clickforscheduleandregistration

Our first Quilts of Valor sew-in since early spring went well. The ladies were so pleased to be in each other's company again, sewing for our military veterans. The next one is on Sunday, November 8, 1-3:30, conditions permitting.

Learn how to make a T-Shirt quilt! Deb Ball is teaching a class here in the shop on October 21 & 28; see details below in the Classes section.

We have been getting in quite a lot of new fabrics lately, and I have been moving older fabrics to the clearance shelves in order to make room for the new ones. Be sure to check the online shop or come see it in person! I'm guessing there is going to be a baby boom in the spring (it will be, after all, about 9 months after we were all confined to our homes), so I have been getting in collections of baby fabric. Just in this week is Lyon the Lion, very cute with baby lions and busy bees. The panels (there are two) are big, a yard wide. One of them is sideways, between the selvedges, and if chenilled would make a great rug.

We really and truly appreciate your continued patronage and your patience through this pandemic. Your support has been, and continues to be, awesome. You are truly the best customers ever! Keep wearing those masks!
CLASSES
We are having some classes in the shop and some on Zoom. We will make the virtual classes as easy as we can for you, sending you a link to the Zoom class. All you have to do is add the Zoom app to your computer, IPad, or other device so that you can open the link and participate in the class.

Class size will be limited. As before COVID, you can sign up online, by phone, or in the shop if you are here on a shopping appointment. Class descriptions are found below and on our website. Each class will have a supply list; look for this on our website: click on "Class Calendar" in the blue bar at the top of the home page. Find the class on the calendar and click on that, then scroll down to the bottom left of the page to find "Supply List" and click on that.

For classes in the shop, we require that you wear a mask during the class and social distance as much as possible. Each person will have their own table. We will also take your temperature when you enter the shop and ask that you use hand sanitizer or wash your hands with soap and water.
T-Shirt Quilt: Does your spouse have favorite t-shirts that are more hole than shirt? Do your children have stacks of beloved t-shirts they no longer wear but that have happy memories? Use them to make the perfect gift for the upcoming holidays. Turn them into a quilt to love. Learn how to cut and stabilize the knit fabric, create blocks, and sew them into a unified quilt top.
This class will be held in the shop. Masks are required.
Skill Level: intermediate
Instructor: Debra Ball
Class Size: max. 5
Cost: $45
Date and Time: Wednesdays, October 21 & 28, 10:30-12:30. There will be work to do at home between the two sessions.

Alaska Specialty Ruler: This class was originally scheduled to happen back in the spring and was a victim of the pandemic. It is a class for members of the 1st Saturday Club who want to learn how to use the specialty ruler used to create the "Alaska" quilt. Preference will be given to those who were scheduled to take the class back in April. Pat will teach the class twice in order to allow us to have socially distant seating. If more people than we can accommodate in two sessions want to take the class, we will schedule another.
Skill Level: intermediate
Instructor: Pat Vasaio
Class Size: max. 5
Cost: $35
Date and Time: Session A: November 1, 12:30-3:30 Session B: November 15, 12:30-3:30
Both of these sessions are full. If you are interested in taking the class, please call the shop at 301-527-0598 and let us know; we will make every attempt to set up another session.
ACCUQUILT

The English Paper Piecing Qube is now available. The Qube includes 8 dies, 4 for fabric and 4 for papers. The shapes are the hexie, half hexie, diamond, and equilateral triangle, with 1" finished sides. Get a free book, "English Paper Piecing Made Easy" by Katja Marek when you purchase the Qube. Order yours today!
JANOME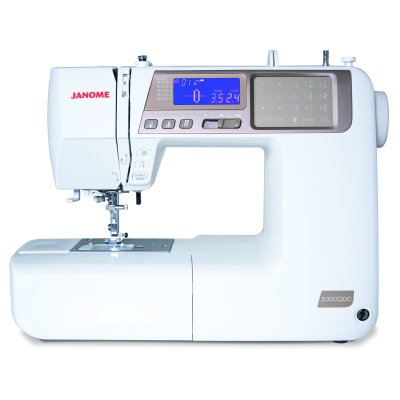 Meet the Janome 5300QDC. This mid-priced computerized free arm machine offers many of the functions and features you would expect in machines at triple the cost. It has 300 stitches, 100 alphabet characters, and 7 one-step buttonholes. Its features include the Superior Plus Feed System, a top-loading bobbin, Superior Needle Threader with Thread Guide 7, wide-angle LED lighting, an LCD screen with fast navigation, and a detachable stitch chart. The function buttons include needle up/down, locking stitch, reverse, speed control, and start/stop. Also included is the Quilting Attachment Kit (1/4" seam foot, open toe F2 foot, walking foot with quilt guide, B2 foot, and seam guide), an optic magnifier set of 3 (20x, 40x, and 60x), a knee lifter, and a hard cover. At only 13 lbs., it is easy to take to classes, retreats, and guild meetings! Call the shop at 301-527-0598 for pricing.
Also in stock: the MC 9450 QCP. This machine is particularly delightful for quilters, with an 11" throat space, built-in quilting stitches, and automatic foot lift. Check out all the features on the Janome website, www.janome.com. It is a fabulous machine! Ask me how I know.
HANDI QUILTER
Tune in to the Handi Quilter Facebook page every Tuesday at 2pm EDT for Handi Quilter's Watch and Learn Quilting Show, which features tips, tricks, and tutorials on Handi Quilter products with limited-time special pricing and a give-away to a random live attendee. They announce a special on a different machine or accessory each week. If you can't watch the Tuesday show, go to the HQ website and enjoy the "And I Quilt" series of videos. You can still get the special pricing on the week's product through Sunday.

This week, take 15% off the price of the 4" & 6" Swag Ruler sets and the Sure Foot. Offer ends Oct. 18.
October 9-19 are Handi Quilter Demo Days! Purchase a demo machine from Capital Quilts during these 10 days for great savings.

Delivery on all machines generally takes a week to 10 days. Call the shop for more information on all these great programs!

Handi Quilter is announcing a new product on Monday, October 19! Check your email or look on our Facebook or webpage on Monday to hear all about it!
NEW AND NOTEWORTHY
Tutto has released a line of wheeled sewing machine cases that have pretty patterns in the fabric. Tutto bags include a label for name address and contact information when you travel. This bag features ballistic nylon construction removable telescopic pull bar, strong frame mesh pockets for your fabrics, two inside straps to store a sewing machine, top and front openings for easy access, and versatile pockets to keep all your sewing tools organized. Easy to pull, stacks up to 150 pounds, folds for storage, and it fits under most airplane seats. Go to www.checkerdist.com and search "Tutto" to see what is offered. Call the shop to place your order! Pricing varies based on size.

The World of Susybee is all about baby and kids fabrics, and fabric related product. Perfect for quilts, baby and kids bedding, nursery decor, children's clothing and nurses' scrubs! Susy's unique background painting hospital murals for kids has given her an insight into what brings smiles to children's faces. Lyon the Lion is a darling line featuring not one, but two panels, and an assortment of coordinates. Fabric, $12.50 per yard, panels, $12.99 each.

RESTOCKED: Wooly Lady felted wool, crushed walnut shells, and mask-making supplies (including new colors of 1/4" knit elastic). And, we finally have a good supply of solid black fabric!
CAPITAL QUILTS CARES
Thanks to those who have donated kennel quilts in the last few weeks! Keep them coming. We have been getting a lot of requests from animal shelters out west and down south for kennel quilts, and now there is another major hurricane bearing down on the Louisiana coast. We have sent out over 320 of them in the last few weeks and our supply is woefully low (but growing!). If you are willing to help, please make more for us! Find the directions here. Limited free kits are available in-store; just ask for one! Please be careful of the dimensions of the little quilts; too big or too small and we can't send them. Drop them off "curbside" at the shop; no need to make an appointment (unless you want to shop, of course!).



Click to visit the
Capital Quilts website