Skip Navigation
Website Accessibility
What's New at CQ 10/22/20
| | |
| --- | --- |
| "We can succeed only by concert. It is not, 'Can any of us imagine better,' but, 'Can we all do better?'" Abraham Lincoln | |
Dear Sewing Wonderpeople,

Handi Quilter introduced a new machine on Monday. It's called the Moxie, and it sits on a new frame called the Loft. At $4,995, the Moxie is being offered as an entry level machine. It has a 15" throat space. All of the Handi Quilter feet work with it. The package includes the machine, the frame, a bobbin winder, leaders, a How-to-Quilt Kit (HQ longarm pins, 1 channel lock, and 1 yard of fabric), an Accessory Kit (5 bobbins, 20 needles, EZ-Pen Oiler, needle threader, side clamps, and thread sampler pack), a ruler foot, an open-toe foot, a Quick Start Guide, and decorative decals to personalize your machine.


The Loft Frame can be set up at 8' or 10' in length. It is height-adjustable. The table, needed for pantographs, is optional, as are rolling caster wheels. The frame loads in two ways, High and Low; Low is better suited to working with rulers. This frame is compatible with the Simply Sixteen as well.

A friend of mine who works for Handi Quilter in Utah, who is not a quilter and feels intimidated by the big machines, tried out the Moxie in the studio there at HQ. She loved it and told me she didn't feel at all intimidated. She reported that the machine feels a lot lighter than the bigger machines and she very much felt in control. We might make a quilter out of her yet!

Please call 301-527-0598 or reply to this email if you are interested in knowing more about the Moxie. You will find lots of videos and information at the Handi Quilter website as well.

Betsy Kulamer is offering another Sew Together Zoom meeting on Friday, November 6, 6:30-9. Kim Jalette will be her special guest. Kim loves English Paper Piecing and will be glad to answer any questions you might have about EPP. She has made some beautiful projects and I am quite sure she will bring them along for a show-and-tell.

Shopping at Capital Quilts: Please give us a call at 301-527-0598 if you'd like to make an appointment to come shop in the store. You can usually get in the same day. We are no longer making appointments online, only by phone. I'd like to be able to open the shop entirely, but I still feel the need to control the number of people in it in order to protect both you and us. The virus numbers are beginning to rise again, and we want to reduce the odds anybody in our quilting and sewing community gets Covid 19.

If you are exposed to the virus and/or get a positive Covid19 test result, please do not come to the shop, and if you have been to the shop while you may have been infectious, please call the shop so that we may let others know. There is nothing political about this, and there is no judgment from us. We just want to do our best to help stop the virus from spreading and protect our friends and families and community.

We really and truly appreciate your continued patronage and your patience through this pandemic. Your support has been, and continues to be, awesome. You are truly Wonder Customers! Keep wearing those masks!


CLASSES
We are having some classes in the shop and some on Zoom. We will make the virtual classes as easy as we can for you, sending you a link to the Zoom class. All you have to do is add the Zoom app to your computer, IPad, or other device so that you can open the link and participate in the class.

Class size will be limited. As before COVID, you can sign up online, by phone, or in the shop if you are here on a shopping appointment. Class descriptions are found below and on our website. Each class will have a supply list; look for this on our website: click on "Class Calendar" in the blue bar at the top of the home page. Find the class on the calendar and click on that, then scroll down to the bottom left of the page to find "Supply List" and click on that.

For classes in the shop, we require that you wear a mask during the class and social distance as much as possible. Each person will have their own table. We will also take your temperature when you enter the shop and ask that you use hand sanitizer or wash your hands with soap and water.
Sew Together: Ask an Expert Tired of sewing alone? Join fellow quilters for a virtual quilting bee. Settle into your favorite sewing space with your favorite Zoom-compatible technology for 2-1/2 hours of stitching and chatting. Everyone will have a chance to talk about what they've been working on and pose questions to the other quilters. No masks required!

Each month, we are inviting a guest who is expert in some aspect of quilting and needlework to join us to answer questions about his or her specialty.
November 6: Kim Jalette will answer questions about English Paper Piecing.
December 4: Annette Burns will talk about wool embroidery and offer ideas for last-minute holiday gifts.
Note: you must download the Zoom app/client, and you will need a camera/webcam, microphone, and speakers as well as an internet connection. On the day of Sew Together, you'll receive an email with a link to the Zoom meeting. Please confirm that Capital Quilts has your current email address and phone number.
Skill Level: any
Instructor/Moderator: Betsy Kulamer
Class Size: max. 18
Cost: $8
Date and Time: Nov. 6, 6:30-9. Dec. 4, 6:30-9
Alaska Specialty Ruler This class was originally scheduled to happen back in the spring and was a victim of the pandemic. It is a class for members of the 1st Saturday Club who want to learn how to use the specialty ruler used to create the "Alaska" quilt. Preference will be given to those who were scheduled to take the class back in April. Pat will teach the class twice in order to allow us to have socially distant seating. If more people than we can accommodate in two sessions want to take the class, we will schedule another.
Skill Level: intermediate
Instructor: Pat Vasaio
Class Size: max. 5
Cost: $35
Date and Time: Session A: November 1, 12:30-3:30 Session B: November 15, 12:30-3:30
Both of these sessions are full. If you are interested in taking the class, please call the shop at 301-527-0598 and let us know; we will make every attempt to set up another session.
ACCUQUILT
October 22-31: Buy 2 GO! dies and get a third one of the same or lesser value at 50% off.
October 22-31: Take 20% off your purchase of any AccuQuilt GO! machine (excluding the GO! Me).
The English Paper Piecing Qube is now available. The Qube includes 8 dies, 4 for fabric and 4 for papers. The shapes are the hexie, half hexie, diamond, and equilateral triangle, with 1" finished sides. Get a free book, "English Paper Piecing Made Easy" by Katja Marek when you purchase the Qube. Order yours today!
JANOME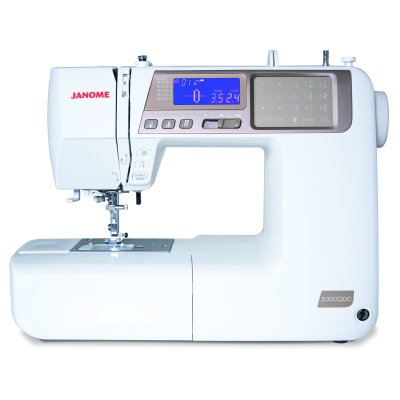 Meet the Janome 5300QDC. This mid-priced computerized free arm machine offers many of the functions and features you would expect in machines at triple the cost. It has 300 stitches, 100 alphabet characters, and 7 one-step buttonholes. Its features include the Superior Plus Feed System, a top-loading bobbin, Superior Needle Threader with Thread Guide 7, wide-angle LED lighting, an LCD screen with fast navigation, and a detachable stitch chart. The function buttons include needle up/down, locking stitch, reverse, speed control, and start/stop. Also included is the Quilting Attachment Kit (1/4" seam foot, open toe F2 foot, walking foot with quilt guide, B2 foot, and seam guide), an optic magnifier set of 3 (20x, 40x, and 60x), a knee lifter, and a hard cover. At only 13 lbs., it is easy to take to classes, retreats, and guild meetings! Call the shop at 301-527-0598 for pricing.
Also in stock: the MC 9450 QCP. This machine is particularly delightful for quilters, with an 11" throat space, built-in quilting stitches, and automatic foot lift. Check out all the features on the Janome website, www.janome.com. It is a fabulous machine! Ask me how I know.
HANDI QUILTER
Tune in to the Handi Quilter Facebook page every Tuesday at 2pm EDT for Handi Quilter's Watch and Learn Quilting Show, which features tips, tricks, and tutorials on Handi Quilter products with limited-time special pricing and a give-away to a random live attendee. They announce a special on a different machine or accessory each week. If you can't watch the Tuesday show, go to the HQ website and enjoy the "And I Quilt" series of videos. You can still get the special pricing on the week's product through Sunday.

This week HQ announced the Moxie, described above.

Illuminate your quilts! Now through November 9, purchase any new machine package or Pro-Stitcher and receive a FREE HQ HighLight compatible with your frame or table. The HighLight is a lighting system on poles that goes up and over your workspace for great LED lighting.
NEW AND NOTEWORTHY

Ocean Paradise
from QT fabrics is 18 wonderful bolts of sealife. $12.99 per yard.

Butterflies are a symbol of transition and growth and bring great joy when we see them frolicking in the garden. This colorful butterfly fabric collection from Blank called Wonderland features a block design that highlights each butterfly along with coordinates such as floral, vine, and paisley designs along with tonal stripes and squiggles. Together these fabrics come together to create a beautiful quilt. $12.50 per yard.

Looking for a modern floral collection? Take a look at Thistle Patch from Clothworks;twenty bolts, and a beautiful palette. We predict this one will go quickly! $12.50 per yard.

CAPITAL QUILTS CARES
Thanks to those who have donated kennel quilts in the last few weeks! Keep them coming. We have been getting a lot of requests from animal shelters out west and down south for kennel quilts. We have sent out over 350 of them in the last few weeks and our supply is woefully low (but growing!). If you are willing to help, please make more for us! Find the directions here. Limited free kits are available in-store; just ask for one! Please be careful of the dimensions of the little quilts; too big or too small and we can't send them. Drop them off "curbside" at the shop; no need to make an appointment (unless you want to shop, of course!).

We have both pillowcase and kennel quilt kits available, free. Make them at home and return the completed project to us for distribution.

The holidays are close at hand, and we like to give cheerful placemats to seniors and others to brighten their days. Look for kits/directions coming soon.



Click to visit the
Capital Quilts website