Dear Other-Worldly Quilters and Sewists,

Well, it is still 2020. My husband and I set up the Moxie, and one of the last screws to be installed proved to have been poorly machined and totally useless. The Moxie is up, but the fabric won't stay tight because one of the ratchets won't stay tight. I've sent off to Handi Quilter for a replacement, and they promised to send it posthaste, so soon, soon I can invite you in for a demo.

Betsy Kulamer's Sew Together Zoom last Friday was a success, and she is looking forward to the next one! Annette Burns will be her special guest on Friday, December 4, 6:30-9. Those of you who have been shopping at Capital Quilts for a while will remember Annette as a superlative teacher and all- around fun person. She taught the Capital Quilts Complete Course of Quilting for years. On December 4 she will be talking about her fascination with wool applique and wool embroidery as well as last-minute holiday gifts.

You do realize that Thanksgiving is 2 weeks from today, Hanukkah is 4 weeks from tomorrow, and Christmas is 6 weeks from tomorrow, right? YIKES! My daughters aren't coming home this year because of COVID, which means I have to mail them their presents. I sense disaster looming.

Capital Quilts has 3 longarm quilters ready to quilt your quilt tops for you! When your quilt top is finished and the backing is ready, call the shop at 301-527-0598. We will put you in touch with one of the quilters, and they will discuss design possibilities and thread choices with you. You'll drop your top and backing and batting off at the shop; the quilter will pick it up, quilt it, and bring it back to the shop for you to get curbside (or make an appointment to shop at the same time!). We also have a list of other longarm quilters and hand-quilters who take commission work.

New fabric is coming in all the time. Keep checking the website and/or come pay us a visit and see what is new! Northcott's "Whispering Pines" collection that we highlighted last week is gorgeous. Some of the prints and the panel have elk, bear, wolves and eagles on them, motifs I don't normally stock as the DC area isn't too woodsy. This is for all of you who have cabins in the great outdoors!

There is a new show in the Gallery! Sue Moats and her QOV (Quilts of Valor) sewing phenoms have lent us some of their QOV creations to hang in the Gallery to help celebrate Veteran's Day. I hope you will enjoy the quilts when you visit the shop.



Shopping at Capital Quilts: Please give us a call at 301-527-0598 if you'd like to make an appointment to come shop in the store. You can usually get in the same day. We are no longer making appointments online, only by phone. I'd like to be able to open the shop entirely, but I still feel the need to control the number of people in it in order to protect both you and us. The virus numbers are rising again, and we want to reduce the odds anybody in our quilting and sewing community gets Covid 19. Remember that if anybody on the CQ Staff comes down with the virus, we will have to completely close the shop for at least 2 weeks, as we will all have been exposed.

If you are exposed to the virus and/or get a positive Covid19 test result, please do not come to the shop, and if you have been to the shop while you may have been infectious, please call the shop so that we may let others know. There is nothing political about this, and there is no judgment from us. We just want to do our best to help stop the virus from spreading and protect our friends and families and community.

We really and truly appreciate your continued patronage and your patience through this pandemic. Your support has been, and continues to be, awesome. You are truly Super Dooper Customers! Keep wearing those masks!

CLASSES
We are having some classes in the shop and some on Zoom. We will make the virtual classes as easy as we can for you, sending you a link to the Zoom class. All you have to do is add the Zoom app to your computer, IPad, or other device so that you can open the link and participate in the class.
Class size will be limited. As before COVID, you can sign up online, by phone, or in the shop if you are here on a shopping appointment. Class descriptions are found below and on our website. Each class will have a supply list; look for this on our website: click on "Class Calendar in the blue bar at the top of the home page. Find the class on the calendar and click on that, then scroll down to the bottom left of the page to find "Supply List" and click on that.
For classes in the shop, we require that you wear a mask during the class and social distance as much as possible. Each person will have their own table. We will also take your temperature when you enter the shop and ask that you use hand sanitizer or wash your hands with soap and water.
Sew Together: Ask an Expert Tired of sewing alone? Join fellow quilters for a virtual quilting bee. Settle into your favorite sewing space with your favorite Zoom-compatible technology for 2-1/2 hours of stitching and chatting. Everyone will have a chance to talk about what they've been working on and pose questions to the other quilters. No masks required! Each month, we are inviting a guest who is expert in some aspect of quilting and needlework to join us to answer questions about his or her specialty. On December 4th, Annette Burns will talk about wool embroidery and offer ideas for last-minute holiday gifts.
Note: you must download the Zoom app/client, and you will need a camera/webcam, microphone, and speakers as well as an internet connection. On the day of Sew Together, you'll receive an email with a link to the Zoom meeting. Please confirm that Capital Quilts has your current email address and phone number.
Skill Level: any
Instructor/Moderator: Betsy Kulamer
Class Size: max. 18
Cost: $8
Date and Time: Dec. 4, 6:30-9
Alaska Specialty Ruler This class was originally scheduled to happen back in the spring and was a victim of the pandemic. It is a class for members of the 1st Saturday Club who want to learn how to use the specialty ruler used to create the "Alaska" quilt. Preference will be given to those who were scheduled to take the class back in April. Pat will teach the class thrice in order to allow us to have socially distant seating.
Skill Level: intermediate
Instructor: Pat Vasaio
Class Size: max. 5
Cost: $35
Date and Time: Session B: November 15, 12:30-3:30 Session C: November 21, 12:30-3:30
ACCUQUILT
November 13-27: Take $150 off the GO!, Ready.Set.GO!, and GO!Big machines. Great holiday present!

November 13-27: Take $30 off any GO! Qube product, plus get a free book with the Mix & Match Block.

The English Paper Piecing Qube is now available. The Qube includes 8 dies, 4 for fabric and 4 for papers. The shapes are the hexie, half hexie, diamond, and equilateral triangle, with 1" finished sides. Get a free book, "English Paper Piecing Made Easy" by Katja Marek when you purchase the Qube. Order yours today!
JANOME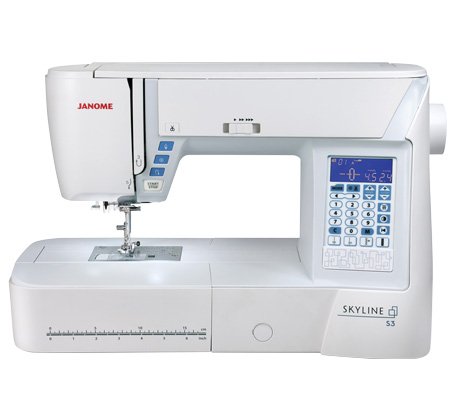 Meet the Janome Skyline S3: This computerized free arm machine offers functions and features that make sewing easier and more enjoyable. It has 120 stitches, 1 alphabet, and 7 one-step buttonholes. Its features include the Superior Plus Feed System with a 7-piece feed dog system that ensures that even the thickest, multi-layer projects are able to move under the needle with precision and ease. The S3's patented needle placement accuracy includes special plate markings that indicate needle drop position, provide angle marks, and act as front-of-the-foot guides. In addition, the needle can be moved into 71 unique positions in order to get pinpoint accuracy for decorative stitching, applique, and free motion quilting.
The machine also features a top-loading bobbin, needle threader, automatic thread cutter, memorized needle up/down, ultra-bright LED lighting, an LCD screen with easy navigation, and a stitch chart. The function buttons include needle up/down, locking stitch, reverse, speed control, and start/stop. Thread tension is automatic.
In stock! Call the shop at 301-527-0598 for pricing.
Also in stock: 9450, 5300, 4120, 1600, Skyline 3, Air Thread 2000D Serger, MyLock 643D Serger.
The 1050 and the HD3000 will not be available until January at the earliest. If you are interested in any other machine than these listed, please call or email so that I can place the order and get in the queue at Janome! It is still taking time to get these machines into the warehouses, and with COVID surging around the world, it could take even longer.
HANDI QUILTER
Tune in to the Handi Quilter Facebook page every Tuesday at 2pm EDT for Handi Quilter's Watch and Learn Quilting Show, which features tips, tricks, and tutorials on Handi Quilter products with limited-time special pricing and a give-away to a random live attendee. They announce a special on a different machine or accessory each week. If you can't watch the Tuesday show, go to the HQ website and enjoy the "And I Quilt" series of videos. You can still get the special pricing on the week's product through Sunday.
This week we are offering sale pricing on Arc sets. Set A is 93.45 (reg. $109.95). Set B is $33.95 (reg. $39.95). Set C is $25.45 (reg. 29.95). Ruler bases are $127.95 (reg. 149.95). Offer expires at midnight on Sunday, November 15.
BUNDLES OF THREAD SPECIAL: November 13-23, receive Superior thread with a value of up to $1000 with the purchase of any Handi Quilter machine package. See the flyer here.

SEW STEADY
Sew Steady has some new offers for the holiday season, valid through December 31, 2020:
Holiday Dreams Table Package: a 22.5" x 25.5" acrylic table with beveled edges and a blue drawer for notions PLUS a 26" x 26" padded nylon storage bag with pockets. Total value: $249 SALE: $199
Light Up the Holidays Large Table Package: get the best selling 18" x 24" acrylic table with rounded front edge and an 18" printed ruler PLUS a Light Stick and Dry Erase Marker to turn your Sew Steady table into a light box or design board. Total value: $155 SALE: $119
Best Selling Quilting Kit: This ruler work kit special includes a domestic ruler foot, 12" arc template, 6pc Sampler Template Set 1, 8-1/2" 8pt. Crosshair Ruler, and a spacing gauge. In addition, you get Janet's Ruler Quilt Design eBook, Creative Quilting Inspirations Designing with the Crosshair Rulers eBook by Leonie West, a free printed pattern, and a free Ruler Work 101 online class at the Sew Steady University. Total value: over $270 SALE: $175 Wow! I love all the educational materials. This is a great way to get started quilting with rulers. This offer is valid through January 15, 2021.
N

EW AND NOTEWORTHY


From Windham, we have Woodland, the debut collection from Gareth Lucas. It features a variety of stylized forest animals and decorative landscapes. Forest critters, little foxes, baby hedgehogs and flying birds will add incredible personality to any project for your own little outdoor explorer. $13.99 per yard.

Next up are licensed prints! If your team is the Caps, the Midshipmen, the Terps, or the Hokies, we've got the fabric for you! $13.99 per yard.

In Norma Rose, designer Barnes pays tribute to her mother, Norma Rose, who had a zest for life. Natalie depicts some of her mom's favorite things, from the largest of the cabbage roses, to the smallest of the seedlings, along with her hand written recipe cards. Enjoy a variety of prints in bright happy colors accompanied by a palette of neutral black, white, and grey.

Looking for something classic with a contemporary style? Flair by Pela Studio for P&B could be your new favorite collection! Included in the collection are twelve patterns, all in crisp blue and white colorways. From floral to more abstract patterns, Flair is a beautiful line that lends well to home décor, apparel and quilting! $12.99 per yard.



CAPITAL QUILTS CARES
Thanks to those who have donated kennel quilts in the last few weeks! Keep them coming. If you are willing to help, please make more for us! Find the directions here. Please be careful of the dimensions of the little quilts; too big or too small and we can't send them. Drop them off "curbside" at the shop; no need to make an appointment (unless you want to shop, of course!).
We have both pillowcase and kennel quilt kits available, free. Make them at home and return the completed project to us for distribution.
The holidays are close at hand, and we like to give cheerful placemats to seniors and others to brighten their days. If you are willing to make some placemats, we are happy to find them good homes!