Skip Navigation
Website Accessibility
What's New at CQ 05/13/21
| | |
| --- | --- |
| "The events in our lives happen in a sequence in time, but in their significance to ourselves they find their own order the continuous thread of revelation." Eudora Welty | |
Dear Threadaholics,

Do you have trouble with breaking thread, or with thread doing loop-de-loops on the top or bottom of your fabric? Karen Miller of Redbird Quilt Company recently shared some troubleshooting advice with subscribers to the Aurifil weekly newsletter. I found it very helpful and would like to share it with you. Karen reviews some basic steps (#1: Breathe!), then addresses thread breakage, shredding, skipping, loops, eyelashes, and more. There are discussions of thread tension, thread delivery, even batting. Pictures abound. Find the article here.

We are pleased to announce that our Classroom is once again available to rent for your small group! Masks are required, and the rental fee is $25/hour. Please contact Alison or Kat directly if you have interest in renting the classroom.

Teachers Needed: If you are interested in teaching a quilting class, technique class, EQ8, or longarm quilting class, please contact me at 301-527-0598. The basic requirements are that you provide a model, a description of the class, and a supply list far enough in advance of the scheduled class that I can adequately advertise the class for you through my social media resources and that you advertise the class on yours. Class may be by Zoom or in person. We are finding that the software classes, such as EQ8, are better on Zoom. You act as an independent contractor, not as a member of the CQ staff. You will get paid for teaching the class and receive a discount on purchases during the month the class begins. I will need to see your model before we schedule the class.

Longarm Quilter Needed: You all have been so busy making quilts that I need another longarm quilter on my team! If you do professional-level longarm quilting and are interested in partnering with Capital Quilts, please contact me at 301-527-0598.

There has been some confusion about our Birthday Discount. We no longer do the Birthday Month program. We now send you a coupon on your birthday for a 10% discount on all regularly-priced items in one transaction; you have 2 weeks to make use of the coupon. If you don't receive your coupon on your birthday, please check with us; it could be we don't have your birthday noted in our computer system.

Don't forget to bring your Capital Quilts Blue bag with you to get entered in the month's drawing. Don't have a Blue Bag? Reusable Blue Bags may be purchased in the shop or online (type "reusable" in the search window) for $4.99.


Go 'n' Piece,
Alison
Dia De Los Muertos (Day of the Dead) Challenge

It seems I have inadvertently ordered 2 bolts of Day of the Dead Dog fabric. Day of the Dead (Dia de los Muertos) is celebrated on November 1 & 2. Google tells us "Assured that the dead would be insulted by mourning or sadness, the day celebrates the lives of the deceased with food, drink, parties, and activities the dead enjoyed in life." I am issuing a Challenge to all you quilters out there: $8 gets you a yard of Day of the Dead Dog fabric. Make a quilt that is at least 20" square that speaks to the Day of the Dead holiday. How do you honor the lives of deceased loved ones? Perhaps you would remember a deceased pet. Quilts are due October 15, and will be returned to the maker(s). Please be sure to put a hanging sleeve on the back, either sewn on or pinned on with safety pins. The sleeve should be at least 4" wide and one inch shorter than the width of the quilt.

SHOPPING AT CAPITAL QUILTS: Good news! We opened up the shop on April 1. We still have shopping by appointment from 11-1. Please give us a call at 301-527-0598 if you'd like to make an appointment to come shop in the store. You can usually get in the same day. This time is for those who have not yet been vaccinated and/or feel more comfortable shopping in a controlled environment. It would also be a good time to shop if you are picking out a lot of fabrics for a quilt, as the staff will have more time to dedicate to you. From 1-5, seven days a week, the door will be unlocked and we will be open to all comers. We require that everyone wear a well-fitted mask and sanitize their hands upon entry to the shop. If more than 10 customers enter the shop, we may ask you to wait outside until someone leaves. We must still protect ourselves against the virus; it is not gone yet, and we don't want to have to shut down again as is happening in some places right now.

If you are exposed to the virus and/or get a positive COVID-19 test result, please do not come to the shop, and if you have been to the shop while you may have been infectious, please call the shop so that we may let others know. There is nothing political about this, and there is no judgment from us. We just want to do our best to help stop the virus from spreading and protect our friends and families and community.


THE GALLERY
Be sure to walk through our Gallery when you are here. The quilts of Marty Fry now on display represent her favorite style of quilting. "I love the meditative nature of machine piecing, the movement of needle and thread while hand appliqueing, and the fun of playing with as many fabrics as I can," she says. "I rarely buy fabric for a specific project. Quilting just supports my other hobby of fabric collecting."


CLASSES and CLUBS
We are having classes via Zoom and, to a limited degree, in the shop. We will make the virtual classes as easy as we can for you, sending you a link to the Zoom class. All you have to do is add the Zoom app to your computer, iPad, or other device so that you can open the link and participate in the class.

Class size may be limited. As before COVID, you can sign up online, by phone, or in the shop if you are here on a shopping appointment. Class descriptions are found below and on our website. Each class will have a supply list; look for this on our website: click on "Calendar" in the blue bar at the top of the home page. Find the class on the calendar and click on that, then scroll down to the bottom left of the page to find "Supply List" and click on that.

For classes we may have in the shop, we require that you wear a mask during the class and social distance as much as possible. Each person will have their own table. We will also take your temperature when you enter the shop and ask that you use hand sanitizer or wash your hands with soap and water.

CLUBS:
The Longarm and Pro-Stitcher Clubs will meet on the first Saturday of each month in 2021. We will continue to meet via Zoom, until such time as we can once again meet in the shop. Barbara Bean and Elyse Turkeltaub have done a great job of continuing the clubs during the COVID crisis. Thank you, ladies! Members of the clubs enjoy a 10% discount on Handi Quilter items purchased in the shop on the first weekend of each month. If you can't make it into the shop, please call us at 301-527-0598 to make your purchase. In the shop or on the phone, be sure to tell us that you are in one or both clubs.


QUILTING CLASSES: I am scheduling classes, both via Zoom and in-store, for April, May, and June. Some are listed below. To see more of what is scheduled, go to the Calendar on our website, and look through it to see what looks interesting. Click on the name of the class for more information about that class.

For ZOOM classes, you must download the Zoom app/client, and you will need a camera/webcam, microphone, and speakers as well as an internet connection. On the day of the class, you'll receive an email with a link to the Zoom meeting. Please confirm that Capital Quilts has your current email address and phone number.

Sew Together: Ask an Expert (via Zoom) Tired of sewing alone? Join fellow quilters for a virtual quilting bee. Settle into your favorite sewing space with your favorite Zoom-compatible technology for 2-1/2 hours of stitching and chatting. Everyone will have a chance to talk about what they've been working on and pose questions to the other quilters. No masks required! Each month, we are inviting a guest who is expert in some aspect of quilting and needlework to join us to answer questions about his or her specialty.

May 14: SherriJoyce King immerses us in the world of Dear Jane quilts, where blocks from an 1863 sampler inspire classic and modern expression.
June 4: Beth Morningstar, an accomplished longarm quilter, answers questions about sending quilt tops to be quilted on a longarm machine.
July 2: Marianne Losey, one of Capital Quilts' sewing machine technicians, provides tips to help you be your sewing machine's best friend.
Skill Level: any
Instructor/Moderator: Betsy Kulamer
Class Size: max. 18
Cost: $8
Time and Date: 6:30-9 on May 14, June 4, and July 2.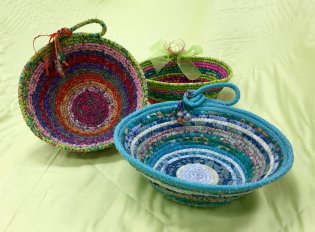 Rag Basket "Rag Basket" may be a misleading name for these lovely bowls! Make your bowl with clothesline wrapped with strips of fabric. Learn how to finish off with a fancy handle and add embellishments. Get tips for shaping the bowl. This is a super fun class, one of our most popular pre-Covid classes. Come have a good time in the shop on a Friday afternoon!
Skill Level: Intermediate
Instructor: Lois Sumser
Class Size: max. 5
Cost: $35
Time and Dates: 1-4, Friday, May 14

Getting Started: the Handi Quilter Longarm Machine Learn about the longarm machine and the frame, how to set up for quilting a quilt, what proper tension is, and some basic quilting designs. This is a required class for those wishing to rent Capital Quilts' longarm machine.
Skill Level: beginner longarm quilter
Instructor: Barbara Bean
Class Size: max. 2
Cost: $40
Date and Time: Thursday, May 20, 11-2; Thursday, June 10, Saturday, June 26, 11-2

Featherweight Clinic For all of you who own Singer Featherweight sewing machines, here is an opportunity to learn how to maintain it. Marianne will show you how to take the machine apart, clean and lubricate it, and reassemble it.

Instructor: Marianne Losey
Class Size: max. 5
Cost: $30
Date and Time: Saturday, May 22, 2-4

SOFTWARE CLASSES:

Demystifying EQ8 (via Zoom) Learn how to design your own quilts using computer software. Import existing fabrics, make or modify blocks, resize, add borders, play with color…there is so much you can do! In this class, meant for beginners, you'll learn the basics of how the program works and what the various buttons and functions are.

This is a ZOOM class. You must be comfortable using a computer, and you must have the EQ8 program loaded on your computer. Please contact the shop to purchase EQ8, as I do not stock them and must order one for you. Allow a couple of weeks at least. Thanks!
Skill Level: beginner
Instructor: Elyse Turkletaub
Class Size: max. 6
Cost: $45
Time and Dates: 12-3 on Friday, June 18


JANOME


It's Janome's Spring Makeover time! Receive a gift card for Home Depot with the purchase of these selected models:
• MC 15000: Receive a $300 Gift Card.
• Continental M7 Professional: Receive a $200 Gift Card.
• MC 9450: Receive a $200 Gift Card.
• MC 550E Embroidery-only machine: Receive a $200 Gift Card.
• Skyline S9: Receive a $100 Gift Card.
• AirThread 2000D: Receive a $50 Gift Card. This is the newest Janome serger, with a built-in one-push air threading system an 8-piece feed dog, and a built-in needle threader. .

Contact the shop to purchase any of these machines. You will need to get a gift card form from us; don't let us forget! You fill out the form and email it to Janome along with a copy of your receipt.

This offer is good April 1-May 31, 2021.

Artistic Digitizer Free Trial Access: Looking for something new to try? Create and embellish any project easily with this robust embroidery, sewing and crafting software! For a limited time, access this creative tool for FREE!

See the Facebook page for Janome Live events that will begin to cover Artistic Digitizer information.

See the YouTube channel for existing Artistic Digitizer tutorials featuring Anne Hein!

To take advantage of this offer, complete this form available on Janome's Sales and Promotions page. Access to this trial is only available through May 31, 2021 and registration ends May 15, 2021.

If you are already the proud owner of an Artistic Digitizer, Janome has announced an update, to version 1.6. You can download the update from the Artistic Digitizer page on Janome.com.


Highlight on the Janome Skyline S3:
The Skyline S3 includes everything you need to make sewing easier and more enjoyable; it comes with 120 built-in stitches, including 7 one-step buttonholes and 1 alphabet. The stitch quality of the Skyline S3 is excellent and is able to speed up to 820 stitches per minute in a smooth and peaceful operation. Navigation through all of these choices is simple using the backlit LCD screen.

Janome's Superior Feed System Plus features a 7-piece feed dog to ensure that even the thickest, multi-layer projects are able to move under the needle with precision and ease. The Skyline S3's patented needle placement accuracy includes special plate markings that indicate needle drop position, provide angle marks and act as front-of-the-foot guides. In addition, the needle can be moved into 71 unique positions in order to get pinpoint accuracy for decorative stitching, applique and free motion quilting.


HANDI QUILTER
Have you been thinking about getting your very own longarm quilting machine? This is a great month to make your purchase! May 14-24, pay 0% down with 0% interest plus FREE shipping on new machine packages. Your purchase is subject to approved credit, with 48-month terms, and conditions apply.

Would you like to quilt your own quilt on the shop's Amara or Moxie? They are available to rent. Take a one-on-one class with Carmen Sesvold for $50/hour to get certified or re-certified. The rental fee for the machine is $20/hour. Please call me at 301-527-0598 to make arrangements for the certification. If you have been longarm quilting all during the last year at other locations and do not feel that you need to be recertified, please contact me at the same number.

Tune in to the Handi Quilter Facebook page every Tuesday at 2pm EDT for Handi Quilter's Watch and Learn Quilting Show, which features tips, tricks, and tutorials on Handi Quilter products with limited-time special pricing and a give-away to a random live attendee. They announce a special on a different machine or accessory each week. If you can't watch the Tuesday show, go to the HQ website and enjoy the "And I Quilt" series of videos. You can still get the special pricing on the week's product through Sunday.

Longarm quilters: there is a new website you should check out! It's www.quiltable.com and it is all quilting designs to view and purchase. The digital products include several file types and are intended for robotic quilting systems (not just Handi Quilter). There is an option to join a club and automatically receive new designs every month plus get a discount on other designs throughout the site.

Handi Quilter has launched a new program called Pro-Stitcher Catalog. Get it through the Handi Quilter website. The program will store, organize, and give you a quick way to find your designs. Heaven on Earth! Use the code HQ1498 to get a $10 discount. You'll also be supporting Capital Quilts, as we will then get a commission from Handi Quilter.

Our Handi Quilter Moxie is now fully functional and ready for you to come try. I've sold one to a quilter who already owns a Fusion. She said she wants to use it for free motion quilting while the ProStitcher on her Fusion is working on another project. The Moxie is very light compared to the bigger machines and is easy to move around, with less stress to your joints.

Like the Simply Sixteen machine but don't like the hoop frame? Get the Simply Sixteen on the Loft frame! You'll get more quilting space and a longer frame. If you already have a Simply Sixteen and want to move up to the Loft frame, you can do that.

Also on display is the Handi Quilter Capri, a stationary, sit-down quilting machine. It is right next to the registers. This machine has the smallest footprint of the longarm machines and is most like your sewing machine in terms of feel. Rather than move the machine over the fabric as you do on the machines that have a frame, you move the fabric under the needle on the Capri. Have a seat and give it a try!


SEW STEADY

Wish Table Sale: Buy a Wish Table and get the best-selling accessories, including the Grid Glider, the Create 26" x 26" Travel Bag, and a Smart Phone Stand. The table is 22.5" x 25.5", with beveled edges, a blue drawer for notions, holes and a tool for circle sewing, and a table lock. The Grid Glider offers all the right markings to make sewing easier and adds a slick sewing surface, especially good for free motion quilting. MSRP: $294. Capital Quilts price: $249. Offer expires June 30, 2021.

Spring Class Table Package: Buy the Large Sew Steady Table and enjoy the Table Caddie and Smart Phone Stand for just $1 more! The table is 18" x 24". The Table Caddie keeps your favorite beverage, a pen, and a ruler easily accessible. The Smart Phone Stand offers easy viewing with your cell phone or tablet so that you can pause, rewind, and watch while sewing! MSRP: $146. Capital Quilts price: $120 plus $1.00 for extras. Offer expires June 30, 2021.

Mother's Day Wish Package: This Table Package includes a ready-to-start quilt project. In the Package are:
• 22.5" x 25.5" Wish Table with blue drawer, beveled edges, circle sewing, and more
• Tecoma Ruler Work 2pc Template Set
• The Ranges Quilt Pattern
• 3 Fabric Sandwiches to get you started
Tune in to the Ranges Project on Sew Steady Facebook Live every Thursday from 5-7pm EDT. All classes are recorded and accessible in the video section.

MSRP: $272. Capital Quilts price: $210.
Add a Ruler Foot for just $1 more!

Wish To Quilt Table Package: Here is everything you need to get started quilting with rulers in Sew Steady's ultimate table package. This package includes:
• 22.5" x 25.5" Wish Table with blue drawer, beveled edges, circle sewing, and more
• Ruler Work Glider
• Westalee Design 12" Arc Template
• Westalee Design 6pc Sampler Template Set 1
• Westalee Design 8pt. 8.5" Crosshair Square Ruler
• Westalee Design Spacing Gauge
• Stable Tape
• Free University Class of Leonie West's Creative Quilting Inspirations-Designing with the Crosshair Rulers book
• Janet's Ruler Quilt Design Book Online University Course (a $20 value)
• Online Ruler Work 101 Class (a $30 value)
Total Value: $450. Capital Quilts price: $350.



NEW AND NOTEWORTHY

From Northcott, we have a new line of Shimmer fabrics! Shimmer Wild Thing has all the wonderful texture you're used to, but this time, Deborah Edwards has merged her "rocks" and "pebbles" with playful animal prints: zebra, cheetah, snake, and leopard. $12.99/yard. The labels are non-metallic, and each one measures 6" square. One package (28 labels) sells for $9.99.

Letters, numbers, crayons and dots are a great addition to a quilt for a child (or a child at heart!) We love these prints from Timeless Treasures, all $12.50/yard.

Spend a virtual day at the beach with this trio, all $12.50/yard.


CAPITAL QUILTS CARES
Thanks to those who have donated kennel quilts in the last few weeks! Keep them coming. If you are willing to help, please make more for us! Find the directions here. Please be careful of the dimensions of the little quilts; too big or too small and we can't send them.
We have both pillowcase and kennel quilt kits available, free. Make them at home and return the completed project to us for distribution.

BLUE BAG BONANZA
The CQ Blue Bag Bonanza is back! May's prize is a 3 Fat Quarters from Tula Pink's "Home Made" line, a Tula Pink Home Made Hearts Template, and a collectible Tula Pink Support Your Local Quilter Sticker.
To be entered in each month's drawing, bring your Capital Quilts Blue Bag with you when you shop. Make sure you show it to the staffer at the register! Upon completion of your sales transaction, your name will be put in the jar for the drawing at the end of the month. The more you shop, the more chances you have to win. Don't have a Blue Bag? Purchase one at the shop, by phone, or online for just $4.99. We save all of the entries for the year, and at the end of the year we draw a Grand Prize Winner from all the entries.
Our thanks to everybody who shops at Capital Quilts and who participates in the Blue Bag Bonanza.