Skip Navigation
Website Accessibility
What's New at CQ 7/27/21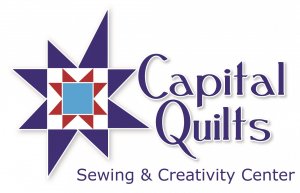 Dear Friends,

We haven't forgotten you! But, we overlooked a newsletter two weeks ago, and Kat was out last week and it didn't get done then, either. I promise to do better!

Thank you all for your product and class suggestions! I have already started to order in some new lines, and we are adding some classes that have been suggested, too. Please do not hesitate to reach out to me if there is something you think Capital Quilts needs to carry or teach, and I will consider it carefully.
Rod's Sharpening Service is once again coming to Capital Quilts to sharpen all of your scissors, knives, and garden shears that have lost their cutting edge.

Rod's Sharpening Service sharpens knives of all types (even serrated!), household and utility scissors, beauty salon and barbers' shears, and most garden tools. Their precision sharpening system ensures the correct angle for your knife, thus extending the life of the blade--it will cut just like new. They can also repair some defects such as chipped blades or bent tips (additional fees may apply).



Fabric shears, pinking shears, household scissors: $7.00
Beauty salon shears: $25.00
Any type of knife: $7.00
Small garden tools (less than 12 inches): $7.00

Items should be dropped off at the shop no later than 5pm on Monday, August 16th.

For everyone's safety, all items must be packaged/wrapped securely with rubber bands or packing tape securing the item in a towel, pillowcase, padded envelope, or box. Attach your name, address, phone number, and

cash or check payable to Rod's Sharpening Service

.





Happy Sewing!
-Marianne
Products
We have new Carolyn Friedlander!


Painterly Petals from Kaufman are soft florals. They're great for a watercolor quilt, summer bag, or anything else you can think of!


Nancy Halvorsen has created a cool collection of tea towels! These fun tea towels are 100% cotton and will make your holiday sparkle with color. Each tea towel measures 20" x 28".


Classes
Karen Fricke is teaching her popular Scrappy Color Wheel quilt, starting this Thursday, 7/29, here in the shop. Make an artistically accurate color wheel quilt to use as a reference in your sewing studio, or as a colorful baby quilt or wall hanging.


Got kids? Do they want to learn some basic sewing skills? Send them to our Kid's Camp starting Monday, August 2nd!
We've got some wonderful projects planned. Machines are provided for use in class, or you can bring your own. Also provided are supplies and patterns for all projects. If you bring your own machine ensure you bring a bobbin, foot pedal and foot that allows for a zig-zag stitch. Kid's Camp is intended for children 8-13 years old.

We've added new sessions of Getting Started: The Handi Quilter Longarm. Learn the ins and outs of the longarm machine and the frame, how to set up for quilting a quilt, what proper tension is, and some basic quilting designs. Completion of this class is required before you will be allowed to rent time on the Amara or Forte.


Save