Skip Navigation
Website Accessibility
What's New at CQ 8/19/21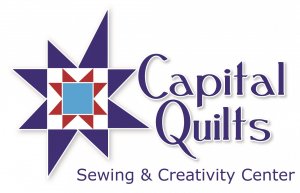 Dear Friends,

Announcing... a new benefit to taking classes at Capital Quilts! During the class, you will be given a token that can be redeemed for 10% off your purchase

*

.

We still have room in our "Daytreat" on August 28th. Come in for six hours of uninterrupted sewing in our classroom, one participant per table. Bring a lunch or go out to one of the local eateries. Click here for more information.



Happy Sewing!
-Marianne
Products
F
IGO has sent us Hand Stitched, a fabric collection designed by Karen Lewis. It is inspired by the hand and handcrafts, from the sashiko stitches of the clamshells to the needle turn applique of the leaves, celebrating the handmade element to our creations.



New Wool kits have arrived! New products from both Wooly Lady and Grab 'n' Go are here.


Tilda is here! Bon Voyage is inspired by ceramics and pottery collected on journeys around the world.


Classes

Join Anne to make your very own Aussie Traveler this Saturday at 11am! This roomy tote is handy for carrying whatever you like, especially your sewing projects and supplies. It is fun and easy to make. If you've never made a bag before, this is a great one to start with!



Make plans now to attend Maria's talk on Quilting in Today's Japan on Sunday, 9/12 at 3pm. She will give you a little glimpse on everyday life in Japan, and a lot of wonderful photos of the amazing Japanese quilts from various quilt shows. She will also talk about how Japanese art and culture has developed over the last century, and especially quilting. Learn the system of how quilters may study years under a Sensei. Discover the types of fabrics Japanese quilters often use, and you will be able to see all these used in her detailed close up photos.
To attend in person, click here.
To attend via ZOOM, click here.



Elizabeth has made several dresses from her quilting stash, and will share her pattern hack tips with you on Saturday, 9/18.



On Sunday, 8/22, Because Quilts will be working on quilts at Capital Quilts for the Interfaith Women's Shelter from 12:30-5pm. Spaces are limited due to Covid restrictions, so reserve your spot now! As always, the session is free, and we will have fabric scraps for your sewing pleasure. Bring your machine and basic sewing supplies. If you can thread your machine and run a straight stitch, you can make blocks!


Scrap Petal Garden is being offered 8/27 at 5:30pm (second part of class on 9/10). Pick out your own backgrounds, or purchase one of our kits featuring 16 different neutral-ish fabrics. Petals are also quilter's choice, but we used some glorious Kaffe prints.


* May not be used in conjunction with any other discount. Not valid on AccuQuilt, sewing machines, Handi Quilter, classes, repair, or services. Discounted sales do not accrue Rewards Points.
Save