Skip Navigation
Website Accessibility
What's New at CQ 9/9/21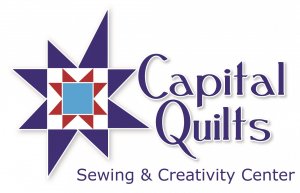 Dear Friends,


When we were kids and did something we thought was praise worthy we had no problem throwing our arms out and announcing to the world, "Ta-Da!!!" If you don't remember or don't know what I am talking about, here is a definition:

tɑˈdɑ - an interjection. Informally used to suggest the sound of a fanfare:
an exclamation of triumph or pride accompanying an announcement, a bow, etc.

We don't do enough of that as adults. So, Capital Quilts would like to encourage all of our customers to "Show Us Your Ta-Da Moment!". Post on Facebook or Instagram your Ta-Da quilting/sewing moment using the hashtag #QuiltingTaDa. What is that item that you are thrilled you completed, and tell us why. Each month we will have a drawing give out a prize. Not on social media? You can still play! Send an email to sewit@capitalquilts.com with a picture and an explanation; we'll post on your behalf.

Kat and I will get you started with our moments:


Marianne
I am terrible at making bags, if I finished them at all they ended up as trash can covers as they were that bad. My friend Cathy sat with me and helped do one all the way through and I love it. I am just thrilled that it turned out, and I actually use it.
Kat
For years, the specifics of how to join the ends of binding on your quilt eluded me, and I always ended up with a LUMP where they met. Then I learned to leave longer tails, make an "X", and sew a belt rather than a wedgie. Perfect, flat join every time! I'm still amazed every time I do it.


Happy Sewing!
-Marianne
Products
We have just received fifty (yes, 50!) bolts of Moda Grunge. These have been on order for nearly a year, held up by container shipping problems. These are all the best-selling colors, and we love them each and every one of them! These are currently grouped near the door.

Have you heard of CutterPillar Glow Light Tablets? They allow you to trace, cut, and iron (with a glass matt add-on) all in one place! Two versions are available.


We have discovered a wonderful calendar-free planner designed just for quilting! Plan to Quilt is a quilt project planner with a gorgeous with its white "quilted" hardcover and huge 1.25" gold wire binding, 8.5" x 10" making it large enough to draw in and plenty of room for notes, doodles, details about threads, stitches, measurements and glue in fabric swatches.



From Moda, we have Yuletide Gatherings, a wonderful group of plaid flannels, perfect for a warm holiday quilt or PJs. And we've restocked most of Benartex's Winter Wool Tweed flannel.


Classes
You won't want to miss Maria's lecture on "Quilting in Today's Japan", this coming Sunday at 3pm. This program is available both in-person or via Zoom.


The Market Street Handbag is fun to make, and offers a lot of opportunities for personalization and embellishment. Join Cathy to make one for yourself, or as a gift, this Tuesday at 1pm.

Elizabeth keeps wowing us with her garments made from quilting cottons. On Saturday, 9/18 at noon, she'll talk about using your stash to create clothing, and offer tips and tricks for hacking commercial patterns to better suit your needs.



Curious about rulers for quilting? Betsy is offering a five-week Introduction to Ruler Qork for Domestic Machines. In this 5-week class starting 9/23 via Zoom, you will make a 9-block sampler of ruler work designs. The class will cover setting up your machine for ruler work, testing tension, and getting started. Each week you'll make one or two blocks with practice fabric during class; between each class you'll reproduce the blocks with your sampler fabric. At the end, you'll learn a quilt-as-you-go method for joining the blocks together.


If you've already made a rag basket, you know how fun and addicting it is! Take your skills to the next level in Advanced Rag Baskets, where Lois will show you how to make lids, feet, handles, and will also talk about embellishments. This class takes place Saturday, 9/25 at 1pm.


Save