Skip Navigation
Website Accessibility
What's New at CQ 9/23/21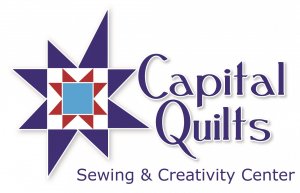 Dear Friends,
You may be noticing some changes in the faces you see in the shop; Maria has left to return to Japan, and we've brought a few people on board in the past few months. Please welcome Jan, Joanne, and Debra to the staff. They're all doing a great job, and we are sure that you will find them helpful, friendly, and encouraging.
Happy Sewing!
-Marianne
Products

Elizabeth has made some Stinkin' Cute Doggie Waste Bag Holders! They feature metal hardware, a grommet opening allowing you to dispense one bag at a time, zipper access to replenish bags, and a clip that allows you to attach it to your leash, keychain, or belt loop. These are a great gift idea for all the dog lovers you know! Approximate size: 3 inches long x 2 inches wide x 1.5 inches tall, outer measurements without hardware.



Find inspiration in improv and start your journey with bold colors and unique designs! Improv expert Cindy Grisdela shares the design principles and construction strategies for successful quilts every time. Explore three different ways to create improvisationally, from the easiest - using one block in different colors and orientations - to combining block units using various techniques - to aspirational, free cutting the entire quilt and designing it on the wall before sewing. Finished creations result in one-of-a-kind artwork! The guided exercises in

Adventures in Improv Quilts

will have you creating stunning improv quilts in no time!



Have you made a Mondo Bag? They're fun, easy, and a great use of those 2 1/2" strips and mini charms you've been collecting! It's the perfect bag for the beach, a weekend away, or even a diaper bag! Enjoy easy construction with perfect points! The bag bottom is about 10" square with 17" tall sides and features an interior pocket and loop for clip-on keychains!

If you've never made one before, purchase the pattern pack, which includes instructions and interfacing to make one bag.





After making your first bag, you can purchase just the interfacing panels, because you already have the instructions! (You will need two panels to make one bag)



From Windham Fabrics, we have Talisman by Katia Hoffman. A talisman is an object held to act as a charm to bring good fortune, something producing apparently magical or miraculous effects. Katia's use of vibrant and rich jewel tones with lots of gold accents not only brings sparkle and magic, but also creates an optical illusion of three-dimensionality.


Classes

Are you loving your rag baskets and want to know more? Advanced Rag baskets Saturday 9/25 at 1pm, Lois will show you how to make a lid for your basket and talk about fancy handles and embellishments. You must have a completed Rag Basket to bring to class with you.


Cathy is back with another sparkling table runner from the popular

Tabletastic! 2

. Join her to make the Southfields Table Runner on Friday, 10/1, at 12:30
For all of you who own Singer Featherweight sewing machines, here is an opportunity to learn how to maintain it! In the Featherweight Clinic on Friday, 10/8, at 5:30pm, Marianne will show you how to take the machine apart, clean and oil it, and reassemble it.
Save