Skip Navigation
Website Accessibility
What's New at CQ 9/30/21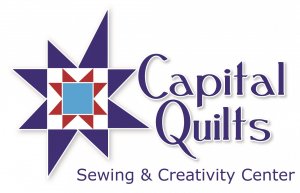 Dear Friends,
As colder weather approaches, now is a great time to take a class or learn a new skill. While a few classes are highlighted below, you can see them all on our website. Guilds are an additional source you can explore; they sometimes make their workshops available to the general public as well as to guild members.
Don't forget to submit your "Quilting TA-DA" moment! We're picking a winner each month for a special prize. Post your moments on FaceBook or Instagram, tag @capitalquilts, and use the hashtag #quiltingTADA. Or, email them to us at sewit@capitalquilts.com, and we'll post for you.
Happy Sewing!
-Marianne
Products

The Marguerite daisy has been a springtime favorite for many generations. Benartex designer Jackie Robinson brings the dainty flower to life in her latest collection, Miss Marguerite. The collection features a grand bouquet, supported with scrolls, wave texture (or course!), and a few geometrics added for scale variety. Set on either black or white, Miss Marguerite is sure to become a timeless favorite.



This fabric collection by Christiane Marques features spectacular modern florals with a layered stained glass effect in her Venice fabrics by Robert Kaufman. Play with the rich colors, textures, and patterns to create unique quilts that will truly shine!



The RulerSafe is an extremely light weight, hard sided, foam lined case designed specifically for quilters to hold multiple quilt rulers. The Large Square version holds rulers up to 16.5" square, and the Rectangle case holds rulers up to 8-1/2" in x 24-1/2". Aluminum frame construction means the case is light weight but durable. Each case can accommodate up to 10 rulers. When closed, the foam compresses around the rulers to keep them from shifting. Perfect for traveling to classes, retreats, sewing with friends, or to keep your rulers organized at the house. Your rulers are an investment, protect them with RulerSafe!


Classes

Cathy is back with another sparkling table runner from the popular Tabletastic! 2 . Join her to make the Southfields Table Runner on Friday, 10/1, at 12:30


Confused about what needle to use? What do all those numbers mean on the needle package? Is changing the needle really important before it breaks? What needle should I use? Successful sewing is often about paying attention to the little things – like the needle in your sewing machine. Get the low-down about how this little piece of steel can solve some very BIG problems, including broken threads, skipped stitches and puckered fabrics. Your sewing machine is an investment and protection begins by using the very best needle. Sew SCHMETZ! Rhonda Pierce leads this wonderful virtual class on Tuesday, October 12th at 7pm. Did we mention that registered attendees will receive a discount code for Schmetz Needles?

Sometimes we just need to have some fun! This crazy take on Flying Geese allows you to play with color and contrast and lots of fat quarters. Any selection of fabrics will shine in this 20-block quilt! And it's SO EASY to make bigger -- all you need is more fat quarters! Join Cynthia to make this quilt starting Saturday, 10/9 at noon -- Monkey Business is fast and fun!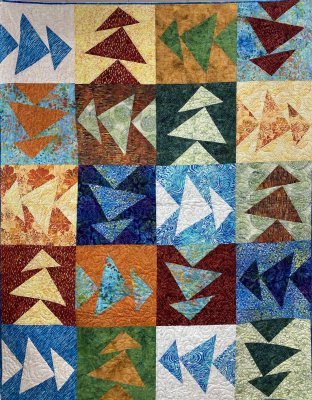 Save