Skip Navigation
Website Accessibility
What's New at CQ 7/12/22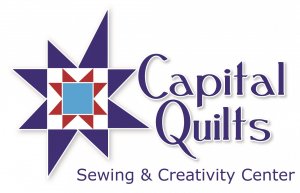 Dear Friends,


Christmas is here! Well, Christmas/Winter fabric is here. We've spent days and days receiving all of these lovely bolts, and can't wait for you to get a look at them! I think I've ordered something for everyone, from whimsical "Ho Ho" to elegant gilded birds and holly. You're going to want to come in early for the best selection!

To jump start your holiday projects, we are having a sale on all winter season (Christmas/Hanukkah/brrr-it's-cold) fabrics. Starting Friday, July 15th and running through the 31st, all winter fabric, panels, and patterns are 20% off! This sale is good both in-store and online. Just to keep you on your toes, all this fabric is where clearance used to be. And look for clearance fabric in the Gallery!




Happy Sewing!
-Marianne




Products

Add a dash of sparkle to your holiday projects with Winter Jewels, Amanda Murphy's latest collection from Contempo Studios. You'll find many familiar elements -- stars, scrolls and medallions -- all reimagined in Amanda's unique contempory style.
Shades of blue, turquoise and teal make the collection perfect for winter projects.



Stephanie Brandenburg of Frond Design Studios brings us Winter Garden. The artwork is stunning! SIX panels and seven complementary fabrics will allow you to complete many projects that all coordinate beautifully. Stuck for ideas? Ask us to help you!


Lucie Crovatto has put together shades of aqua, red, and soft wood tones for her newest collection for Studio E Fabrics called Chickadee Christmas. This collection features chickadees of all sizes. There is a 24-inch panel of a snow-covered birdhouse with birds and berry branches framed by woodgrain and snowflakes. Also included in the collection is a birdhouse allover, chickadees on branches, and snowflakes both on a red wood grain and on a brown wood grain. There is a running yardage design with 6 inch blocks.


Classes
This gorgeous runner would look great in Christmas, Halloween, Valentine's or other holiday fabric as well as colorful florals or batiks - for your own home or as a gift for a friend!
Learn how to make it this Saturday, July 16 at 11:30am.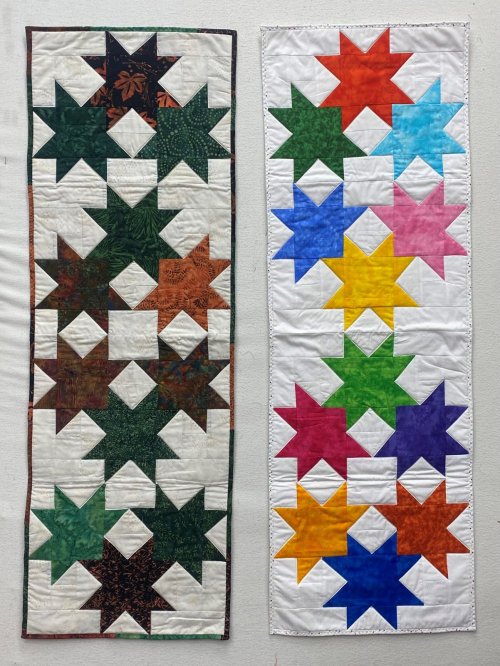 Rod's Sharpening Service sharpens knives of all types (even serrated!), household and utility scissors, beauty salon and barbers' shears, and most garden tools. Their precision sharpening system ensures the correct angle for your knife, thus extending the life of the blade. They can also repair some defects such as chipped blades or bent tips (additional fees may apply).
Fabric shears, pinking shears, household scissors: $7.00
Beauty salon shears: $25.00
Any type of knife: $7.00
Small garden tools (less than 12 inches): $7.00
For everyone's safety, all items must be packaged/wrapped securely with rubber bands or packing tape securing the item in a towel, pillowcase, padded envelope, or box. Attach your name, address, phone number, and cash or check payable to Rod's Sharpening Service.
Items should be dropped off at the shop no later than 5pm on Tuesday, July 26th.

Make your background, then have fun in class as you select your fabrics for the flowers, cut out the petals, and machine applique them to your background. Think outside the box!
Kat is currently working on one with a very dark background, and shimmery, glittery whites, silvers, greys and blues making "snowflakes". She teaches Scrap Petal Garden starting next Thursday, 7/21 at 6:00pm.


Our Baby Shower event is coming soon, on July 23rd. Join us to make a diaper bag, burp cloths, and bibs to delight new parents. Choose from optional pre-made kits or bring your own fabric. Whatever you choose, it's sure to be fantastic!
CQ Cares (Community Sewing Projects)

Help us to provide placemats to Iona House! We have kits available at the shop, please stop by to pick up one (or two). For those that want to sew from their stash, click on the picture for the beginner-friendly Charm Square Placemats pattern, or you can use your own pattern.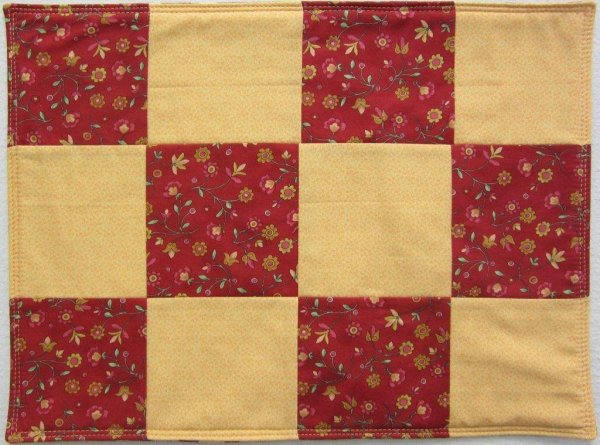 Please return all completed placemats to Capital Quilts.
Thank you for your continued support of the Capital Quilts Cares program.



We have free pillowcase kits available! We donate all pillowcases to Ryan's Case for Smiles, who in turn distributes them to children battling serious illness. Pick one up next time you're in the shop, then complete it and return on your schedule.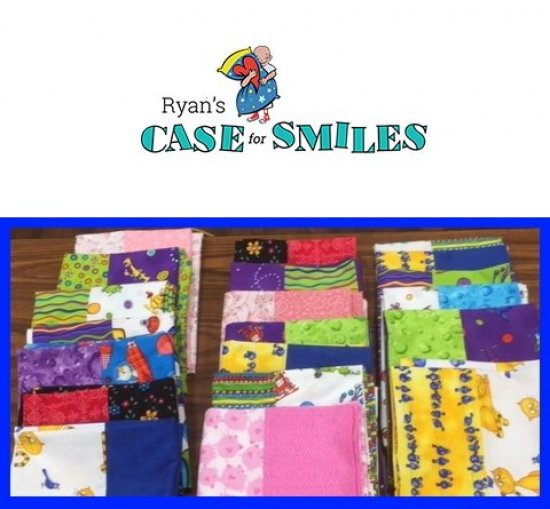 We also have free small kennel quilts kits available. These little quilts are sent to shelters who take in pets displaced by natural disaster. To quilters, they are a great beginner project, a use for leftover fabric, and a place to practice free motion skills. To use your stash, visit www.kennelquilts.com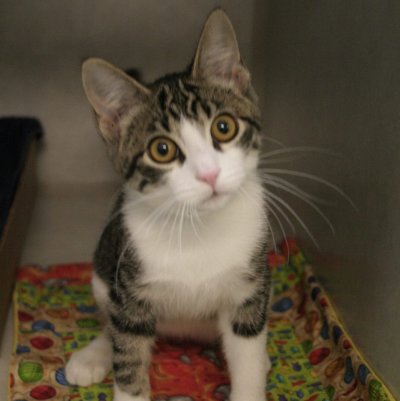 Save