Skip Navigation
Website Accessibility
What's New at CQ 8/23/2022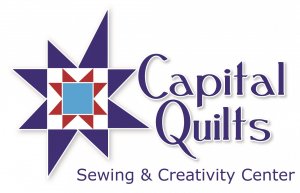 Dear Friends,


You may have noticed the lack of a Free for All Friday email last week. Kat was on vacation, and while she did schedule the email before she left, she neglected to tell the system to whom it should be sent. She is really sorry! The featured pattern is "Hope Takes Flight Kona", designed by Melissa Richie. Our version features an ombre fabric. Both are great, and a relatively quick sew! Click the photo below to get the pattern.






Happy Sewing!
-Marianne




Products

The Riviera quilting cotton collection from Liberty Fabrics takes us on a tour of the British coastline, celebrating the quirks and traditions that make it so magical – from shell grottos and rock-pooling to ice creams and colourful beach huts. Inspired by dazzling seascapes and panoramic views, this nostalgic collection references shells, coral, sailing boats, deckchair stripes and retro sun parasols.


Hello Fall, the name says it all! This contemporary collection by Jessica Flick for Benartex features a fun take on everything we love about the Fall season! Jessica has mixed cool owl prints, tumbling leaves, pretty pumpkins and thoughtful phrases with great geometric blenders in trendy yet classic colors. This collection is perfect for everything from quilts to table runners.


Victoria Borges of Studio E brings us to the snowy slopes with her new collection, Alpine Ski. The art is created in a modern style and includes a 10-inch block pattern in a 24-inch repeat. The images are pristine mountain scenes of downhill skiers, chair lifts, cozy wooden lodges and a mixture of alpine trees. Coordinating patterns in the assortment include a snowy scenic, mountain cable car, rows of skis, downhill skiers, a four-way assorted pattern, snowflakes, and pine boughs. The palette is a wintry mix of white and touches of pigment white, cool blues and slate, soft grays, accents of brown and pops of red.


Classes

Only two Open Sew days left in August (8/24 & 8/31)! For just $10, enjoy our classroom with its air conditioning, ironing stations and design walls for up to five hours. Bring a bagged lunch, or visit one of the many eateries in the area.

The H Bag is amazing! It is easy to make, it comes in two sizes (Regular and Jumbo), and it is so versatile that you will be amazed at all the different things you will be carrying with it. It's perfect for the farmer's market, the beach, or carrying your sewing projects! Class is Saturday, 8/27 at noon. There are currently 2 seats available.


Join Linda on Sunday, August 28th at 12:30pm for a lecture and trunk show on Laura Heine Collage Quilts. She'll help you to determine what fabrics work, and tips and tricks for the technique. We're sure that this will allow you to move a collage project from stash to quilt!



Pssst! We're going to be in Oaks, PA for the Pennsylvania National Quilt Extravaganza!
September 15-18, 2022, at the Greater Philadelphia Expo Center in Oaks, PA!
PNQE will be dishing up all the ingredients needed for a successful quilt show including a unique and beautiful display of over 400 quilts and works of textile and wearable art from across the globe. This popular event is the largest and most comprehensive quilt festival in a state known for its rich history of quilting.


CQ Cares (Community Sewing Projects)

We have placemat kits available at the shop, please stop by to pick up one (or two). For those who want to sew from their stash, click on the picture for the beginner-friendly Charm Square Placemats pattern, or you can use your own pattern.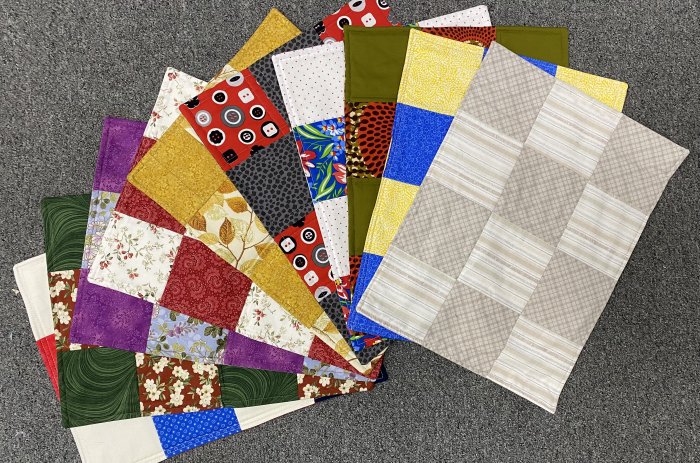 Please return all completed placemats to Capital Quilts.
Thank you for your continued support of the Capital Quilts Cares program.



We have free pillowcase kits available! We donate all pillowcases to Ryan's Case for Smiles, who in turn distributes them to children battling serious illness. Pick one up next time you're in the shop, then complete it and return on your schedule. Alternately, use your stash and any of the Million Pillowcase Project patterns.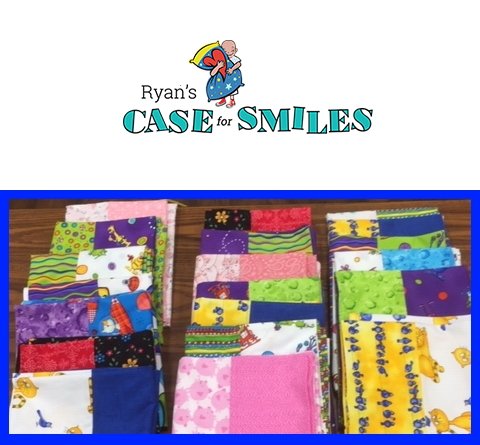 We have free small kennel quilts kits available. These little quilts are sent to shelters who take in pets displaced by natural disaster. To quilters, they are a great beginner project, a use for leftover fabric, and a place to practice free motion skills. To use your stash, visit www.kennelquilts.com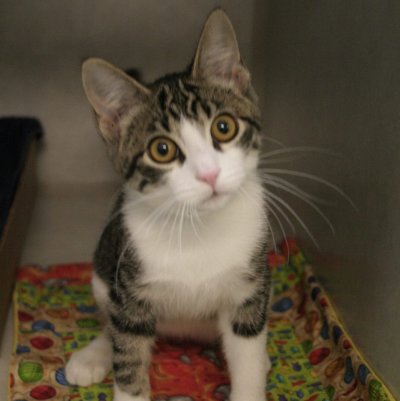 Save