Skip Navigation
Website Accessibility
What's New at CQ 9/6/22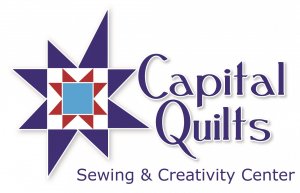 Dear Friends,


We've been working on new things here in the shop. Elizabeth just finished a quilt using a Gingiber panel; it will be on display in the shop shortly, along with its pattern. We've started a new "End of Bolt Bonanza" category, where we select fabrics that have languished, measure what's left on the bolt, and price it very attractively as a single piece (great for quilt backs).

Cathy wants to teach a tree skirt class, and we need help on deciding which one to offer:




Please reply and let us know your preference!

Happy Sewing!
-Marianne




Products
Monthly Placemats by Tara Reed of Planted Seed Designs for Riley Blake Designs have arrived! These digitally-printed placemat panels feature seasonal themes -- perfect for holiday decorating. Individual placemat size is approximately 11" x 18". Panel size is 36" x 43 1/2". And, each panel has three coordinating bolts of fabric to choose from!
From Free Spirit Fabrics, Anna Maria's "Welcome Home" collection draws on imaginative representations of favorite cities that feel like home to her. She says, "Florals are large and small, playful graphics have energy, and personal memories are made visually diverse and colorful to tell a story that I hope finds a happy home in your quilting and sewing." We have FQ bundles, 10" squares, and 2.5" strips for your piecing (or collecting!) pleasure.


Are you planning a handmade Christmas? Handmade ornaments look wonderful on your tree, and make memorable gifts. Check out all the ornament patterns!




Speaking of ornaments, Debra Ball will be teaching two different ornament classes: Holiday Wreath on October 1st, and the Woven Snowflake on November 5th.


Classes

We have put both Getting Started: The Handi Quilter Longarm and
Getting Started: The Basics of Prostitcher Premium classes on the calendar!
The longarm class is required for anyone wanting to rent one of the shop's longarms.
Since these classes usually fill very quickly, you'll want to reserve your spot now.


Capital Quilts' Complete Course of Quilting is on the calendar! Choose from in-person sessions Tuesday afternoons starting 9/13, Sunday afternoons starting 10/16, or a zoom session on Wednesday evenings starting 1/18/23. This course covers the basics: getting to know your sewing machine, rotary cutting, fabric selection, and a variety of techniques for machine-piecing quilt blocks. You make a sampler and learn to sandwich, quilt, and bind your masterpiece. Great as a "back to basics" reminder course, too.


Make a project bag in a size that works for you! Elizabeth has devised a pattern that allows you to do this, and will walk you through all the steps during this two-part class starting Sunday, 9/18 at 12:30.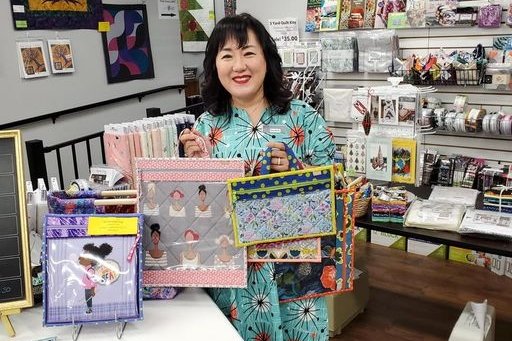 We've heard from some of our male quilters that they feel a little out of place in female-dominated quilting/social groups. Therefore, we are attempting to create a space for men who quilt to meet to share the joy of quilting, take inspiration from each other, and trade techniques. The first meeting takes place Monday, September 19 at 5:00pm.



Harry has unlocked the secrets to using EQ8! And, he will share his knowledge in a six week course starting October 6th at 6pm. The Introduction to EQ8 will explore designing a custom quilt using EQ8 software. We will explore how to use the software, set up your quilt, pick your blocks, and add fabric swatches to your design. The course is hands-on, with each class having in-class detailed exercises, with a final project of a custom quilt design. Participants must own EQ8, and have it installed on a laptop to bring to class.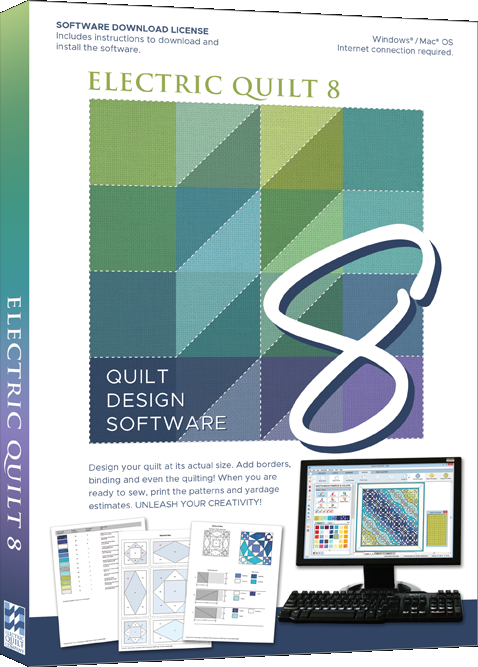 We're going to be in Oaks, PA for the Pennsylvania National Quilt Extravaganza!
September 15-18, 2022, at the Greater Philadelphia Expo Center in Oaks, PA!
PNQE will be dishing up all the ingredients needed for a successful quilt show including a unique and beautiful display of over 400 quilts and works of textile and wearable art from across the globe. This popular event is the largest and most comprehensive quilt festival in a state known for its rich history of quilting.




We will also be vending at the Original Sewing & Quilt Expo in Fredericksburg, VA from September 29th through October 1st. Join us there for inspiration, classes, and shopping!




Believe it or not, we will ALSO be vending at Everybody's Quilt Guild's Quilt Show in Westminster, MD from November 4 through November 6. See you there!


CQ Cares (Community Sewing Projects)

We have placemat kits available at the shop, please stop by to pick up one (or two). For those who want to sew from their stash, click on the picture for the beginner-friendly Charm Square Placemats pattern, or you can use your own pattern.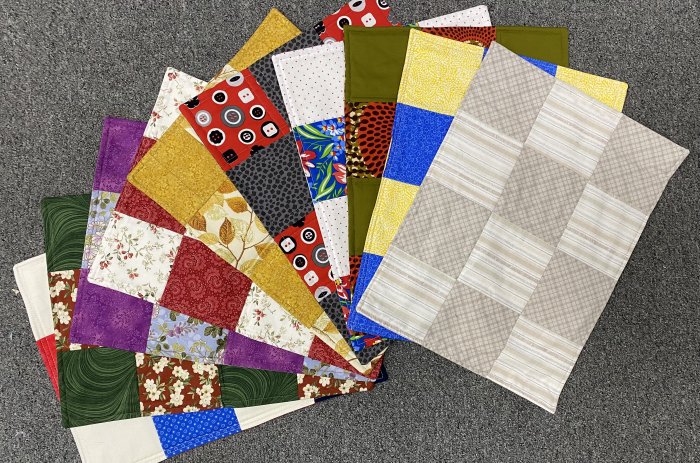 Please return all completed placemats to Capital Quilts.
Thank you for your continued support of the Capital Quilts Cares program.



We have free pillowcase kits available! We donate all pillowcases to Ryan's Case for Smiles, who in turn distributes them to children battling serious illness. Pick one up next time you're in the shop, then complete it and return on your schedule. Alternately, use your stash and any of the Million Pillowcase Project patterns.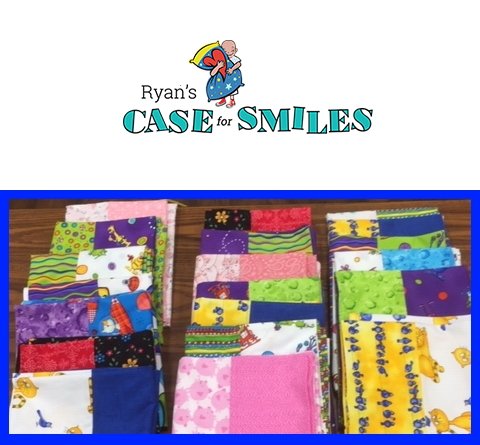 We have free small kennel quilts kits available. These little quilts are sent to shelters who take in pets displaced by natural disaster. To quilters, they are a great beginner project, a use for leftover fabric, and a place to practice free motion skills. To use your stash, visit www.kennelquilts.com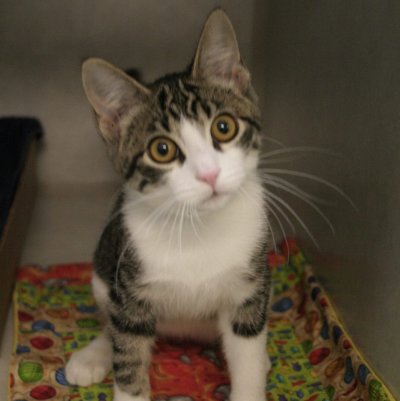 Save