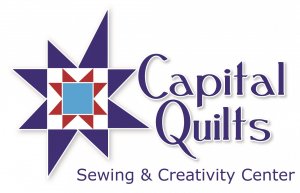 Dear Friends,


We had a blast at the Philly Quilt Exposition, but boy are we tired. We saw lots of beautiful and inspiring quilts (congratulations to Susan Thomson on her blue ribbon!) and got some ideas that we can't wait to try out. We have another show next weekend so the hustle won't stop for a bit.


Several of us are also scrambling as our young loved ones are now having the weddings they put off during the pandemic. I have seen some cute ideas for sentimental items to commemorate the special date. My favorite is a tie for the father of the bride, with a picture of dad and daughter on the inside. I have included the one we made for my brother, who is walking his first down the aisle in less than 2 weeks. Let me know if you have an interest in learning how to put it together.

Happy Sewing!
-Marianne




Products

A Year of Art Autumn, from In The Beginning Fabrics, features beautiful patterns resembling the season of Autumn. The colors featured in this collection include red, orange, and charcoal, accented with teal. There is also a pattern designed expressly for this collection, with instructions for a pillow, a table runner, and a wall hanging!


From Banyan Batiks, we have Destination Arctic Circle. These blues, grays, and teals evoke the ice and cold of the North Pole.


Sparkle Suede from P&B Textiles is a beautiful variety of colors and patterns. Included in the collection are dots, snowflakes, and an adorable sprig, perfect for the holiday season. Accented with silver and gold ink, Sparkle Suede is ready for your next masterpiece!


Classes

If you act fast, you can snag an available spot in tomorrow's Getting Started: The Handi Quilter Longarm class at 1pm. This class is required if you'd like to rent one of our longarms, and is also a good way to familiarize yourself with the Handi Quilter brand (In case you're shopping for a longarm machine.)


The Getting Started: Prostitcher Premium class follows the longarm class tomorrow at 5:30pm, and is needed if you wish to use the onboard computer to choose and stitch out a quilting pattern for you.



Hate to crawl around on your floor to baste your quilts? Let us do it for you! Sandwiching is available on Tuesday, September 27, but you must sign up, then drop off your top, backing, batting, and basting supplies (pins or spray baste) at the shop not later than the close of business on September 26. We'll call you when it's ready to pick up.



Get started on your holiday decorations! Deb Ball will walk you through weaving strips of fabric together to create a snowflake ornament to hang on the tree, a wreath, the mantle, or other decorative endeavor! You can also use these snowflakes in place of a bow on a gift. Once you know how, you'll want to make more. Class is Saturday, November 5 at 11am.


Karen Kehl has agreed to teach a second Finishing in Style: Advanced Bindings class on Sunday, November 6th from 2:30-5:30pm. The first session elicited rave reviews from the students. In this workshop, students will learn all about finishing off their quilts in grand style -- using a few different techniques -- from preparing the quilt for binding to deciding on the right binding style to tips for executing a clean binding with sharp corners. Students will leave with skills they can use on every quilt they make!



We will be vending at the Original Sewing & Quilt Expo in Fredericksburg, VA from September 29th through October 1st. Join us there for inspiration, classes, and shopping.
We also have a couple of quilt kits you haven't seen yet!




Believe it or not, we will ALSO be vending at Everybody's Quilt Guild's Quilt Show in Westminster, MD from November 4 through November 6. See you there!


CQ Cares (Community Sewing Projects)

We have placemat kits available at the shop, please stop by to pick up one (or two). For those who want to sew from their stash, click on the picture for the beginner-friendly Charm Square Placemats pattern, or you can use your own pattern.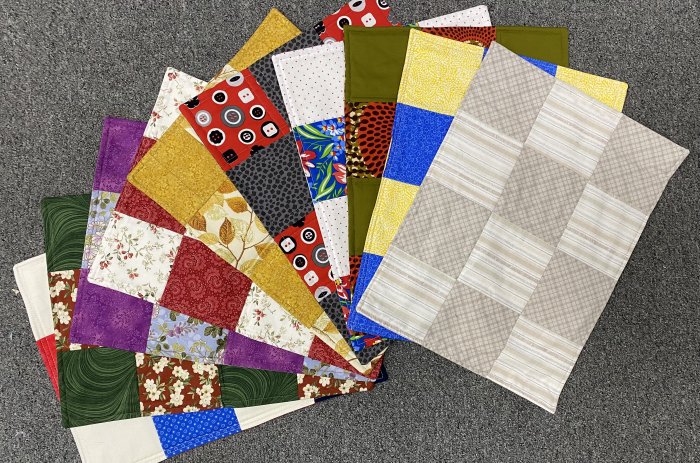 Please return all completed placemats to Capital Quilts.
Thank you for your continued support of the Capital Quilts Cares program.



We have free pillowcase kits available! We donate all pillowcases to Ryan's Case for Smiles, who in turn distributes them to children battling serious illness. Pick one up next time you're in the shop, then complete it and return on your schedule. Alternately, use your stash and any of the Million Pillowcase Project patterns.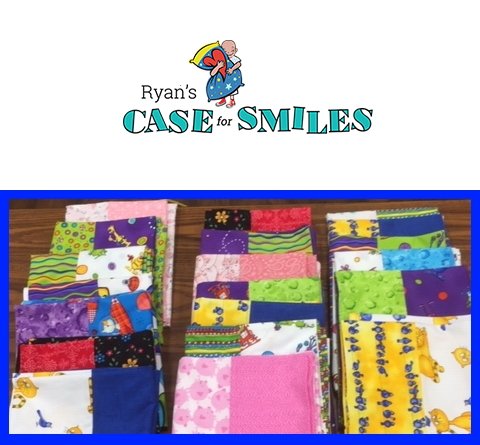 We have free small kennel quilts kits available. These little quilts are sent to shelters who take in pets displaced by natural disaster. To quilters, they are a great beginner project, a use for leftover fabric, and a place to practice free motion skills. To use your stash, visit www.kennelquilts.com