Skip Navigation
Website Accessibility
What's New at CQ 3/14/2023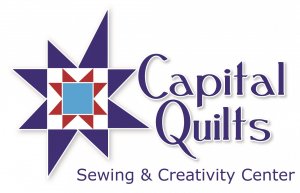 Dear Friends,


One of the collections below would be just PERFECT for a One Block Wonder quilt! Since we have a wonderful customer who slayed making a OBW dress for the Mid-Atlantic Quilt Festival, we've asked if she would teach a quilt class, and she's said yes! We'll let you know as soon as that class is on the calendar.

In the meantime, have you explored the One Block Wonder Design Helper? You just upload a photo of the fabric you want to use, set size parameters, and it will not only show you a cutting diagram, but also what your finished quilt might look like, with variations! I uploaded one of the Festival of Flowers fabrics, and here are the results!




Happy Sewing!
-Marianne



Products

Jason Yenter does it again with A Year of Art: Spring from In the Beginning Fabrics. It's a very small collection: a floral panel sized for pillow making, a lovely border stripe, a supporting print that echoes the border, and six bolts of Dit Dot Revolution. Check out the pattern that walks you through making a pillow, a table runner, and a wall hanging!


Need a batik pick-me-up? Tonga Flutter from Timeless Treasures is just the thing! Flowers abound in this cheerfully colored collection. You can almost smell summer!


"I like big blooms and I cannot lie..." If large-scale florals make you happy, you need to see Flower Festival from Benartex. Some of these flowers are so large, they don't even fit in the swatch photo! These bodacious blossoms are accompanied by vine swirls and marbled 'endpaper' prints.



The art of journaling and bookmaking has grown into makers' obsessions. Images and sentimental scraps that we collect over time are being collaged and enhanced using stitches, inks, and dyes. Often, makers push the boundaries of creativity even further by combining journaling with traditional quilting and sewing techniques. These fabrics were designed for this hybrid art! We've got the beautiful bird panel, a border stripe, and three colors each of music and journal pages.


Classes

On March 25th, Elizabeth is back with her popular Any Size Project Bag class. Make a project bag in a size that works for you! Elizabeth has devised a pattern that allows you to do this, and will walk you through all the steps during this two-part class. ONLY ONE SPOT LEFT!

Some of us are intimidated by binding, others of us have arthritic hands that prevent hand-sewing. And some of us are not clever enough to master it (Marianne - lol). Join us on April 1st (no fooling!) to learn an easy method of binding your quilt quickly with your machine.


Come sew fun, fast, and wonky log cabin blocks for this quick scrapbusting quilt! Planned chaos or improv, make the quilt you want to make with fabrics that bring you joy. Elizabeth will help you turn those left over scraps into beautiful blocks on April 6th.

Hang out with Kat and Get it Done on Saturday, April 8. Work on your own project at your own table, while still in the cheerful company of other quilters.

Because Quilts will be here on Sunday, April 16th to work on quilts for the Interfaith Women's Shelter. These quilts are treasured by the women who receive them. All fabric is provided, but we do ask that you register. These workshops are generally filled with camaraderie and laughter.

The next Complete Course of Quilting will start on April 20th. This evening class will run for ten weeks, and covers everything one needs to know about making your first quilt, from fabric selection all the way through binding!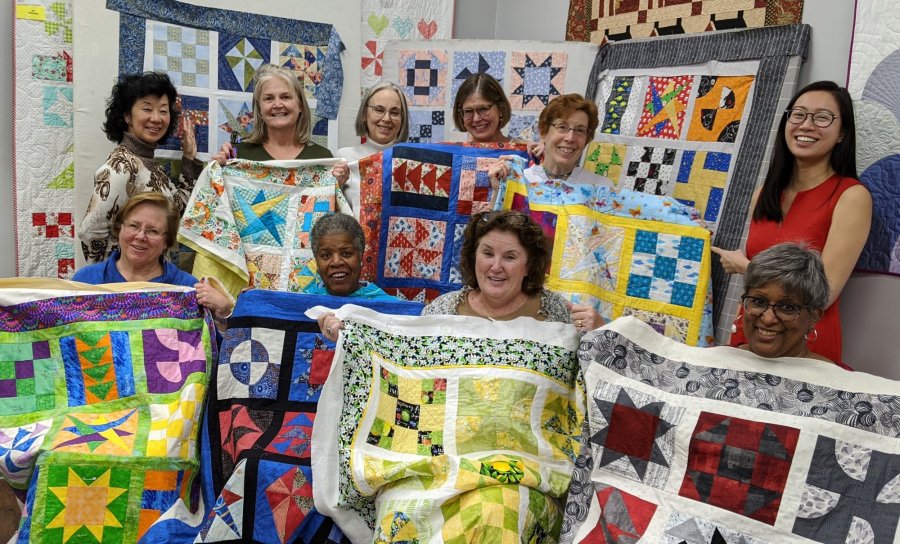 Rod's Sharpening Service sharpens knives of all types (even serrated!), household and utility scissors, beauty salon and barbers' shears, and most garden tools. Their precision sharpening system ensures the correct angle for your knife, thus extending the life of the blade--it will cut just like new. They can also repair some defects such as chipped blades or bent tips (additional fees may apply). Items must be dropped off by 5:00pm on April 25th.


The Vela Quilt class (via Zoom) on April 29th will walk students through the steps of assembling the lap size of the Vela quilt, assembling two of the four quadrants in class. This class is excellent for someone who is an advanced beginner and has assembled a couple of quilts, all the way up to experienced quilters!
Quilt Show Schedule

Lancaster Quilt Show
Wyndham Host Resort and Convention Center
2300 Lincoln Hwy East Lancaster PA 17602
March 29-April 1, 2023
Wed-Sat 9am-4pm



Ocean Waves Quilt Guild "Fabric of Life" Quilt Show
Sussex Academy
21150 Airport Rd.
Georgetown, DE 19947
April 13, 2023 10am to 5pm
April 14, 2023 10am to 5pm
April 15, 2023 10am to 3pm



Friendship Star Quilters Present Celebration of Quilts
Asbury Methodist Village
Rosborough Center
301 Odendhal Ave.
Gaithersburg, MD

April 21-23, 2023
Fri. Noon - 5:00 p.m.
Sat.10:00 a.m. - 5:00 p.m.
Sun.10:00 a.m. - 4:00 p.m.

Though we are unable to participate in the FSQ show this year due to scheduling conflicts, we strongly urge all of you to attend if you can!



Baltimore Heritage Quilt Guild Quilt Expo 2023
Maryland State Fairgrounds 4H/Home Arts Building
2200 York Road
Timonium, MD 21093
April 22-23, 2023
10am-5pm



Milltown Quilters 2023 Quilt Show
Christ Memorial Presbyterian Church (CMPC)
10600 Shaker Drive, Columbia, MD

Friday, 5/5/23 10 am to 6 pm
Saturday, 5/6/23 10 am to 4 pm



Annapolis Quilt Guild "Quilts by the Bay" Show
Broadneck High School
1265 Green Holly Drive
Annapolis, MD 21409

Saturday, 6/10/23 10 am to 6 pm
Sunday, 6/11/23 10 am to 4 pm



Four County Quilters Guild Quilt Show
Calvary United Methodist Church
403 S. Main Street
Mt. Airy, MD 21771

Friday, August 4, 2023 10:00am-5:00pm
Saturday, August 5, 10:00am-5:00pm


CQ Cares (Community Sewing Projects)

We have placemat kits available at the shop, please stop by to pick up one (or two). For those who want to sew from their stash, click on the picture for the beginner-friendly Charm Square Placemats pattern, or you can use your own pattern.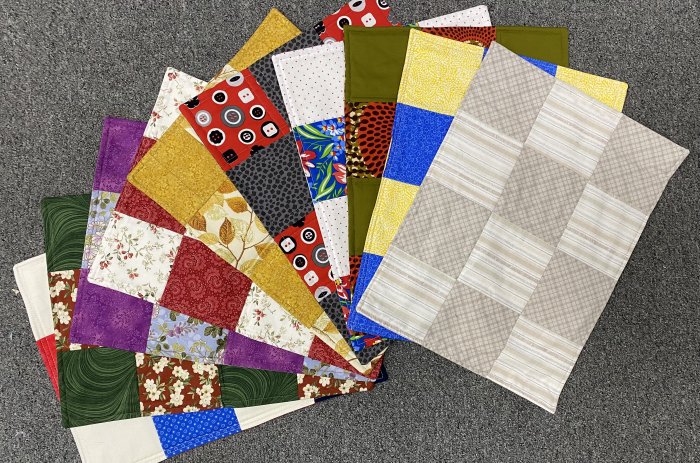 Please return all completed placemats to Capital Quilts.
Thank you for your continued support of the Capital Quilts Cares program.



We have free pillowcase kits available! We donate all pillowcases to Ryan's Case for Smiles, who in turn distributes them to children battling serious illness. Pick one up next time you're in the shop, then complete it and return on your schedule. Alternately, use your stash and any of the Million Pillowcase Project patterns.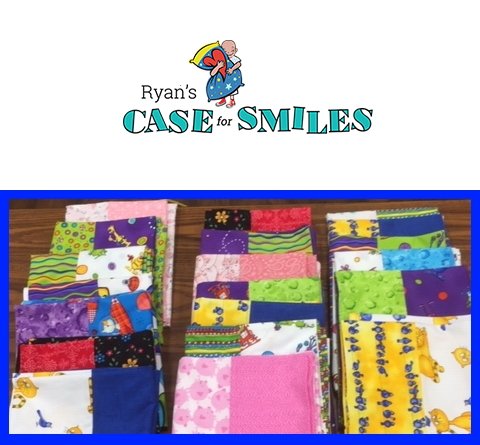 We have free small kennel quilts kits available. These little quilts are sent to shelters who take in pets displaced by natural disaster. To quilters, they are a great beginner project, a use for leftover fabric, and a place to practice free motion skills. To use your stash, visit www.kennelquilts.com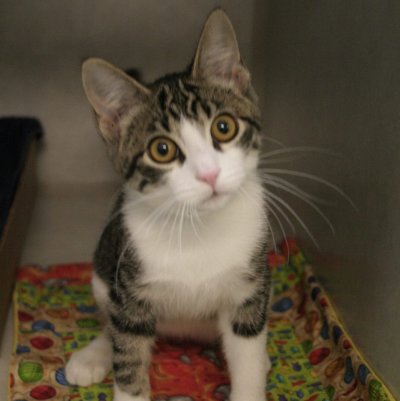 Save