Skip Navigation
Website Accessibility
What's New at CQ 9/19/2023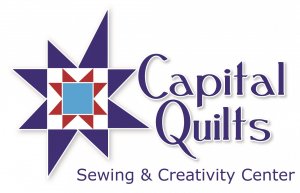 Dear Friends,
It's our week between shows! PNQE was a blast, and we're looking forward to both the Original Sewing and Quilting Expo next week, and also the Quilting on the Line Guild Quilt Show in early November.
Enjoying a quilt show can be a delightful experience, as it allows you to appreciate the creativity and craftsmanship of quilters. Here are Kat's tips to help you make the most of your visit to a quilt show:
Check the dates and location of the quilt show in advance.
Consider going during less crowded times to have a more relaxed experience.
Sharing the experience with a friend or family member can make it more enjoyable and give you someone to discuss the quilts with.
Don't rush through the exhibit. Take your time to admire the details of each quilt.
If there are quilters or artists present, don't hesitate to ask questions about their work and techniques. Many quilters are happy to share their insights.
Attend any workshops or demonstrations that might be available at the show to gain a deeper understanding of quilting techniques.
Consider bringing a small notebook to jot down the names of quilts or artists you particularly like, as well as any design ideas or inspirations that come to mind.
Some quilt shows may allow photography. Ask the organizers or check the rules before taking pictures, and respect any restrictions in place. Some vendors do not permit photography, so ask there, too.
Refrain from touching the quilts unless explicitly allowed. The oils and dirt from your hands can damage delicate fabrics over time. Most shows have "white glove" volunteers that will show you the back of a quilt if asked.
Pay attention to the colors, patterns, and stitching techniques used in each quilt. Quilters often incorporate intricate details that can be easy to overlook.
Consider buying a souvenir such as a quilt pattern, quilting supplies, or even a small quilt from a vendor at the show to commemorate your visit. Many shows have vendors that put hours of work into their booths, and they can be as inspirational as the quilts on display. Guild shows may also have a boutique of handmade items, and/or a "white elephant" sale.
Quilt shows often feature a wide range of styles and themes, from traditional to contemporary. Embrace the diversity of quilting artistry.
Many quilt shows have contests or viewer's choice awards. Participate by voting for your favorite quilt; any quilter would be thrilled to receive this award.
After the show, share your favorite quilts and experiences with friends and family. It can be a great conversation starter and might even inspire others to visit quilt shows.
Remember, the key to enjoying a quilt show is to appreciate the creativity and dedication of the quilters and to take your time exploring the beautiful quilts on display.
And now, my own personal tips for quilt shows:
Try not to spend more money than is in your bank account.
Look for familiar names -- read the tags on the quilts to find people you know so you can congratulate them!
Take as many pictures as allowed, either by the storage limitations on your phone or by show police.
Have fun!
We hope to see you soon, either at a show or in the shop!
Happy Sewing!
-Marianne
ps. Don't forget the Needlechasers Show at the Kensington Town Hall (formerly Kensington Armory) on October 6 & 7.
Products
Let the balanced combination of bright shades and deep hues of Bali Lakeshore from Benartex transport you to the shore of a quiet lake. The triple dye technique confers a unique depth to each design, and the combination of geometric and organic motifs make this collection perfect for both quilts and home decor projects.
Let your inspiration free to play with these lovely shades of muted purples and soft pinks. Like the flowers that these colors were named for, the prints are graceful and yet versatile! Think crib quilts and nursery decor for a sweet baby, or springtime crafts - your projects will all blossom to life with Bali Perennials from Benartex.
You asked for more Charley Harper, and we got some! These half yards of barkcloth are great for bags, aprons, and other accessories. (Their texture makes them a little odd for quilts)
Classes
Debra Ball's Scrappy Log Cabin Star is simply stunning, and a lot easier to make than you might think. Learn how in this two session class starting September 30th. You can rotary cut your pieces, but Deb will demo (and allow you to use) the AccuQuilt cutting system to cut with. Bonus content in second session -- how to make a flange binding.
Relax on Friday nights with fellow quilters for a virtual quilting bee. Settle into your favorite sewing space with your favorite Zoom-compatible technology for 2 hours of stitching and chatting. Everyone will have a chance to talk about what they've been working on and pose questions to the other quilters. Each month, a guest speaker shares her enthusiasm for an aspect of quilting – a designer, a technique, a hot topic -- with lots of inspiring ideas and photos.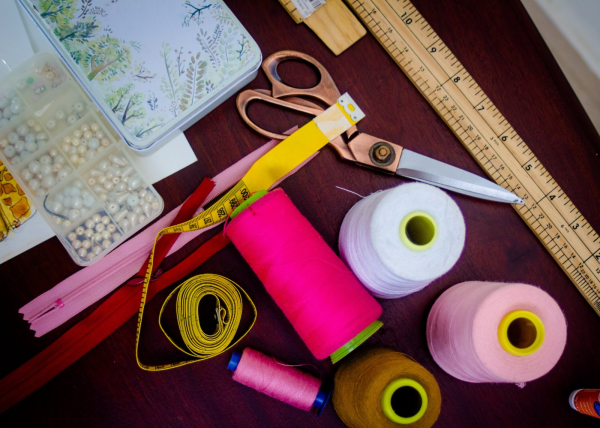 There are plenty of seats available in the afternoon Quilt of Valor workshop on October 9th. Sign up, bring your machine and basic sewing supplies, and collaborate on a quilt for a veteran!
Have you taken the longarm class but are now itching to use the computer for edge to edge designs? If so, then Getting Started: the Basics of ProStitcher Premium is the class for you! Learn the basic buttons and tools of ProStitcher Premium. Customize Edge-to-Edge (E2E) designs on your computer to fit any quilt size and transfer the design to the ProStitcher on the longarm for accurate stitch out.
Join Cathy on October 18th to make this cute, quick baby quilt. Suitable for a beginner with a little experience! We have fabric bundles available if you don't feel like choosing all the fabrics yourself.
Join us for Ruler Quilting Demos and Handi Quilter mini-camps!
On October 22nd, come in and see demos of ruler work quilting for both domestic and longarm machines. Betsy is having a ruler tasting/trying clinic later that same day, and Cynthia has prepared a slew of classes for longarmers between the 19th and 22nd. Check the calendar for more details as they become available!
Lois is BACK on October 20th with her popular Rag Basket class. These bowls are beautiful, sturdy, durable, and... they can be made with scraps!
Yes, there is another Wonky Town class on the calendar! Various sized houses and trees make up this scrap busting quilt of any size desired. On October 21, join Elizabeth to plan and make your very own Wonky Town quilt. This is a fun and creative project, great for any season.
QUILT SHOW SCHEDULE
Original Sewing and Quilt Expo
Fredericksburg Expo & Conference Center
2371 Carl D. Silver Parkway
Fredericksburg, VA 22401
Thursday, September 28 10:00 am to 5:30 pm
Friday, September 29 10:00 am to 5:30 pm
Saturday, September 30 10:00 am to 5:00 pm
Quilting on the Line Quilt Show "Autumn Ribbons"
Jarrettsville Gardens

Jarrettsville Volunteer Fire Department

3825 Federal Hill Road

Jarrettsville, MD 21084

Saturday November 4, 2023 10:00am–5:00pm

Sunday November 5, 2023 10:00am–4:00pm
Lancaster-Lebanon Quilt Show
Lebanon Valley Expo Center
Lebanon, PA
April 10-13, 2024
Northern Shenandoah Valley Quilt Show
Clarke County Parks and Recreation Center
225 Al Smith Circle, Berryville, Virginia, 22611
Friday, April 12, 2024 10 AM - Sunday, April 14, 4 PM
CQ Cares (Community Sewing Projects)
We have placemat kits available at the shop, please stop by to pick up one (or two). For those who want to sew from their stash, click on the picture for the beginner-friendly Charm Square Placemats pattern, or you can use your own pattern.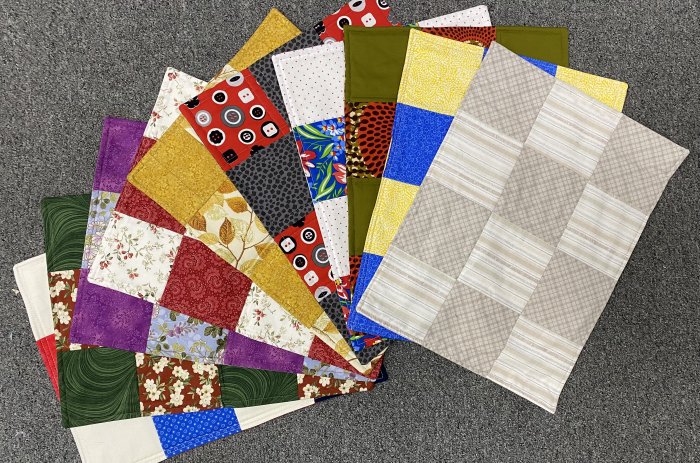 Please return all completed placemats to Capital Quilts.
Thank you for your continued support of the Capital Quilts Cares program.

As of right now, Ryan's Case for smiles will not have a coordinator as of November 1, and will not collect and distribute pillowcases until they do. So, if you're working on some, get them in before the last week of October! (And if you're looking for a volunteer gig, contact them!)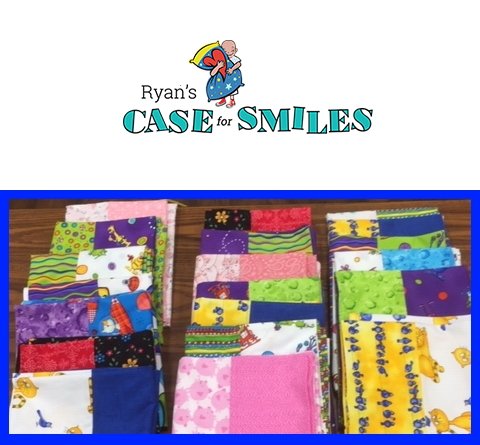 We have free small kennel quilts kits available. These little quilts are sent to shelters who take in pets displaced by natural disaster. To quilters, they are a great beginner project, a use for leftover fabric, and a place to practice free motion skills. To use your stash, visit www.kennelquilts.com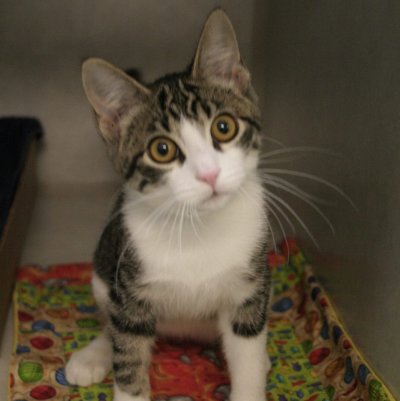 We are partnering with Mari Sews (marisewsforcurves) for the 2023 Project Dress a Girl project, for the month of September. Here's what you need to know to get started (click on the photo). Every dress you make and turn into CQ during September earns you a one-time discount card! #projectdressagirl2023 #charitysewing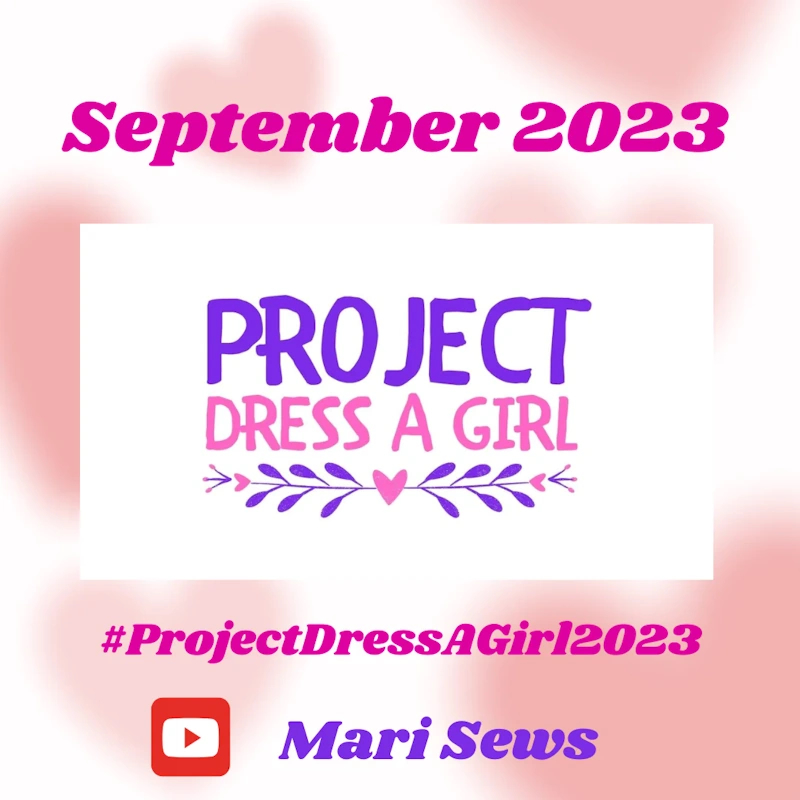 Save