Skip Navigation
Website Accessibility
What's New at CQ 10/24/2023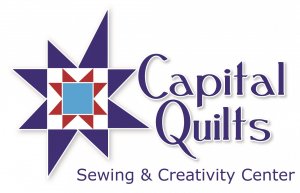 Dear Friends,
Cutting with dull scissors is a drag. Rod's Sharpening will be here on November 15th. Rod sharpens knives of all types (even serrated!), household and utility scissors, beauty salon and barbers' shears, and most garden tools. Their precision sharpening system ensures the correct angle for your knife, thus extending the life of the blade--it will cut just like new. They can also repair some defects such as chipped blades or bent tips (additional fees may apply).

Fabric shears, pinking shears, household scissors: $7.00
Beauty salon shears: $25.00
Any type of knife: $7.00
Small garden tools (less than 12 inches): $7.00

For everyone's safety, all items must be packaged/wrapped securely with rubber bands or packing tape securing the item in a towel, pillowcase, padded envelope, or box. Attach your name, address, phone number, and cash or check payable to Rod's Sharpening Service.

Items should be dropped off at the shop no later than 5pm on the day BEFORE the sharpening day. If you're bringing in left-handed scissors, attach a note to alert them to the fact.
This is the last time that Rod will be here until 2024.
Happy Sewing!
-Marianne
Products
The Colorado issue of Quiltfolk is here! Whether crafting quilts to adorn their homes, creating meaningful gifts, or contributing to charitable causes, quilters in Colorado help enrich a vibrant and supportive creative community. Their work not only warms, but also nurtures the bonds of friendship and shared passion. In the state where the natural world is a constant source of inspiration, Colorado quilters add their own thread to the rich fabric of the region's cultural heritage. Get ready to be awed by some magnificent makers whose stitched work compares impressively to the wonder of Colorado's landscapes!
P&B Textiles has sent us Sorbet and it is loaded with scrumptious colors! What's more to say? Three prints – a petite check, diminutive bubbles, and tiny pindots are all tonal and shaded to provide some welcome new fabric basics!
Flatter is back in stock! This starch-free smoothing spray relaxes wrinkles and freshens fabrics. It's flat out fabulous! This smooth operator leaves fabric sleek, soft, and static-free. This mild formulation is easy on sensitive skin, and won't harm the environment. We have Yuzu, Wild Mint, Pineapple Grove, Lacey, Celebration, and Fig scents available.
Classes
There are three seats available in the Singapore Sling class! On 10/29, Karen will teach you to make a Singapore Sling quilt block, which makes a beautiful table topper, wall hanging or pillow top. If you fall in love with the block, you can make more and make a Singapore Sling quilt. This class is best for a confident beginner with experience sewing curved blocks, or a more experienced quilter. The class will cover everything from cutting out the pieces with 3D printed templates, to piecing the Singapore Sling block, to binding.
One spot just opened up in Betsy's Introduction to Ruler Work for Domestic machines starting on November 2nd. Ruler work is an ideal compromise to create precise yet interesting stitching on your quilts using your domestic machine. In this 5-week class, you will make a 9-block sampler of ruler work designs. The class will cover setting up your machine for ruler work, testing tension, and getting started. Each week you'll make one or two blocks with practice fabric during class; between each class you'll reproduce the blocks with your sampler fabric. At the end, you'll learn a quilt-as-you-go method for joining the blocks together.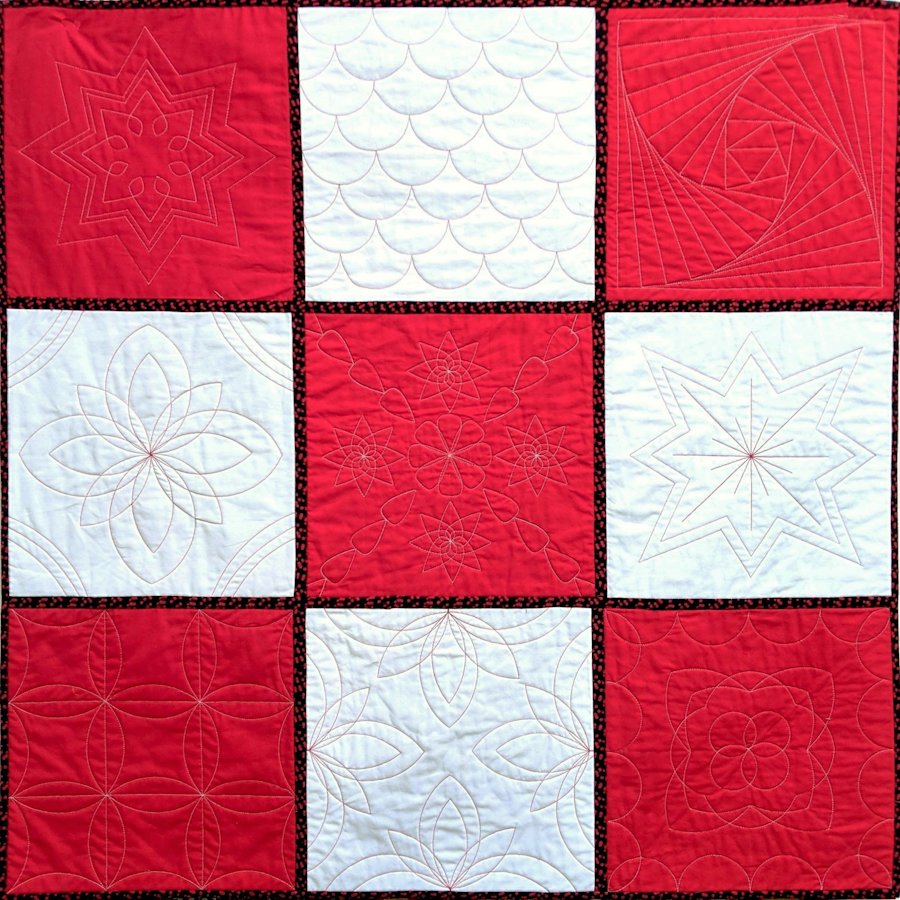 Relax on Friday nights with fellow quilters for a virtual quilting bee. Settle into your favorite sewing space with your favorite Zoom-compatible technology for 2 hours of stitching and chatting. Everyone will have a chance to talk about what they've been working on and pose questions to the other quilters. Each month, a guest speaker shares her enthusiasm for an aspect of quilting – a designer, a technique, a hot topic -- with lots of inspiring ideas and photos. The next session is Friday, November 3rd.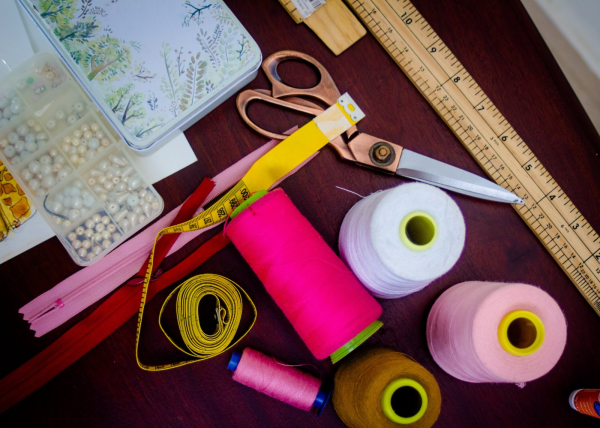 Join Sue Moats and the Quilt of Valor group on November 11. These quilts are awarded to veterans and others who have been touched by war, and are incredibly important to each recipient. Just sign up and bring your machine; all fabric is provided. Note that this is a Saturday, so some of you who have wanted to participate in the past but have been working can attend.
Posh Penelope is a stunning quilt, and Debra is ready to show you how to make one of your very own! This 2-session class starts on November 16th and utilizes the QCR ruler from Sew Kind of Wonderful.
On November 18th, come make a quilted half apron with deep pockets, custom sized to fit. Construction involves simple sewing and simple quilting, using your walking foot. Easy bias binding will be covered. These handy aprons will make one of a kind, hand-made gifts for yourself and friends. All of us in the shop want one!
Make cozy pants to lounge or sleep in! We'll complete these in class on November 19th, just in time for cooler weather and for you to sew up some great holiday gifts.
Geared towards confident beginner sewists, this class will teach you the basics of pattern fitting, pattern copying and construction of pants, with options for pockets and either a full elastic or combination elastic and twill tape waistband.
Join Linda to make a Laura Heine Peppermint Winter Collage Quilt! Starting on November 25th, Linda will help you make your very own winter collage masterpiece!
QUILT SHOW SCHEDULE
Quilting on the Line Quilt Show "Autumn Ribbons"
Jarrettsville Gardens

Jarrettsville Volunteer Fire Department

3825 Federal Hill Road

Jarrettsville, MD 21084

Saturday November 4, 2023 10:00am–5:00pm

Sunday November 5, 2023 10:00am–4:00pm
Mid-Atlantic Quilt Festival
Hampton Roads Convention Center
1610 Coliseum Drive
Hampton, VA 23666
February 29, 2024 - March 3, 2024
Lancaster-Lebanon Quilt Show
Lebanon Valley Expo Center
Lebanon, PA
April 10-13, 2024
Northern Shenandoah Valley Quilt Show
Clarke County Parks and Recreation Center
225 Al Smith Circle, Berryville, Virginia, 22611
Friday, April 12, 2024 10 AM - Sunday, April 14, 4 PM
Pennsylvania National Quilt Extravaganza
Greater Philadelphia Expo Center
100 Station Avenue, Oaks, PA 19456
September 19-22, 2024
CQ Cares (Community Sewing Projects)

We have placemat kits available at the shop, please stop by to pick up one (or two). For those who want to sew from their stash, click on the picture for the beginner-friendly Charm Square Placemats pattern, or you can use your own pattern.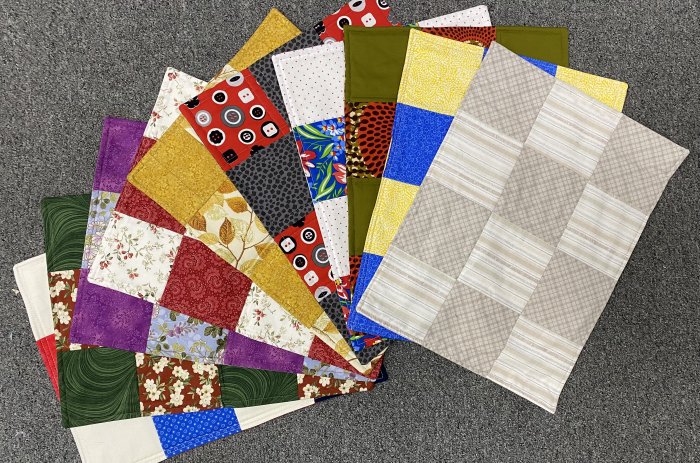 Please return all completed placemats to Capital Quilts.
Thank you for your continued support of the Capital Quilts Cares program.

As of right now, Ryan's Case for Smiles will not have a coordinator as of November 1, and will not collect and distribute pillowcases until they do. So, if you're working on some, get them in before October 31st!
(And if you're looking for a volunteer gig, contact them!)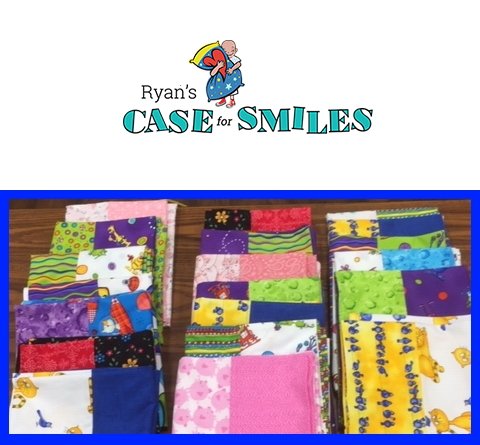 We have free small kennel quilts kits available. These little quilts are sent to shelters who take in pets displaced by natural disaster. To quilters, they are a great beginner project, a use for leftover fabric, and a place to practice free motion skills. To use your stash, visit www.kennelquilts.com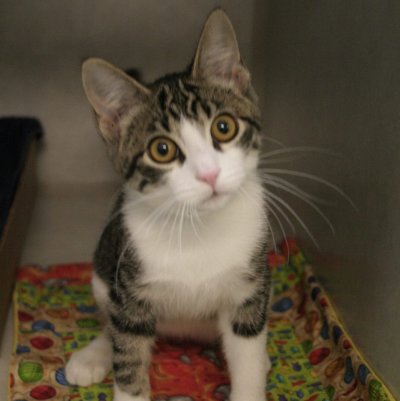 Save